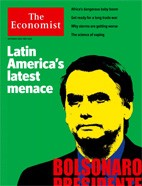 Год выпуска: сентябрь 2018
Автор: The Economist Newspaper and The Economist Group
Жанр: Экономика/Политика
Издательство: «The Economist Newspaper Ltd»
Формат: EPUB, PDF (журнал на английском языке)
Количество страниц: 96
Описание: Jair Bolsonaro would make a disastrous president for Brazil: leader, page 11. The election could save Latin America's biggest democracy, or sabotage it, page 18.
Immigration
What system should Britain have after Brexit? Page 21. Many European countries interpret free movement more loosely than Britain does, page 22.
Fertility in Africa
Countries can bring down their birth rates without resorting to Asi an-style i lliberalism: leader, page 14. The continent's high birth rate is keeping it poor, page 41. Child marriage is proving stubbornly persistent, page 42. The number of extremely poor Africans is rising, page 65.
Hurricanes and typhoons
Climate change means more severe storms in both the Atlantic and the Pacific. But governments are getting better at preparing for them, page 52.
AI in Europe
It may be behind, but the European Union can influence the development of AI for the better—and not just at home: leader, page 12. Europe is gearing up to try to challenge the AI superpowers, America and China, page 55.
The trade war
America's tariffs on China have several goals—some of them unachievable: leader, page 12. The two economic superpowers are now embroiled in a proper trade war, page 62. How China's currency sets the tone in the foreign-exchange market: Buttonwood, page 64. The curious role of the Global Times: Chaguan, page 51.
Japan
The prime minister, Shinzo Abe, needs to set records for productivity, not just longevity: leader, page 13. During his last years in office, he has a lot to do, page 45.
E-cigarettes
Vaping is far healthier than smoking. That does not mean it is good for you, page 67.
---
Leaders
Elections in Brazil
Trade
Artificial intelligence
Reforming Japan
African demography
Letters
On farming, Syria, immigration, Nike, the armed forces
Briefing
Britain
Immigration
Freedom of movement
The Church of England
The Liberal Democrats
Northern Ireland
The railways
Steam engines
Bagehot
Europe
Turkey and Europe
Poland

Taking on PiS and Civic Platform

Health in eastern Europe
Spanish political scandals
Teaching Arabic in France
Germany's spy chief
Charlemagne
United States
The Senate
Democratic primaries
Foreign lobbying
Nevada's brothels

Bras and ballot-initiatives

Activism
Lexington
The Americas
Argentina
Bello
Quebec's election
Cuban honey
Middle East and Africa
Demography

Babies are lovely, but...

Child marriage
French forces in Africa
Israel's armed forces
Syria's war
Asia
Japanese politics
Kyrgyzstan
Talks with North Korea
Banyan

Stuffing the ballot boxes

Suicide in India
Politics in Pakistan
China
The economy
Hong Kong's transport

Anger over a new rail terminus

Chaguan

The curious role of a tabloid
International
Hurricanes and typhoons
Hong Kong
Business
Artificial intelligence in Europe
Bartleby
American media
Passenger rail in America
Tesla's latest troubles
Indian manufacturing
Business in North Korea
Schumpeter
Finance and economics
Emerging markets
The trade war
Mooncake studies
Danske Bank
Buttonwood
Narrow banking
Poverty estimates
Free exchange
Science and technology
Vaping
Marine biology
Genetics
Cellular ageing
Antimatter
Destination: Moon
Books and arts
Mumbai noir
A philosophical murder-mystery
Cold-war espionage
America's global role
Johnson

Lodestars and fingerprints
Economic and financial indicators
Statistics on 42 economies, plus a closer look at human development
Obituary
Johnny Kingdom

Poacher turned photographer
---
скачать журнал: The Economist - 22 сентября 2018
---