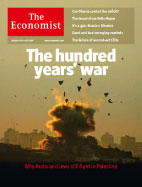 Год выпуска: январь 2009
Автор: The Economist Newspaper and The Economist Group
Жанр: Экономика/Политика
Издательство: «The Economist Newspaper Ltd»
Формат: PDF
Качество: eBook (изначально компьютерное)
Количество страниц: 136 (журнал на английском языке)
Описание

:
Еженедельное издание «The Economist» — мировая экономика, бизнес и геополитика.
В НОМЕРЕ
Politics this week Business this week KAL's cartoon
The Arabs and Israel
The hundred years' war
British manufacturing
Coming in from the cold
America's budget
After the recession, the deluge
Energy in the European Union
Gas wars
On Gaza, India, Tintin, chilies, William Tyndale, Rod Blagojevich
The struggle for Gaza
Where will it end?
Israel's military strategy
Two eyes for an eye
The budget deficit
Waiting for God-only-knows-what
The new surgeon-general
Health screen
Transitional woes
Reality check
Barack Obama's BlackBerry
Subject: Russia and China
California's budget
Crimson tide
Student loans
College on credit
Consumer finance
The layaway way
Texas politics
Happy together
Lexington
Leading the lawmakers
Second-act chief executives
Comeback kings?
Steve Jobs
One of a kind
Corporate governance
India's Enron
Business in Indonesia
Bakrie's bounceback
Adolf Merckle
Empire lost
Corporate jets
Deeply uncool
Face value
The enforcer
Rolls-Royce
Britain's lonely high-flier
Emerging markets
Stumble or fall?
Banks and private equity
Roll up, roll up
Buttonwood
Yielding to none
Governance in Hong Kong
Indefensible
Risk aversion
---

 скачать журнал «The Economist» №2 январь 2009 (

2.09 Мбайт

)