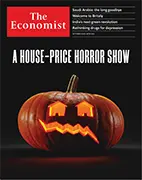 Год выпуска: октябрь 2022
Автор: The Economist Newspaper and The Economist Group
Жанр: Экономика/Политика
Издательство: «The Economist Newspaper Ltd»
Формат: PDF (журнал на английском языке)
Качество: OCR
Количество страниц: 76
The coming house-price slump won't blow up the financial system, but it will be scary: leader, page 11.
How bad will things get? Page 60.
Why inflation refuses to go away: Free exchange, page 65.
Saudi Arabia
For all their frustrations, America and Saudi Arabia are still inseparable, page 37, and Lexington, page 25.
Welcome to Britaly
A country of political instability, low growth and subordination to the bond markets: leader, page 12, and analysis, page 46.
What a comparison between Britain and Italy reveals, page 48.
Jeremy Hunt is the most powerful person in Britain. For now: Bagehot, page 51.
Parsing the bond market's judgment of the British government: Buttonwood, page 63.
India's next green revolution
A clean-energy push shows how emerging economies could escape the coal addiction: leader, page 13, and briefing, page 17.
Rethinking drugs for depression
Most people on antidepressants don't need them: leader, page 14.
Researchers are closing in on the best ways to prescribe them, page 66.
---
The world this week Politics
Jeremy Hunt, Britain's new chancellor of the exchequer, ditched almost all of the unfunded tax cuts in the government's mini-budget; the cuts had helped cause mayhem in the markets when they were announced on September 23rd. Mr Hunt was appointed to the job after Kwasi Kwarteng was unceremoniously sacked as chancellor by Liz Truss, the prime minister. Mr Hunt, a former foreign secretary, has put the Treasury firmly back in control of policy, a humiliation for Ms Truss, who had promised to rip up "abacus economics". Amid chaotic scenes in Parliament, speculation swirled about how long Ms Truss could last.
Adding to the tumult Suella Braverman resigned from her job as home secretary after just 43 days. In a parting shot, Ms Braverman, who is on the Tory right, laid into the government's lack of direction.
As winter approaches
Russia once again pounded Ukraine with waves of cruisemissile and drone attacks, aimed at the country's electrical infrastructure in the hope of freezing Ukraine into submission. Russia seems to have acquired huge stocks of cheap Iranian drones. But Ukraine has been able to shoot down many of the drones and missiles and has so far been quick to restore power to affected areas. Overall capacity is suffering though, so rationing seems increasingly likely.
Ukraine's counter-offensive in the south appeared to be gaining momentum as the Russian occupation authorities in the city of Kherson started to evacuate civilians and move administrative offices across the Dnieper river. Adding to the sense of crisis, Vladimir Putin announced that martial law was being imposed in the four provinces that Russia has partially occupied. Kherson, one of the most significant gains for the Russians since the invasion began, may soon be back in Ukrainian hands.
Mr Putin suggested that his mobilisation drive to bolster army numbers was nearly over, and that 220,000 men had been drafted. Gunmen opened fire at a training ground for new recruits in Belgorod, close to the Ukrainian border, killing 11 people. The gunmen are reported to be Tajik nationals who had been recruited to fight in Ukraine and had got into a row over religion.
Elon Musk reversed course, and promised that Spacex, a rockets and satellites company that he runs, would continue to fund electronic communications in Ukraine through its Starlink internet network. Starlink has become a vital strategic tool for Ukrainian forces fighting Russia.
The head of Germany's cybersecurity authority, Arne Schönbohm, was sacked for allegedly having close ties with Russian intelligence officers. A Russian firm linked to a former kgb officer was a member of a private cyber-security organisation that Mr Schönbohm established a decade ago. The interior ministry is carrying out an investigation.
Germany's chancellor, Olaf Scholz, extended the lifespan of the country's three remaining nuclear-power plants until mid-April, in the hope of averting an energy-supply crisis over the coming winter.
Sweden's parliament confirmed Ulf Kristersson as prime minister, more than a month after an election ousted the Social Democrats from power. His Moderate Party heads a centre-right governing coalition that includes the Christian Democrats and the Liberals, with support in parliament from the anti-immigration Sweden Democrats.
In Turkey 41 miners were killed by an explosion at a coal mine in Amasra, 400km east of Istanbul. The mine is owned by the state. Recep Tayyip Erdogan, the president, suggested the blast was caused by "fate", adding that an investigation would reveal the cause.
The un discussed possible responses to the violent chaos in Haiti. A pair of resolutions have been drafted by the United States and Mexico. They would impose sanctions against gang members and their backers and leave open the possibility of sending a security force to the country. Russia and China may still veto the resolutions.
As protests against the regime persisted across Iran, a fire broke out in the notorious Evin prison on the outskirts of Tehran, where many political prisoners are held. The authorities said the death toll had risen from four to eight, with dozens more injured, but independent sources were unable to verify the figure.
At least 600 people, most of them in Nigeria's southern state of Bayelsa, have died this year in one of the worst flooding seasons to have hit the country, according to the minister of humanitarian affairs. More than a million people are said to have been displaced from their homes.
Ethiopia's government forces captured Shire, a key town previously held by rebels in Tigray, according to diplomats. The civil war is being waged as intensely as ever. A five-month truce was broken in August.
India's Congress party, the main national opposition, elected Mallikarjun Kharge, who is 80 years old, as its new leader. It is the first time in 24 years that the post has been held by a person who is not a member of the family led by Sonia Gandhi, whose son Rahul Gandhi is a perpetual prime-ministerial hopeful. Mr Kharge is said to have been the choice of the Gandhis.
In Pakistan Imran Khan won six of the seven parliamentary seats he contested in byelections. Mr Khan turned the vote into a referendum on his popularity, to put pressure on the government to call an early general election. Pakistan faces soaring inflation, a cash crunch and damage from flooding that submerged a third of the country.
Australia's new left-wing government said it would no longer recognise Jerusalem as the capital of Israel, reversing the decision of the previous government. Just a handful of countries, including America, recognise the disputed city of Jerusalem as the Israeli capital, rather than Tel Aviv.
Showtime in Beijing
China's leader, Xi Jinping, opened the Communist Party's five-yearly congress with a speech that celebrated his first ten years in power. He said his "zero-covid policy" had saved lives and signalled that it would continue. He vowed to pursue peaceful unification with Taiwan, but did not rule out the use of force. Mr Xi, who will be granted a third term as party chief after the event, did not mention problems such as China's sputtering economy, though he did warn of "choppy waters" ahead. Days before he spoke banners were hung from a bridge in Beijing calling for his dismissal. Such protests are extremely rare in China.
The world this week Business
Markets reacted positively to the British government's decision to scrap most of its unfunded tax cuts. The yield on 30-year gilts fell back to around 4.2%, still higher than it was just before the minibudget spooked investors in late September. The pound traded around $1.12, not far off its lows in recent days. Jeremy Hunt, the new chancellor, is reportedly mulling windfall taxes on banks and energy companies to help plug a fiscal gap still worth tens of billions of pounds. Big cuts to public spending are also in the offing.
The Bank of England said it would start selling the bonds it has accumulated through its quantitative-easing programmes on November 1st, but only short- and medium-dated gilts and not bonds with a maturity of more than 20 years, which saw the sharpest sell-off in the recent turmoil. The central bank started buying longer-maturity bonds in late September to calm markets, but after two weeks that programme has now ended.
Food for thought for Mr Hunt
Britain's annual inflation rate rose in September, hitting 10.1% (the level it was at in July). Food prices made the largest contribution to inflation between August and September. They have risen by 14.6% over the past year. Although that was the biggest jump since 1980, staples like milk and butter were up by even more, some 30%. Energy costs were up by 70%, as gas prices nearly doubled over the year. There is no sign of the cost-of-living crisis receding for British households.
A raft of earnings from America's big banks showed a decline in profits as rocky markets took a toll on their lucrative investment-banking business. But at Goldman Sachs, where net income was down by 43%, year on year, another problem is its expansion into retail banking. Its boss, David Solomon, announced another reorganisation of the bank, splitting up its consumer business by rolling its savings and wealth products into asset-management and putting lending into a new division called Platform.
Swiss Re estimated that its claims from Hurricane Ian would come in at $1.3bn, causing a quarterly loss of $500m. The reinsurance company reckons the total insured market loss from the storm, which hit west Florida in September, would be between $50bn and $65bn. That could make it the second-most costly hurricane for insurers, behind Katrina in 2005.
The International Energy Agency said that, "defying expectations", global carbondioxide emissions are expected to grow by only 1% this year. The increase would have been much larger, it said, if it were not for the take-up of renewable energy and electric cars.
Tesla reported quarterly revenues of $21.5bn, its most ever, and a solid profit of $3.3bn. The company has delivered fewer cars than it had forecast, but raised their price as the cost of parts for the vehicles increased. Investors wonder whether this could continue in a recession.
Foxconn, an electronics contract manufacturer known for assembling the iPhone, said it hopes to do the same for electric vehicles, and perhaps take half that market. Liu Youngway, the chief executive, even hoped that "one day we can do Tesla cars for Tesla".
Netflix gained a net 2.4m subscribers in the third quarter, more than twice the number it had forecast and reversing six months of customer losses. The streaming service now has 223m users, far more than rivals, such as Disney+. To entice viewers Netflix is soon to roll out a cheaper subscription plan supported by advertising.
America's two largest supermarket chains, Kroger and Albertsons, agreed to merge in a $24.6bn deal. Both companies said they "expect to make store divestitures" to satisfy competition regulators, who will question consolidation in the industry.
Beyond Meat is cutting its workforce by a fifth. The plantbased meat industry was flavour of the month a few years ago, but consumers are now tightening their belts and have lost an appetite for pricier alternative-meat products. Longer established food companies have responded to inflation by pushing up prices. Nestlé is the latest to report surging revenues, even though sales volumes fell.
ExxonMobil has reportedly pulled out of Russia completely, because the Russian government expropriated its 30% stake in the Sakhalin-1 oilfield. In March Exxon said it planned to pull out of the project.
No news is good news
The Chinese government postponed the publication of figures on gdp for the third quarter and trade data, perhaps because it did not want potentially bad economic figures to detract from the crowning of Xi Jinping for a third term as leader. Officials didn't sign off on the trade data because of covid restrictions, apparently.
---
скачать журнал: The Economist - 22 октября 2022
---