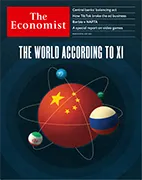 Год выпуска: март 2023
Автор: The Economist Newspaper and The Economist Group
Жанр: Экономика/Политика
Издательство: «The Economist Newspaper Ltd»
Формат: PDF (журнал на английском языке)
Качество: OCR
Количество страниц: 88
THE WORLD ACCORDING TO XI
Even if China's transactional diplomacy brings some gains, it contains real perils: leader, page 7.
Xi Jinping went to Moscow not as a peacemaker, but as an opportunist, page 50.
Iran wants a detente with its neighbours: briefing, page 14.
After decades of expansion, Shia Islam is on the wane, page 35.
Central banks' balancing act
They face an excruciating trade-off between instability and inflation: leader, page 8, and analysis, page 59.
America's regional banks are just about holding up, page 61.
UBS saves Credit Suisse, page 62.
What happened to America's deposits? Free exchange, page 65.
Markets can never be truly safe: Buttonwood, page 63.
How TikTok broke the ad business
Whether or not it is banned, the app has forced its rivals to adopt a less lucrative model, page 53.
Barbie v NAFTA
As America confronts China, it needs its neighbours, page 25.
The confusing geography of supply chains: Schumpeter, page 58
A special report on video games As gaming grows, it is eating the media: leader, page 11, and analysis, after page 40.
---
The world this week Politics
Vladimir Putin, Russia's president, hosted Xi Jinping, his Chinese counterpart, in Moscow. Mr Putin endorsed a Chinese plan for a ceasefire and negotiations in the war in Ukraine. The plan does not acknowledge Russia's aggression or Ukraine's territorial integrity. Volodymyr Zelensky, Ukraine's president, has rejected it, as have Western leaders. Ukraine said an explosion had damaged a Russian munitions train in Crimea, while Russian missiles struck Ukrainian cities, killing civilians.
A grand jury in Manhattan reconvened to consider charges against Donald Trump. The former American president is suspected of falsifying business records to hide hush money paid to Stormy Daniels, whom he allegedly slept with in 2006. Prosecutors must prove that this facilitated a second crime, of falsifying campaign expenses. The grand jury is expected to vote on whether to indict Mr Trump in the coming days.
Nicolas Maduro, Venezuela's autocratic president, appointed the head of pdvsa, the state oil company, as his new oil minister. Pedro Rafael Tel-lechea replaces Tareck El Ais-sami, an ally of Mr Maduro who resigned unexpectedly this week. More than 20 PDVSA officials have been detained as part of a corruption probe. The company is reportedly owed over $2ibn in unpaid bills. The probe could allow Mr Maduro to sideline potential rivals.
In Colombia Gustavo Petro, the left-wing president, suspended a ceasefire with the Gulf Clan, the country's largest drugs gang. Mr Petro has grand plans for "total peace" in the country; the ceasefire was at the heart of these ambitions.
Uganda passed a law that would impose long prison sentences on anyone who says they are gay or lesbian, or on organisations or journalists that promote gay rights.
Somalia and international aid agencies said that 43,000 people died in Somalia's drought last year in the first official estimate of its toll. They estimated that 18,00034,000 people may die from hunger in the first six months of this year.
Better call Sall
Macky Sall, the president of Senegal, said that in his interpretation of the constitution its two-term limit would not prevent him from running again in next year's election. Mr Sall, who was elected in 2012 and again in 2019, has not yet declared his intention to run, but is expected to do so.
Olivier Dubois, a French journalist, and Jeffery Woodke, an American aid worker, were freed by jihadist groups who had been holding them in various parts of the Sahel. Mr Dubois was abducted in Mali in 2021 and Mr Woodke was snatched in Niger in 2016.
Israel's parliament, reflecting the influence of parties on the far right, voted to let Israeli citizens back into four Jewish settlements in the West Bank which had been evacuated after Israel disengaged from Gaza in 2005. Israel's high court had previously ruled that the settlements were on private Palestinian land.
British MPS grilled the former prime minister, Boris Johnson, over the "partygate" scandal. Mr Johnson is accused of deliberately misleading the House of Commons in his account of several boozy gatherings in Downing Street during the pandemic lockdown. If found guilty, MPS could suspend him from Parliament.
A scathing report found London's Metropolitan Police Service guilty of "institutional racism, misogyny and homophobia" and recommended that Britain's largest police force should be overhauled or risk being broken up. The report was commissioned by the Met after the rape and murder of Sarah Everard by a serving officer in 2021.
MPS passed a new post-Brexit deal for Northern Ireland, negotiated between the British government and the EU. But two former prime ministers, Mr Johnson and Liz Truss, rejected it, as did the Democratic Unionist Party, the province's main unionist party. The dup fears that it does not adequately protect Northern Ireland's place in the United Kingdom's internal market.
Emmanuel Macron's government survived a no-confidence vote in France's parliament after pushing through his hugely unpopular pension reform, which raises the minimum retirement age from 62 to 64, without a vote. Elisabeth Borne will stay on as prime minister, but the president will have even more trouble governing and street protests are expected to continue.
The IMF agreed to lend $15.6bn to Ukraine, its first loan to a country at war. The fund recently changed its terms to allow loans to countries facing "exceptionally high uncertainty". Ukraine said the money would support infrastructure and ensure the country's economic stability.
The IMF also approved a $3bn bail-out for Sri Lanka. The country has been beset by severe shortages and high inflation. The loan will be issued in nine tranches, each conditional on Sri Lanka's adoption of reforms, including a restructuring of its reported $95bn-worth of public debt.
Thailand's prime minister, Prayuth Chan-ocha, dissolved his country's parliament, paving the way for elections in May. Mr Prayuth, a former general who came to power in a coup in 2014, will run for re-election. But his bid to extend his military-backed rule may be thwarted: Pae-tongtarn Shinawatra, the leading opposition candidate, is already significantly ahead in the polls.
Australia's prime minister, Anthony Albanese, revealed the question that will be asked in a national referendum about recognising Aboriginal people in the country's constitution. A "yes" vote would create a body to advise parliament on policies and projects for Aboriginal communities. The referendum will be Australia's first in 24 years.
The Intergovernmental Panel on Climate Change published its "synthesis report", reviewing the scientific evidence relating to climate change. It reiterates scientists' message that rising temperatures are already having more severe impacts than expected. To meet climate goals, greenhouse-gas emissions must peak in the next few years — but they are predicted to keep rising beyond then.
Shiny happy people
Covid-19 has not permanently dampened people's spirits.
The World Happiness Report surveyed more than 100,000 people, asking them how they felt about their lives. The global average score in 202022 was as high as in 2017-19, before the pandemic. Among the 137 countries surveyed, Finland was the happiest; Afghanistan the most glum.
The world this week Business
The Federal Reserve raised its benchmark interest rate by another quarter of a percentage point and signalled that more rate increases could come in its fight against inflation, despite higher rates triggering a series of bank failures. In a statement, the Federal Open Market Committee said America's banking system was sound and resilient. The committee voted to raise the federal funds rate to a target range of 4.75% to 5%, its highest since 2007. The decision followed the European Central Bank's decision to lift rates on March 16th.
Banking turmoil
America's treasury secretary, Janet Yellen, ruled out an expansion of bank-deposit insurance or blanket guarantees for savers after four bank failures in 11 days. Her comments came more than a week after the Treasury, the Fed and the Federal Deposit Insurance Corporation took swift action to protect depositors at Silicon Valley Bank, which specialised in banking services for tech startups, and Signature Bank, which is based in New York. Yet on March 22nd Mr Powell said that depositors "should assume" they are safe.
First Republic Bank, a lender based in California, has hired Lazard and JPMorgan Chase, two investment banks, as advisers amid discussions with potential investors and government officials to shore up its balance-sheet. It follows attempts to rescue the lender by 11 Wall Street banks. First Republic's share price has fallen by 89% this month.
Inflation in Britain rose unexpectedly in February. Annual consumer-price inflation rose to 10.4% in February, up from 10.1% in January. That was higher than the 9.9% forecast by analysts.
Inflation in Canada eased to 5.2% in February, down from 5.9% in January. It follows the Bank of Canada's decision to keep interest rates unchanged for the first time in nine meetings, making it the first central bank across the G10 group of large economies to pause its rate-tightening cycle.
Coinbase, a crypto exchange, received a notice from the Securities and Exchange Commission, America's main financial regulator, warning it of potential violations of securities law. Coinbase shares fell by more than 15% in extended trading on Wednesday.
The boss of TikTok, a videosharing app, was due to appear in front of America's House of Representatives Energy and Commerce Committee on March 23rd, after The Economist had gone to press. In prepared remarks released ahead of the hearing, TikTok's CEO, Shou Zi Chew, said the company would never share American user data with the Chinese government. Lawmakers have raised nationalsecurity concerns about TikTok over its links to China through its Beijing-based parent, ByteDance.
The earnings of commodity traders soared in 2022, with gross profits hitting a record of more than $115bn, up by 60% from the previous year. Profits were driven by price volatility as a result of Europe's energy crisis, which was sparked by the invasion of Ukraine.
Bon voyage
A strong dollar boosted online searches by Americans for flights to Europe, despite sky-high air fares, inflation and an uncertain economic outlook. Kayak, a travel search engine, said searches for travel to Europe this summer are up by more than three-quarters from last year.
Evergrande, a troubled Chinese property developer with more than $300bn worth of liabilities, unveiled plans for its delayed restructuring of around $19bn in debt held by overseas investors. Creditors will either be able to swap debt into new notes with maturities of up to 12 years, or convert them into new notes with a maturity between five and nine years and equity-linked instruments. The restructuring is expected to take effect from October.
The Competition and Markets Authority, Britain's antitrust watchdog, warned that the $69bn takeover of VMware, a cloud software company, by Broadcom, an American chipmaker, could drive up the cost of computer parts and software. The deal, which is the biggest in Broadcom's history, is also being scrutinised by competition authorities in America and Europe.
Nike, a sportswear brand, reported $12.4bn in revenues for the quarter ending February 28th. This was up by 14% from a year ago and exceeded the $11.5bn expected by Wall Street analysts. That was despite weak sales in China, where covid-19 restrictions weighed on earnings.
UBS, Switzerland's biggest bank, acquired Credit Suisse, its troubled rival, in an allshare emergency deal brokered by Swiss authorities for around SFr3bn ($3.2bn), a 60% discount on Credit Suisse's stockmarket valuation. Holders of "Alternative-Tier 1" bonds issued by Credit Suisse were written off altogether. finma, the Swiss financial regulator, defended its decision to write down the bonds.
---
скачать журнал: The Economist - 25 марта 2023
---