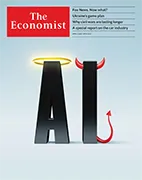 Год выпуска: апрель 2023
Автор: The Economist Newspaper and The Economist Group
Жанр: Экономика/Политика
Издательство: «The Economist Newspaper Ltd»
Формат: PDF (журнал на английском языке)
Качество: OCR
Количество страниц: 92
Artificial Intelligence
Rapid progress in ai is arousing fear as well as excitement. How worried should you be? Leader, page 7.
In a special Science section, we examine how large, creative ai models work, the risks they pose and what capabilities they might gain next, page 65.
Looking at the impacts of the computer browser, the printing press and psychoanalysis could help prepare the world for ai: essay, page 15.
China's approach, page 33.
How businesses are experimenting, page 58.
Fox News. Now what?
A whopping settlement will not change the channel's loose approach to journalism, page 19.
Ukraine's game plan
The next few weeks may shape the country's future—and Europe's: leader, page 8.
Its Western allies want success—but not too much, page 41.
Why civil wars are lasting longer
Blame complexity, criminality and climate change: leader, page 9 and analysis, page 49.
Sudan in crisis, page 37.
A special report on the car industry
After page 40.
The folly of shutting out Chinese carmakers: leader, page 12.
Japanese car firms are now playing catch-up, page 29.
---
The world this week Politics
War broke out in Sudan between the national army, led by General Abdel Fattah al-Burhan, Sudan's de facto leader, who seized power in a coup in 2021, and the Rapid Support Forces, a paramilitary commanded by Muhammad Hamdan Dagalo. Some 300 people, most of them civilians, were killed and at least 2,600 injured in the first few days of fighting, which has seen tanks and air strikes in Khartoum, the capital. Hospitals and aid agencies have been looted and diplomats attacked.
Burkina Faso's military government declared a general mobilisation (claiming the power to requisition people, goods and services and to impose a state of emergency) to fight jihadists who control around half the country. Western military sources worry that jihadists moving south may be able to encircle Ouagadougou, the capital, having already cut off road links in the north.
Rachid Ghannouchi, the long-serving leader of Ennahda, Tunisia's main Islamist party, was arrested, according to the party. This marks a drastic step against the opposition by Kais Saied, the increasingly repressive president.
In a sign that the two sides in Yemen's civil war may be getting closer to a peace deal, almost 900 people were released in a prisoner swap between the Houthis, a Shia rebel group that controls large parts of the country, and the Saudi-led coalition that has been fighting them since 2015. Meanwhile at least 80 people died in a crush as aid was being distributed in Sana'a, the capital.
Sergei Lavrov, Russia's foreign minister, visited Brazil and Venezuela. Luiz Inacio Lula da Silva, Brazil's president, met Mr Lavrov, after stirring up trouble by suggesting that America was prolonging the fighting in Ukraine by sending weapons to Kiev. Lula clarified later that he condemned the invasion of Ukraine, but American officials remained unimpressed. Mr Lavrov is also visiting Cuba and Nicaragua.
Mexico's Supreme Court annulled a contentious reform backed by Andres Manuel Lopez Obrador, the president, which would have put the National Guard, ostensibly a civilian police force, under the control of the armed forces. Mr Lopez Obrador meanwhile accused the Pentagon of spying on Mexico, and promised to safeguard classified information about the army.
A Russian court sentenced a prominent critic of the Putin regime to 25 years in prison for criticising the war in Ukraine, which the prosecution considered to be tantamount to treason. Vladimir Kara-Murza, who holds dual British-Russian citizenship, told the court he stood by "every word" and did not want to be acquitted. The judge took just minutes to rule on the case.
A separate Russian court upheld the detention of Evan Gershkovich, a journalist with the Wall Street Journal, on allegations of spying and refused to grant him bail. The American government again called for his release.
Poland, Hungary and Slovakia banned some Ukrainian food imports. The governments in all three countries are under pressure from farmers, who claim that cheaper Ukrainian surpluses undercut their bottom line. Officials in the eu said the bans were possibly illegal and counter-productive, undermining Europe's support for Ukraine. One diplomat accused the Polish government of engaging in "gesture politics". The government said it would allow Ukrainian grain to transit through Poland.
Carry on, Emmanuel
Emmanuel Macron tried to regain control of the political agenda in France after months of sometimes violent protests against his pension reforms. He promised new measures to improve working conditions, among other things, by July 14th, Bastille Day. The French president said now was a time for "unity". His comments came shortly after he signed the reform, which increases the state retirement age from 62 to 64, into law.
The disarray within the Scottish National Party following the abrupt departure of Nicola Sturgeon as leader continued with the arrest of the party's treasurer, who then stepped back from the role. The police are investigating claims that donations for a second independence referendum were misused. The scrutiny is an embarrassment for the snp as it attempts a reset under its new leader, Humza Yousaf. He has said he only recently learnt that the party has been without auditors since October.
A 24-year-old man threw a smoke bomb at Japan's prime minister, Kishida Fumio. The bomb-thrower was reportedly aggrieved at having been barred from running for an election. The incident rekindled fears of attacks on politicians, nine months after the assassination of Abe Shinzo, a former prime minister.
Separatist rebels in the Indonesian province of Papua attacked government troops searching for a pilot from New Zealand whom the rebels are holding hostage. Officials said one soldier was killed; the rebels claimed they shot dead nine troops.
The UN's annual population report listed India as having a bigger population than China for the first time. India's population will reach i.429bn by the middle of this year against China's i.426bn.
India's Supreme Court heard arguments in the biggest test yet of the country's ban on gay marriage. The court is focusing on secular laws that regulate marriage. The government wants to keep the ban, arguing that only the legislature can change the law.
The fbi arrested two men accused of working as Chinese agents and operating an "illegal overseas police station" in New York that liaised with China's national police to intimidate Chinese dissidents in the United States. The authorities in New York also charged 34 police officers in China with harassing Chinese dissidents in America via social media.
Ron DeSantis, Florida's governor and putative Republican presidential contender, hurriedly signed a bill into law that bans abortion in the state after the sixth week of pregnancy. Mr DeSantis is veering further to the right to appeal to the supporters of Donald Trump he must win over in the primaries.
Never on a Sunday
The Supreme Court heard arguments in a case brought by a religious postal worker who says he should not be forced to work on the Sabbath. Gerald Groff worked for the postal service, which wanted him to deliver Amazon packages on Sundays. He claims he was discriminated against on religious grounds. A ruling in his favour may force companies to honour employees' religious observances.
The world this week Business
Elon Musk said he would launch a new artificialintelligence platform called TruthGPT as a rival to ChatGPT and other generative-Ai bots, somewhat contradicting his recent call for a moratorium on developing such technology. But Mr Musk reiterated his concerns about Ai's potential to cause harm, even claiming it could cause the destruction of civilisation. It has emerged that Mr Musk has created a new company, x.ai, incorporated in Nevada.
The X files
Mr Musk's fascination with the letter X extends to Twitter, which has now changed its official company name to X Corp and moved its incorporation location from Delaware to Nevada. Mr Musk has a long-stated goal of creating X, "an everything app".
Sundar Pichai, Google's boss, warned that the world was not ready for the rapid changes that new Ai will bring, saying it would "impact every product across every company" (though that isn't stopping Google from racing ahead to integrate generative Ai into its advertising, according to a report). Mr Pichai said the problem of fake imagery would become much worse. In one recent example an image of Pope Francis in a white puffer coat went viral on social media before it was revealed to have been generated by ai.
Fox News reached a settlement with Dominion Voting Systems over the broadcaster's fake claims that Dominion's machines helped "steal" the election in 2020 from Donald Trump. The $787.5m settlement is the biggest ever in a media defamation case. The deal was reached just ahead of a trial that would have called Rupert Murdoch, who controls Fox, as a witness. In pre-trial hearings the judge had dismissed Fox's claim that it was merely reporting allegations, and said the jury's task would be to determine if it had acted maliciously.
Britain's annual rate of inflation dipped in March to 10.1%, still stubbornly high and now twice America's rate of 5%. Food prices rose the most in 45 years. Rishi Sunak, the prime minister, promises to cut inflation by half this year.
China's economy grew by 4.5% in the first quarter, year on year, beating the expectations of most economists. The government lifted its zero-covid restrictions in December, reopening the country to pent-up demand. The statistics bureau warned, however, that the recovery is not yet solid.
The collapse of Silicon Valley Bank in March didn't harm business at most of America's big banks in the first quarter. Net profit was up by around 50% at JPMorgan Chase, year on year, 32% at Wells Fargo, 15% at Bank of America and 7% at Citigroup. Profit plummeted by 18% at Goldman Sachs, however, because of poor revenue from fixed income, currencies and commodities trading. Profit was also down at Morgan Stanley, by 19%.
Credit Suisse can't get a break. After collapsing in March, the bank faced claims this week from American senators that it had hampered an investigation into the "historical servicing of Nazi" accounts, which in some cases continued until 2020. The claims relate to an investigation by the Simon Wiesenthal Centre. Credit Suisse released the results of an independent inquiry that refutes the allegations.
hsbc's biggest shareholder increased pressure on the bank to hive off its Asian business. Ping An, a giant Chinese insurer, which owns around 8% of hsbc, presented its plan in public for the first time, and said that hsbc was "exaggerating" the risks of the proposal.
A $6.9bn charge related to up to 70,000 claims that its talcum powder causes cancer drove Johnson & Johnson to a small quarterly loss. The proposed settlement totals $8.9bn, making it one of the largest-ever liability payouts at an American company.
Tesla's aggressive price cuts of its cars drove a 24% rise in revenue in the latest quarter, year on year. But the lower prices hit net profit, which fell, also by 24%.
Film adaptation
Netflix netted another 1.75 m subscribers in the first quarter, taking its global users to 232.5m. That was a 4.9% increase, year on year, better than in the previous two quarters but a far cry from the 20%-plus it racked up during the pandemic. The streaming giant is delaying a crackdown on sharing passwords, after pilot schemes caused people to cancel their subscriptions. The company also said it would end its DVD-mailing service, which started off the business in 1997, in September.
Apple opened its first stores in India, in Mumbai and Delhi. Tim Cook, Apple's boss, attended the grand openings. He also met Narendra Modi, the prime minister; Apple is expanding manufacturing in the country. Costly iPhones are out of reach for most Indians and are a small share of the market. Still, Apple is tapping into steady growth in the premiumphone sector, as India's middle class gets richer.
---
скачать журнал: The Economist - 22 апреля 2023
---