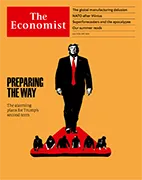 Год выпуска: июль 2023
Автор: The Economist Newspaper and The Economist Group
Жанр: Экономика/Политика
Издательство: «The Economist Newspaper Ltd»
Формат: PDF (журнал на английском языке)
Качество: OCR
Количество страниц: 76
Preparing The Way
The alarming plans for Trump's second term
MAGA Republicans think they know how to make a second Trump term focused and effective: leader, page 9, and briefing, page 16.
On the left and right economic philosophy is not just changing—it is converging, page 31.
How Europe would respond to the return of Donald Trump, page 52.
The global manufacturing delusion
Subsidies and protection for industry will not boost economic growth. They will hinder it: leader, page 11.
Politicians spending big will end up disappointed, page 60.
NATO after Vilnius
With imminent NATO membership off the cards, Ukraine needs better security guarantees: leader, page 10.
Volodymyr Zelensky did not get everything he wanted. But he got quite a lot, page 26.
Superforecasters and the apocalypse
Professional seers are more optimistic about the future than experts in risky sectors from AI to nuclear weapons, page 67.
How the Anthropocene might end: leader, page 12.
Summer reads
Our writers recommend the finest books, old and new, in their areas of interest, page 71.
---
The world this week Politics
NATO held a summit in Vilnius, the capital of Lithuania, which was dominated by Ukraine's ambition to join the alliance. Amid resistance from some members, notably America and Germany, to give a firm timetable, nato issued a pledge that Ukraine will join, but only when "allies agree and conditions are met". It was, however, promised as an accelerated process. More important was a pledge by the G7 that its members will each offer Ukraine enduring commitments to provide it with the weapons it needs to defend itself from Russia during and after the war, as well as help with rebuilding its economy.
Turkey's president, Recep Tayyip Erdogan, said he would now support Sweden's bid to join nato, reversing months of opposition as the last country in the alliance to resist its membership. Before changing course, Mr Erdogan was widely condemned for suggesting that he would only support Sweden if the eu opened new talks on Turkey's ambition to join the bloc. America provided a different incentive, promising to "move ahead" with supplying F-16 fighter jets to Turkey.
Before the nato summit America announced that it would provide Ukraine with cluster munitions to use in its fight against Russia. Joe Biden said the decision had been difficult, given the risk to civilians from their use. Ukraine's defence minister gave assurances that the cluster bombs would not be used in urban areas.
Vladimir Putin met Yevgeny Prigozhin just five days after the aborted mutiny of Mr Prigozhin's Wagner mercenary troops, according to the Kremlin's spokesman. The meeting, which Wagner's top commanders also attended, was held in Moscow.
Exit, stage centre-right
The Dutch government collapsed, after the parties in the ruling coalition failed to agree on immigration policy. Mark Rutte, the prime minister, had wanted to toughen the entry requirements for some migrants. He has said he will quit politics following a general election in November, ending the career of one of Europe's canniest operators. Mr Rutte has been prime minister of the Netherlands since 2010, managing to hold often fractious coalitions together.
A month after hosting NATO's biggest ever air exercise, Germany said it would for the first time send troops to Australia to participate in war games involving principally American and Australian forces that are held once every two years. The Talisman Sabre exercise, which includes troops from Japan, South Korea and elsewhere, always unnerves China.
China signed a "comprehensive strategic partnership" with the Solomon Islands, which will include more Chinese help for the Pacific nation's police force. China is also building a telecoms network across the islands. Last month the Solomons' prime minister, Manasseh Sogavare, called for a review of his country's defence arrangements with Australia, which has long been an ally and aid provider.
North Korea test-fired an intercontinental ballistic missile, which fell into the sea short of Japanese waters. In its latest flurry of sabre-rattling, North Korea has ranted against what it describes as "air patrols" by American aircraft off the Korean peninsula.
At least ten people were killed in election-day violence in West Bengal. The Indian state went to the polls to choose rural councils. Dozens of people have died in violence in the state since the election date was called a month ago.
At the un Security Council Russia used its veto to block a nine-month extension of a deal that allows aid to cross from Turkey to north-west Syria. Others had pushed for a year-long extension but Russia, which is a key ally of the Syrian government, has said it will accept only six months.
Mahmoud Abbas, the Palestinian president, went to the city of Jenin in the occupied West Bank for the first time in over a decade. His visit came a week after an Israeli incursion into Jenin refugee camp, which Mr Abbas vowed to rebuild. The Palestinian Authority has lost influence and power in the territory in recent years.
Israel's Knesset approved the first reading of a controversial judicial-reform bill. Binyamin Netanyahu, the prime minister, had removed one of the most contentious parts of the bill that would have allowed parliament to overrule Supreme Court decisions with a simple majority. But protests still broke out around Israel.
The army-aligned faction involved in Sudan's civil war, which broke out in mid-April, said it would not attend a peace conference to be held under the auspices of the Intergovernmental Authority on Development in eastern Africa. America and Saudi Arabia, which had previously arranged a series of short-lived ceasefires, have suspended their peace efforts. So there is no sign of an end to the war.
In Guatemala a senior prosecutor persuaded a court to ban the party of Bernardo Arevalo, an anti-corruption presidential candidate who is to face Sandra Torres, a former first lady, in a run-off on August 20th. Mr Arevalo said the court's decision was "spurious" and would not stop him from contesting the election. Confirmation of the results of the first round had been delayed, raising suspicions that the country's elite is trying to thwart Mr Arevalo's anti-graft campaign.
Pemex, Mexico's state oil firm, will probably lose at least 2m barrels of oil this month after a huge fire at an offshore platform, according to reports, which also say that Mexico's oil regulator failed to collect three fines issued against the company. President Andres Manuel Lopez Obrador sees Pemex as a vital part of the country's attempts to become self-sufficient in energy. It is the world's most-indebted oil company.
America applied sanctions to ten individuals and a firm in Mexico in an attempt to slow the supply of fentanyl, one cause of America's opioid epidemic. Some of those on the list are connected to the Sinaloa cartel, which is run by "Los Chapitos", the collective name for the sons of Joaquin "El Chapo" Guzman, who is in prison in America.
Huw and cry
Following days of intense media speculation, Huw Edwards, the BBC's most famous news presenter, was revealed to be the man who allegedly made payments to a young person, who is now 20, for explicit photographs. The lurid affair has raised more questions about the state of British journalism. The young person's lawyers said the claims, published in the Sun newspaper, were nonsense and the police ruled out any criminal charges. Mr Edwards has been admitted to hospital for mental-health treatment.
The world this week Business
A federal judge in America found that the Federal Trade Commission had failed to show how Microsoft's proposed takeover of Activision Blizzard, an online-games developer, would hurt competition and denied the regulator's request for an injunction to block the deal. The ftc argues that Microsoft will make Activision's bestselling games, such as the Call of Duty series, exclusive to its Xbox platform. Both companies hailed the judge's decision, which the ftc is appealing against. Britain's Competition and Markets Authority, which also objects to the merger, said it would now be open to considering a restructured deal.
Nvidia, which makes chips for artificial-intelligence applications and has seen its share price soar this year, is reportedly in talks to become an anchor investor in Arm, a chip designer, ahead of Arm's blockbuster ipo later this year. Nvidia's takeover proposal for Arm was struck down by regulators last year.
Amazon filed a legal challenge against its inclusion on a list of 19 companies that the European Union says are subject to new rules governing online content under the Digital Services Act. Facebook, TikTok and Twitter are also included on the list, but Amazon says that retailing is its business, and not advertising or the dissemination of information.
America's annual rate of inflation cooled to 3% in June, the smallest 12-month increase since March 2021 and far below the 9.1% recorded a year ago. Core inflation, stripping out food and energy prices, remained higher than the overall rate, at 4.8%. The Federal Reserve's next announcement on interest rates is July 26th.
China faces a different problem to other countries. It is on the cusp of deflation, as demonstrated by the latest official data. Annual inflation in June was recorded as zero; consumer prices actually fell by 0.2% compared with May. The value of China's exports fell by 12.4% in June, year on year, the biggest drop since the start of the pandemic. Imports were down by 6.8%.
A liquidity problem
Thames Water said it had raised £75om ($97om) from shareholders in emergency funding. It had sought £1bn. The company, which provides water and sewage services to London and the surrounding region, is drowning in debt. The government is said to be thinking about nationalising the utility if it collapses.
Jeremy Hunt, Britain's chancellor of the exchequer, announced a number of reforms that will allow the country's big pension funds to invest in unlisted high-growth firms and private equity. The pension firms have committed to allocate 5% of assets in their default funds to unlisted equities by 2030, which the government reckons will increase savers' pension pots on average by up to 12%. It also estimates that the plan will increase investment in British firms by £50bn ($65bn).
In a setback to India's ambition to become a global hub of chipmaking, Foxconn, best known for assembling the iPhone, pulled out of a $19.5bn joint venture to develop semiconductors at a factory in Gujarat. The deal had been announced with much fanfare last year. Press reports suggested the project had been held up by the government's dithering on state support.
China's financial and securities regulators fined Ant Group, the fintech arm of Alibaba, 7.1bn yuan ($994m) for breaking rules on consumer affairs and corporate governance. They also said that the tech industry would return to "normal supervision" as most regulatory concerns had been resolved. Investors took that to mean that the crackdown on the sector is over. After the fine, Ant launched a $6bn share buy-back, which values the firm at $78.5bn, far below its worth in 2020.
Elon Musk officially launched his latest venture, a startup working in artificial intelligence, named XAI. Mr Musk has recruited staff from OpenAl, DeepMind, Microsoft and other leaders in the field. In March Mr Musk co-signed a letter calling for a six-month moratorium on developing AI.
Meta continued its PR battle with Twitter over Threads, Meta's new microblogging site, which is a direct challenge to the long-established rival. Mark Zuckerberg, Meta's boss, claimed that Threads had signed up 100m users in less than a week. That prompted Linda Yaccarino, Twitter's chief executive, to declare that Twitter has just had its "largest usage day since February".
Need any cleaning done?
The oecd published a report into the adoption of generative artificial intelligence in the workplace. It said that although the impact of AI on jobs had been limited so far, there remained a significant potential for disruption. It thinks that the roles most exposed to ai are managers, chief executives and engineers. The least exposed jobs are rubbish collectors, labourers and cleaners.
---
скачать журнал: The Economist - 15 июля 2023
---