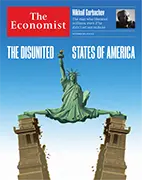 Год выпуска: сентябрь 2022
Автор: The Economist Newspaper and The Economist Group
Жанр: Экономика/Политика
Издательство: «The Economist Newspaper Ltd»
Формат: PDF (журнал на английском языке)
Качество: OCR
Количество страниц: 76
THE DISUNITED STATES OF AMERICA
Far from being laboratories of democracy, American states are now Petri dishes of polarisation: leader, page 9.
Why that matters: briefing, page 16.
The man who ended an empire Mikhail Gorbachev liberated millions, even if he didn't set out to do so: leader, page 10.
The last president of the Soviet Union: obituary, page 78.
Why Britain can't build
The country's growth problem won't be fixed until its absurd planning rules are reformed: leader, page 13.
Why Britain struggles to create enough homes, roads, reservoirs and power stations, page 48.
Europe's energy crisis
How to stop the fuel-price shock spiralling into a catastrophe: leader, page 10, and analysis, page 60.
Europe is heading for recession. How bad will it be? Page 59.
Dealing with floods
What Pakistan needs to learn from Bangladesh: leader, page 12.
Acountry reeling from economic and political crises is hit by the worst floods in recent history, page 31.
Climate change may lead to migration on a scarcely imaginable scale. How will the world cope? Page 70.
---
The world this week Politics
Exceptionally heavy monsoon rains over two months have caused devastating floods in Pakistan, killing more than 1,100 people and leaving a third of the country under water. Shehbaz Sharif, the prime minister, said that a million homes have been wrecked and thousands of miles of roads destroyed. The climate minister described it as a "catastrophe", blaming countries that have become "rich on the back of fossil fuels".
Separately, the imf approved a $i.ibn payout to Pakistan after the government implemented an austerity budget, which included sharp increases in fuel and food prices amid high inflation. The measures have quickly made the new government unpopular.
The imf also reached an agreement to provide Sri Lanka with a $2.9bn loan to help it through its worst economic crisis since independence in 1948. As part of the agreement Sri Lanka must implement serious tax reforms.
We can see you
The UN's human-rights office released a long-awaited assessment of China's treatment of the Uyghurs in Xinjiang. It said China's actions "may constitute international crimes, in particular crimes against humanity". It criticised China's "vague" anti-terrorism laws, which have led to the "arbitrary deprivation of liberty" of Uyghurs and other Muslim groups. And it concluded that allegations of torture, forced medical treatment and sexual violence in detention centres were credible. China dismissed the report as slander.
Taiwan shot down a Chinese civilian drone for the first time, having fired warning shots at drones that were buzzing its outlying islands. Earlier, two American warships passed through the Taiwan Strait without incident. It was the first such operation since China staged military drills around Taiwan in response to a visit there by Nancy Pelosi, the speaker of America's House of Representatives, in early August.
China's Communist Party announced that its five-yearly congress would start on October 16th. Xi Jinping is poised to secure a third term as party leader, in violation of recent retirement norms.
Nicolas Maduro, Venezuela's autocratic ruler, received Colombia's new ambassador to the country. It marks the re-establishment of diplomatic ties between the two countries, which had been severed since 2019. Gustavo Petro, Colombia's left-wing president, who recently assumed office, has also announced that the border will be reopened, and that military relations may be restored, too.
A truth commission set up by the Mexican government said that six of the 43 students who went missing in 2014 were kept alive in a warehouse for several days. An official at the commission claimed that a local army commander ordered their killings. A week earlier, the attorney-general who oversaw the original investigation into the disappearances was arrested by federal agents.
Supporters of Muqtada al-Sadr, a rabble-rousing Iraqi cleric, breached the fortified seat of Iraq's government and tried to march on the home of a former prime minister, Nuri al-Maliki, sparking gun battles that killed at least 30 people. The protests come after months of deadlock in which Mr Sadr, whose party won the most seats in elections last year, has been unable to form a government.
At least 32 people were killed and more than 100 injured in clashes between rival militias in Tripoli, the capital of Libya. The government said that the violence broke out when one group of armed men began "firing randomly at a convoy".
Angola's ruling party, the mpla, which has run the country since its independence in 1975, claimed victory with 51% of the vote in a general election that was widely expected to be rigged. The main opposition, unita, which ostensibly won 44%, rejected the result and has filed official complaints.
Police in Madagascar killed 19 people when they fired on a crowd of vigilantes who tried to storm a police station to seize four people arrested on suspicion of abducting a child.
Earning his Nobel peace prize
Mikhail Gorbachev died in Moscow at the age of 91. The last leader of the Soviet Union helped bring about an end to the cold war, and sharply diminished the threat of a very real nuclear one. Although his landmark summit with Ronald Reagan in Iceland in 1986 ended with no agreement, it led to a breakthrough in armscontrol negotiations. At home he brought in glasnost (openness) and perestroika (reform), hoping to revive a dying economy. Lauded in the West, his fellow Russians were aghast at the break-up of their empire. Mr Gorbachev once said that markets were a mark of civilisation, not capitalism.
Ukraine launched a counteroffensive against Russian forces in Kherson, which abuts Crimea. The offensive began after Ukrainian troops attacked Russia in the eastern Donetsk and Luhansk provinces, diverting Russian resources. Kherson was the first big Ukrainian city to fall to Russian troops in March.
A team of un inspectors made their way to the Zaporizhia nuclear plant, which has endured weeks of shelling nearby. Russian forces have controlled the facility since March, supervising the technicians who have kept it running. The un inspectors hope to assess any damage.
America's Justice Department revealed in a court filing that Donald Trump tried to hide classified material at his home in Florida. During the FBI's search of the premises some classified papers were found unsecured in his desks. Scores of classified documents were discovered at Mar-a-Lago. It is not yet known which papers Mr Trump had squirrelled away.
A federal emergency was declared in Mississippi, after a water-treatment plant near Jackson, the state capital, was shut down because of problems with the pumps. Those who do get water from a tap have been told not to drink it.
Mary Peltola won a special election for the Democrats to fill the lone seat for Alaska in the House of Representatives, beating Sarah Palin. Ms Peltola ran on a strong pro-abortion platform in a state the Republicans had held since 1973. However, the candidates will contest the seat again in November's midterms.
NASA said it would proceed on September 3rd with a second attempt to launch its Moon rocket, after the first launch was aborted because of an engine glitch. The agency is sending an unmanned capsule on an orbit around the Moon, 50 years after the last Apollo mission. The Artemis programme aims eventually to send men, and women, to the Moon.
Central-bank officials attending the annual Jackson Hole symposium conveyed a clear, hawkish message on interest rates. Jerome Powell, chairman of the Federal Reserve, said he expected the Fed would raise rates throughout next year. Officials from the European Central Bank talked of "sacrifice", and said that the lessons of the 1970s showed there should be no easing of monetary tightening at the first signs of a dip in inflation. The ecb is expected to lift rates at its next meeting on September 8th. The central bankers warned that higher rates were necessary to tame inflation, even if they lead to recession.
The stark commitments to carry on with rate increases rattled stockmarkets. The s&p 500, NASDAQ composite, Dow Jones Industrial Average, ftse 100 and German dax all fell sharply over a few days, wiping out most of the gains they had made during August's rally.
Annual inflation in the euro zone rose to 9.1% in August (it was over 20% in the Baltic countries of Estonia, Latvia and Lithuania). All indicators point to prices rising even more sharply over the coming months. The ecb is now expected to raise its main interest rate by more than half a percentage point.
Soaring energy prices are a big cause of Europe's inflation woes, and show no sign of easing amid the disruption to Russian gas supplies. This week Gazprom, Russia's state gas producer, shut the Nord Stream 1 pipeline again for three days, apparently for more repairs. Gazprom is also set to stop all shipments to Engie, a French utility, in a payment dispute. Meanwhile, Uniper, one of Germany's biggest utilities, asked for a government increase to its credit line to avoid a liquidity crunch. Wien Energie, which supplies Vienna, warned of difficulties in financing its operations. Amid the turmoil, the European Commission said it was working flat out on an intervention plan that would "decouple" gas prices from the electricity market.
Heating or eating?
In Britain the energy regulator lifted the price cap on bills by 80%. From October the average household's annual bill for gas and electricity will rise to £3,549 ($4,117). Companies are not covered by the cap; some said they would go bankrupt.
Turkey's economy grew by 7.6% in the second quarter, year on year. The weak lira, a result of the government's unorthodox economic policies, has boosted exports. But household consumption, up by 22.5% in the quarter, also added to gdp. With inflation at 80%, households have brought forward their purchases to beat further price increases over the coming months. Meanwhile, Turkish authorities raised energy prices for households by an average of 20%, and industry by 50%.
Snap decided to shed a fifth of its workforce amid a slowdown in digital advertising. The social-media company also warned of slowing revenues in this quarter.
Moderna filed lawsuits in America and Germany seeking damages from Pfizer and BioNTech, for allegedly infringing patents on the mRNA technology used in covid-19 vaccines.
America reached a breakthrough agreement with China that will allow American regulators to inspect the accounts of Chinese firms that are listed in the United States. A row over accounting standards had threatened to boot Chinese companies off American exchanges. That threat has receded, although Gary Gen-sler, head of the Securities and Exchange Commission, said that the new framework was "merely a step in the process".
BYD, a Chinese maker of electric cars with global ambitions, reported a big jump in sales and profit for the first six months of the year. The company sold more "new energy cars" in the first seven months of the year than in 2020 and 2021 combined. Nonetheless, byd's share price swooned after it emerged that Warren Buffett, its most prominent backer, had slightly reduced his stake to 19.9%.
Honda announced a partnership with lg Energy Solution, a South Korean batterymaker, to invest $4.4bn in building a factory for electriccar batteries in America. lg Energy Solution is expected to benefit from the tax credits provided in the Inflation Reduction Act for companies that lessen the reliance on China for battery components.
A90-hour week
People embarking on a career should be prepared to work 18 hours a day, according to the boss of Bombay Shaving Company in India. Shantanu Deshpande said that employees in their 20s should "worship" their job, and that the work-life balance at that age is "blah". Those who disagree should speak to his staff, he said. Mr Deshpande's comments come amid a trend of "quiet quitting", or doing the minimum that your job requires. "Acting your wage", as some quiet-quitters put it.
---
скачать журнал: The Economist - 3 сентября 2022
---