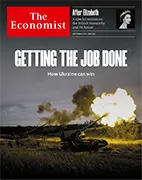 Год выпуска: сентябрь 2022
Автор: The Economist Newspaper and The Economist Group
Жанр: Экономика/Политика
Издательство: «The Economist Newspaper Ltd»
Формат: PDF (журнал на английском языке)
Качество: OCR
Количество страниц: 88
Getting the job one: How Ukraine can win
Vladimir Putin's war against Ukraine is failing. The West should help it fail faster: leader, page 9.
A stunning counteroffensive by Ukraine's armed forces, page 24.
In Russia disquiet about the war is growing, page 25.
After Elizabeth
A special section on Britain's monarchy and its future. Leader, page 10.
Obituary of Queen Elizabeth II, page 78.
Sentiments towards the head of state may weaken, page 15.
What sort of king Charles III will be, page 17.
ow the queen strengthened the monarchy, page 18.
The queen and Ireland, page 16.
How Britain changed during her reign, page 20.
Charles and the Commonwealth, page 21.
Before politics went on hold, page 22.
Bagehot on Bagehot, page 23.
The queen in "The Crown", page 71.
---
The world this week Politics
Hundreds of thousands of people were expected to file past the coffin of Queen Elizabeth II as she lay in state in Westminster Hall in London ahead of her funeral. The 96-year-old monarch died on September 8th at her Scottish home, Balmoral Castle. Charles III was proclaimed king in the four nations of the United Kingdom, and in the 14 countries where the British monarch is also head of state. Millions of people in Britain and across the world paid their respects to the queen.
Run away, run away!
A Ukrainian counter-offensive in Kharkiv province won back more land in a week than Russia's army had occupied in five months. Russian soldiers were caught off-guard. Many fled in disorder, abandoning their guns, trucks and even tanks to the advancing Ukrainians. It was the biggest setback for Vladimir Putin since he failed to capture Kyiv, the capital, at the start of his war.
Ukraine's president, Volodymyr Zelensky, visited the front line to cheer his country's troops. Mr Putin visited a Ferris wheel in Moscow, which broke down. Hawks on Russian state media started to question the conduct of the war. A few brave local politicians in Russia called for Mr Putin to resign, and even accused him of treason.
Troops from Armenia and Azerbaijan clashed at their border. Scores were killed on each side. It was the worst conflict between the two countries since 2020, when they fought over the disputed area of Nagorno-Karabakh. Turkey reiterated its support for Azerbaijan. Russia, which is allied with Armenia, called for calm.
Fighting also erupted between troops guarding the border between Kyrgyzstan and Tajikistan, killing two Tajik guards. The skirmish was over an outpost in a non-demarcated area. The two countries have scrapped before over the border. Last year more than 50 people were killed in clashes.
In Sweden's general election the Sweden Democrats, a nationalist party that frets that immigrants are draining the welfare state, came second. Since the Sweden Democrats hold the balance of power they may participate in creating a new government of the right, though probably not as full members of a new coalition.
Pierre Poilievre became the head of Canada's opposition Conservative Party. Mr Poilievre, who is 43 and has been an mp since he was 25, likes small government and decries wokery. He supported the "Freedom Convoy" led by lorry drivers that paralysed Ottawa earlier this year. "Canadians are hurting, and it is our job to transform that hurt into hope," he said.
The Mexican Congress voted to put the National Guard under military command. The guard was created in 2019 as a civilian force to replace the federal police. Andres Manuel Lopez Obrador, Mexico's president, has increased the powers of the army, arguing that it is less corrupt than the police.
Colombia's relations with Venezuela continued to thaw. Gustavo Petro, the new leftist president of Colombia, has re-established diplomatic relations with his despotic neighbour, Nicolas Maduro. The two countries' shared border will re-open to cargo traffic later in September. Flights will also resume. However, Colombia refused to extradite Venezuelan dissidents to face brutal justice back home.
Don Bolduc, a retired general who says Donald Trump won the presidential election of 2020 and covid-19 vaccines contain microchips, won a Republican primary in New Hampshire. He will be the party's candidate for the United States Senate in November. Democrats think their odds of retaining the seat have now improved.
Lindsey Graham, a Republican, introduced a bill in America's Senate that would ban abortion nationwide after 15 weeks of pregnancy. It has no chance of passing.
The Supreme Court backed an emergency injunction on Yeshiva University in New York that forces it to recognise a gay students' club, and said it should thrash the case out in lower courts. Yeshiva, an Orthodox Jewish college, welcomes gay students, but says it should not have to approve a club that is "inconsistent with the school's Torah values".
Negotiators trying to delineate a maritime border between Israel and Lebanon under American mediation said they were close to an agreement. If so, investment in finding and extracting oil and gas could accelerate.
Germany is in talks about buying a new air-defence system from Israel. Since Vladimir Putin invaded Ukraine, Germany has been anxious to beef up its defences.
Egypt's president, Abdel-Fattah al-Sisi, flew to Qatar to meet the emir, ending a long period of estrangement. During the Arab spring of 2011 Egypt's government was angered by Qatar's support for Islamist groups. One such group later won an election in Egypt and formed a government, but it was overthrown by the army, then under Mr Sisi.
The un halted aid shipments to Tigray, a northern region in Ethiopia suffering starvation because of a blockade, after fighting resumed between government forces and those loyal to Tigray's ruling party.
After a close and disputed election, William Ruto started his first day in office as Kenya's president with some serious policy announcements. He said he would simplify rules for importing goods through Kenya's main port and end fuel subsidies that could cost the government 0.8% of gdp this year, according to the imf.
Benin has asked Rwanda's government to send troops to help it fight jihadists spilling over its northern borders from Burkina Faso and Niger. The first of about 700 Rwandan soldiers are expected in October. Rwanda has also deployed its forces to fight jihadists in Mozambique.
A meeting of minds
Xi Jinping prepared to meet Vladimir Putin in Uzbekistan, where they are attending a summit of the Shanghai Co-operation Organisation in Samarkand. The presidents of China and Russia will discuss the war in Ukraine, among other things. It is Mr Xi's first trip abroad since the start of the pandemic.
In Thailand a political activist was jailed for two years under lese-majeste laws for dressing like the country's queen at a pro-democracy event in 2020. The activist denied the charges and said she had merely worn a traditional Thai dress. At least 210 people have been charged with insulting the royals over the past two years, according to Thai Lawyers for Human Rights.
America's annual inflation rate dipped in August to 8.3% from 8.5% in July, but monthon-month the consumer-price index unexpectedly rose by 0.1%. The government had hoped that falling petrol prices, now at a six-month low of $3.70 a gallon, would ease inflationary pressures. But core inflation, which does not include volatile energy and food prices, rose sharply. Household electricity bills were up by 15.8%, year on year, the biggest jump since 1981, and natural gas by 33%.
Inflation did fall in Britain for the first time in nearly a year, to 9.9%, mostly because of the decrease in petrol prices. The rate is expected to fall again, given the government's massive energy-relief package, which will cap household bills.
Stockmarkets were rattled by the inflation data, which point to another big rise in interest rates by the Federal Reserve. The s&p 500 dropped by 4.3%, the Dow Jones Industrial Average by 3.9% (all 30 stocks that make up the Dow fell) and the NASDAQ by 5.2%. They were the biggest one-day declines in the indices for two years.
Ursula von der Leyen, the president of the European Commission, gave details of a proposed windfall tax on energy companies to help households struggling with rocketing bills. Ms von der Leyen aims to raise €140bn ($140bn) from electricity companies, and said that oil, gas and coal firms would have to make a "crisis contribution". She also promised that the commission would undertake a comprehensive reform of the electricity market.
Meanwhile, the French government said it would cap increases to household energy bills at 15% next year, and provide direct payments to those on low incomes. Uniper, Germany's biggest distributor of gas, was in talks with the government that could see it nationalised.
Will it make a dent?
The International Energy Agency said that Russian oil production will have dropped by 1.9m barrels a day by February, compared with the start of Russia's invasion of Ukraine, after an eu embargo kicks in later this year. Since the war began Russian output has barely fallen, because oil bound for America and Europe has been rerouted to China, India and other places.
Twitter's shareholders approved Elon Musk's takeover offer at $54.20 a share, a deal that he now wants to terminate. The company's share price has tanked since Mr Musk made the offer in April, to around $40. A court hearing on the dispute is due to begin on October 17th. Meanwhile, a whistleblower who claims that Twitter is lackadaisical about security and has misled regulators testified to the Senate.
Mr Musk will use the evidence to bolster his case at the trial. Twitter said the allegations were "riddled with inconsistencies and inaccuracies".
The eu's General Court upheld almost all of the fine imposed on Google in 2018 for illegally restricting the market for search on its Android devices. It did shave 5% off the €4.3bn penalty ($4.3bn) after it overturned one part of the competition regulator's ruling.
Goldman Sachs was reportedly preparing to lay off hundreds of employees amid a decline in revenues. The news sent a chill throughout the financial industry. Meanwhile, Kwasi Kwarteng, Britain's new chancellor of the exchequer, was said to want to remove the cap on bankers' bonuses that was imposed on the City by the eu in 2014. Mr Kwarteng apparently thinks the move will improve economic growth.
Chips with everything
Foxconn, the Taiwanese contract manufacturer that assembles the iPhone and other devices, and Vedanta, an Indian industrial group, announced a venture to build a $19.5bn chipmaking factory in the Indian state of Gujarat.
India has joined America, the eu and others in subsidising the domestic production of semiconductors as a means of protecting technology and supply chains. If the plant is built it will be a boost for plans by Narendra Modi, the Indian prime minister, to industrialise the country.
Jeff Bezos's New Shepard rocket was grounded until federal regulators finish their investigation of a launch failure in which flames engulfed the rocket about a minute after take-off. The capsule, which is designed to carry paying passengers, detached itself and floated safely down to earth; Blue Origin, Mr Bezos's space firm, described it as a successful separation.
The flight carrying Queen Elizabeth II's coffin from Edinburgh to London was the most tracked ever, according to Flightradar24. More than 5m people followed the plane on its website and YouTube. The previous record was held by Nancy Pelosi's flight to Taiwan in August, which was tracked by 2.2m people. Flightradar24 has been used extensively since the start of the war in Ukraine to observe the movements of Russian oligarchs in their private jets.
---
скачать журнал: The Economist - 17 сентября 2022
---