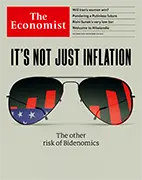 Год выпуска: октябрь 2022
Автор: The Economist Newspaper and The Economist Group
Жанр: Экономика/Политика
Издательство: «The Economist Newspaper Ltd»
Формат: PDF (журнал на английском языке)
Качество: OCR
Количество страниц: 84
The real risk of Bidenomics. Protectionism may end up hobbling America and its allies: leader, page 11.
Joe Biden is attempting the biggest overhaul of the American economy in a generation: briefing, page 19.
Will Iran's women win?
Their uprising could be the beginning of the end of Iran's theocracy: leader, page 12.
The protests are persisting, as the mullahs dither, page 41.
Pondering a Putinless future
Some among Russia's elite are starting to think the unthinkable, page 47.
The battle over Kherson, page 48.
The claim of a Ukrainian "dirty bomb" has got America's attention, page 25.
Rishi Sunak's very low bar
The promise of stability for British politics: leader, page 16.
The new prime minister chooses a cautious and defensive government, page 52.
His first job? Clearing up the mess he helped make: Bagehot, page 57.
The Bank of England has seen off some threats, but not all, page 54.
---
The world this week Politics
More than 230 people have been killed and over 12,000 have been arrested, according to tallies by human-rights groups, as protests rage on in Iran. The movement against the ayatollahs' regime has largely been led by women. In response to the violence, America has lengthened the list of individuals and groups subject to sanctions. The ruling clerics seem uncertain whether to give ground or crack down more fiercely.Israeli defence forces killed five Palestinians in a raid into the West Bank city of Nablus, where an Israeli soldier had been killed earlier this month. A sixth Palestinian was killed in a later incident.
Opinion polls preceding the Israeli election scheduled for November 1st show no clear favourite. The two leading contenders are blocs led by Yair Lapid, the incumbent prime minister, and Binyamin Netanyahu, a long-serving former prime minister. Pundits reckon that Mr Netanyahu's alliance has a slight edge.
Shifting the goalposts
In the lead-up to the football World Cup, which kicks off on November 20th in Qatar, the country faces mounting com-paints about labour abuses and the persecution of gay people. Watchdogs allege the arbitary arrests of gay activists. Some football stars have said they will be wearing armbands to show support for victims.
Peace talks between the Ethiopian government and the rulers of Tigray, a rebellious northern province, have started after nearly two years of civil war. Millions of civilians in Tigray are under blockade by the government and have not received aid since fighting resumed in August.
At least 50 people were killed and 300 injured when police in Chad intervened in protests demanding civilian rule. The protests erupted after the junta that seized power in April 2021 broke its promise to hand power to a civilian administration this month.
Rishi Sunak became Britain's third prime minister in two months, taking over from Liz Truss. Ms Truss, who resigned after a disastrous mini-budget spooked financial markets, was the shortest-serving prime minister in history. Mr Sunak was the only candidate for leadership of the ruling Conservative Party to garner enough nominations from Tory mps enter the race, after efforts by Boris Johnson to mount a comeback stalled.
In an attempt to bring the Tories together, Mr Sunak appointed a cabinet from different wings of the party. Jeremy Hunt was reappointed chancellor; James Cleverly, a backer of Mr Johnson, remained foreign secretary. The reappointment of Suella Braverman as home secretary stoked controversy; she had been forced to resign from the same position days earlier after sending an official document from her personal email.
Giorgia Meloni, the leader of the nationalist Brothers of Italy party, was sworn in as prime minister of Italy. She has promised strong support for Ukraine. Some observers fear a more confrontational relationship with Brussels, though she will want to maintain access to Italy's €200bn ($20ibn) share of the eu's covid recovery fund, which comes with strings attached.
Without producing evidence, Russia alleged that Ukraine was preparing to set off a nuclear dirty bomb on its own territory.
Observers in Ukraine and elsewhere were fearful that this might mean that Russia was itself planning to set one off, hoping to blame Ukraine. Foreign ministers of America, Britain and France were sufficiently alarmed to issue a joint statement warning Russia that it would be held accountable.
China's Communist Party introduced its new leadership after the close of its five-yearly congress. Xi Jinping was given a third five-year term as party chief. Hu Jintao, the former president, was escorted out of the closing session of the congress. State media said he was unwell. Even if only health-related, his departure appeared symbolic, as Mr Xi swept aside politicians linked to his predecessors.
Pennsylvanian voters saw perhaps the most closely watched debate of the midterm elections. John Fetterman, the Democrat running to be senator, met Mehmet Oz, a celebrity doctor and the Republican nominee. Questions about Mr Fetterman's fitness for office have been raised after he suffered a stroke in May. His performance did not allay concerns as he struggled to rebut Mr Oz or explain his positions.
A controversial letter signed by 30 progressive Democrats asking Joe Biden's administration to pursue negotiations with Russia to end the war in Ukraine was published and then quickly withdrawn by the caucus's chair, Pramila Jayapal. The letter was criticised for undercutting the American position on Ukraine. Ms Jayapal claimed that the letter had been written months earlier and was released by staff without vetting.
Jair Bolsonaro, the populist incumbent, and Luiz Inacio Lula da Silva, a leftist former president, were polling at 48% and 52%, respectively, in the lead-up to Brazil's presidential elections. That is a technical tie, given the margin of error. The last few weeks of the campaign have been marred by violence, polarisation and personal attack heavy political advertisements from both sides.
Pressed for freedom
Roberson Alphonse, a Haitian investigative journalist, survived an attempted assassination in Port-au-Prince, the country's capital. Although the situation in the country is worsening, it is unlikely that an American-backed security force will be deployed to the island soon. The European Union expressed concern at the "humanitarian catastrophe" unfolding in Haiti.
Arshad Sharif, a Pakistani journalist, was shot dead at a police checkpoint in Kenya on October 23rd. Mr Ashraf was a supporter of Imran Khan, Pakistan's former prime minister. At home, Mr Khan is threatening to march with his supporters on Islamabad, the capital, agitating for early elections. This may lead to clashes with the country's security forces.
Cyclone Sitrang made landfall in Bangladesh on October 24th. Despite 700,000 people being evacuated, at least 28 were killed. Thousands of homes were destroyed and millions were left without power. Cities, including the capital, Dhaka were flooded.
More than 80 people were killed in military airstrikes during a concert in the north of Kachin state in Myanmar. The army, which staged a coup in Februrary 2021, has grown increasingly desperate and brutal in its efforts to maintain control.
The world this week Business
Adidas's, a German sportswear-maker, joined Balenciaga, a fashion label owned by Kering, a luxury-goods conglomerate, in cutting ties with Kanye West, a rapper and fashion designer, for his antisemitic remarks. The decision is set to cut Adidas' annual profits in half this year.
European natural-gas prices fell below €100 ($100.8) per megawatt hour for the first time since Russia cut supply in June, as lower demand amid mild weather and large amounts of gas in storage helped to ease concerns about winter shortages. Demand for gas in Italy, a large consumer, sank by a tenth in August and September compared with the same months a year ago.
Chinese stocks fell sharply following the confirmation of President Xi Jinping's historic third term as the Communist Party's leader. The Nasdaq Golden Dragon index, which tracks American-listed shares of Chinese companies, has fallen by more than half in a year. The offshore yuan hit its weakest level against the dollar since 2008, as the fallout spread to currency markets.
Oasis or mirage?
Saudi Arabia hosted its Future Investment Initiative, an annual conference aimed at investors. Jamie Dimon, the chief executive of JPMorgan Chase, Stephen Schwarzman of Blackstone, a private-equity firm, and David Solomon, boss of Goldman Sachs, were among the speakers at the three-day event in Riyadh. Saudi Arabia is set to have one of the world's fastest-growing economies in 2022.
In Britain, real wages, which are adjusted for inflation, fell by 2.6% in the year to April, compared with the previous year, their biggest decline in a dozen years, according to the Office for National Statistics (ons). Inflation eroded a 5% gain in nominal wages.
British government-bond yields eased back to levels they were before unfunded tax cuts, now mostly scrapped, caused panic selling and prompted an intervention from the Bank of England in September. The yield on 30-year bonds, also known as gilts, was trading at 3.7% on October 26 th, a day after Rishi Sunak became prime minister.
The tech giants, Alphabet and Microsoft, announced slower revenue growth as customers cut spending. Meta reported falling sales and rising costs, stoking fears of an economic slump.
European banks reported bumper third-quarter profits as a result of higher interest rates, which tend to boost bank earnings. Barclays, Santander, UniCredit, Standard Chartered, HSBC and UBS all beat analysts' quarterly estimates. Deutsche Bank announced its highest annual profits in 13 years.
Canada's central bank raised its benchmark interest rate by a smaller-than-expected 0.5 percentage points to 3.75%. The European Central Bank and the Federal Reserve are expected to raise benchmark rates by 0.75 percentage points when they next meet.
Royal Philips, a Dutch health, technology company, will slash 4,000 jobs, around 5% of its workforce, as it attempts to cut costs amid high inflation. The decision follows €i.5bn in losses in the third quarter and legal action over millions of ventilators it had supplied.
Open skies
America's big three airlines reported increases in third-quarter transatlantic revenues compared with 2019, as the strong dollar encouraged Americans to book trips to Europe. Outbound passenger traffic from North America between May and August was nearly three times higher than in the previous four months.
Shell, Europe's largest energy firm, announced its second-highest quarterly profits ever on the back of higher oil and gas prices. The group reported adjusted earnings of $9.5bn in the third quarter.
Elon Musk said he intends to close his $44bn acquisition of Twitter, a social-media firm, in a matter of days. Twitter's share price has risen to $53.35, its highest since Mr Musk made his offer in April.
Heineken, a Dutch brewer, reported an 8.9% rise in beer sales during the third quarter, falling short of the average analyst estimate of 11.8%, as higher food and energy prices cut into consumer spending in Europe. The firm's share price fell by 10% in intraday trading on October 26th, the most since 2003.
Consumer-goods giants raised prices to offset lower sales volumes as shoppers reined in spending. Unilever, Reckitt Benckiser, Procter & Gamble and Nestlé reported a rise in quarterly earnings.
Credit Suisse, a Swiss bank, agreed to pay France €238m to settle claims that it helped clients avoid paying tax on their wealth by encouraging them to open bank accounts in Switzerland between 2005 and 2012. On October 27th the bank announced a restructuring plan. It is looking to raise SFr4bn ($4.1bn) of capital, including from the Saudi National Bank.
---
скачать журнал: The Economist - 29 октября 2022
---