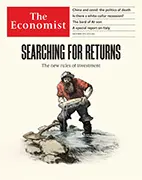 Год выпуска: декабрь 2022
Автор: The Economist Newspaper and The Economist Group
Жанр: Экономика/Политика
Издательство: «The Economist Newspaper Ltd»
Формат: PDF (журнал на английском языке)
Качество: OCR
Количество страниц: 92
Searching for returns: The new rules of investment
Investing in an era of higher interest rates and scarcer capital: leader,page 13, and briefing, page 20.
Inflation and rising interest rates threaten to make many retirees much poorer, page 65.
Global inflation is falling—but not enough, page 68.
China and covid: the politics of death
How will the party pivot from boasts about low covid death tolls? Chaguan, page 54.
China is loosening its restrictions, at great risk: leader, page 14, and analysis, page 51.
Is there a white-collar recession?
Despite a spate of lay-offs, white-collar workers will do just fine, page 61.
The bard of AI-von
How good is the latest craze in artificial intelligence? We conduct a Shakespearean experiment, page 59.
AI is at last permeating swathes of the business world, page 57.
Aspecial report on Italy
Giorgia Meloni's new government must make deep reforms if Italy is to regain its lost vitality, argues John Peet, after page 42.
---
The world this week Politics
China began dismantling its "zero-covid" policy, which was struggling to contain the Omi-cron variant and had become a source of widespread frustration. The state will no longer force people with mild cases to enter government-run quarantine centres. They can now isolate at home. It also lifted many testing requirements and said lockdowns should be more targeted. The changes come as the official number of new cases is falling. That is probably because fewer people are being tested. Anecdotal evidence suggests that the Omicron variant is spreading.
Unsafe sex
Indonesia's legislature passed a sweeping new criminal code that outlaws sex outside marriage, making it punishable by a stiff prison sentence. President Joko Widodo has not signed the new code into law, but has suggested he will. It applies to foreigners as well as locals. It also makes it illegal for Indonesians to leave their religion or persuade anyone to be a non-believer.
The Taliban regime in Afghanistan carried out its first public execution since returning to power last year. A man was shot for murder (by the victim's father) in front of a stadium crowd that included the government's justice minister. Judges have recently been ordered to adhere closely to sharia law. Human-rights groups fear a return to the public mass executions and floggings of the 1990s.
As Russia pounded Ukraine with more missiles, aiming to knock out critical infrastructure as winter deepens, Ukraine struck back. Two large explosions were reported at a pair of Russian air bases several hundred kilometres from the border. It is thought that the attacks, which damaged aircraft, were carried out by Ukrainian drones, but it is unclear why Russia had been unable to stop them.
Volodymyr Zelensky, Ukraine's president, said that the price cap set by the G7 and eu on Russian oil was too high to inflict real damage on the Russian economy and called for tougher action. The allies have imposed a cap of $60 a barrel, about the same as the price paid anyway for oil pumped from the Urals.
Latvia's media regulator ordered tv Rain, an independent Russian channel that operates from Latvia, to shut down. tv Rain was fined for depicting Crimea as part of Russia and criticised for being too sympathetic to Russian conscript troops. It says it is against the war. Most of its viewers watch it on YouTube anyway, where it will continue to operate.
Police in Germany arrested around 25 people who are suspected of planning to carry out an armed coup and replace the government with a council headed by a minor aristocrat. Far-right extremism has become a significant problem in Germany in recent years.
Israel's prime minister-designate, Binyamin Netanyahu, clinched the support of enough parties in the Knesset to form a government. The emerging coalition is likely to include two far-right parties, including one led by Itamar Ben-Gvir, who may get a newly created post as national security minister.
China's leader, Xi Jinping, arrived in Saudi Arabia to meet the leaders of the kingdom and a string of bigwigs from across the Arab world. America is nervous that China, which is investing heavily in the Gulf, is seeking to displace it as the region's key partner.
Meanwhile, an American federal court dismissed a lawsuit against Saudi Arabia's crown prince and de facto ruler, Muhammad bin Salman, who had been accused of ordering the murder of a Saudi dissident journalist, Jamal Khashoggi, in 2018. It said he had immunity as a head of government, a decision that came as a relief to the American administration.
Sudan's military rulers reached a deal with pro-democracy leaders to establish a civilian-led government that will manage a transition to democracy. A previous powersharing agreement struck after a coup in 2019 fell apart after a second putsch last year.
South Africa's president, Cyril Ramaphosa, asked the country's highest court to throw out the findings of a panel appointed by Parliament, which alleged enough evidence of misconduct to consider impeaching him. The panel was investigating the source of at least $580,000 that had been hidden in, and then stolen from, his sofa.
Ndambi Guebuza, the son of Mozambique's former president, Armando Guebuza, was sentenced to 12 years in prison over a $2.2bn debt-and-cor-ruption scandal.
Pedro Castillo was removed from office as president of Peru by Congress, just hours after he tried to shut down the legislature. The 16-month term of Mr Castillo, a leftist, was marked by chaotic government and corruption. Dina Boluarte, the vice-president, was sworn in as president. She referred to her former boss's attempt to dissolve Congress as a coup attempt, though the army did not support him. Mr Castillo was nevertheless arrested.
Cristina Fernandez de Kirchner, the vice-president of Argentina, was found guilty of corruption and sentenced to six years in jail. Ms Fernandez denies that she steered public contracts to a family friend. She called the judiciary "a mafia" and dared officials to arrest her. She is unlikely to go to prison; the case will probably end up in the Supreme Court.
Mexico's president, Andres Manuel Lopez Obrador, came a step closer to realising his pet project when the lower house of Congress approved proposals to slim down the country's electoral body. Opponents say the changes, which will probably be approved by the Senate, will weaken democracy.
Raphael Warnock held on to a Senate seat in Georgia for the Democrats in a run-off election. His victory means the party will have a 51-49 advantage in the Senate when Congress convenes in January.
Happy Christmas!
During December Britain is expected to lose the most days to strikes in a month since 1989. Railway workers are walking out for several days; an overtime ban will be in force over the holiday period. Nurses, postal workers, ambulance drivers and airport staff are among those downing tools. The disruption may spread further, as the cost-of-living crisis bites and more unions reject below-inflation pay deals.
It is not just Britain that is experiencing a winter of discontent. Staff at the European Central Bank rejected a pay offer that fell well short of inflation and are considering industrial action. The ecb is at least consistent. It has argued in favour of pay restraint to keep inflation subdued.
The world this week Business
Meta's oversight board recommended that the company review its procedures on handling content from celebrities and politicians, following revelations that harmful content that is posted by the rich and famous is often allowed to stay online, contravening the rules for other users. The board told Facebook's owner that it "should prioritise expression that is important for human rights". Separately, Facebook threatened to remove news content from its American site if legislation demands that it pay news organisations for the use of their material. Facebook prefers to make its own deals.
Foxconn on the run
Foxconn reported a sharp drop in revenue for November, which is normally a boom time for the electronics contract manufacturer. It noted the impact that covid-19 restrictions have had on its hub in Zhengzhou, where workers have clashed with security guards over their conditions and walked out after being told they would be locked in.
In what it described as one of the largest-ever foreign direct investments in the United States, Taiwan Semiconductor Manufacturing Company announced that it would build a second chip factory in Arizona, taking the amount it is spending on both plants to $40bn. tsmc makes Apple's semiconductors for the iPhone and other devices, which can now "be proudly stamped Made in America", said Tim Cook, Apple's chief executive.
As it accelerated plans to guarantee the supply chain for its chips, Apple's ambitions to build an electric vehicle went into reverse. The company has reportedly pushed back the launch date to 2026, and has encountered technical problems that mean the car will only be able to handle selfdriving tasks on motorways.
The International Energy Agency said that the expansion of renewable energy will happen at a much faster rate over the next five years than was thought likely a year ago, and that Russia's war in Ukraine marks a "turning point" for the transition to clean energy in Europe. It forecast that renewables as a whole will overtake coal in 2025 to become the biggest source of the world's electricity generation. Half of the new renewable capacity will be in China.
The market for renewables is growing, but so is demand for coal as countries look for short-term fixes to tackle an energy crunch. Britain has approved the first deep coal mine in 30 years, to supply coking coal to steelmakers. Germany recently boosted its coal-power capacity to secure energy supply over the winter.
OPEC+ agreed to keep oil output levels steady, but said it was ready to take immediate action to "address market developments" should they arise. The meeting was held the day before a price cap and embargo on Russian oil came into force and was the last scheduled full gathering of the oil cartel until June next year.
The global airline industry should return to profitability in 2023, according to the International Air Transport Association. It reckons total net profits will come in around $5bn, still some way below the $26bn racked up in 2019. Net losses this year will be some $7bn, a big improvement on the $42bn lost by airlines in 2021 and the $138bn in 2020.
An activist investment fund with a small stake in BlackRock has called for Larry Fink to step down as chief executive, over his "contradictions" on environmental, social and governance investments. BlackRock is a pioneer of esg policy in the financial industry, but has been accused of greenwashing for withholding support from many esg shareholder proposals.
Neuralink, one of Elon Musk's ventures, is being investigated by the American government for violating animal welfare, according to reports. The secretive firm uses monkeys, pigs and sheep in the development of its brain-computer interfaces. Many are killed, but employees are concerned that some testing is rushed, leading to unnecessary suffering for the animals.
Bankman-Fried to be grilled
Sam Bankman-Fried, the founder of ftx, said he will testify to Congress about the collapse of his crypto exchange, but that he hadn't finished reviewing the events that led to its bankruptcy and might not be ready to attend a hearing on December 13 th. The crypto industry continues to feel the after-effects of ftx's collapse. Orthogonal Trading, a crypto hedge fund, was the latest to default on a loan.
Microsoft's president, Brad Smith, said his company had made an offer to Sony to allow "Call of Duty" on PlayStation consoles if Microsoft wins approval to take over Activision Blizzard, which owns the game series. Microsoft also signed a deal with Nintendo to allow the game on its consoles. Mr Smith noted that Sony is the "loudest objector" to its takeover: "It's as excited about this deal as Blockbuster was about the rise of Netflix."
---
скачать журнал: The Economist - 10 декабря 2022
---