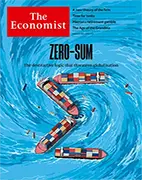 Год выпуска: январь 2023
Автор: The Economist Newspaper and The Economist Group
Жанр: Экономика/Политика
Издательство: «The Economist Newspaper Ltd»
Формат: PDF (журнал на английском языке)
Качество: OCR
Количество страниц: 80
ZERO-SUM: The destructive logic that threatens globalisation
The destructive logic that threatens globalisation: leader, page 9.
Subsidies, export controls and curbs on foreign investment are proliferating around the world: briefing, page 17.
America has fired the starting gun on a global subsidy race, page 63.
Warnings from history for a new era of industrial policy: Free exchange, page 68.
A new theory of the firm
Digital technology is redrawing companies' boundaries, page 56.
Time for tanks
The West is still too cautious about supplying weapons to reverse Vladimir Putin's invasion: leader, page 10.
The war has devastated the environment, too, page 22.
Macron's retirement gamble
The government wants the French to work longer. Good luck with that, page 21.
Age of the grandma
As lifespans stretch and fertility falls, the ratio of grandparents to children is higher than ever before. That has big consequences, page 53.
---
The world this week Politics
Thousands of supporters of Jair Bolsonaro, who was Brazil's president until narrowly losing an election in October, stormed the presidential palace, Congress and the Supreme Court in an attempted insurrection. They smashed offices and attacked journalists and the police. Luiz Inacio Lula da Silva, the new president, put security in Brasilia, the capital, under the control of his government. Mr Bolsonaro, who has been in Florida since December, distanced himself from the violence. But a few days later he posted a video which once again questioned the validity of the election result.
Protests continued to rage in Peru, following the ousting of Pedro Castillo, a left-wing president, after his attempted "self-coup" in December. At least 19 people died this week. Dina Boluarte, who is now president, is among several politicians to be investigated by the attorney-general's office for "genocide". She denies any wrongdoing.
Mexico's security forces arrested Ovidio Guzman, a son of "El Chapo", the former head of the Sinaloa drug cartel. At least 29 people were killed in the ensuing violence. The arrest may help appease critics of the soft approach to organised crime taken by Andres Manuel Lopez Obrador, the president, which has included defending the release of Mr Guzman after he was captured in 2019.
Joe Biden met Mr Lopez Obrador and Justin Trudeau, his Mexican and Canadian counterparts, to discuss further economic integration at a summit in Mexico City. The gathering of the North American leaders was marked by friction on other issues. Mr Biden wants Mexico to do more to tackle drugs flowing north. Mr Lopez Obrador criticised the United States for its "disdain" for Latin America. The us and Canada expressed concern about Mexico's nationalistic energy policy.
Mr Biden said he was surprised by the discovery of ten classified documents at an office he had used before the start of his presidential campaign. The papers were found on November 2nd last year, shortly before the midterm elections, and were handed to the National Archives the following day. A second batch of documents was subsequently found at a different location. The news comes five months after the fbi removed a trove of sensitive material from Donald Trump's home in Florida.
Ayes to the right
America's House of Representatives adopted new procedural rules proposed by hard-right Republicans in exchange for supporting Kevin McCarthy as speaker. Mr McCarthy was elected to the job on the 15th round of voting. The new rules make it harder to reach agreement on spending and allow just one congressman to call a vote to oust the speaker. Democrats said they were crafted for "maga extremists".
Dozens of countries placed restrictions on travellers from China, as covid-19 continued to tear through the country. In retaliation, China stopped issuing short-term visas to people from South Korea and Japan, which had imposed some of the most stringent measures. The who said China's official statistics underrepresented the true impact of covid in the country.
Pakistan's government held talks with the imf in an effort to restart a bail-out programme for the country. The imf wants Pakistan to raise fuel prices and taxes, which the government is reluctant to do. Amid warnings that Pakistan's foreign-currency reserves cover less than a month's worth of imports, Saudi Arabia said it may extend an $11bn rescue programme of investments and loans to the government.
Iran executed two more protesters. The men said they had been tortured into falsely confessing that they had killed a member of the security forces during protests against the government last year. At least 100 people have been sentenced to death or charged with capital offences in connection to the unrest.
Annual inflation surged to almost 22% in Egypt. The Egyptian pound has sunk to a new low against the dollar after the central bank devalued the currency for the third time in ten months, which will increase pressure on the bank to raise interest rates.
Uganda's worst Ebola outbreak in two decades has officially ended. The virus, which usually kills roughly half the people it infects, took 55 lives in 142 confirmed cases before it was contained.
Rebels in Ethiopia's northern region of Tigray have begun handing over heavy weapons under a peace deal struck in November. The two-year civil war has claimed hundreds of thousands of lives, mostly from starvation and illness due to a blockade of the region by government forces.
West Africa and the Sahel face "unprecedented" security and humanitarian challenges, according to the un. Jihadists, criminal gangs and other armed groups have forced the closure of more than 10,000 schools and 7,000 clinics in the region.
Nigeria's independent electoral commission said that a general election scheduled for February 25th may have to be postponed because of a wave of attacks on its offices.
The West appeared to be stepping up its supplies of weapons to Ukraine. America, France and Germany all indicated that they are sending various types of infantry fighting vehicles. But what Ukraine is really after are main battle tanks. Reports say that Britain might be preparing to send a limited number of Challengers; German-made Leopards or American Abrams would be better.
Vladimir Putin replaced Russia's commander in Ukraine, putting the armed forces' chief of staff, Valery Gerasimov, in charge of the war and demoting Sergei Surovikin, known for his brutal tactics, to become his deputy after just three months in charge.
To the barricades!
The French government announced reforms to the state pension system, including an increase in the official retirement age from 62 to 64.
France would still have the lowest retirement age in any of Europe's big economies, but the policy is incredibly unpopular. Unions have called nationwide strikes.
Britain's government, facing a wave of industrial action, introduced a bill that would require unions representing railway, ambulance and fireservice workers, among others, to provide a minimum level of cover during strikes. Even if passed in Parliament the legislation won't come into force until later this year, but the bill has further angered those who are currently on strike. Unions claim the new law may be illegal.
The world this week Business
The World Bank sharply reduced its forecast of world economic growth this year, to 1.7%, which would be the third-weakest pace in nearly three decades, behind the global recessions of 2009 and 2020. The bank said the lower forecast reflected a "synchronous" tightening of monetary policy and continuing disruption caused by Russia's war in Ukraine. It warned that small countries reeling from the pandemic and the effects of Russia's war could see permanent losses to their output. Assuming that the war does not escalate, Ukraine's economy is expected to grow by 3.3%, but only after a third of its gdp was wiped out last year.
Jerome Powell said the Federal Reserve would not adjust its polices to tackle climatechange issues, and would instead "stick to our knitting" of making judgments related to inflation and supporting the job market. Some central banks take climate change into consideration in their deliberations. But the Fed's chairman thinks that this would undermine support for its decisions, especially when there are tough calls to make on interest rates.
The euro zone's inflation rate dropped to 9.2% in December from 10.1% in November, helped by a sharp fall in the cost of energy. An exceptionally mild start to the winter in Europe has helped push wholesale gas prices down to where they were before the start of Russia's invasion of Ukraine, which should help ease inflationary pressures further. Along with positive news about German factory output and lower unemployment, the euro zone has had an optimistic start to the year, allaying fears of stagflation.
As South Africa struggles through its worst-ever blackouts, Cyril Ramaphosa, the country's president, warned that the energy ministry could end up taking control of Eskom, the state-owned electricity provider. The threat came after allegations emerged that an attempt was made to poison Eskom's chief executive in December, when he submitted his resignation.
"Restore the magic"
An almighty proxy battle was shaping up at Disney, after the company said it did not want to give Nelson Peltz a seat on the board. Mr Peltz, a prolific activist investor, thinks Disney has paid too much for some acquisitions, such as 21st Century Fox in 2018, and wants a successor named for Bob Iger, who was recently reinstalled as chief executive.
Goldman Sachs started a cull of around 6% of its employees, its biggest cost-cutting exercise since the financial crisis of 2007-09. The bank is anticipating a slowdown, but it had also kept on workers during the pandemic that it would normally have let go, leading to higher staffing levels.
The upheaval in the crypto industry following the bankruptcy of FTX continued to spread, as Coinbase, another exchange, said it would cut 950 jobs, about a fifth of its workforce, in order to "weather downturns" in the market.
Ant Group, a Chinese fintech giant, confirmed that Jack Ma is to give up control of the company and that several agreements that boosted his influence will be terminated and his voting rights vastly reduced. The announcement will please the Chinese government, which forced Ant to abandon an ipo in November 2020 at the start of its crackdown on tech companies.
Since its launch last year, supporters and critics alike say that ChatGPT has had the ability to disrupt publishing, education and even the use of search engines. Microsoft is now reportedly considering making a $10bn investment in OpenAi, the startup behind the generative artificial intelligence chatbot. ChatGPT creates text from simple instructions. New York City has banned it from schools, in case students use it to write homework.
Albertsons reported an 8% rise in sales for its latest quarter, year on year. Last October Albertsons agreed to merge with Kroger in a $24.6bn deal, but the combination of two of America's biggest supermarket chains has attracted intense scrutiny from competition regulators.
Rolls-Royce had a record year in 2022, selling 6,021 vehicles, the first time in its 118-year history that annual sales have exceeded 6,000. The carmaker, which is owned by bmw, said that this was despite a drop in orders from Russians amid the war in Ukraine.
Don't dine with me
The market for high-end fine dining could face a shake-up, with the news that Noma is to shut its doors from the end of 2024. The Copenhagen hotspot, famed for its tasting menu of Nordic cuisine (reindeer heart and slightly wet hay are some of its delights), has been rated the world's best restaurant several times. Although customers fork out $800 for the tasting menu, Rene Redzepi, Noma's founder, thinks the industry is unsustainable. Noma will instead become a cooking laboratory, with occasional pop-up nights.
---
скачать журнал: The Economist - 14 января 2023
---