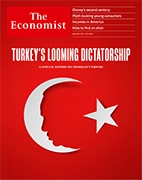 Год выпуска: январь 2023
Автор: The Economist Newspaper and The Economist Group
Жанр: Экономика/Политика
Издательство: «The Economist Newspaper Ltd»
Формат: PDF (журнал на английском языке)
Качество: OCR
Количество страниц: 88
TURKEY'S LOOMING DICTATORSHIP: A Special Report On Erdogan's Empire
Recep Tayyip Erdogan could turn a flawed democracy into a full-blown autocracy: leader, page 9.
Turkey faces an election that could decide its future, argues Piotr Zalewski, see our special report, after page 40.
Mr Erdogan is eyeing reconciliation with a Syrian regime he once sought to topple, page 27.
Disney's second century
Technology is turning the business of culture upside down: leader, page 10.
As Disney reaches 100, its business is on a rollercoaster ride: briefing, page 16.
Myth-busting young consumers
A memo on how to sell to the young: leader, page 12.
They are woke, broke and complicated. Businesses should take note, page 53.
Incomes in America
They are rising, especially for the poorest, page 32.
How to find an alien
Ideas for spotting et are getting more and more inventive, page 68.
---
The world this week Politics
Russia intensified its missile attacks on cities in Ukraine, part of its strategy to bomb the population into submission. One rocket hit a residential block in Dnipro, killing at least 40 people, the deadliest single loss of civilian lives in Russia's latest campaign. It has mostly targeted energy infrastructure, causing widespread loss of power in the depth of winter.
Ukraine's interior minister was killed in a helicopter crash in a suburb of Kyiv. The helicopter came down in dense fog near a nursery, killing at least 14 people in total. The interior ministry is responsible for domestic security and has helped gather evidence on Russian war crimes.
Christine Lambrecht resigned as Germany's defence minister. She had lost credibility after a number of gaffes, such as offering to supply Ukraine with helmets when it needs heavy weapons. The new defence minister is Boris Pistorius. His appointment came as Germany's allies pressed the government to send Leopard tanks to Ukraine, a move it has resisted.
Italian police arrested Matteo Messina Denaro, Italy's most-wanted Mafia figure, after 30 years on the run. He was caught in Palermo attending a clinic under a false name. The arrest was hailed as the culmination of a three-decade-old strategy to weaken the grip of Cosa Nostra on Sicily.
A Brazilian Supreme Court judge approved a request from prosecutors to include Jair Bolsonaro, Brazil's former right-wing president, in an investigation into the storming of government buildings by his supporters this month. Luiz Inacio Lula da Silva, the new president, dismissed 40 soldiers who were stationed outside the presidential palace when the protests took place.
A constitutional clash
The British government blocked the Scottish Parliament's recently passed gender-recognition bill. It is the first time a Scottish law has been blocked since devolution in 1999. The Westminster government said allowing someone in Scotland to change their gender more easily would have a negative impact on nationwide "equalities protections". Nicola Sturgeon, Scotland's first minister, promised to pursue the issue in the courts. Separately, the British government reversed course and said that a new law to ban conversion therapy would now include trans people.
China's population fell for the first time since the 1960s. The government has long struggled to convince people to have more children. A shrinking labour force and ageing population will increase pressure on the economy and health system. It is also a blow to national pride: India is poised to pass China as the world's most populous country.
China reported 59,938 covidrelated deaths between December 8th and January 12th. It was the first time the government had released such detailed figures since lifting its "zero-covid" policy last month. The real toll is much higher. The official statistics refer only to deaths recorded at medical facilities and doctors have been discouraged from citing covid on death certificates.
Mursal Nabizada, a former mp in Afghanistan, was shot dead at her home in Kabul. Ms Nabizada, a champion of women's rights, had decided to stay in the country after the Taliban regained power in 2021. Step by step, the regime has been dismantling women's freedoms and protections. It has even sought to cover the faces of shop mannequins (which is a compromise: it had wanted to chop their heads off).
A plane crash near the tourist city of Pokhara in Nepal killed all 72 people on board. It was the country's worst such incident in 30 years.
In a surprise announcement Jacinda Ardern said she would step down as New Zealand's prime minister. Ms Ardern led her country through the pandemic—in often controversial ways, such as closing the border for two years. Her approval rating has slumped lately, and she says she no longer has the energy to stay in office. Ms Ardern had faced elections in October.
In the Philippines Maria Ressa and her news organisation, Rappler, were cleared of tax evasion by a court in Manila. Ms Ressa, a joint winner of the Nobel peace prize in 2021, provoked the ire of Rodrigo Duterte, the country's previous president, when she investigated his bloody war on drugs.
The Supreme Court in Israel blocked the appointment of Aryeh Deri as interior minister and vice-prime minister because of his conviction for tax fraud. The ruling sets Binyamin Netanyahu, the prime minister, who himself faces charges of bribery and fraud, on a collision path with the court. His government has proposals for reforming the court that would limit its powers and, say his opponents, undermine Israeli democracy. More than 80,000 protesters rallied in Tel Aviv against the plan.
Iran executed Alireza Akbari, a British-Iranian convicted by the regime of spying. Mr Akbari, who was arrested in 2019, was previously the deputy Iranian defence minister. He said he had been tortured and forced to confess to crimes that he did not commit.
Jihadists in Burkina Faso kidnapped 50 women and girls foraging for food near a town that has been blockaded by the insurgents. Thousands of people have been killed and millions forced from their homes and fields since jihadists began crossing the border from Mali in 2015.
Senior officials from America and Russia will visit Africa in a growing struggle for influence on the continent. Janet Yellen, America's treasury secretary, is to visit Senegal, South Africa and Zambia in a bid to counter the economic and political influence of China, a big financier of infrastructure projects. Sergei Lavrov, Russia's foreign minister, will visit South Africa.
The paper trail
More classified documents were found at the private home of Joe Biden. The Justice Department appointed a special counsel to look into Mr Biden's handling of the material. Republicans demanded the release of visitor logs to the home (there are none), pointing out that Democrats had lodged a similar request when Donald Trump's home was searched by the fbi last August.
Eric Adams, the Democratic mayor of New York, visited America's border with Mexico to declare that there was "no more room" in his city for any more illegal migrants, and to criticise the Biden administration's handling of migration. New York has received tens of thousands of migrants, in part because some Republican states have made a point of busing new arrivals to areas run by Democrats.
The world this week Business
Markets were left dumbfounded by the Bank of Japan's decision to stick with its policy of controlling the yield on Japanese long-term government bonds. Investors were expecting the central bank to at least signal that it would change its monetary policy, after it had raised the cap on fluctuations (above or below a target of zero) in ten-year bond yields in December. Since then it has spent ¥34trn ($265bn) purchasing bonds to keep yields low. The yen fell by 2% against the dollar after the announcement.
Britain's annual inflation rate dipped only slightly in December, to 10.5%. The government has promised to halve the rate this year. Food prices rose by 16.9% over 12 months, the fastest pace in decades. In America the inflation rate fell to 6.5% in December. In the euro zone it dropped to 9.2%.
When there's little to deal in Goldman Sachs reported a slump in profit for the fourth quarter, caused in part by a slowdown in investment banking. The bank is shedding 6.5% of its staff, including investment bankers, as part of a cost-cutting drive. Still, Goldman's net profit for the whole of 2022 came in at $ii.3bn. Other banks have reported similar tales. Morgan Stanley blamed its fall in revenue from investment banking on a "challenging market environment".
Some of Brazil's biggest banks, including btg Pactual and Santander Brasil, were left exposed to debt from Ameri-canas, a giant retail chain that has reported accounting "inconsistencies", leading to the resignation of its chief executive and chief financial officer. Facing bankruptcy, Americanas has been given a month's protection from its creditors by the courts. The news of its potential collapse caused its stock to plunge by 77% in a day, the biggest fall for any company in the Ibovespa index for at least two decades.
Didi Global said that China's network-security office had given it permission to sign up new users to its ride-hailing service, 18 months after people were banned from downloading its app amid a crackdown on China's tech giants. Didi fell foul of the authorities when it floated shares in New York in 2021. It eventually delisted its stock. The resumption of normal service indicates that the government now sees tech companies as engines of growth again, rather than as potential political threats.
China's economy grew by just 3% in 2022, the weakest expansion since 1976 apart from 2020. Last year brought more extensive lockdowns in China, disrupting factories and consumer spending. China's exports in December fell by 9.9% year-on-year in dollar terms, the sharpest decline since the start of the pandemic.
The "reopening" of China's economy after zero-covid will affect a number of industries this year. The International Energy Agency reckons that oil demand will hit a record 101.7m barrels a day, with around half the gain coming from China, even though the speed of its reopening is uncertain. The return of Chinese tourists was cited as a factor by the World Tourism Organisation when it forecast that international holidaymaking could reach 80-95% of pre-pandemic levels.
Underlining the surge in demand for air travel after almost three years of covid restrictions, Ryanair, Europe's biggest airline, took 4.95m bookings in a week, its most ever. And United Airlines said its profit in the fourth quarter of 2022 was almost a third higher than in the same period of 2019, before the pandemic. It expects sales to be 50% higher this quarter than in the same three months last year.
German gdp grew by 1.9% in 2022, despite the energy crisis and knock-on effects of the war in Ukraine. Germany's economy ministry thinks a slowdown in the coming months will be "milder and shorter than expected".
Microsoft decided to cut 10,000 jobs, around 5% of its workforce, the latest in a round of lay-offs by tech companies grappling with a postpandemic slowdown in sales.
Picking winners and losers After months of trying to avoid bankruptcy, Britishvolt called in the administrators. The battery-making startup had been championed by the British government three years ago as part of its "green industrial revolution". On the same day that it collapsed the business committee in the House of Commons launched an inquiry into the viability of making batteries in Britain for electric cars, noting a "series of setbacks" in the industry.
The trial got under way of Elon Musk for securities fraud in relation to a misleading tweet he posted in 2018 that suggested he was taking Tesla private. A group of investors are suing him, claiming they lost billions in the market reaction to the tweet. Mr Musk may well settle before the trial reaches its conclusion. Jury candidates displaying hostility towards Mr Musk, including one who described him as a "delusional narcissist", were weeded out from the final selection.
---
скачать журнал: The Economist - 21 января 2023
---