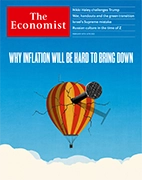 Год выпуска: февраль 2023
Автор: The Economist Newspaper and The Economist Group
Жанр: Экономика/Политика
Издательство: «The Economist Newspaper Ltd»
Формат: PDF (журнал на английском языке)
Качество: OCR
Количество страниц: 80
Why inflation will be hard to bring down
Inflation will be harder to bring down than markets think: leader, page 9.
Investors believe the danger is over. Not so fast: briefing, page 15.
Their bet on a soft landing is not the good news it seems: Buttonwood, page 68.
Nikki Haley challenges Trump
A long-shot candidacy complicates Republicans' chances of finding a new leader, page 18.
War, handouts and the green transition
To decarbonise faster, let renewables firms make money: leader, page 11.
How the green transition is being turbocharged, page 64.
European business and the green-subsidy race, page 58.
Israel's Supreme mistake
Binyamin Netanyahu's legal reforms are a dreadful answer to a real problem: leader, page 10.
And they are dividing the country, page 43.
Russian culture in the time of Z
Repression can stifle the arts. Creating something new is harder, page 75.
Paris's long fascination with Moscow: Charlemagne, page 50.
---
The world this week Politics
Scotland's first minister, Nicola Sturgeon, unexpectedly announced she would resign, after more than eight years in office. Ms Sturgeon has campaigned tirelessly for Scottish independence, a cause that Scots rejected in a referendum in 2014. Her efforts to ask voters the same question again, hoping for a different answer, have been rebuffed by the courts. She had been pilloried over the state of Scotland's public services, and rowed with some of her own Scottish Nationalists over transgender issues. She will stay in office until a successor is found.
The death toll from the earthquakes that hit southern Turkey and northern Syria passed 42,000. Survivors were still being pulled from the wreckage, a week after the tremors, but hope is dim for those still trapped. Critics lambasted Recep Tayyip Erdogan, Turkey's president, for policies that allowed construction firms to avoid safety measures that would have made more buildings earthquake-proof. He faces re-election this year.
America temporarily eased sanctions on Syria to allow earthquake aid into the country. New border crossings were opened to expedite the transfer of supplies. Egypt, Jordan and the United Arab Emirates have been leading the relief effort.
The president of Moldova, Maia Sandu, said that Russia was trying to overthrow her pro-EU government by infiltrating the country and stirring up protests. Ukraine's president, Volodymyr Zelensky, says that Ukraine has uncovered a Russian plot to destabilise Moldova. The embattled Moldovan prime minister stepped down and was replaced by Dorin Recean, who was the president's security adviser and is also proWestern. Moldova applied to join the eu last year.
Another journalist in Russia was sentenced to prison under "fake news" laws for reporting on Russia's bombing of Mariupol in Ukraine last March. Maria Ponomarenko was sent to a penal colony for six years for social-media posts describing an air strike on a theatre full of children.
The Brothers of Italy, the senior party in the Italian governing coalition, handily won regional elections in Lazio and Lombardy, strengthening the hand of the prime minister, Giorgia Meloni. The right-wing coalition's victory in Lazio, around Rome, turfed out the centre-left, which had held power there for a decade.
Up, up and away
A week after shooting down a Chinese spy balloon, America downed several unidentified objects flying over North America. It did not specify what the objects were. China accused America of having flown balloons into its airspace more than ten times during the past year.
The hunger crisis in North Korea has worsened, according to the South Korean government. Even the army's food rations have been cut, for the first time in two decades. North Korea, a communist dictatorship, has long mismanaged its food supply. In the 1990s a famine killed at least 200,000 and perhaps as many as 3m people.
Tax officials in India raided the BBC's offices in Delhi and Mumbai, weeks after the broadcaster released a documentary blaming Narendra Modi, the prime minister, for failing to prevent massacres of Muslims while he was in charge of the state of Gujarat. The documentary was banned in India. Critics of the ruling Hindu nationalist party have often run into trouble with the tax man.
New Zealand declared a state of emergency as Cyclone Gabrielle battered the country's north, causing widespread flooding and landslides. It was also hit by an earthquake of magnitude 6.1.
Huge protests continued in Israel against proposed reforms put forward by Binyamin Netanyahu, the prime minister, that would curtail the power of the Supreme Court to overturn laws passed by the Knesset. Isaac Herzog, Israel's president, said many people see the reform as a "threat to Israeli democracy" and warned of a "societal and constitutional collapse". Meanwhile the government passed a law to strip Israeli Arabs convicted of terrorism of their citizenship.
Police in Tunisia arrested more prominent critics of the president, Kais Saied, including a senior official in the main opposition party, Ennahda, which styles itself "Muslim democratic". Police have also arrested a former finance minister, judges and a diplomat in the crackdown.
A Russian frigate, the Admiral Gorshkov, docked in Cape Town ahead of joint military drills with South Africa and China. The ship, displaying the Z insignia of Russian troops in Ukraine, carries a Zircon hypersonic missile that Russia intends to test in the exercise. The mayor of Cape Town, who comes from the opposition Democratic Alliance, said the vessel was not welcome. Last month Russia's foreign minister, Sergei Lavrov, visited South Africa. The government says it is neutral between Ukraine and Russia.
Jair Bolsonaro, the former president of Brazil, said he would return to the country in March to lead a "right-wing movement". Mr Bolsonaro, who has been living in Florida since December, has not yet conceded defeat after Luiz Inacio Lula da Silva, a leftist, beat him in an election in October. Mr Bolsonaro reiterated baseless insinuations that the election was "biased" against him.
Nikki Haley announced that she would run to be the Republican candidate for the American presidency in 2024. The former governor of South Carolina is the first person to challenge Donald Trump, who has said he will run again. Ron DeSantis, the Republican Mr Trump fears most, has yet to throw his hat into the ring.
Joe Biden appointed Lael Brainard to head his National Economic Council, which coordinates economic policy. Ms Brainard is currently vice-chairwoman of the Federal Reserve. She once argued that the central bank should expand its remit to encompass climate change. Renewable energy is central to the huge infrastructure plans announced by Mr Biden.
An institution
Dianne Feinstein decided not to seek another term in the United States Senate. The 89-year-old was first elected to her California seat in 1992 and is the longest-serving female senator ever. She became mayor of San Francisco in 1978, after the assassination of her predecessor, George Moscone. She has pressed for strict gun controls, helping to pass an assault-weapons ban in 1994. Adam Schiff and Katie Porter are among the Democratic bigwigs vying to replace her.
The world this week Business
America's annual inflation rate dipped to 6.4% in January, from 6.5% in December. Markets had expected a sharper fall. Food prices were up by 10.1% year on year, and energy prices by 8.7%, which all point to further interest-rate rises from the Federal Reserve. In Britain inflation stood at 10.1% in January, down from 10.5% but still stubbornly high. Inflation has not been falling as fast there as in America and the eu, though the Bank of England thinks this will change when lower wholesale energy prices start feeding through to consumers.
The Japanese government nominated Ueda Kazuo to be the next governor of the Bank of Japan. Speculation had swirled for months about who would replace Kuroda Haruhiko, who steps down in April, but Mr Ueda was a surprise choice. He is a respected academic economist; his appointment breaks the tradition of selecting someone from within the central bank or finance ministry. Markets will be watching closely for any sign that Mr Ueda intends to adjust the boj's ultra-loose policy.
The delicate balancing act facing Mr Ueda was highlighted by the latest gdp figures for Japan. The economy grew by 0.6% at an annualised rate in the final quarter of 2022, avoiding recession but a slower rate than had been expected after the easing of covid-19 restrictions. gdp expanded by 1.1% for the whole year.
Air India said it would buy 470 planes from Airbus and Boeing to revamp its fleet, the biggest-ever order from a single airline. The carrier was privatised
by the government after 70 years of state ownership, returning to the Tata Group, whose founder started the airline in 1932. The order includes wide-bodied, longdistance jets, which will enable Air India to compete with Gulf airlines for Indian long-haul passengers and fly directly to America and Europe.
A happy ending?
Nelson Peltz ended his brief campaign to secure a seat on Disney's board and force it to change. The activist investor terminated his proxy battle after the company announced a restructuring of its business, which includes placing Disney+, its main streaming channel, in a new entertainment division overseeing all content decisions. Mr Peltz's firm said the new strategy was "a win" for shareholders.
After months of rumours, Ford confirmed that it is cutting its workforce in Europe. The carmaker said that 3,800 jobs would go, accounting for 11% of its staff in the region. Most of the cuts will be in Germany and Britain, as Ford prepares to ramp up production of electric vehicles, which need fewer workers to make than petrol-powered cars.
In its latest forecast the International Energy Agency said that the share of renewable energy in the world's power generation will rise from 29% to 35% in 2025. This means that, although the demand for electricity is expected to keep growing, and 70% of that increase will come from China, India and SouthEast Asia, emissions from the power sector will "plateau".
That transition to renewable energy is still a work in progress. Glencore reported a record annual profit of $34bn, more than half of which came from coal production. The mining and commodities-trading company benefited from soaring coal prices amid Russia's war in Ukraine.
David Malpass announced his resignation as head of the World Bank, a year before his term expires. Mr Malpass, who was nominated for the job by Donald Trump, has been under fire for dodging questions about climate change.
Airbnb recorded net income of $1.9bn for last year, its first annual profit. The propertyrentals company has seen a surge in bookings from international tourists (during the pandemic people faced restrictions limiting their travel). Rental prices are still significantly higher than before the outbreak of covid, however, raising the issue of affordability. Airbnb is tackling this by increasing the supply of available rooms.
The post-pandemic company has seen a rise in twats, people who work in the office on Tuesday, Wednesday and Thursday. Data from wfh Research show that the new normal for working patterns is costing Manhattan $12.4bn a year in lost income, as the average worker spends $4,661 less on meals, shopping and entertainment near the office. Sales growth in Manhattan now lags behind other parts of New York City.
The Nobody Inn
In Britain office workers now have fewer pubs in which to drown their sorrows. Research by uhy Hacker Young, a professional-services firm, found an 83% rise in pubs and bars filing for insolvency last year. Customers are tightening their belts and costs are rising for pub owners. If that wasn't enough to send you crying into your beer, rail strikes are deterring people from travelling into town for a night out.
---
скачать журнал: The Economist - 18 февраля 2023
---