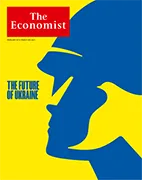 Год выпуска: февраль 2023
Автор: The Economist Newspaper and The Economist Group
Жанр: Экономика/Политика
Издательство: «The Economist Newspaper Ltd»
Формат: PDF (журнал на английском языке)
Качество: OCR
Количество страниц: 88
THE FUTURE OF UKRAINE
The future of Ukraine: what victory looks like, and what it requires: leader, page 11.
Ukraine's fate will determine the West's authority in the world, page 18.
The struggle to forge a new arsenal of democracy, page 22.
The invasion may have stalled, but Putin's war on dissent marches on, page 25.
The war has strengthened Ukraine's institutions and civil society, page 27.
Russia's second offensive is a damp squib, page 32.
Ukraine's 8m refugees, one year on, page 62.
Ayear after he promised a transformation, Olaf Scholz has done too little: leader, page 12, and analysis, page 31.
Chinese support for Russia risks inflaming the Sino-American rivalry, page 58. South Africa is drifting into the Sino-Russian orbit, page 39.
Bakhmut, the symbolic city: Obituary, page 90.
A new era of Chinese lending
China has not resolved its past mistakes. But it is learning from them: leader, page 14, and analysis, page 74.
Biden's border plan
The administration's new border policies irritate the extremes. Good. Page 13.
Mexico's co-operation is essential, page 49.
---
The world this week Politics
Joe Biden gave a speech in Warsaw ahead of the one-year anniversary of Russia's invasion of Ukraine. The American president called on the West to continue supporting Ukraine, and tore into Vladimir Putin for committing atrocities in the war. A day earlier Mr Biden visited Kyiv. He pledged more military aid, including radars and antiarmour systems, but not the fighter jets that Ukraine has asked for. Air-raid sirens accompanied his walkabout with Volodymyr Zelensky, though no missiles fell on the city. The Russians were told in advance that Mr Biden would be in Kyiv.
On the day Mr Biden was in Warsaw Vladimir Putin gave a rambling speech that predictably blamed the West for Russia's aggression. He also suspended Russia's participation in the New start nuclear-arms control agreement, the last remaining nuclear treaty with America, which Mr Putin had pressed America to renew in 2020. Mr Putin's war has killed tens of thousands of civilians and Ukrainian and Russian troops. More than 8m refugees have fled Ukraine.
Wang Yi, China's top diplomat, wrapped up an eight-day tour of Europe with a stop in Moscow. Mr Wang said China wanted to be part of peace efforts in Ukraine. But he spent much of his time criticising America. America warned that China was considering sending arms to Russia. The European Union's foreign-policy chief said that would be a "red line".
The Belarusian dictator, Alexander Lukashenko, announced the creation of a domestic defence force of 150,000 "volunteers" who will be trained how to handle weapons. This is in case Belarus comes under attack, he said, though such a force could easily be used in another brutal crackdown on pro-democracy protesters.
Russia has been trying to gather information that would enable it to sabotage Dutch energy infrastructure in the North Sea, according to mivd, the military intelligence agency of the Netherlands. One Russian ship was escorted out of the region when it tried to survey offshore wind farms.
Another strong earthquake hit the Turkey-Syria border, two weeks after a quake of magnitude 7.8 killed 50,000 people. The who thinks that 26m people in Turkey and Syria are in need of assistance.
The most senior transport official in Spain and the head of the state rail company both resigned, after €258m ($275m) was spent on designing new commuter trains that could not fit through tunnels in the country's north. One regional leader described it as "an unspeakable botch".
Britain's health service braced for more industrial action as junior doctors voted to strike. Nurses were due to strike again at the beginning of March, but have put this on hold amid talks with the government. In December nurses walked out for the first time in over 100 years, joining other unionised workers as high inflation erodes pay. Public opinion is split on the strikes, but a majority of people think the government's handling of them has been poor.
Please don't come
The Biden administration proposed tough new rules to deter illegal migrants from crossing the Mexican border ahead of an anticipated surge in arrivals when Title 42, a pandemic measure that allowed for their swift expulsion, ends in May. To try to gain entry migrants must first make an appointment with a border official using an app.
A court in the United States convicted Genaro Garda Luna, a former Mexican security minister, of aiding the Sinaloa drug cartel in exchange for millions of dollars in bribes. The verdict highlights long-running concerns in the US about corruption within the Mexican state.
Mexico's Senate passed a bill that overhauls the country's elections regulator, a long-sought goal of the president, Andres Manuel Lopez Obrador. Opponents say the reform will undermine democracy. Huge protests against the bill took place last November.
Israeli forces killed 11 Palestinians in a raid on Nablus, in the occupied West Bank. The Israeli army said it had targeted Palestinian terrorists. The following day Israel carried out air strikes in the Gaza Strip after rockets were fired from the area. Meanwhile Israel announced a temporary pause in building new settlements in the West Bank, though it has also announced the legalisation of nine unauthorised outposts and approved the construction of 10,000 new homes in existing settlements.
Civilians continued to flee fighting between the regional government and local militias in the self-declared republic of Somaliland. The un says as many as 80,000 people may have crossed the border into Ethiopia in the past month.
South Africa began ten days of drills with ships from the Russian and Chinese navies. The exercises coincided with the first anniversary of Vladimir Putin's invasion of Ukraine. South Africa insisted that the exercises were planned two years ago.
In Pakistan Imran Khan secured a court order preventing his arrest for two weeks. The former prime minister has been charged under antiterrorism laws for allegedly threatening officials in a speech. He launched a campaign this week to "fill the jails" with his protesting supporters. This is a distraction for the government, which is still negotiating with the imf over an assistance package. Pakistan is already bankrupt, according to the defence minister.
Sri Lanka's annual rate of inflation stood at 53% in January, down slightly from the previous month. The government is also trying to secure a bail-out from the imf. It recently raised electricity prices by 66% to plug a gap in its finances.
Troubled waters
Russia warned Bangladesh that its ban on Russian ships entering Bangladeshi ports "may adversely affect" co-operation between the two countries. Bangladesh says it is merely complying with international sanctions.
North Korea fired more missiles from its east coast, including an intercontinental ballistic missile. Kim Yo Jong, sister of the country's dictator, Kim Jong Un, said the army would use the Pacific Ocean as a "firing range" if America stepped up its military presence in the region.
The High Court in Seoul found that the state health insurer must provide insurance to gay couples. It is the most important legal recognition yet of the rights of same-sex partners in South Korea, where gay marriages are not recognised. The decision will be challenged in the Supreme Court.
The world this week Business
America's Supreme Court heard arguments in two cases that could potentially undermine the business model of social-media companies. In Gonzalez v Google the parents of a woman who was killed in a terror attack on Paris in 2015 claim that YouTube aided the terrorists by recommending the group's videos to users. The case focuses on the legal protection from liability given to internet companies under Section 230 of the Communications Decency Act of 1996. In Twitter v Taamneh the family of a man killed in an attack in Istanbul in 2017 allege that Twitter, Google and Facebook should be held accountable for spreading terrorist propaganda. The court's decisions are expected in June.
Pay for your security
Meta launched a subscription service on Facebook and Instagram that verifies the authenticity of accounts and protects users from impersonation. The service, which is being tested in Australia and New Zealand, is similar to Twitter's blue-tick system. Social-media companies are looking for ways to increase revenue to offset smaller returns from advertising.
The disappearance in China of the head of a bank that has invested heavily in the country's big tech firms sent a chill across the industry and the business elite. Bao Fan was reported missing by China Renaissance, which he founded in 2005. It is not unusual for businessmen to be suddenly detained by the Chinese authorities when an investigation has begun into a company. Officials have so far kept tight-lipped about Mr Bao's whereabouts.
The Bank of Israel lifted its main interest rate by half a percentage point, to 4.25%. It was the eighth consecutive rise, prompting a rebuke from Israel's foreign minister, who called on the government to put a stop to the increases. Binyamin Netanyahu, the prime minister, said he had no intention of messing with the central bank's independence.
Switzerland's financial regulator is reportedly investigating the chairman of Credit Suisse for potentially misleading markets when he said that a run of huge client outflows at the bank had stopped. A subsequent earnings report showed that the outflows had continued. News of the investigation sent Credit Suisse's share price to a new low.
The benchmark price for natural-gas futures in Europe fell below €50 ($53) a megawatt hour for the first time in 18 months. A mild winter and the switch to liquefied natural gas imports have helped offset the shock from Russia withholding its supplies. Storage levels remain high. However, prices could shoot up if power companies turn back to gas to fire their plants, and away from the current cheaper alternatives, such as coal.
The price of permits on the eu's carbon-trading market hit €100 ($107) a tonne for the first time. The price of the permits, which allow companies to emit pollutants, subject to a cap, has risen by a fifth this year. Traders are betting that cheaper natural gas and a resilient economy will lead to higher industrial output.
hsbc reported solid quarterly earnings: pre-tax profit soared as higher interest rates helped push up revenues. The bank increased its shareholder dividend, which may help it fend off a demand by Ping An, a Chinese insurer and its biggest investor, to hive off its Asian business. That business accounted for 78% of hsbc's profit last year.
Revenue and profit rose sharply in 2022 at Stellantis, which saw global sales of its electric models rise by 41%. Like others in the industry the maker of Fiat Chrysler and Peugeot cars benefited from higher retail prices for its vehicles. It thinks those prices will now level off. Tesla is busily discounting prices for its cars to shore up demand.
Lower forecasts of annual revenue from Walmart and Home Depot unsettled stockmarkets. Walmart reported strong sales in its latest quarter as shoppers, including higher-income families, looked for cheaper food options. But non-food goods, such as toys and homeware, struggled. The company warned that economic uncertainties would affect consumer behaviour later in the year. Home Depot told a similar tale, but added that customers are warier of paying the higher prices that sustained its business amid soaring inflation.
Marking the days
The results of a six-month trial in Britain that tested the viability of a four-day working week showed that employers and staff were happy with it; most firms in the trial said they would continue working four days. Researchers from the University of Cambridge helped conduct the study. They found that 71% of workers reported lower levels of burnout, sick days were reduced by 65% and generated revenue barely changed. Company meetings, which seem to exist merely to fill out a five-day week, were "cut short or ditched completely".
---
скачать журнал: The Economist - 25 февраля 2023
---