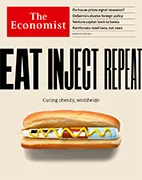 Год выпуска: март 2023
Автор: The Economist Newspaper and The Economist Group
Жанр: Экономика/Политика
Издательство: «The Economist Newspaper Ltd»
Формат: PDF (журнал на английском языке)
Качество: OCR
Количество страниц: 76
Eat Inject Repeat: Curing obesity, worldwide
New drugs promise an end to the world's obesity epidemic: leader, page 7.
They could bring riches for their makers, savings for health systems and better lives for millions: briefing, page 14.
How to handle the obesity gold rush: Schumpeter, page 60.
Do house prices signal recession?
America's property sector shines a light on what comes next, page 61.
DeSantis's elusive foreign policy
We plumb the Florida governor's new book for clues about how he might act as president, page 17.
America wants to curb China's influence over African minerals, page 37.
Venture capital: back to basics
A slump is encouraging vcs to rediscover their old ways: leader, page 9, and analysis, page 55.
Rainforests need laws, not saws
Pay locals to conserve rainforests: leader, page 10. The obstacle is lawlessness, page 52.
---
The world this week Politics
Bola Tinubu, the candidate of the ruling All Progressives Congress, won Nigeria's presidential election. International observers said that the vote "fell well short of Nigerian citizens' legitimate and reasonable expectations" after polling stations opened late or did not open at all, and an electronic system for transmitting results did not work.
France is to reduce its military presence in Africa, taking a back seat to forces from host countries, which will co-administer bases. Emmanuel Macron, France's president, announced the policy ahead of a trip to Gabon, Angola and the two Congos.
America has supplied 61 tonnes of arms and ammunition to Somalia, stepping up its support for government forces fighting al-Shabab, a jihadist group associated with al-Qaeda. Meanwhile, local tribes in Somalia are fighting the armed forces of Somaliland, a breakaway region.
The Financial Action Task Force, an international watchdog, placed South Africa on its grey list of countries that are failing to prevent moneylaundering and the financing of terrorist groups. The listing makes it more expensive for South African banks and companies to do business abroad.
Ivory Coast and Guinea dispatched aircraft to bring home hundreds of their citizens from Tunisia after the president, Kais Saied, accused them and other migrants from subSaharan Africa of bringing crime to the country, and of being part of a conspiracy to change Tunisia's demography.
The International Atomic Energy Agency found uranium enriched to 84% purity, which is almost weapons-grade, at Iran's nuclear site at Fordow. Iran claimed that "unintended fluctuations" in enrichment levels may be to blame. A senior Pentagon official said that the time Iran would need to make one bomb's worth of highly enriched uranium had gone from about 12 months to around 12 days.
Israeli settlers attacked the Palestinian town of Hawara in the West Bank after two settlers were shot dead by a Palestinian gunman. An American-Israeli was later shot and killed near the city of Jericho. Israeli and Palestinian security delegations met in Jordan to try to stop the unrest before Ramadan begins in March.
Nayib Bukele, the president of El Salvador, opened a Centre for the Confinement of Terrorism, holding up to 40,000 inmates. The opening came a year after Mr Bukele introduced a state of emergency to deal with a spate of gang violence. Now 2% of Salvadorean adults are behind bars.
Vietnam has appointed a new president, weeks after the country's supreme leader, General Secretary Nguyen Phu Trong, purged its leadership in an anti-corruption drive. The national assembly elected Vo Van Thuong to the largely ceremonial role with 98.4% of the vote.
State media in North Korea reported that Kim Jong Un, the country's dictator, had ordered officials to bring about a "fundamental transformation" in agricultural production at a big meeting of the ruling party's central committee. Reports suggest that North Korea is suffering its worst food shortage since the 1990s.
Nepal's ruling coalition seemed to be near collapse because of a row between its communist members over the presidential nominee of the prime minister, Pushpa Kamal Dahal, who is also communist. The government came to power late last year. The Himalayan country has had 11 governments since abolishing the monarchy in 2008.
Foreign ministers from the G20 countries gathered in Delhi for a summit. The eu wanted the meeting to condemn Russia's war in Ukraine; China and others resisted. Reflecting on the disagreement, Russia said that "balanced consensus decisions should be made in the interests of all humankind."
The irony
Rishi Sunak, Britain's prime minister, struck a deal with the European Union to solve the mess of Northern Ireland's trading arrangements following the United Kingdom's departure from the bloc. Among other things, the "Windsor framework" introduces a network of "green" lanes to reduce the red tape on goods coming from the mainland. Mr Sunak talked up Northern Ireland's "unbelievably special position" of being in the single market, a position that was enjoyed by all the uk until Brexit.
Janet Yellen, America's treasury secretary, visited Ukraine shortly after the Biden administration placed new sanctions on Russian companies. It also in effect banned imports of Russian aluminium by slapping a 200% tariff on the product. Ms Yellen is backing a huge package of support for Ukraine from the imf.
Finland's parliament voted to join nato. Hungary and Turkey are the only NATO members still to approve the applications of Finland and Sweden. Talks with Turkey will resume on March 9th. Meanwhile, Finland began building a fence along part of its border with Russia to stop Russians who are fleeing the draft from crossing.
At least 63 migrants died off the coast of southern Italy when their boat hit rocks. Many more are thought to have also perished. The number of people killed or missing trying to enter Europe illegally by crossing the Mediterranean has risen above 2,000 annually in recent years, according to the un, though that is far below the more than 5,000 recorded in 2016.
A passenger train collided with a freight train near Larissa in Greece, killing scores of people. It was the country's worst rail disaster.
After nearly three years, Hong Kong ended its mandate to wear masks in public. The move is part of an effort to rejuvenate the financial centre and woo back tourists.
Will we ever know?
The question of covid-19's origin was raised again in America. Press coverage claimed that a classified report by the Department of Energy concluded, with "low confidence", that it most likely arose from a laboratory leak in China. And Christopher Wray, head of the fbi, said it was "most likely" that covid originated in a Chinese government-controlled lab.
Lori Lightfoot lost her bid for re-election as mayor of Chicago. She took just 17% of the vote, putting her out of contention for the run-off in April. Ms Lightfoot's popularity plunged amid a rise in violent crime. The two contenders in the run-off are Paul Vallas, a tough-on-crime candidate backed by the police, and Brandon Johnson, who is supported by the teachers' union.
The world this week Business
Goldman Sachs held an investors' day, its first in three years, amid grumbling from shareholders about the direction of the bank after a slump in profit last year. David Solomon, its chief executive, raised the possibility of selling parts of its lossmaking consumer services after it has finished scaling back the division. It has become clear "that we lacked certain competitive advantages" in the business, he said. Markets were left unimpressed by the presentation. Goldman's share price fell after the event.
Tesla held its first ever investor day, at which Elon Musk outlined part three of his "Master Plan" for the company. Senior executives also took part and said an electric car for the mass market was in the works, which is essential for Tesla's sales ambitions. But the lack of detail about the new model disappointed investors.
Tesla also confirmed that it is building its first factory in Mexico, in Monterrey. It is the latest carmaker to invest in making electric vehicles in Mexico; in February bmw said it would expand production and build a factory to assemble batteries. Mexico is benefiting from the huge green subsidies in America's Inflation Reduction Act, $34bn of which is earmarked for smoothing the supply chain for evs.
The euro zone's annual inflation rate remained virtually unchanged in February at 8.5%, though the reading was higher than the 8.2% that economists had expected. Core inflation, which strips out volatile food and energy prices, increased to 5.6%. Inflation also rose in the currency bloc's two biggest economies, Germany and France, adding to pressure on the European Central Bank to continue raising interest rates.
A measure of factory activity in China grew at its fastest rate in a decade, suggesting that the economy is bouncing back from covid-19 lockdowns and other restrictions. The official purchasing managers' index for manufacturing registered 52.6 for February, up from 50.1 in January (a reading over 50 means manufacturing is growing). The news triggered a rally in Hong Kong's stockmarket.
America's three main stockmarkets declined in February. The s&p 500 was down by 2.6% and the nasdaq composite by 1.1%. Both indices are still up for the year. The Dow Jones Industrial Average fell by 4.2% in February; it has dropped by over 1% so far this year.
Sorting out the greenwashing
The European Commission announced that an agreement had been reached on its proposed standard for eu green bonds. Companies that want to promote their bonds as climate-friendly will have to ensure that the investments meet strict sustainability requirements. It is not yet clear what the penalties will be if companies' bonds don't meet the new standards.
Sweden's economy shrank by 0.9% in the last three months of 2022 compared with the previous quarter. The country is expected to fall into recession this year as soaring prices and higher interest rates knock consumer spending. House prices are falling sharply.
Finland's economy did fall into recession in the fourth quarter, contracting by 0.6% after a 0.1% decline in the third quarter.
An accounting charge on stock-based compensation caused Zoom to report its first quarterly loss since 2018. The video-conference company's revenue grew by just 4%, year on year. A year earlier sales were still growing by 20%.
The share price of Beyond Meat fell back, having rallied after it produced better forecasts for the year than expected. Its stock is up by 38% since the start of 2023, even though revenue fell by 20% in the fourth quarter, year on year, and it made another net loss. Sales for the alternative-meat industry were butchered last year, in part because fake meat hasn't lived up to the hype of being as tasty as the real thing.
Ocado reported another big annual loss. Revenue from its online-groceries business in Britain fell. It had more customers but they put fewer items in their baskets: 46 on average, down from 52 in 2021.
International Airlines Group, the owner of British Airways, made its first annual operating profit since the start of the pandemic: €1.3bn ($1.4bn). Passenger revenue soared to €19.5bn from €5.8bn in 2021. iag expects profit to climb.
Come fly with me
Cathay Pacific began giving away free return flights to Hong Kong to residents of South-East Asia as part of the city's campaign to lure back tourists after lockdown. The government is making 500,000 tickets available. Cathay is providing 80,000. Hong Kong's main airline has had a turbulent few years, from being ensnared in prodemocracy politics to coming close to collapse amid covid restrictions. But business is taking off again. Cathay flew 1m passengers in January, up by 4,000%, year on year.
---
скачать журнал: The Economist - 4 марта 2023
---