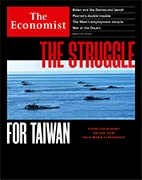 Год выпуска: март 2023
Автор: The Economist Newspaper and The Economist Group
Жанр: Экономика/Политика
Издательство: «The Economist Newspaper Ltd»
Формат: PDF (журнал на английском языке)
Качество: OCR
Количество страниц: 84
The Struggle for Taiwan: A special report on the new cold war's flashpoint
How to avoid a superpower conflict: leader, page 7.
China and America are preparing for a devastating war: briefing, page 13.
Taiwan's fate will, ultimately, be decided by the battle-readiness of its people, says Alice Su. See our special report, after page 38.
Tough language from China's leaders belies their anxiety, page 29.
Biden and the Democrats' bench
It looks highly likely that Joe Biden will run for re-election. But what if he didn't? Page 17.
Macron's double trouble
Strikes at home and war in Ukraine test the French president: leader, page 9.
Emmanuel Macron's view of a more muscular Europe is coming true, page 37.
The West's employment miracle
A stubbornly strong economy is frustrating central banks: leader, page 9.
Why the jobs boom looks likely to continue, page 55.
The West suffers from too little automation, not too much, page 51.
War at the Oscars
Conflict is the theme of the Oscars—even in films that seem to be about something else: Back Story, page 68.
---
The world this week Politics
The National People's Congress, China's rubberstamp parliament, opened its annual session. The outgoing prime minister, Li Keqiang, kicked things off by announcing an economic growth target of "around 5%" in 2023, lower than many external forecasts. Xi Jinping blamed Western countries led by America for trying to suppress China. The congress is expected to approve a set of reforms that will give Mr Xi more direct control over government bodies. It will also confirm him for a norm-busting third term as president.
On the wrong track
China's foreign minister, Qin Gang, warned America that its hostile attitude was in danger of souring relations between the two countries, comparing the situation to a train heading towards derailment. China is also "seriously concerned" that the president of Taiwan, Tsai Ing-wen, is going to meet the speaker of America's House of Representatives, Kevin McCarthy, in the United States.
Japan's space agency commanded its new H3 rocket to self-destruct after its second engine failed to ignite after lift-off. It is a big setback for Japan's rocket programme, which hopes to compete in the growing business of launching commercial and government satellites. The rocket was carrying a satellite that could, among other things, monitor North Korean missile tests.
A suicide-bomber killed ten police officers in Pakistan's Balochistan province, the latest in a series of attacks on the country's security forces.
Al-Shabab, a jihadist group in Somalia linked to al-Qaeda, recaptured a base that it had lost in the south, a sign that the biggest government offensive against the group in years may be stalling.
Nigeria postponed elections to choose governors in 28 of its 36 states to March 18th in order to configure voting machines after a chaotic presidential election last month.
After a visit to Tehran, Rafael Grossi, the head of the International Atomic Energy Agency, the UN's nuclear watchdog, said that Iran had agreed to the reinstallation of cameras and other monitoring equipment at its nuclear sites. He later clarified that the terms of these concessions would have to be worked out in future negotiations with the regime.
Israeli forces killed six Palestinians in a raid on Jenin refugee camp in the West Bank. Binyamin Netanyahu, Israel's prime minister, said that one of the dead had been responsible for killing two Israeli settlers in February, which had prompted hundreds of settlers to attack a Palestinian town. Two days after the raid, Israeli security forces killed three Palestinians near Jenin who had opened fire on them while they were trying to make an arrest.
Canada's prime minister, Justin Trudeau, said he would appoint an independent special rapporteur to investigate claims that China had attempted to influence the federal elections in 2019 and 2021. Mr Trudeau has been under pressure to take more seriously reports that China had tried to help his Liberal Party. He contends that the interference did not affect the election results.
Ecuador's National Assembly approved a report by a legislative commission that recommends the impeachment of the country's president, Guillermo Lasso. The vote suggests that the legislature will try to impeach him, but the Constitutional Court has the power to quash that. The report alleges that Mr Lasso failed to stop bribery at public companies.
Armed men kidnapped four Americans and killed two of them in the Mexican city of Matamoros, just across the border from Texas. A Mexican woman was also killed. American officials believe that the Gulf Cartel, a gang based in Matamoros, is responsible for the killings. It is not clear what the motive was.
Cities across Ukraine were struck by a wave of Russian missiles targeting power infrastructure but which also hit residential buildings. The missiles fell on Kyiv, the capital, Odessa, Kharkiv, Dnipro and other areas. Meanwhile, fierce fighting continued for control of Bakhmut. Volodymyr Zelensky said that the battle for the town and the Donbas region was Ukraine's first priority.
Murky waters
Germany's defence minister warned against jumping to conclusions about who sabotaged the Nord Stream pipelines that carried gas from Russia. Boris Pistorius was responding to press reports linking the attack last year to Ukrainians, and said there was an equal chance that it could have been a "false-flag operation staged to blame Ukraine".
The liberal Reform Party increased its number of parliamentary seats in Estonia's general election, allowing Kaja Kallas to continue as prime minister. She was urged to form a new coalition quickly to head off any notion of uncertainty regarding her country's stalwart support for Ukraine. The Centre Party, favoured by Estonia's Russian-speaking minority, did badly in the election.
Georgia's ruling party withdrew a bill that would have required ngos and media that receive at least a fifth of their funding from abroad to register as foreign agents. The legislation had sparked huge demonstrations in Tbilisi, the capital. The protesters, some waving eu flags, feared that the bill would be the first stage towards adopting a clampdown on press freedoms similar to Russia's.
In Athens police clashed with demonstrators protesting over a train crash that killed 57 people. Unions claim that the neglect of rail infrastructure in Greece contributed to the tragedy, putting pressure on the government just as it is due to call an election.
Unions in France held their biggest strike yet to protest against the government's proposal to raise the state retirement age to 64, from 62.
The British government unveiled its umpteenth plan to try to stop the tide of illegal migrants crossing the English Channel. If the bill passes, new arrivals will be detained and swiftly removed, some to Rwanda or a safe third country. Asylum claims would then be heard remotely. Migrant charities said the proposals were unworkable and may flout international law. The opposition described the announcement as "groundhog day".
The American Senate voted to overturn a decision by the council of Washington, dc, to reduce sentences for some violent crimes in the city. Democrats in the Senate joined Republicans in blocking the measure, which critics say was soft on crime. Homicides are up by a third in Washington this year, though overall violent crime is down.
The world this week Business
Jerome Powell said that the Federal Reserve may have to raise interest rates higher than it had anticipated only recently, because new data on inflation, jobs and spending pointed to an overheating economy. The Fed lifted its main rate by a quarter of a percentage point at its last meeting, but investors now reckon it could increase the rate by half a point on March 22nd. Stockmarkets swooned.
Meanwhile, and pouring more cold water on investors' hopes of smaller interest-rate rises, Christine Lagarde said that "inflation is a monster that we need to knock on the head" and that price pressures remain "sticky". The president of the European Central Bank said another half-point increase by the ecb on March 16th was "very, very likely".
Arm, a British chip designer owned by SoftBank, will reportedly raise up to $8bn in a blockbuster ipo later this year. In a blow to the London Stock Exchange, and the lobbying efforts of three prime ministers, Arm has decided to list only in New York.
China's government announced sweeping changes to its supervision of the financial sector, and will create a new body to replace the China Banking and Insurance Regulatory Commission. The oversight of financial companies (except for securities) will fall under the control of a new department that will take over some of the functions of the central bank and report to the State Council. The aim is to consolidate the operations of numerous regulators.
Bank of America declared in its annual report that "We are capitalists," a statement that may not be obvious to critics of the bank's esg (environmental, social, governance) goals. Brian Moynihan, the chief executive, said in the report that he has been asked in Congress whether he is a capitalist (he replied "yes"). He elaborated that the bank wants to use capitalism to benefit its shareholders, but also address the priorities of society, which may not do much to placate the critics of esg.
Australia's central bank lifted its main interest rate to 3.6%, the tenth consecutive rise. The bank said that the rate would need to rise again, but it dropped language referring to "multiple" increases.
Holding pattern
America's Justice Department sued to block JetBlue's takeover of Spirit Airlines, arguing that their combination would eliminate competition on hundreds of routes and increase air fares. JetBlue won a bidding war for Spirit last year, after Spirit's merger deal with Frontier Airlines fell apart. Both companies said they would fight the lawsuit. The boss of JetBlue said regulators had been determined to stop the deal from the outset.
Altria, one of the world's biggest tobacco companies and owner of the Marlboro brand, swapped its stake in Juul Labs, a maker of electronic cigarettes, for intellectualproperty rights to some of Juul's technology. Altria paid $i2.8bn for the stake four years ago, before Juul was accused by regulators of pushing vaping products to teenagers. The stake is now worth $25om. Expanding its reach into the alternative-cigarette market, Altria has agreed to pay $2.8bn for njoy, which has had an easier time with the regulators.
The company behind Weight Watchers announced its acquisition of Sequence, a telehealth platform that provides visits from doctors who can prescribe Ozempic, Wegovy and other weight-loss drugs. The company described weight-management medications as the "biggest innovation in our industry today".
South Africa's gdp shrank by 1.3% in the last three months of 2022 compared with the previous quarter. The country endured a series of rolling blackouts that is estimated to have cost the economy $5om a day.
This week Cyril Ramaphosa, the president, appointed a new electricity tsar to get to grips with the crisis that has beset Eskom, the state provider, which is struggling to meet the demand for power given its old and broken network.
Volkswagen said that it would build a factory in South Carolina to assemble electric cars and would open a facility to make batteries in North America. The German carmaker is reportedly suspending plans for a battery plant in eastern Europe as it waits to see if the eu will match subsidies for manufacturing evs in America's Inflation Reduction Act.
Vegetable stew
A shortage of fresh produce in Britain caused unit sales of tomatoes and peppers to drop by around 17% in February, according to niq, a marketresearch firm. But the unit sales of some vegetables did grow, even though adverse weather in exporting regions made them hard to find; cucumbers were up by 32%. And although the volume of fresh produce sold declined, inflation meant that overall grocery sales rose by 11%. So all in all Britain's salad days are far from over.
---
скачать журнал: The Economist - 11 марта 2023
---