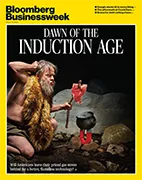 Год выпуска: March 13, 2023
Автор: Bloomberg Businessweek USA
Жанр: Бизнес
Издательство: «Bloomberg Businessweek USA»
Формат: PDF (журнал на английском языке)
Качество: OCR
Количество страниц: 64
KEEPERS OF THE FLAME
Culture warriors, foodies and affluent home owners are clutching their gas stoves. Can Americans finally be persuaded to switch to induction?
One night in early February, several thousand homebuilders, interior designers, general contractors and property flippers assembled in a Las Vegas hotel ballroom for the closing-night festivities of the annual Design + Construction Week, a smorgasbord of trade shows that includes the International Builders' Show (IBS) and the Kitchen & Bath Industry Show (KBIS). For three days attendees wandered the floors of the Las Vegas Convention Center, many sporting fleece vests and branded ball caps, taking in the very latest in drawer pulls and engineered hardwoods, slip-resistant tiles and rain showerheads.
To cap off the events, rocker Sheryl Crow led her band through a dutiful set as residential construction professionals mingled in the rear of the Westgate Las Vegas Resort & Casino ballroom, talking shop. The chatter touched on mortgage interest rates and material costs and the dismal work ethic of a younger generation. But most alarming of all was the possible intrusion of federal bureaucrats into a deeply fraught and intensely personal decision many couples prefer to make in the privacy of their own home.
Gas or induction?
Just weeks before, Richard Trumka Jr., one of the Consumer Product Safety Commission's five members, ignited a national frenzy with his stark warning to a Bloomberg News reporter that the humble gas stove-a central feature of some 40% of US kitchens-poses a serious health risk, especially to children, and might therefore be a candidate for government regulation. "Any option is on the table," he declared. "Products that can't be made safe can be banned."
Within hours of the interview's publication, a new culture war was under way. Republican Representative Ronny Jackson of Texas dared someone to pry his stove from his "cold dead hands," while fellow Republican Representative Jim Jordan of Ohio found traction with the pithier "God. Guns. Gas stoves." Even as some liberals were laughing off the rightwing panic about jackbooted "gastapo," others no doubt quietly fretted that their gleaming culinary flamethrower from Viking or Wolf was about to become next year's bloated monument to conspicuous consumption.
The outrage cycle was sufficient to prompt an immediate diplomatic walk-back by the head of the CPSC and another by the White House. Over the following weeks, Florida Republican Governor Ron DeSantis leaped into the fray, proposing a permanent tax deduction for gas appliances. (Never mind that the vast majority of Floridians don't have access to residential gas.) And on the same day, Republican Senator Ted Cruz of Texas and Democratic Senator Joe Manchin of West Virginia introduced a bill called the Gas Stove Protection and Freedom Act, which aims to bar the CPSC from implementing any rule that would so much as "substantially increase the average price" of a gas stove.
If the move to exempt a single category of home appliances from federal safety oversight seems drastic, it nonetheless carries a certain visceral appeal. "There's this kind of understandable knee-jerk reaction, like 'Oh, what now?' " concedes Matt Casale, director of environment campaigns for US Public Interest Research Group (US PIRG).
That was largely the sentiment of Sheryl Crow concertgoers waiting at the cash bar. An informal poll revealed that some 90% were ride-or-die for gas. One Illinois builder in his early 60s, who said he was a member of the state's Energy Code Advisory Council, viewed the possibility of new federal regulations as a dark plot by what "some people call the cabal" to impose its will on the populace. But most went with a far less politically loaded reason, a truth most Americans hold to be self-evident: gas's superiority in the kitchen.
Unsurprisingly, many were quick to denounce old-school electric stoves, with their telltale glowing coils, which are slow to heat up and slower to cool down, difficult to control and a beast to clean. Just a lonely handful extolled the benefits of induction, a technology that, despite its widespread popularity in parts of Europe and Asia, has captured less than 5% of the US market. Unlike conventional electric, induction burners, known as "hobs," don't actually generate heat. Instead, they create a magnetic field, exciting the ferrous molecules in the bottom of a pot or pan on the glass cooktop. Induction stoves are fast, convenient, precise, safe and sleek. And more than a century after the first induction patents were issued-and 50 years after Westinghouse unveiled the first commercial version-they're still virtually unknown to most American consumers. "From a performance standpoint, induction is just awesome," says Sue Bailey, a former Viking executive who for years helped sell consumers on gas. "It's better than gas at high heat, it simmers, the responsiveness is the same. There are so many benefits to it from the cooking side. People have no idea whatsoever."
But a home appliance that summons gorgeous blue flames with the twist of a knob still induces a bit of wonder, and people aren't likely to give it up without a fight. "I mean, gas has the UX [user experience]," says Sam D'Amico oflmpulse Labs, a Silicon Valley startup gearing up to pitch its new induction stove to the masses. "The UX is, literally, you're turning the valve and gas is burning. That's going to be tough to defeat." There's a reason that nearly all competitive cooking shows-with the notable exception of The Great British Bake Off, which uses induction-feature chefs frantically turning out dishes on commercial gas stoves. "It's kind of sexy," says Stacy Jones, founder and chief executive officer of product placement agency Hollywood Branded. "You see the flames licking up into the pan, and you can almost feel the heat coming off of it even though you're on the other side of the television."
While a federal ban on gas stoves is highly unlikely, environmental advocates say Commissioner Trumka's stark warning has prompted a long-overdue conversation about America's attachment to gas and the benefits of electrification. The moment could spur for stoves an accelerated version of the decades-long, heel-dragging US shift from gas guzzlers to electric vehicles. "It's definitely been the best thing that could ever happen for this issue," says Sage Canchola-Welch, an environmental communications consultant. "I think it's probably fair to say that it worked out better than he [Trumka] ever could have dreamed of." (The commissioner didn't reply to Bloomberg Businessweek's request for comment.)
Then again, turning the kitchen into the next battlefield for politics, consumerism and the planet may just lead people to dig in their heels. "The last thing you can tell the American people is that they can't have something," says James Ramsey, a New Orleans-based developer focused on sustainable construction who's also an induction fan. "The goal is to get the consumer to want something different."
The American obsession with cooking on gas can be chalked up, at least in part, to one of the most effective persuasion campaigns of the 20th century. For decades gas producers have aggressively promoted their fuel as the key to culinary excellence. Back in the 1930s, a PR man for the American Gas Association coined the slogan "Now we're cooking with gas!" and persuaded writers for Bob Hope and Jack Benny to sprinkle it into the stars' radio scripts. Before long it made its way into a Daffy Duck cartoon, and in 1964 a Pennsylvania gas utility enlisted Marlene Dietrich to star in a print campaign. "I can cook on an electric stove," the ad read, "but it is not a happy union."
The recent anti-gas crusade isn't without scientific basis. Studies show natural gas is less benign than it sounds. Composed mostly of methane, it produces a host of deleterious byproducts when burned, including nitrogen oxides, carbon monoxide, fine particulate matter, formaldehyde and benzene, a major carcinogen. Research has also shown that many gas stoves leak methane even when turned off. One 2022 study, published by the International Journal of Environmental Research and Public Health, found that more than 12% of childhood asthma in the US is "attributable to gas stove use." When the American Gas Association attempted to discredit the research, arguing that a 2013 analysis of some 47 countries had found no such correlation, the scientist behind that effort pushed back, insisting that the industry group was misinterpreting his work and that the risk was indeed all too genuine.
In an email to Businessweek, the AGA tried another approach, suggesting the government's long-standing failure to address the issue was itself an indication that gas stoves must be safe. "The [CPSC] and EPA do not present gas ranges as a significant contributor to adverse air quality or health hazard in their technical or public information literature, guidance, or requirements," the letter stated. US PIRG's Casale says: "The idea that because no government agency has regulated something so far means we shouldn't regulate it now is not a very compelling argument. Should we have done it before? Yeah. We probably should have."
For some observers, however, the furor over indoor gas emissions may overstate the risk for the typical family, since even the most passionate gas partisans tend to use their cooktops less than they might realize. According to Christoph Milz, the chef-turned-cooking technologist responsible for sous vide's popularity, the vast majority of meals today are prepared in toasters, microwaves, ovens, slow cookers, electric tea kettles and Instant Pots. "That is the difference between perception and reality," he says. "People are busy. They always stick to, you know, 'Put it in, close the door, press a button,' worry-free, no interaction."
But issues with gas go beyond air quality. For instance, there's the fuel's notable tendency to burst into flame unexpectedly, which has resulted in more than 122 fatalities and 600 injuries since 2010, according to a US PIRG study. Methane's warming effect is known to be 80 times more powerful than carbon dioxide during its first 20 years in the atmosphere. And a growing body of evidence suggests its propensity for leaking makes it even more environmentally destructive than coal. That hasn't stopped a collection of dark money groups from pushing to classify it alongside solar and wind as a "green energy," an effort that notched its first win when Ohio Republican Governor Mike DeWine signed legislation to that effect in January. (A similar impulse seems to have inspired one eager US Department of Energy official who dubbed it "freedom gas" in a 2019 press release.)
Arguably the gas lobby's biggest cultural victory in the kitchen didn't come from one of its own campaigns, but from a building contractor in Greenwood, Mississippi. In the early 1980s, entrepreneur Fred Carl Jr. began fielding requests from clients coveting the heavy-duty industrial look of commercial stoves. He spent years designing a home appliance with the appropriately rugged appeal, selling the first Viking range in 1986 and setting off a high-performance culinary arms race among luxury appliance makers for the ultimate trophy stove.
Today the fetish for high-powered stoves has endured, especially among affluent Americans, whether they cook or not. "Honestly, my clients only want gas," says Dee Ann Federico, an interior designer whose contribution to the latest Hampton Designer Showhouse is a "coastal moderne" kitchen featuring a 48-inch JennAir gas range with a starting price of $10,699. "They don't want to talk about anything else." If today's wannabe Ina Gartenisn't satisfied with an industrial-chic standby from JennAir or Thermador or a handful of other appliance makers, she can always spring for a masterwork from the Paris-based La Cornue, which offers its handcrafted Grand Palais 180, measuring a "stately" 71 inches and boasting no fewer than seven cooktop configurations, for upwards of $70,000.
"That gas flame has all kinds of meaning to a lot of cooks," says Carl, who sold Viking to Middleby Corp., based in Elgin, Illinois, for a reported $380 million in 2013. "It's an emotional thing-almost spiritual."
Rachelle Boucher was a private chef whose clients included George Lucas and Metallica before she shifted to the corporate world, where she conducted cooking demos for architects, developers and salespeople on behalf of high-end appliance makers such as Sub-Zero Wolf. It was a dream job, she says, that afforded her enviable access to the top-of-the-line gas "fire-breathing dragons."
Then, in 2015, she joined Miele & Cie., the appliance company based in Germany, where today less than 3% of people cook on gas, according to Eurostat. After the oil price shocks of the 1970s, energy independence and efficiency became a priority for many European countries. They largely invested in alternatives to fossil fuels, while the US developed shale gas resources. So when induction came along in the '80s and fewer European homes were connected to the gas grid, it took off. Boucher recalls chatting with Miele's top scientists when they made a trip to the US to study the American market. "One of the engineers was like, 'I don't understand, why are people wanting to cook on fire in their home?' " she recalls. "He was flabbergasted."
By 2019, when the city of Berkeley, California, announced the first ordinance forbidding gas hookups in new buildings, Boucher was an induction convert. She started a consulting firm to promote the technology, then joined the Building Decarbonization Coalition, becoming something of a one-woman hype team for the wonders of cooking with magnets. Like many advocates, Boucher says induction's lack of traction in the US is largely an education issue. And indeed, most consumers still can't distinguish induction from old-school electric.
"It's really cool technology, and I think it is the future, but a lot of people don't even have kind of a basic awareness of what it is," says Jill Notini, vice president in charge of communications and marketing for the Association of Home Appliance Manufacturers (AHAM). Bailey, the former Viking executive, who now heads product development for LG's Signature line, acknowledges that even her own family isn't entirely clear on the distinction. "We have an induction cooktop in our house," Bailey says. "In January my daughter moved into an apartment with an electric cooktop. She called me. 'The cooktop doesn't work! I'm burning everything!' So I'm explaining to her the difference between induction and electric." (The difference: Induction's hobs can get hot or cold almost instantly, whereas electric's heating elements take longer to cool down.)
America's obliviousness to induction has a lot to do with the appliance industry's general indifference. Take GE Appliances, which offers induction ranges in each of its four product lines but seems to put most of its promotional juice behind the gas-burning showstoppers in its upscale Cafe collection. It recently touted the line at KBIS and on a lavish gatefold ad in Vogue that described the stoves as "inspired by the runway" in partnership with accessories designer Rebecca Minkoff. "Our manufacturers make all technologies-they make gas, they make electric, they make induction, OK?" says AHAM's Notini. "So we don't favor one technology more than another."
s Boucher thinks the solution is bringing appliance sales 8 teams on board. Who better to enlighten the masses about I a spectacular new technology than that glad-handing army і of commission-incentivized pitch people? Few are motivated to steer would-be customers from their beloved rings of fire. "If clients come in and want gas, it's a done deal, easy sale," Boucher says. "No matter how fabulous a salesperson is, they don't always have the time, the resources and the bandwidth to be like, 'Oh my God, you guys, but have you tried this?' "
In other words, why bother to even learn about an alternative when it's just as financially rewarding to cater to existing tastes. "It's a stalemate" among the appliance makers, says chef and cooking technology consultant Andrew Forlines. "Like, are you going to put in the money to educate? Or am I? They're all playing chicken with each other."
A quick Uber ride away from Design + Construction Week, the brigade de cuisine at Las Vegas's only dining establishment to be awarded three Michelin stars was deep into dinner service. Jodi Robuchon's pois-sonnier was preparing a pan-seared sea bass with lemongrass foam, while the rotisseur expertly caramelized a plume of Iberico pork with black truffle and the entremetier whipped up a saffron risotto with pimientos and cauliflower-all of it on induction-powered hobs.
The restaurant's executive chef, Christophe De Lellis, says his adoption of induction cooking has been "life-changing." In addition to being faster and easier to control, De Lellis says, induction has vastly improved working conditions for his staff. Induction hobs, by heating the cookware directly, rather than the air beneath and around it, make the cooktop three times more efficient than gas stoves, resulting in a cooler, more comfortable environment. Induction stoves also reduce the margin of error. "When you use gas and you tell somebody, 'Put on medium heat,' my medium might be different from your medium," he says. "With induction it's much easier to have consistency all across the board." Sauces and bisques, in particular, are easier to prepare. "You know sometimes when the flame burns on the side and they get crusty?" De Lellis asks. "You don't get this with induction." And then there's the cleaning issue-rather than scrubbing away at iron grates, his crew simply wipes down the glass cooktops.
Still, induction has plenty of skeptics. Specialists in Asian cuisine have expressed concern about achieving the ineffable wok hei-"that complex charred aroma that fleetingly cloaks the piping-hot stir-fries," as defined by the Michelin Guide. But induction hobs built especially for woks, featuring concave cooking surfaces, are in widespread use in parts of Asia and increasingly available in the US. As for the anxiety over whether induction cooktops can produce enough heat to create a good sear, the truth is that despite their industrial aesthetic, home gas ranges offer only a fraction of the power of their commercial counterparts. Induction actually produces twice as much heat as the typical gas burner, more than enough to caramelize that wagyu black tomahawk rib-eye to perfection. After safety, perhaps the most compelling benefit to busy parents everywhere: Induction boils water in about half the time of gas.
According to Energy Star, the Environmental Protection Agency and Department of Energy's efficiency standard, if all new cooktops sold in 2021 had been induction, consumers would've saved $125 million in energy costs. But the savings varies considerably by region, since, as the AGA is quick to point out, in many areas, gas is currently cheaper than electricity. Induction ranges also tend to be somewhat pricier than their gas counterparts-around $1,000 for a decent low-end model, compared with $600 for gas. Consumers making the switch are often faced with the additional cost of an upgrade to their electrical panel, and they also fret about the compatibility issue, having heard that induction works only with "special" pots and pans. (The reality: Cast-iron, stainless-steel and carbon-steel skillets all work, while aluminum and copper don't.) Of course, as renewables increasingly gain traction, electricity prices will continue to decline. And as more consumers buy induction, the economies of scale should bring appliance costs down, too.
Practical arguments aside, perhaps what induction really needs is its Tesla moment. There was once a time-back when X /Е A-XII was just a gleam in his father's eye, back before a Roadster was launched into space or there was such a thing as a Chief Twit-when the market for EVs was basically nonexistent. They were generally viewed as slow, stodgy and painfully uncool, the carob-studded trail mix of the open road. Whatever one makes of Elon Musk's subsequent antics and the damage he's done to Tesla Inc.'s brand today, it's hard to deny that he almost single-handedly transformed the EV market.
One possible contender for a Silicon Valley-style jab to the category is Sam D'Amico, the founder and CEO of Impulse Labs in San Francisco. A former member of Stanford University's solar car racing team, D'Amico spent time as a hardware engineer for Google X and Oculus before deciding to start his own company. He knew he'd never be able to compete with the likes of Apple Inc. and Meta Platforms Inc. in the field of virtual-reality headsets, his specialty at the time, but he saw an opening in induction cooking. He and a handful of friends thought they could solve one of induction's biggest barriers-the need for 220-volt electrical hookups, which can require additional breakers and sometimes a larger electrical panel-by adding a battery. "I saw this area where we can just use off-the-shelf components that already exist and are mature to do something novel," says D'Amico, who raised $20 million in October. "And that's like the best kind of hardware startup."
Impulse Labs' forthcoming premium range and a competing offering by Berkeley startup Channing Street Copper Co. will plug right into a standard outlet when they both hit the market next year. By drawing power when usage is slow and storing it for when it's needed, such devices could help improve the resiliency of the electrical grid. And if the power does go out, the ranges can even act as a backup for refrigerators and other devices.
One-upping D'Amico as induction's new pitchman is Curtis Ceballos, a computer engineer and former restaurateur who founded a cooking appliance startup in Florida called Invisacook Inc. Ceballos is seeking to undermine the dominance of the trophy stove by offering its precise aesthetic antithesis. With Invisacook, an idea that came to him in a dream, induction coils are concealed under a countertop instead of a glass cooktop, allowing the cooking to happen directly on granite or porcelain. On first glance the product looks like nothing at all, which admittedly might make it a tough sell for those who like their trophies to shine. But during a demo at KBIS, it was clear that while fire has a certain theatrical appeal, sauteing a salmon fillet directly on a smooth stone surface is a magical experience in its own right. "People can't wrap their head around it," Ceballos says. "They're like, 'Oh, I like that. My next-door neighbor doesn't have it-I want it.' "
In truth, gas companies don't much care whether Americans use their product or not. What's essential from a profit standpoint is that consumers retain the option to do so. "We don't sell gas, which I know might sound ridiculous," AGA spokesperson Adam Kay says. "What utilities are paid to do is to provide the infrastructure that brings that energy." As long as the gas industry can keep building and maintaining networks of pipes, they're good. That's why even though cooking represents less than 3% of total gas usage in US homes, the industry still regards the American kitchen as critical real estate. Consumers are generally indifferent about how they heat their homes or their bathwater, but when it comes to roasting the occasional pepper, fossil fuels have held Americans emotionally hostage.
This also explains the growing movement to electrify American kitchens. If Americans can wean themselves from those comely flames, the thinking goes, cleaner electricity will more quickly supplant fossil fuels in other residential applications, such as swapping out gas furnaces for heat pumps.
That's the goal behind the tens of billions of dollars in subsidies and tax breaks for green energy upgrades contained in 2022's Inflation Reduction Act. It's also the reason for efforts by municipalities across the country to ban gas hookups in new construction. California, Colorado, New York and Washington have adopted legislation restricting gas use, and New York Governor Kathy Hochul recently proposed a 2030 ban on the sale of fossil fuel-powered heating systems. Meanwhile, dozens of cities and counties have forbidden gas in new construction. The fossil fuel industry has mounted its counteroffensive, persuading some 20 states to pass legislation essentially stripping the power of municipal authorities to adopt and enforce their own building codes, at least when it comes to gas.
In early February, as the reaction to Trumka's comments reached new depths, the gas range found itself under attack from another federal agency. The Department of Energy released a proposal to increase efficiency standards for both gas and electric cooking appliances. (The Energy Department and the CPSC operate independently, and the timing was coincidental.) While the announcement has so far generated little attention, its effects may be more sweeping. "We see it as another move by the administration to do away with gas products," says AHAM's Notini. "It's actually a more imminent threat." She estimates that after the new standards are finalized in January 2024, just 4% of gas ranges and cooktops currently on the market will be up to code.
Given the stakes, it's no surprise the gas industry has begun courting a powerful new constituency: influencers. The AGA and another trade group, the American Public Gas Association, have evolved with the times and are paying former Food Network stars and foodie Instagrammers to sing gas's praises on social media while wielding the hashtag #cookingwithgas. (Not to be outdone, the propane industry has also recruited a well-compensated hashtag army of its own.)
Meanwhile, high-profile induction converts are starting to come clean. "I have an induction stove by choice AMA," chef and food writer Alison Roman recently tweeted, calming the nerves of a follower worried she might not be able to crisp her tortillas on the magnetic stove. (Roman's tip: Just use a cast-iron pan.) Celebrity chefs Rick Bayless, Tom Colicchio and Eric Ripert have also joined the chorus, with Colicchio noting on Twitter that "induction is more precise than gas," while conceding he still has gas at home. Detroit chef Jon Kung, who became famous for his underground pop-ups, regularly preaches the benefits of induction to his 1.7 million TikTok followers. The nonprofit Rewiring America, whose mission is to electrify, well, everything, recently teamed with HGTV's Property Brother Jonathan Scott to help spread the word about induction, and in January it shot back at a segment on The Late Show With Stephen Colbert making fun of electric stoves with a video flaunting one of induction's greatest novelties-the ability to comfortably rest one's face on an active burner.
Design influencers, arguably more important than chefs when it comes to the sacrosanct kitchen, are slowly coming on board, too. Emily Henderson, whose blog gets about 2 million page views per month, recently installed a brass-knobbed_48-inch Aga induction range in her Oregon farmhouse. "I thought, 'What is the smartest, greenest, best thing for the planet?"' she says. Still, Henderson treads gingerly when considering the politics of gas. "I'm not one to be dogmatic about anything these days," she says. "I was very much like, 'This is the choice that we made.' "
Appliance makers are finally beginning to offer gateway products for the induction-curious. Some of LG's Signature models aimed at "Technicureans"-"a new generation of forward-thinking cooks"-combine gas burners, induction hobs and even a built-in sous vide bath. Samsung is looking to compensate for induction's tactile shortcomings with "virtual flames," little blue lights that glow brighter around the bottom of a pan as the power is increased, and optional magnetic knobs for those who'd rather twist than tap a digital button.
But neither those bells and whistles nor even the Great Stove Debate of 2023 could sway the judges at the International Builders' Show. As Design + Construction Week wrapped up, the panel bestowed an award for the year's "Best Kitchen & Bath Product." The winner: a 48-inch BlueStar range. With a cast-iron top grate that might double as the portcullis to a medieval torture chamber, eight gas burners throwing off up to 25,000 Btu apiece, more than 1,000 colors and to trim finishes to choose from at a starting price of $15,995, it might just be the Hummer of home cooking.
Although the company also offers induction cooktops, Ann Muth, BlueStar's marketing director, admitted she'd never cooked on one.
She might want to give it a try. Even Carl, Viking's founder, who says gas cooking "is something that is very dear to me," views induction as the superior technology. "Die-hard gas cooks would be surprised," he says. "They might not want to admit it." He attributes the slow sales of Viking's induction cooktops, which were introduced in 2005, to aesthetics. "A big piece of blank glass-that's kind of boring," he says, "as opposed to the glamorous, serious-looking cast-iron grates, and those burners and all the knobs going on."
Then again, Carl says, styles change. He thinks even the most committed gas snobs "might, over time, just say, 'You know, this is not bad. I can deal with this. So, I'm moving on.' "
---
Range Anxiety
With gas stoves becoming a battlefield, America cautiously considers induction
Zero Covid, Total Confusion
China's deadly pivot from economic catastrophe to health-care calamity
Ineffective Altruists
There just isn't time to fret about ethics when you're stopping the Singularity
IN BRIEF
Covid turns 3
Walgreens at war
Tucker vs. Trump
OPINION
Something must be done for the women of Afghanistan
AGENDA
Europe sets rates
US inflation
March Madness
REMARKS
Downtown's unlikely deadbeats: Skyscraper owners
BUSINESS
Apparel makers wish they knew how to quit China
Gucci's woes and teddy bears in bondage plague Kering
New rules prod companies to control health spending
TECHNOLOGY
Google scrambles to catch up on Al
A new social app, from the guy who made the old one
FINANCE
The ultimate black swan in 2023: A US default
Swvl, the bus-hailing app, turns down a bumpy road
ECONOMICS / WORKERS
Intel is building a massive semiconductor complex in Ohio. Where it will find the workers is anybody's guess
SOLUTIONS/ MBAs
What tech layoffs mean for MBAs
Schools move to scoop up ex-techies
Chef Nick DiGiovanni almost went to Harvard B-School
How are recent grads doing?
PURSUITS
Our driver conquers the Alps in a Ferrari SUV
Dog-sledding under the northern lights in Sweden
If you want the perfect backpack, go to the bag nerds
Reality TV for the museum crowd
Daddy, what was a wallet?
LAST THING
Finance and health-care job cuts may be next
---
скачать журнал: Bloomberg Businessweek (March 13, 2023)
---