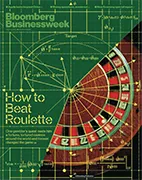 Год выпуска: April 3, 2023
Автор: Bloomberg Businessweek Europe
Жанр: Бизнес
Издательство: «Bloomberg Businessweek USA»
Формат: PDF (журнал на английском языке)
Качество: OCR
Количество страниц: 68
How to Beat Roulette
One gambler's quest made him a fortune, tortured casinos around the world and forever changed the game
One spring evening, two men and a woman walked into the Ritz Club casino, an upmarket establishment in London's West End. Security officers in a back room logged their entry and watched a grainy CCTV feed as the trio strolled past high gilded arches and oil paintings of gentlemen posing in hats. Casino workers greeted them with hushed reverence.
The security team paid particularly close attention to one of the three, their apparent leader. Niko Tosa, a Croatian with rimless glasses balanced on the narrow ridge of his nose, scanned the gaming floor, attentive as a hawk. He'd visited the Ritz half a dozen times over the previous two weeks, astounding staff with his knack for roulette and walking away with several thousand pounds each time. A manager would later say in a written statement that Tosa was the most successful player he'd witnessed in 25 years on the job. No one had any idea how Tosa did it. The casino inspected a wheel he'd played at for signs of tampering and found none.
That night, March 15,2004, the thin Croatian seemed to be looking for something. After a few minutes, he settled at a roulette table in the Carmen Room, set apart from the main playing area. He was flanked on either side by his companions: a Serbian businessman with deep bags under his eyes and a bottle-blond Hungarian woman. At the end of the table, the wheel spun silently, spotlighted by a golden chandelier. The trio bought chips and began to play.
The Ritz was typical of London's top casinos in that it was members-only and attracted an eclectic mix of old money, new money and dubiously acquired money. Britain's royals were regulars, as were Saudi heiresses, hedge fund tycoons and the actor Johnny Depp. One cigar-chomping Greek diplomat was so dedicated to gambling he refused to leave his seat to use the toilet, instead urinating into a jug, so the story went.
But the way Tosa and his friends played roulette stood out as weird even for the Ritz. They would wait until six or seven seconds after the croupier launched the ball, when the rattling tempo of plastic on wood started to slow, then jump forward to place their chips before bets were halted, covering as many as 15 numbers at once. They moved so quickly and harmoniously, it was "as if someone had fired a starting gun," an assistant manager told investigators afterward. The wheel was a standard European model: 37 red and black numbered pockets in a seemingly random sequence-32,15,19, 4 and so on-with a single green o. Tosa's crew was drawn to an area of the betting felt set aside for special wagers that covered pie-sliced segments of the wheel. There, gamblers could choose sections called orphelins (orphans) or le tiers du cylindre (a third of the wheel). Tosa and his partners favored "neighbors" bets, consisting of one number plus the two on each side, five pockets in all.
Then there was the win rate. Tosa's crew didn't hit the right number on every spin, but they did as often as not, in streaks that defied logic: eight in a row, or 10, or 13. Even with a dozen chips on the table at a total cost of £1,200 (about $2,200 at the time), the 35:1 payout meant they could more than double their money. Security staff watched nervously as their chip stack grew ever higher. Tosa and the Serbian, who did most of the gambling while their female companion ordered drinks, had started out with £30,000 and £60,000 worth of chips, respectively, and in no time both had broken six figures. Then they started to increase their bets, riskingas much as £15,000 on a single spin.
It was almost as if they could see the future. They didn't react whether they won or lost; they simply played on. At one point, the Serbian threw down £10,000 in chips and looked away idly as the ball bounced around the numbered pockets. He wasn't even watching when it landed and he lost. He was already walking off in the direction of the bar.
It wasn't the amount of money at stake that made the Ritz security team anxious. Customers routinely made several million pounds in an evening and left carrying designer bags bulging with cash. It was the nwy these three were winning: consistently, over hundreds of rounds. "It is practically impossible to predict the number that will come up," Stephen Hawking once wrote about roulette. "Otherwise physicists would make a fortune at casinos." The game was designed to be random; chaos, elegantly rendered in circular motion.
Even so, gamblers have come up with plenty of elaborate mathematical systems to beat it-Oscar's Grind, the D'Alembert. Simple ones, too, such as betting on black then doubling on every loss until you win. Casino owners love these strategies because they don't work. The green 0 pocket (with an additional 00 pocket on American wheels) means even the highest-odds bets, on red or black for example, have a slightly less than half chance of success. Everyone loses eventually.
Except for Niko Tosa and his friends. When the Croatian left the casino in the early hours of March 16, he'd turned £30,000 worth of chips into a £310,000 check. His Serbian partner did even better, making £684,000 from his initial £60,000. He asked for a half-million in two checks and the rest in cash. That brought the group's take, including from earlier sessions, to about £1.3 million. And Tosa wasn't done. He told casino employees he planned to return the next day.
A week later-after the events at the Ritz had been picked over by casino staff, roulette wheel engineers, police and lawyers-the British press got wind of Tosa's epic run. The Mirror reported that an unidentified high-tech gang had hit the casino with a "laser scam," pairing a device hidden in a mobile phone with a microcomputer to achieve the impossible.
It was as good a theory as any. But closer observers weren't so sure, and the case remained a mystery even to casino insiders almost two decades later. "We still lose sleep over that one," a gambling executive told me.
I spent six months investigating the clandestine world of professional roulette players to find out who Tosa is and how he beat the system. The search took me deep into a secret war between those who make a living betting on the wheel and those who try to stop them-and ultimately to an encounter with Tosa himself. The British press got plenty wrong in their reports about what happened on the night of March 15,2004. There was no laser. But the newspapers were right about one thing: It is possible to beat roulette...
---
The Man Who Beat Roulette
How did Niko Tosa do it? A timer? A microprocessor? Or just instincts?
Howard Schultz Was No Match for the Salts
Mild-mannered baristas by day, savvy union organizers by night
Sorry, the Chainsmokers A re Back
The venture capitalist party band you either love or love to hate
IN BRIEF
Trump's big day in court
Bloodletting in the Alps
OPINION
How to prevent the next SVB from collapsing
AGENDA
Tax time
Bank earnings
All eyes on inflation
REMARKS
Assessing what's really scary about Al
BUSINESS
Who really benefits from caps on insulin copays?
As war upends the food aisle, Bunge is rethinking recipes
Gap, Vestas and eight other companies to watch
TECHNOLOGY
Your next iPhone might come from India, not China
Paris builds vertiports for air taxis that may never take off
FINANCE
Investors want out of Scaramucci's SkyBridge
"Crossing the wall" to the secret world of new share sales
ECONOMICS
Spurred by Russia's invasion of Ukraine, Germany warily gets back into the war business
MONEY
Now that rates are higher and the world's going mad, should you put your cash under the mattress?
SOLUTIONS/NEW ECONOMY
This is a bad time for a US-EU spat over green subsidies
Zero-emissions air travel: The race is on
UniCredit's Andrea Orcel on playing it safe
PURSUITS/WATCHES
Everything is in bloom at Van Cleef & Arpels
What's after the Nautilus for Patek Philippe?
Here are the year's best new timepieces
How to build a hot Swiss watch brand in just five years
The perfect nautical chronometer for your superyacht
LAST THING
Mergers in the Biden era aren't dead
---
Bloomberg Businessweek (April 10, 2023)
---