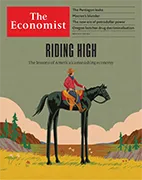 Год выпуска: апрель 2023
Автор: The Economist Newspaper and The Economist Group
Жанр: Экономика/Политика
Издательство: «The Economist Newspaper Ltd»
Формат: PDF (журнал на английском языке)
Качество: OCR
Количество страниц: 76
RIDING HIGH: The lessons of America's astonishing economy
The lessons from America's astonishing economic record: leader, page 9.
The scale of its outperformance is a marvel to behold, and to squander: briefing, page 17.
The Pentagon leaks
One of America's worst intelligence breaches in a decade, page 21.
Macron's blunder
The French president has made a dangerous situation worse: leader, page 11.
The new era of petrodollar power
What are the hundreds of billions of oil riches being spent on? Page 59.
In a more transactional world, the price of influence is going up: leader, page 10.
Crafty countries are dealmaking across geopolitical divides, page 50.
Luiz Inacio Lula da Silva's foreign policy is hyperactive, ambitious and naive, page 27.
Oregon botches drug decriminalisation
Lessons from the first state in America to remove criminal penalties for drug possession: leader, page 11, and analysis, page 22.
---

The world this week Politics
To mark the 25th anniversary of the Good Friday Agreement Joe Biden visited Belfast, where he briefly met the main parties in Northern Ireland. The settlement has ensured peace in the province but getting the politics to work has been harder. The agreement requires unionists and nationalists to share power but the devolved assembly has not sat for 40% of the time since 1998, and is suspended now too. The American president then spent three days in Ireland, visiting his ancestral homeland.
Mr Biden tried to reassure America's allies that there would be no more leaks of classified intelligence, after the release of a trove of documents online from an unknown source. The sensitive materials show the extent of America's involvement in Ukraine's fight against Russia, including details of Ukrainian battle strengths and weapon deliveries. It was the biggest leak of top-secret information since Edward Snowden's leak of military papers in 2013.
In Ukraine Russia stepped up its bombardments in the front-line Donetsk region, as the battle raged for control of the small but strategically important town of Bakhmut. The commander of Ukraine's ground forces said the Russians had switched to the type of "scorched earth" tactics that they had used in Syria defending the Assad regime.
The Biden administration filed an appeal against a judge's ruling that would suspend the sale of mifepristone, an abortion pill. The judge sided with an anti-abortion group in deciding that the Food and Drug Administration's approval of mifepristone in 2000 was unsafe, despite few safety concerns being raised during the 23 years it has been on sale.
Driving the agenda
America's Environmental Protection Agency proposed its most stringent measures to date to reduce car emissions. The new standards are intended to accelerate the transition to electric vehicles. The epa thinks the new rules will result in evs accounting for 67% of new light-duty vehicle sales by 2032. Carmakers were taken by surprise. They are working towards an ev target of 40-50% of car sales by 2030.
Clarence Thomas, a justice on America's Supreme Court, defended trips he had taken on a jet owned by Harlan Crow, a generous donor to the Republicans, describing him as a close friend with whom he has taken family holidays for 25 years. News of the trips sparked more criticism of the court's lack of transparency.
Palestinian militants fired salvoes of rockets into Israel from Gaza, Lebanon and Syria after clashes between Israeli police and protesters on the Temple Mount in Jerusalem; Palestinian gunmen shot and killed three British-Israeli women in the West Bank; and an Arab-Israeli rammed a car into pedestrians in Tel Aviv, killing an Italian tourist. Meanwhile Israel's embattled prime minister, Binyamin Netanyahu, reinstated Yoav Gallant as defence minister. His sacking had triggered huge protests and strikes.
Pirates seized a Singaporean-registered oil tanker in the Gulf of Guinea. It was the second attack in recent weeks. Pirates boarded a Danish-owned oil tanker and kidnapped some of its crew last month.
A court in the United Arab Emirates turned down a South African request for the extradition of Atul and Rajesh Gupta, two brothers who are accused of looting state-owned companies during the presidency of Jacob Zuma.
Ethiopia's government said it would disband militias formed by regional governments and integrate their members into the regular police and army. Violent clashes broke out in the Amhara region as people protested against the plan.
Over three days of military drills China simulated a blockade and "precision strikes" on Taiwan, the self-governing island that it claims. The exercises were in response to a meeting between Taiwan's president, Tsai Ing-wen, and the speaker of America's House of Representatives, Kevin McCarthy, in California.
Macron the blunderer
Meanwhile, President Xi Jinping said it was "wishful thinking" to expect China to compromise on Taiwan. After meeting Mr Xi in Beijing, Emmanuel Macron, the French president, suggested to reporters that Europe should not follow America's lead, lest it be drawn into a crisis over the island. He later said that France's position had not changed and that it favoured the "status quo" on Taiwan. Brazil's president, Luiz Inacio Lula da Silva, also visited China on a trade mission.
America and the Philippines began two weeks of joint military training, the largest ever between the two countries, with 12,000 American and 5,000 Filipino troops taking part. America recently secured a deal to maintain a presence in four additional military bases in the Philippines, three of which will be on the main island of Luzon, just 400km (250 miles) south of Taiwan.
At least 100 people were killed when Myanmar's army attacked a village that was holding a ceremony to honour the local rebels of the opposition National Unity Government. The attack, by fighter jets and helicopter gunships, was the deadliest in recent months in the country's civil war.
The High Court in Jakarta overturned an order from a lower court that would have delayed Indonesia's presidential election by two years. The elections are due to be held in February 2024. Delaying them could have sparked a constitutional crisis. The president, Joko Widodo, known as Jokowi, is due to step down after the election.
The latest missile launch by North Korea triggered an evacuation warning across Japan's northern island of Hokkaido. The missile fell into the sea.
Silvio Berlusconi remained in intensive care, after being admitted to hospital for a lung infection caused by chronic leukaemia. The former Italian prime minister's Forza Italia grouping is in Italy's coalition government. It holds the post of foreign minister.
Recep Tayyip Erdogan began his campaign for another term as president of Turkey in an election to be held on May 14th. He is seeking reelection with inflation at 50%. And he is widely blamed for the lax building codes that caused so many deaths in February's earthquake.
Five councils won the right to legally challenge the expansion of the Ultra Low Emission Zone in London.The city's mayor, Sadiq Khan, says the expansion to the outer boroughs will reduce pollution and save lives. Critics say his figures are flawed and the charge for driving in the zone will hit the poorest.
The world this week Business
America's annual inflation rate fell to 5% in March, the lowest it has been since May 2021. But the core inflation rate, which strips out volatile food and energy prices, rose to 5.6%. There was good news on energy prices. On a month-by-month basis the price of natural gas for consumers fell again, by 7.1%. Petrol dropped by over 4%. But with other data showing another solid monthly increase in the number of jobs created, markets are expecting the Federal Reserve to raise interest rates by a quarter of a percentage point again when it meets in early May.
Murky outlook
The imf slightly reduced its estimate of growth in the world economy this year, to 2.8%. It expects America's gdp to increase by 1.6% and the euro area's by 0.8%, though Britain's could shrink by 0.3%. The fund said that "the fog around the world economic outlook had thickened", in part because of the recent stress in financial markets caused by the collapse of Silicon Valley Bank and Credit Suisse. It also warned of the dangers from investors pricing in lower interest-rate increases.
Ueda Kazuo started his term as the Bank of Japan's governor. At his first news conference Mr Ueda reiterated his commitment to sticking, for now, with the central bank's ultra-loose policy of negative interest rates and controls on government-bond yields. In December the bank raised its cap on ten-year government-bond yields, from 0.25% to 0.5%, amid market pressure.
China's cyberspace regulator outlined new rules for dealing with generative artificial intelligence, such as requiring firms to submit security reviews to the authorities before releasing new technology to the public. Content generated by chatbots must follow China's "core socialist values" and not "subvert state power". The measures were published shortly after Alibaba unveiled its rival version of ChatGPT. Meanwhile, the American government asked for public feedback on a proposal that could subject new ai bots to a certification process.
Press reports suggested that SoftBank is preparing to sell most of its remaining stake in Alibaba, leaving it with a holding of around 4%. The Japanese conglomerate once owned 34% of Alibaba. SoftBank was also reportedly ready to finalise a decision on listing Arm, a chip designer, with an IPO on the Nasdaq exchange.
Warner Bros Discovery announced a new combined streaming service, called Max. It merges high-quality programming from hbo, such as "Succession" and "The Last of Us", with unscripted filler from Discovery ("90 Day Fiance", "Pit Bulls and Parolees"). wbd hopes that the combination of quality and reality tv will help it catch up with Netflix and Disney+.
EY (formerly Ernst & Young) abandoned a plan to separate its auditing and consulting businesses, intended to tackle conflict-of-interest issues. The plan was opposed by senior executives in ey's auditing division in America, who worried that their lucrative work on companies' taxes would end up in the new consultancy. Ditching the split has reportedly caused anger among those partners who would have received a pay-out.
Global shipments of personal computers fell by around a third in the first quarter of 2023, year on year, according to separate reports from two consultancies. The pc business has recorded several quarters of shrinking deliveries, in part because huge demand during the pandemic has dissipated, and also because economic uncertainty is causing firms to put off investments in new machines.
The diminishing demand for pcs is affecting the semiconductor industry. Samsung Electronics is to cut production of memory chips by a "meaningful level", after quar terly profit plunged by 96%, year on year. Many of its rivals are also reducing output as chip inventories accumulate.
China recorded a surprising surge in export growth for March, reversing five months of declines. Exports were up by 15%, year on year, mostly in electric cars, lithium and solar panels.
A tax by any other name
The bbc got into a row with Twitter after it was labelled "government funded". The broadcaster gets its money from an annual £159 ($198) household tax (euphemistically called a "licence fee"). Twitter relented and changed the BBC's handle to "publicly funded". National Public Radio in America said it would quit Twitter after it was labelled "state affiliated". Twitter then changed it to government funded.
Tupperware warned that it is on the verge of bankruptcy. The company marketed its food containers through Tupperware parties, the butt of many a suburban joke. Cheaper products have since flooded the market. Tupperware's fate will be sealed if it cannot improve its short-term liquidity.
---
скачать журнал: The Economist - 15 апреля 2023
---