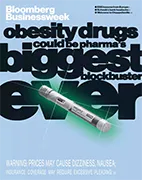 Год выпуска: May 1, 2023
Автор: Bloomberg Businessweek Europe
Жанр: Бизнес
Издательство: «Bloomberg Businessweek USA»
Формат: PDF (журнал на английском языке)
Качество: OCR
Количество страниц: 68
Weight loss drugs have a cost problem
You've seen them on TV ads and TikTok, or heard them joked about at the Oscars: Ozempic, Wegovy, Mounjaro. They're weekly injections known as GLP-1 receptor agonists that help people lose a significant chunk of their body weight. These drugs can indeed produce dramatic results. But do they make people healthier?
Some people, yes. Others...the question is trickier than it sounds, and at least $100 billion a year is potentially riding on the answer. In the US alone, about 130 million adults are eligible for GLP-ls because of their weight and other health conditions. If just a third of Americans with severe obesity took them, US sales of weight loss drugs would swell more than 30 times, into an $80 billion industry, according to data analytics company Airfinity Ltd. Analysts at Jefferies Financial Group Inc. predict that GLP-ls for diabetes and obesity could become the biggest blockbusters of all time, bringing in as much as $150 billion a year globally.
But as of yet, most eligible people can't get them, because they're prohibitively expensive. In the US they cost upwards of $10,000 a year, potentially for the rest of someone's life. (The drugs essentially work as appetite suppressants, and if people stop taking them, they may gain much of the weight back.) Private and public insurers aren't convinced they're worth covering. Medicare, the federal health insurance program for the elderly and some people on long-term disability, puts weight loss in the same category as balding and erectile dysfunction. Three-quarters of private insurers don't cover weight loss drugs, either. Most state Medicaid programs for low-income and disabled Americans restrict coverage, too, with just 1U ottering broad coverage, according to a Bloomberg Businessweek survey of programs in all 50 states and DC. Coverage is also spotty in much of Europe and Canada. When insurers do pay, patients can face restrictions for how long they can take it or have to prove that they tried other weight loss methods first.
There's no doubt that, particularly at the extreme end, obesity is closely tied to a host of chronic health conditions. Doctors frequently recommend even modest weight loss to avoid obesity-related risks-high blood pressure, cholesterol, blood sugar. From the pharmaceutical industry's perspective, GLP-ls are a long-awaited solution to a growing and enduring public health crisis. Increasingly, doctors feel that way, too. "This is negligence and malpractice on the part of insurance companies," says Caroline Apovian, an obesity specialist who advises Ozempic and Wegovy maker Novo Nordisk A/S.
Insurance companies, no surprise, don't see things that way. They don't dispute that there are a lot of heavy Americans. The health risks they face as individuals, however, aren't so clear-cut. One recent review of medical studies found that up to a third of people with obesity are "met-abolically healthy," meaning they don't have conditions such as diabetes and hypertension. Who even qualifies as obese is up for debate: The widely used body-mass index calculation doesn't accurately measure fat. "We need to be clear about which patients really do benefit from these medicines," Andrew Witty, UnitedHealth Group Inc.'s chief executive officer, said in April on a call with investors.
So far, trials have only proven that Ozempic lowers blood sugar levels and rates of heart attacks and strokes in people with type 2 diabetes. And insurers will mostly give people with diabetes, a group that includes some 35 million Americans, coverage for that drug. There's no proof yet that the drugs have long-term health benefits-beyond weight loss-forother people with obesity.
Novo and Eli Lilly & Co., which makes Mounjaro, are busy trying to prove they do. Both are testing whether GLP-ls prevent heart attacks and strokes in people without diabetes. Further trials are exploring other conditions associated with obesity, including heart failure, sleep apnea and knee osteoarthritis. "Our job is to change the assumption that obesity is not something you can manage medically," Lilly CEO David Ricks says.
All of this is a familiar push-pull between pharmaceutical and insurance companies. Drugmakers always want more coverage; insurers resist. Even if just some people with obesity take a GLP-1, "the total cost could be overwhelming" says Jeff Levin-Scherz, a physician who leads population health for the consulting firm Willis Towers Watson Plc. The drugs' proponents argue they'd offer long-term savings. Studies have found adults with obesity account for $173 billion in extra medical costs in the US each year.
For now, patients are stuck in the middle. Sarah Bramblette, a 45-year-old with obesity who lives in Miami, lost nearly 70 pounds on Ozempic. Her insurance covered it as a treatment for insulin resistance. The weight loss also helped her qualify for a procedure to treat an irregular heart rhythm. When she needed to drop more weight for another surgery and to get a cancer screening, her doctor prescribed Wegovy, a stronger and more expensive treatment. Medicare wouldn't cover it. "We get blamed for being a financial burden on the health care system," she says. "But then we don't get access to treatments that we would need to lessen that burden."
A decade ago, the American Medical Association voted to classify obesity as a disease. It did so to move the medical community away from treating weight as some sort of character flaw and toward something worthy of its care. The reclassification was also, in part, about economics: Insurers historically considered weight loss a cosmetic issue outside their purview; doctors wanted to encourage them to cover it as a health one, says Douglas Martin, who chaired the committee that brought the resolution to a vote. The promise of future reimbursements might encourage pharmaceutical companies to develop safe and effective drugs.
Up to that point, weight loss drugs had a bad track record. The fen-phen craze in the late 1990s imploded after one of its components was linked to heart valve damage. Over the next two decades, several other pills were recalled for safety reasons. "Obesity drug development was a graveyard," says Novo CEO Lars Fruergaard Jorgensen.
GLP-ls first came to market as a diabetes treatment, but initial trials in the early 2000s showed they could result in weight loss, too. The drugs mimic a gut hormone-glucagon-like peptide-l-that reduces people's appetites and makes them feel full. "We had lengthy discussions about whether we dared to go into development in the obesity indication," Jorgensen says. Drug companies decided to push ahead with the drugs just for diabetes, a more stable market. In 2005, the US Food and Drug Administration approved the first GLP-l for diabetes, Byetta, followed by a Novo drug called Victoza in 2010.
At that point, the weight loss GLP-ls caused in clinical trials was so significant that Novo decided to test them as obesity meds. Five years later, Saxenda hit the US market. Saxenda, a daily shot that costs about $1,350 a month, can help people lose about 5% to 7% of their body weight. It often has unpleasant side effects, as other GLP-ls do, including nausea, diarrhea and vomiting. The medication also lists a potential risk of thyroid cancer. Saxenda wasn't very successful commercially, but it was effective and largely safe, which was enough to encourage more development from Novo and its competitors. Ozempic, Novo's weekly GLP-l shot for diabetes, went on sale in 2018, followed in 2021 by Wegovy, a higher dose of the same medication developed specifically for obesity. Eli Lilly's Mounjaro, approved for diabetes last year, has shown even more dramatic slimming results, with patients on the high dose losing around 50 pounds in a big trial published last year. Lilly is filing for approval to treat obesity.
---
Weighing the Cost of Weight Loss Drugs
Insurers won't pay without proof Wegovy and others do more than melt pounds
How Private Is Your Virtual Private Network?
As VPNs go mainstream, companies may be overselling the security they offer
Comedy Is Easy. Neighbors Are Hard
Dave Chappelle's hometown buying spree isn't playing well to some locals
IN BRIEF
J&J's big spinoff
Disney v. DeSantis
RIP Belafonte
OPINION
The middlemen who help keep drug prices high
AGENDA
Coronation Day
The Fed and the ECB set interest rates
REMARKS
What the US can learn from Europe's ESG mistakes
BUSINESS
Carvana's $8 billion debt is only one of its problems
Suppliers, meet your new Walmart negotiator: AI
Plunging gas prices dry up shale drillers' cash flow
TECHNOLOGY
An unwelcome catch for fishing boats: Undersea cables
Data-hungry ChatGPT bows to user privacy concerns
Fear of China brings down a popular app
FINANCE
Schwab's bank becomes a headache
Crypto holders get their day in bankruptcy court
A Depression-era lifeline for stressed banks
ECONOMICS
"Made in America" may make America more isolated
Economists are stumped by inflation's stubbornness
China's economy is firing up, but not on all cylinders
SOLUTIONS / HYPERDRIVE
A tax credit loophole you can drive an EV through
Subsidies spark adoption of electric delivery vans
Are Tesla's price cuts acts of disruption or desperation?
PURSUITS
Women are putting a new face on mezcal and tequila
Stylish backpacks steal the spotlight from purses
LVMH polishes Tiffany to lure high-end clientele
Londoners shuck their wallets for a native oyster
A $200 pepoer mill that's nothing to sneeze at
LAST THING
BuzzFeed News's death doesn't mean subscription is king
---
скачать журнал: Bloomberg Businessweek (May 1, 2023)
---