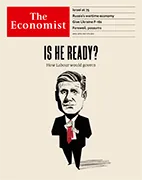 Год выпуска: апрель 2023
Автор: The Economist Newspaper and The Economist Group
Жанр: Экономика/Политика
Издательство: «The Economist Newspaper Ltd»
Формат: PDF (журнал на английском языке)
Качество: OCR
Количество страниц: 80
IS HE READY?
How Labour would govern
Sir Keir Starmer has made Britain's Labour Party electable again. But there is more to do: leader, page 7.
He explains his programme, page 19.
Fighting climate change is not the same as curing Britain's economic ills, page 20.
The shadow cabinet's reasonable but unreadable books,page 21.
Circumstances might shift Labour leftwards: Bagehot, page 24.
Israel at 75
Its biggest threats now come from within: leader, page 8.
Months of chaos highlight its political divides, page 41.
How Zionism has evolved from a project to an ideology, page 43.
The growing American split over Israel: Lexington, page 37.
Russia's wartime economy
It can withstand a long war, but will struggle to support a more intense one: briefing, page 16.
Give Ukraine F-16s
The country needs fighter jets, page 25.
So send them: leader, page 9.
Farewell, possums
Dame Edna Everage, a megastar, and Barry Humphries, her manager: obituary, page 82.
---
The world this week Politics
Joe Biden launched his campaign to be re-elected president of America. Some Democrats had questioned whether he would run again, given that, if he wins, he will be 82 at his re-inauguration. Mr Biden said America was still in a battle for its "soul" with Republican "extremists"; his announcement video replayed the violent attack on Congress by Donald Trump's supporters in January 2021. If Mr Trump can stay out of jail before the election he seems on course to be the Republican candidate. Polling shows that most voters want neither man to run again.
All Tuckered out
Tucker Carlson, America's best-known right-wing pundit, was abruptly sacked by Fox News. It was unclear exactly why Mr Carlson, for years a thorn in the side of liberals, was defenestrated. There was speculation that Fox News considered him to be a liability, soon after it paid $787.5m to Dominion Voting Systems for broadcasting fake claims about its election machines.
The House of Representatives passed legislation that increases the cap on the federal debt, but also calls for deep spending cuts. The bill was supported by Republicans, but rejected by Democrats, who don't want any conditions attached to raising the debt ceiling. The government has already hit that ceiling and is using "extraordinary measures" to pay its bills.
Disney filed a lawsuit against Ron DeSantis, the governor of Florida, claiming he was behind "a targeted campaign of government retaliation" against the company when it came out against the state's "Don't Say Gay" bill. Disney was stripped of its special self-governing status amid the row over the bill, a decision it says threatens its business.
An Islamic State terrorist who planned the bombing of Kabul airport in August 2021, killing more than 170 people, including 13 American troops, has been killed by the Taliban, according to America's National Security Council. is renewed its campaign of violence in Afghanistan after the Taliban returned to power in 2021, launching attacks on civilians and Taliban fighters. The Taliban has responded by killing key is commanders.
Yoon Suk-yeol visited Washington for the first state visit to America by a South Korean president in a decade. Joe Biden renewed his country's commitment to protect South Korea from North Korean aggression, announcing the deployment of more nuclear-capable aircraft to the country and promising more consultation on nuclear strategy. South Korea pledged not to develop its own nuclear weapons.
Australia's Labor government announced the biggest shakeup to the country's defence priorities in decades. A strategic review pointed to competition between America and China in the Indo-Pacific as "the defining feature of our region and our time", which had "the potential to threaten our interests". Improved long-range missile technology means Australia can no longer rely on its remoteness to avoid attack. The government said the first guided missiles to be made in Australia would start production in 2025, earlier than expected.
Singapore executed a man for arranging to smuggle 1kg of cannabis into the country in 2013. Human-rights groups and his family claim the man's conviction was unsafe. The authorities insist that he received a fair trial.
Volodymyr Zelensky, Ukraine's president, held an hour-long phone call with Xi Jinping, China's leader, the first direct talks between the two since Russia's invasion of Ukraine. This came after China's ambassador to France caused a diplomatic spat by saying that former Soviet states, including Ukraine, "do not have an effective status in international law". China's foreign ministry disowned the ambassador's remarks.
Nine European countries, including Britain, signed an agreement to boost offshore wind power in the North Sea. On the day the deal was signed Norway's prime minister, Jonas Gahr Store, warned that Russia was increasing its maritime intelligence surveillance in the area, which he described as a threat.
Aggressive, or assertive?
Dominic Raab resigned as Britain's deputy prime minister after an independent inquiry found some of his behaviour towards staff as foreign secretary and justice secretary counted as bullying. Mr Raab noted that all but two complaints had been dismissed, and said he had been targeted by "activist civil servants". His defenders said the inquiry set a low bar for bullying and would make effective government more difficult.
Gustavo Petro, Colombia's left-wing president, asked his cabinet to resign after it became clear that he had lost his majority in Congress. Mr Petro spooked markets by ditching Jose Antonio Ocampo as finance minister. He is a moderate and was seen as a stabilising force in the country's first leftist government. The new finance minister is Ricardo Bonilla, who is an ally of Mr Petro and seen as less independent than Mr Ocampo.
In Chile Gabriel Boric, the left-wing president, launched a plan to create a state-run lithium company. Chile is the world's second-largest producer of the metal. A bill to formalise the creation of the nationalised company will be presented this year.
In Sudan fighting continued between two rival generals, despite efforts to broker a ceasefire. Several countries including America, Britain, France and Germany have evacuated their nationals. Thousands of residents of Khartoum, the capital, have fled to the countryside or neighbouring countries.
Men wearing uniforms of the Burkina Faso army surrounded a village and killed 150 unarmed people in the latest of a series of atrocities against civilians. The killings came after a jihadist attack on a nearby army position.
South Africa's government got itself into a twist over the country's membership of the International Criminal Court. The court has issued an arrest warrant for Vladimir Putin, putting pressure on South Africa to arrest him if he attends a summit in August. Cyril Ramaphosa, the president, said he would withdraw from the icc. His office said he had spoken in error.
Israel celebrated the 75th anniversary of its founding. In a speech Binyamin Netanyahu, the prime minister, highlighted Israel's achievements since its birth and called for unity. Meanwhile more big protests were planned against his government's push to reform the judiciary. The government has put the reforms on hold but is expected to reintroduce them when the Knesset comes back into session on April 30th.
The world this week Business
Another regional bank in America teetered on the brink of collapse. First Republic, based in San Francisco, said it was "pursuing strategic options" after revealing that customers withdrew some $100bn in deposits amid the turmoil surrounding the failure of Silicon Valley Bank. Although outflows stabilised in April, First Republic is reducing its workforce by up to 25% to cut costs. The bank's already enfeebled share price fell by 50% in a day.
Compare and contrast
Customer outflows at Credit Suisse reached $69bn in the first quarter, mostly in the days leading to its collapse and takeover by ubs at the behest of Swiss regulators. Many customers redirected their money to ubs, which reported $28bn in client inflows.
America's tech giants began announcing their latest results. Microsoft reported solid earnings. Revenue from cloud computing rose by 16%, year on year, a slower rate than in previous quarters but faster than markets had expected given the pullback in corporate it spending. And advertising sales at Alphabet's Google business bounced back following two disappointing quarters. The stock of both companies has risen by about 20% since the start of the year, outperforming the s&p 500.
Microsoft's proposed $75bn takeover of Activision was blocked by Britain's competition regulator, potentially sounding the death knell for the deal. Regulators around the world worry that Microsoft's purchase of Activision, whose video games include "Call of Duty", would make it dominant in gaming. America's Federal Trade Commission sued to stop the takeover in December.
Meta's quarterly revenue rose by 3%, year on year, the company's first increase in sales in nine months. The Reality Labs division, tasked with developing the metaverse, made another heavy loss. Still, investors seem pleased with Meta's strategy, sending its stock up by 74% this year.
America's Supreme Court declined an appeal from an inventor over a refusal to grant two patents for products created by artificial intelligence. Stephen Thaler registered his DABUS ai as "inventor" for the patents, which was rejected because only humans can obtain copyright. Mr Thaler is fighting that law in America, Britain and Europe. He believes that dabus has sensory experiences, and even a stream of consciousness.
Rakuten Bank's share price soared on its first day of trading on the Tokyo Stock Exchange. The internet banking pioneer raised $625m, making it Japan's biggest initial public offering since 2018.
Sweden's central bank raised its main interest rate again, to 3.5%, and said it would increase the rate again in June or September.
The Bank of England's chief economist, Huw Pill, urged people to accept that they are worse off because of inflation and not seek higher pay, and said firms should stop trying to pass on their higher costs to consumers. Trying to "pass the parcel" would just add to inflationary pressures, he said.
Breaking apart news
Two years after winning a Pulitzer prize for its reporting on Xinjiang's internment camps, BuzzFeed decided to wind down its stand-alone news division as part of a cost-cutting drive across the whole group. Like other digital-news providers that are mostly free to use, BuzzFeed has seen a sharp fall in revenue from advertising.
Global sales of electric vehicles rose by 25% in the first quarter, year on year, according to the International Energy Agency. evs are expected to count for 18% of total car sales by the end of 2023 as more affordable models become available, up from less than 5% in 2020. The "exponential growth" of ev sales is being driven by China, which accounts for 60% of the market. Sales tripled in the emerging ev markets of India and Indonesia last year, though they are still dwarfed by sales of petrol cars in those countries.
After months of struggling to stay afloat, Bed Bath & Beyond threw in the towel and filed for bankruptcy protection. The retailer fascinated Wall Street with its fight for survival and attempts to raise funds. Its status as a meme stock helped it ride out previous brushes with insolvency. The company never rose to the challenge of the digital age. "We missed the boat on the internet," said one of its founders.
Anheuser-Busch placed two executives on leave amid a furore over linking Bud Light with a high-profile transgender activist. The brewer sent Dylan Mulvaney a gift can of the beer with her face on it, which she promoted in a video. That prompted a backlash from conservatives: sales of Bud Light drooped by 17% in a week. "We never intended to be part of a discussion that divides people," said ab's boss.
---
скачать журнал: The Economist - 29 апреля 2023
---