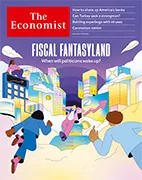 Год выпуска: май 2023
Автор: The Economist Newspaper and The Economist Group
Жанр: Экономика/Политика
Издательство: «The Economist Newspaper Ltd»
Формат: PDF (журнал на английском языке)
Качество: OCR
Количество страниц: 72
FISCAL FANTASYLAND
When will politicians wake up?
Around the world budgets are in a bigger mess than politicians are prepared to admit: leader, page 9.
America's debt-ceiling debacle obscures deeper, slow-burning fiscal problems, page 58.
Debt-rule fights in Europe herald a big fiscal reset, page 44.
A far-flung province is a harbinger of doom in China's local-debt crisis, page 60.
How to shore up America's banks
The right way forward: leader, page 11.
What the deal for First Republic says about America's banking system: Buttonwood, page 62.
Can Turkey sack a strongman?
If Turkish voters can shake off Recep Tayyip Erdogan, democrats everywhere should take heart: leader, page 10.
Mr Erdogan could be on his way out: briefing, page 15.
Battling superbugs with viruses
As antibiotic resistance grows, phage therapy— pioneered in the Soviet Union—is attracting more interest: leader, page 12, and analysis, page 64.
Coronation nation
Preparations involve scones, jam, chrism and carriages, page 46.
---
The world this week Politics
The un warned that 800,000 people could flee fighting in Sudan between the national army and a rival paramilitary force. More than 500 civilians have died in the conflict, which has seen heavy combat in the capital, Khartoum. The un also sought assurances from the warring factions that humanitarian aid would be delivered unhindered, after six lorries carrying supplies to Darfur, a region in the west of Sudan, were looted.
A jihadist attack on an army post in Burkina Faso killed 33 soldiers amid deteriorating security in the Sahelian country. By some estimates government forces control only about 40% of its territory.
A popular opposition mp in Zimbabwe, Job Sikhala, was jailed for obstructing justice, which prevents him from running in an election that is due to take place in July or August. Activists and lawyers accuse the government of using the justice system to suppress the opposition and rig the elections.
Palestinian militants in Gaza fired over 100 rockets and mortars into Israel after the death of a hunger-striking Palestinian prisoner detained on terrorism charges in Israel. In response Israeli forces struck sites said to be linked to Hamas, the Palestinian militant group that runs Gaza. Local officials say one Palestinian was killed. The two sides agreed to a ceasefire.
Recep Tayyip Erdogan, the president of Turkey, announced that Turkish forces had "neutralised" Abu Hussein al-Qurayshi, the leader of Islamic State, a jihadist terror group, in a raid in Syria. Al-Qurayshi took over is last November after his predecessor was killed by forces opposed to Bashar al-Assad, Syria's president.
Ebrahim Raisi, the president of Iran, visited Damascus. Iran has been a close ally of Syria throughout the country's civil war but it was the first such visit since 2010.
Joe Biden summoned the leaders of Congress to the White House for a meeting on May 9th to discuss raising the limit on the federal debt. The Treasury is now warning that it may be unable to pay the government's bills by as early as June 1st unless the debt ceiling is raised.
A court in New Jersey held that insurers must cover the losses from a cyber-attack that hit Merck, a drugs company, in 2017. America blamed the cyber-attack on Russia. The insurers argued that this made it an act of war, and thus excluded it from recompenses for damages. Not so, said the court: to count as war the incident would have to involve military action. Insurance firms have seen their costs soar in recent years from having to fork out for such attacks.
Putin's bloody war
The Biden administration estimated that Russia's armed forces have suffered 100,000 casualties in Ukraine over the past five months, including 20,000 deaths. Around half were mercenaries fighting with the Wagner Group, many of whom were convicts who had been released from prison and sent to the front. Russia had made some small gains in Bakhmut, it said, but overall the winter offensive had failed.
Russia launched its first big wave of missile attacks in Ukraine in two months. At least 23 people were killed when a residential building was hit in the central town of Uman. Explosions were reported in Kyiv and other cities. Meanwhile, Russia accused Ukraine of trying to assassinate Vladimir Putin when two small drones hit the Kremlin. Volodymyr Zelensky denied the claim. On a visit to Finland, the Ukrainian president said "we fight on our territory", not Russia's.
At talks brokered by the eu Serbia and Kosovo failed to find a way to reduce tensions in majority-Serb areas of north Kosovo. Local Serbs want more autonomy and are boycotting institutions. In March both countries agreed in principle to normalise ties, 24 years after the end of the Kosovo war. In one bright spot they will co-operate to find out what happened to the 1,600 people still missing after the conflict.
A 13-year-old boy shot dead eight pupils and a security guard at a school in Belgrade, the capital of Serbia. The boy used guns owned by his father.
ChatGPT is no longer banned in Italy. The country's data-privacy regulator imposed a ban in March, but the makers of the chatbot have since addressed some of the concerns that had been raised.
Police raided the home of Jair Bolsonaro, Brazil's former right-wing populist president. Mr Bolsonaro, a covid-19 vaccine sceptic, is being investigated for allegedly falsifying documents which say that he was vaccinated. He denies the allegations, and says that he never had the jab.
A package of controversial laws was passed in Mexico. A mining law requires that at least 5% of company profits are paid to local communities. Another law increased the penalties for those who make fentanyl, a synthetic opioid. The package was passed by the governing party and its allies in a separate chamber from the Senate, and with little debate.
The president of the Philippines, Ferdinand Marcos junior, visited the White House, where Joe Biden reiterated America's commitment to defend its ally against Chinese aggression in the South China Sea. The talks were portrayed as a reset in ties between the Philippines and America after a cooling of relations during the presidency of Rodrigo Duterte, who had sought closer bonds with Beijing.
The Australian government decided to ban recreational vaping and crack down on other e-cigarettes. As in other countries, vaping products are marketed at teenagers and "sold alongside lollies and chocolate bars", said the health minister.
The staff council that oversees relations between employers and workers in Britain's health service accepted a 5% pay increase from the government. A months-long wave of industrial action is far from over, however. The main nursing union rejected the offer and junior doctors have yet to reach a settlement. And other public-sector workers are still taking action. Teachers and railway workers are among those walking off the job in May and June.
Sharp exit
Opposition parties in Britain called for the next chairman of the bbc to be chosen independently, after Richard Sharp was forced to quit for his part in securing a loan for Boris Johnson when he was prime minister. A report found that although Mr Sharp had not arranged the financing there was a "potential perceived conflict of interest".
The world this week Business
In an attempt to stave off more banking turmoil, regulators in California took control of First Republic Bank, a regional lender based in San Francisco, and placed it into federal receivership. Much of the bank was then sold to JPMorgan Chase following a bidding auction. It is America's second-biggest banking failure ever. The rescue didn't do much to placate fears about the health of other midsized regional banks. The share price of Pacific Western Bank slumped after the lender was reported to be exploring its strategic options.
The Federal Reserve issued a stinging report into the collapse of Silicon Valley Bank in March. It blamed svb's management as well as itself for not appreciating "the seriousness of critical deficiencies" at the bank, and said that legislation passed in Congress in 2018 had lowered supervisory standards. It called for stronger regulations. The report also noted that social media is a factor that "may have fundamentally changed the speed of bank runs".
The Fed lifted its benchmark interest rate by another quarter of a percentage point, to a range of between 5% and 5.25%. It was the tenth consecutive increase, though markets interpreted a slight change in the central bank's guidance to think it may be the last in this particular cycle.
The disruptive potential of generative artificial intelligence came into sharp focus when Chegg, a provider of online study aids, said that the use of ChatGPT by students was starting to affect revenues. Although the chief executive tried to assure investors that this "is not a sky-is-falling thing" and the effects are "just on the margin", Chegg's share price swooned, dragging down the stock of other online education companies.
The big picture
The Writers Guild of America called its first strike for 15 years, in a dispute over pay with studios such as Apple, Disney and Netflix. The television and film writers say the studios are creating "a gig economy" in the industry, for example by moving to "day rates" in comedy variety. It also wants to restrict the use of ai in creating scripts. The last stoppage by Hollywood's script writers lasted 100 days.
Geoffrey Hinton, one of the pioneers of ai, resigned from Google in order to speak his mind about the technology. Mr Hinton, 75, said ai was developing too rapidly and the idea that it would outsmart people was no longer "30 to 50 years" away. Humans are "biological systems and these are digital systems", he warned, as he called for more safety protocols for AI.
Big oil companies made record profits last year on the back of soaring oil prices. With oil now much less dear, profits are expected to decline, though there wasn't much evidence of that in the first quarter. bp reported an underlying profit of $5bn, higher than expected but below the $6.2bn it made in the same quarter last year. Shell's adjusted profit of $9.6bn was an improvement on its performance a year ago, as was Chevron's net profit of $6.6bn. ExxonMobil's net income doubled, to $ii.4bn.
Arm, a British chip designer that is being spun off by SoftBank, filed papers for an ipo later this year. It is expected to list its shares on the Nasdaq stock exchange and could raise up to $i0bn, which would make it one of the largest ipos in America in the past decade.
Go First, a discount airline in India, entered bankruptcy protection, blaming the grounding of half its fleet on problems with Pratt & Whitney engines, an issue that is affecting other Indian airlines. This came soon after news that domestic air travel in India had hit a record high as 456,000 passengers flew in a single day. More than 37.5m people travelled by domestic airlines in the first quarter, up by half compared with a year earlier.
At the departure gate
Alan Joyce, one of the more combative figures in the airline industry, is retiring as chief executive of Qantas. His replacement will be Vanessa Hudson, the chief financial officer. Last year the term "Joyced" was coined to reflect passengers' frustration with "the flying kangaroo" over an increase in cancelled flights and lost luggage.
A group of investors filed a lawsuit against Adidas, alleging that it knew about Kanye West's "extreme behaviour" for years before severing ties with the singer. Adidas stopped selling Kanye West branded sportswear in 2022 because of his anti-Semitic remarks and will take a hit from lost sales. The complaint claims staff knew about his anti-Semitism; he allegedly said he wanted to name an album after Hitler. Adidas responded by promising to defend itself against the "unfounded claims".
The Reserve Bank of Australia surprised markets when it raised its rate by a quarter of a point, to 3.85%. The bank had left the rate on hold in April, suggesting that a rapid run of increases was over.
---
скачать журнал: The Economist - 6 мая 2023
---