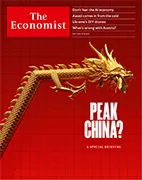 Год выпуска: май 2023
Автор: The Economist Newspaper and The Economist Group
Жанр: Экономика/Политика
Издательство: «The Economist Newspaper Ltd»
Формат: PDF (журнал на английском языке)
Качество: OCR
Количество страниц: 72
PEAK CHINA?
China's economy will neither collapse nor overtake America's by much. That could make the world safer: leader, page 7, and briefing, after page 12.
China's military might is nowhere near its peak, page 16.
The fall of empires preys on Xi Jinping's mind, page 18.
Lessons from Yichun, a Chinese city where children are a rarity: Chaguan, page 20.
Just how good can China get at generative ai? Page 49.
Don't fear the ai economy
Artificial intelligence is about to turn the future of work upside down. Right? Page 55.
What a leaked memo from Google reveals about the future of artificial intelligence: leader, page 10.
Assad comes in from the cold
Syria is a test case of how to deal with rogue regimes that sanctions have failed to topple: leader, page 8.
President Bashar al-Assad is no longer a pariah, page 47.
Ukraine's DIY drones
How civilian drones are modified for military use, page 63.
What's wrong with Austria?
Once Russia's best friend in the West, Austria is facing troubles both at home and abroad: Charlemagne, page 25.
---
The world this week Politics
A jury in Manhattan found Donald Trump liable for sexually abusing a woman in the mid-1990s and for defaming her, and awarded her $5m. He called the verdict a "disgrace". The jury did not agree that Mr Trump's abuse of E. Jean Carroll constituted rape. Later, in a televised forum, Mr Trump refused to say whether he supported Ukraine, said America should default on its debt unless the Democrats agree to spending cuts and reiterated his fake claim that the 2020 election was stolen from him. Mr Trump is the front-runner for the Republican presidential nomination.
George Santos, a Republican congressman known for being economical with the truth, was charged with embezzling contributions, fraudulently obtaining unemployment benefits and lying to Congress about his financial circumstances. Mr Santos has come under pressure to resign over his many lies, such as claiming he has a degree from a college that he did not attend.
American states on the border with Mexico braced themselves for a surge of illegal crossings after the expiration of Title 42, a pandemic measure that had allowed for the swift removal of migrants.
At least eight people died in violence that swept across Pakistan after Imran Khan, a former prime minister, was arrested and charged with graft. Senior leaders of his party were also detained. Mr Khan pleaded not guilty to the charges of selling state gifts while he was in power. A conviction would disqualify him from running for office again.
China's foreign minister, Qin Gang, held talks in Pakistan with the Taliban government of Afghanistan to discuss bringing the country into the Belt and Road Initiative, China's global infrastructurebuilding scheme. China has long had an eye on Afghanistan's vast mineral resources.
Kishida Fumio, Japan's prime minister, visited South Korea for talks with the country's president, Yoon Suk-yeol. It was their second meeting in two months—more evidence of a return to normal relations after years of acrimony.
Thaksin times
Thaksin Shinawatra, Thailand's prime minister between 2001 and 2006, said he would return to his country in July after 17 years in exile. Mr Thaksin was ousted in a coup, but remains an influential figure. A party controlled by his allies is expected to do well in a general election on May 14th.
Canada expelled a Chinese diplomat accused of targeting an mp and his relatives in Hong Kong. The mp, Michael Chong, had accused China of human-rights abuses. The Canadian government said it would not tolerate interference in domestic affairs. China expelled a Canadian diplomat in retaliation.
The Republican Party and other right-of-centre parties won the majority of seats in an election to choose members of an assembly that will draw up Chile's new constitution. The main left-wing coalition won 16, leaving it short of the number needed for a veto. A draft constitution by a previous assembly was rejected in a referendum last year, because it was seen as too left-wing.
Fighting intensified in Khartoum, the capital of Sudan, despite diploatic efforts to impose a ceasefire. The conflict between Sudan's army and a rival paramilitary force has claimed hundreds of lives since mid-April.
The Southern African Development Community agreed to deploy troops to eastern Congo to restore security. Congo's government is battling an insurgency by the M23 rebel group and has already enlisted the help of soldiers from members of the East African Community, another regional bloc.
Police and protesters clashed in Dakar, the capital of Senegal, after a court imposed a suspended six-month jail sentence for defamation on Ousmane Sonko, a leading opposition figure, that will prevent him from contesting the presidential election next year.
At least 25 Palestinians in Gaza were killed in Israeli air strikes. The dead included some children as well as leaders of Islamic Jihad, a militant group. Israel says it was targeting members of the group who were planning attacks on Israel. Militants in Gaza fired hundreds of rockets in response. Most were intercepted by Israel's Iron Dome defence system or landed harmlessly.
The Arab League reinstated Syria as a member. The country was kicked out more than a decade ago after Bashar al-Assad's brutal repression of protests plunged the country into civil war. The move comes ahead of a summit due in Saudi Arabia later this month.
The annual Victory Day parade in Russia to commemorate the country's triumph against Nazi Germany was somewhat muted, given Vladimir Putin's setbacks in Ukraine. The parade in Moscow featured just one tank. In his speech the president struck his usual belligerent tone, claiming the West was trying to destroy Russia. Kim Jong Un, North Korea's dictator, sent "warm wishes" to Russia in its "holy fight to preserve world peace".
Russia launched another wave of missiles at Ukraine, most of them targeting Kyiv, the capital. Ukrainian forces shot almost all of them down.
Ursula von der Leyen, the president of the European Commission, visited Kyiv on Russia's Victory Day. The eu began discussing new sanctions on Russia focusing on "third countries" that circumvent existing trade bans, which would include China.
Tens of thousands of people demonstrated in Serbia against gun violence, after two mass shootings killed 17 people, including eight schoolchildren. Aleksandar Vucic, the president, criticised the protests, suggesting they were organised by the opposition for political gain.
Rishi Sunak faced his first electoral test since becoming Britain's prime minister last October. His ruling Conservative Party lost over 1,000 councillors in local elections; the opposition Labour Party now controls more councils than the Tories. Many of Labour's gains were in areas that had switched to the Conservatives at the last general election in 2019.
Not all the people rejoiced
The coronation of King Charles III was held at Westminster Abbey. London's police force expressed regret for arresting six anti-monarchy protesters. It said there was no evidence they were planning to disrupt the event.
The World Health Organisation declared that covid-19 is no longer a "public health emergency of international concern", three years after the disease broke out. Although 7m deaths from covid have been reported, the who thinks the true toll is 20m.
The world this week Business
America's annual inflation rate dipped again in April, to 4.9%. The core inflation rate, which excludes energy and food prices, also fell slightly, to 5.5%. The core rate has been higher than the overall rate for two months now. The Federal Reserve's interest-rate increases have helped consumer-price growth to slow since its peak in June. Markets are betting that the Fed will soon pause the run of rate rises, though the labour market is still running hot. Employers created 253,000 jobs last month, well above estimates.
The leisure class
Quarterly earnings from Air France-KLM and International Airline Group, the owner of British Airways, provided more evidence of the rebound in international travel. Both reported higher revenues and are expecting a surge in summer bookings. iag raised its outlook for the year. Global airlines are also benefiting from a recent trend of wealthy holidaymakers choosing to fly in first and business class.
The discount end of the airline industry is also experiencing higher demand. Ryanair, Europe's biggest carrier, has ordered 150 737 max jets from Boeing, with an option to buy 150 more. Michael O'Leary, Ryanair's mercurial boss, criticised Boeing last year for aircraft delays, describing its management as "headless chickens". This week he likened the two companies' relationship to a marriage: we have rows, but then we "kiss and make up", he said.
Disney hugely reduced the losses at its streaming business in the latest quarter, after a cost-cutting drive by Bob Iger, the chief executive. But it also lost 4m subscribers from the previous three months, mostly in India, where Disney has lost the rights to broadcast premier-league cricket.
Fox Corporation swung to a small quarterly loss because of costs associated with its $787.5m settlement in a defamation case brought by Dominion Voting Systems. Lachlan Murdoch, Fox's chief executive, said the payout was a "business decision".
The price of natural gas in Europe fell to its lowest level since July 2021. Alternatives to Russian energy and a mild winter that has left gas stocks in good shape were factors in the benchmark Dutch ttf contract falling to just over €35 ($38) a megawatt hour. Last August the price peaked at more than €300 a Mwh as Russia squeezed its supplies. Meanwhile, Russia has reportedly been forced to increase taxes on domestic oil producers to fill a hole in government revenues caused by Western sanctions.
Net profit at Saudi Aramco fell by 20% in the first quarter, year on year. The Saudi state-controlled oil giant still made $32bn in the quarter, equivalent to the combined profits that have been announced by bp, Chevron, ExxonMobil and Shell. Aramco is expanding its production of fossil fuels, as it believes that "oil and gas will remain critical components of the global energy mix for the foreseeable future."
ubs appointed Ulrich Korner, the chief executive of Credit Suisse, to its board, as it prepares to finalise its takeover of its former rival. Mr Korner will oversee the operational continuity of Credit Suisse, which collapsed in March. Sergio Ermotti, the CEO of ubs, has warned of difficult months ahead, reminding staff that "your new colleagues are not your competitors".
hsbc's management saw off a challenge from Ping An, a Chinese insurance company and the bank's biggest investor, to consider hiving off its Asian business. A vote on the proposal at the annual general meeting was supported by only 20% of shareholders. The unhappy, mostly Asian group of investors also voted against extending the terms of Mark Tucker as chairman and Noel Quinn as chief executive. Mr Tucker hoped that the defeat of the proposal would "draw a line" under Ping An's campaign to break up the bank.
Apple's revenues from the iPhone grew in the first three months of 2023 compared with the same quarter in 2022. That allayed fears among investors that lockdowns late last year at the factories in China that assemble the device would impact income from Apple's biggest money-spinner. The company's overall revenue dropped, however, as sales of iPads and Mac computers fell.
Call of duty
Activision Blizzard has reportedly employed David Pannick, one of Britain's leading lawyers, to fight its case against the decision by the country's competition regulator to block its acquisition by Microsoft. The hiring of Lord Pannick, who has successfully held the government to account in cases related to Brexit and defended the bbc against charges of blasphemy, suggests that it isn't game over for the takeover yet.
Tempur Sealy agreed to buy Mattress Firm for $4bn. The deal is expected to be put to bed in the second half of next year.
---
скачать журнал: The Economist - 13 мая 2023
---