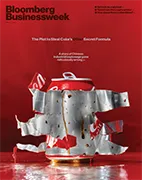 Год выпуска: May 15, 2023
Автор: Bloomberg Businessweek
Жанр: Бизнес
Издательство: «Bloomberg Businessweek»
Формат: PDF (журнал на английском языке)
Качество: OCR
Количество страниц: 68
The Plot to Steal Coke's Other Secret Formula
A story of Chinese industrial espionage gone ridiculously wrong
On the evening of Aug. 8, 2017, Shannon You badged out of the Atlanta headquarters of the Coca-Cola Co. for one of the last times. Coke was struggling to retain its perch atop the world beverage market, as once-loyal consumers migrated to brands that evoked wilderness aquifers or herbal healing or masochistic sports workouts-not fizzy fun and mass culture. The new chief executive officer's plan involved a restructuring. Twelve hundred employees would be let go, and You, a chemist in her mid-50s, had been informed several weeks earlier that she was among them.
Anytime a company lays someone off, there's a possibility the person will take something with them. Coke, holder of the world's most famous trade secret, was particularly attuned to that risk. It had an intelligence-bureau-style classification scheme, like other corporations that deal in proprietary information, and it had software that tracked employees' data use. That summer, as more and more employees learned they were leaving, the data loss prevention system began to ripple with alerts. "To say that that activity blew up the DLP system" would be "a bit of an understatement," a Coke information security manager later testified. Much of that activity resulted from employees reclaiming personal files they'd stored on their work computers-tax returns, kids' school projects, bank loan information. But not all of it did.
Shannon You in particular had access to some of the most closely held information at the company: a set of detailed chemical recipes for the 2-micron-thick plastic liners inside the beverage cans Coke filled and sold. A federal prosecutor would later describe these as the company's "other secret formulas." Developed at great expense, they were likely even more important than the theatrically guarded recipe for Coke's namesake soft drink-that sugary, acidic brew would, without a liner, devour the metal of its can. The liner formulas didn't actually belong to Coke but to the multinational paint and coatings companies that were its partners. You was responsible for evaluating the formulas; she was one of only two people at Coke with access to many of the specifics.
An internal company report on the chemist's activity that August evening begins at 6:02 p.m. You plugged a Western Digital hard drive into a USB port on a computer, then tried to move files onto the drive from a folder entitled BPANI-an abbreviation for a class of can liner. Because she was being laid off, however, she was flagged in the internal network, and the transfer was blocked. A pop-up on her screen reminded her that any file transfers off her work computer should go through a cloud storage account the company had set up with the software company Box Inc.
You ignored the message. At 6:08 she plugged a different hard drive into her computer and tried to move files onto it, again unsuccessfully. At 7:00, she plugged the original Western Digital drive back into her computer, but rather than drag and drop files, she opened Microsoft Excel and tried saving them onto the external drive through that. That didn't work either. Nor did it work at 8:41 when she tried the same thing with Microsoft Word.
It wasn't until the end of the month that she found a solution. On Aug. 25, You used her phone to take a series of photos of her work computer monitor with one file after another open. And around that time she learned, probably from colleagues, of another simple workaround. Late in the evening on Aug. 29, she uploaded several encrypted files from her computer to a personal Google Drive account. Coke's information security system, set up to block transfers to USB devices, let these proceed. The next night she uploaded some more.
You had not left herself much time-the following day was her last at Coke. But the month had been a busy one. On Aug. 17, unbeknownst to her supervisors, she'd traveled to the Chinese city of Weihai. There she met with businessmen who were helping her start her own coatings company. To fund the venture, You was applying for millions of dollars in government money, and while in town she had an interview for a provincial grant program called Yishi-Yiyi.
A month later, she'd fly to Beijing to stand for another application, this time to a national grant program called the Thousand Talents. The money, she wrote in her application, would help the company she was co-founding "build the first BPANI coating production line in China," breaking the "international monopoly" in the global food container coatings industry. The files from her Coke computer were central to the plan, and she apparently was aware of the legal jeopardy that put her in. "I'm the one taking all the risks in the end," she complained in Mandarin to one of her fellow aspiring co-founders in a WeChat voice message. "If anything happens to me, the money I've made wouldn't even be enough for the lawyer's fee."
Three years later, You did go on trial, for wire fraud, conspiring to steal and possessing trade secrets, and economic espionage. Federal prosecutors argued that the victims of her crimes were the seven companies that, at a cost of nearly $120 million, developed the coatings-companies against which her venture intended to compete. But You's can coating conspiracy may have had another victim, too.
Western counterintelligence officials have long warned about Chinese grant programs such as Thousand Talents. Their stated purpose is to tap Chinese scientists and engineers who've gone abroad for educational and professional opportunities, luring them back to start businesses in China with the promise of generous financial support and freedom from bureaucratic hurdles. And that in part is what they do. But the grants can also work as bounties, inducing entrepreneurs to steal trade secrets from non-Chinese companies, then use them to start competitors. "The reality is it's a complete facade for intelligence operations," says Jay Tabb, a former executive assistant director of the FBI who headed its national security branch when You was indicted. "We know now from many, many, many cases that these programs are a way for the Chinese government and Chinese Communist Party to enlist people to illegally collect information."You's case supports that idea up to a point. But it also suggests that if the Chinese government has created a system for incentivizing intellectual-property theft, it's a balky, unpredictable one. You ripped off the multinational companies she worked for and worked with, but her confederates also appear to have scammed the Chinese government. Sometimes if you try to pay people to take things for you, they just take your money instead.
---
Soda Jerk
How an abrasive Coca-Cola chemist tried to steal can-liner technology
When Prophecy Fails
The blockchain's true believers have lost more than money in the crypto winter
IN BRIEF
Pakistan unrest
Goldman pay settlement
Trump verdict
OPINION
For safer skies, privatize air-traffic control
AGENDA
Greek elections
US retail sales
Cannes Film Festival
REMARKS
The US softens its tone on China to reassure allies
BUSINESS
Big Pharma goes all in on Al
The time is right for nearshoring in Latin America
Why there are so few direct US-China flights
TECHNOLOGY
Using ad data as a tool for government spying
South Korea's latest cultural export: Webtoons
FINANCE
Higher rates take a bigger toll on smaller banks
The low-profile CEO of powerhouse market maker Citadel
Helping kids pay for college gets even tougher
ECONOMICS
Venezuela's brain drain is Panama's gain
The economic cost of ignoring menopause
PURSUITS
The high-end collectibles market comes back to Earth
Ten books for your vacation reading list
A funding crisis forces UK arts groups to get creative
Fewer pieces, higher prices at May art auctions
How to enjoy dance out in the wild this summer
LAST THING
Financial markets watch the debt ceiling deadline
---
скачать журнал: Bloomberg Businessweek (May 15, 2023)
---