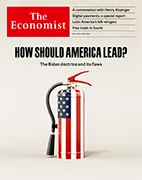 Год выпуска: май 2023
Автор: The Economist Newspaper and The Economist Group
Жанр: Экономика/Политика
Издательство: «The Economist Newspaper Ltd»
Формат: PDF (журнал на английском языке)
Качество: OCR
Количество страниц: 92
HOW SHOULD AMERICA LEAD?
The Biden doctrine and its flaws
A new Biden doctrine aims to restore American leadership. It is neither bold nor optimistic enough: leader,page 9.
Making sense of the fault lines in American policy towards China, page 21.
We calculate Europe's exposure to China, page 53.
A conversation with Henry Kissinger
America and China must learn to live together. They have less than ten years: briefing, page 16.
Digital payments: a special report They have transformed domestic finance. Now competition is going global: leader, page 11.
The fight over payments systems is hotting up around the world. There may be surprising winners, says Arjun Ramani, after page 42.
Latin America's left-wingers
The region has the most left-leaning politicians on the planet. And they are scaring off investors, page 27.
Free trade in fossils Why it is good for science: leader, page 12.
The market for dinosaur fossils is booming—to the chagrin of some palaeontologists, page 70.
---
The world this week Politics
Turkey's presidential election will head to a run-off on May 28th, after Recep Tayyip Erdogan, the incumbent, fell just shy of 50% in the first round of voting. Kemal Kilic-daroglu, the candidate of an opposition alliance of six parties, got 45%. Mr Kilic-daroglu may now struggle to unseat Turkey's strongman, who has presided over rampant inflation. In a bad night for the opposition Mr Erdogan's Justice and Development (ak) party retained a comfortable majority in parliament.
On a wing and a prayer
Volodymyr Zelensky paid brief visits to Britain, France, Germany and Italy to drum up support for a "jets coalition". France said it would train Ukrainian pilots to use combat aircraft. Germany promised €2.7bn ($2.9bn) in military aid and is to build a tank-repair factory in Ukraine. Britain pledged more airdefence systems and Storm Shadow missiles, Ukraine's first long-range cruise weapons. Mr Zelensky also met Pope Francis in Rome.
Russia launched more intense waves of missile attacks against Ukraine. One assault was described by officials as being "exceptional in density". They said six hypersonic missiles had been shot down. Russia is increasing its bombardments ahead of an expected Ukrainian offensive.
A deal that allows Ukraine to export grains safely across the Black Sea was extended by two months. The deal was first brokered by Turkey and the UN last July. Russia had threatened to pull out. It agreed to the last-minute extension, but said its conditions for taking part are still unmet.
Gunmen opened fire on an American embassy convoy in Nigeria's Anambra state, killing two policemen and two Nigerian embassy employees. Nigerian authorities blamed the attack on a Biafran secessionist group.
A bbc investigation into Nigeria's presidential election in February uncovered significant discrepancies between the total number of votes cast at individual polling stations and the official results. The bbc's own count in Rivers state suggested that Peter Obi had the most votes; the official result declared the state was won by Bola Tinubu, the president-elect.
The commander of South Africa's army visited Russia to discuss military co-operation and how to improve the combat readiness of both countries' armies. The visit will further strain South Africa's relations with America after accusations that it had sent weapons and ammunition to Russia in breach of its stated position of neutrality.
A court in Tunisia sentenced Rached Ghannouchi, a prominent opposition politician, to a year in prison. Human-rights groups accused Kais Saied, the president, who has suspended parts of the constitution and assumed authoritarian powers, of trying to dismantle Mr Ghannouchi's Ennahda party.
The number of reported executions around the world increased sharply in 2022, after a big jump in the Middle East, according to Amnesty International, a human-rights group. Iran executed 576 people last year, up from 314 in 2021. Saudi Arabia put 196 people to death, up from 65. (China does not report how many it carries out.)
Ecuador's president, Guillermo Lasso, dissolved the opposition-controlled National Assembly and called elections, after he faced an impeachment trial over allegations regarding oil-shipping contracts, which he denies. Mr Lasso used a "mutual death" clause in the constitution to dissolve the assembly. His opponents insist his actions are illegal.
Pro-democracy parties trounced the military and royalist coalition in Thailand's parliamentary election. Move Forward, which is dominated by liberal activists, and Pheu Thai, the party of Thaksin Shinawatra, a former prime minister in exile, won the majority of seats. Forming a government will be difficult, however. The army has rigged the constitution in its favour to give it an advantage in appointing a prime minister.
In Pakistan 20,000 pro-government supporters held a rally outside the Supreme Court calling for the resignation of the chief justice. He had ordered the release of Imran Khan, finding that the arrest of the former prime minister on graft charges had been unlawful. The rally was backed by parties that removed Mr Khan from power last year, raising fears of violence between pro-and anti-Khan factions.
The opposition Congress party in India won an election in Karnataka, a southern state that includes the tech hub of Bangalore. Its victory was a rare sliver of good news for the party. It fared badly in local elections in Uttar Pradesh, India's most populous state.
At least one person died amid communal clashes in the Indian state of Maharashtra sparked by the release of "The Kerala Story", a fictional film about three women who join Islamic State. The movie has found approval among leaders of the ruling Hindu-nationalist Bharatiya Janata Party, including the prime minister, Narendra Modi.
In America Title 42, a pandemic-era measure allowing for the swift removal of illegal migrants, ended on May 11th. There was little sign of a surge in crossings. Alejandro Mayorkas, America's homeland-security secretary, said there had actually been a 50% drop in crossings compared with the days before May 11th.
The FBI's investigation into Donald Trump and his alleged ties with Russia was sharply criticised in an official report. John Durham was appointed as a special counsel to review the case during the Trump administration. He accuses the FBI's investigation of being "seriously deficient" and relying on "uncorroborated intelligence".
Republicans in Congress stepped up negotiations with the White House to avoid a default on government debt. The Treasury reiterated that it would soon run out of money to pay the government's bills.
The governor of Montana signed a bill that bans TikTok. It is the first statewide prohibition of the platform, which is owned by a Chinese company. The ban comes into effect in January, but will face legal challenges on free-speech grounds before then.
No wokeism allowed
Ron DeSantis, Florida's governor, signed a bill that stops colleges in the state from spending money on diversity, equity and inclusion programmes. Critics said free speech on campus will be curtailed. "If you want to do things like gender ideology, go to Berkeley," retorted Mr DeSantis, who is reportedly on the verge of announcing his candidacy for president.
The world this week Business
Elon Musk appointed Linda Yaccarino as chief executive of Twitter, five months after he said he would relinquish the role. Mr Musk took over the company last October. Ms Yaccarino comes from nbc-Universal, where she was in charge of advertising. Mr Musk said his new hire will focus on day-to-day operations while he concentrates on product development, as he strives to "transform this platform into X, the everything app".
Act now, before it's too late
The chief executive of OpenAi, the firm behind the ChatGPT chatbot, called for tighter regulation of rapidly developing generative artificial intelligence, such as by forcing disclosure on images that have been generated by ai. Sam Altman told American senators that "if this technology goes wrong, it can go quite wrong", pointing to the near-term potential for its use in the 2024 elections. Some senators did wonder whether regulating ai now would solidify power among companies that dominate the market.
America's Federal Trade Commission filed a lawsuit to block the $28bn takeover of Horizon Therapeutics by Amgen. It is the ftc's first challenge to a drugs merger in recent memory. It said consolidation in the industry was "rampant", and that its suit is a signal that it won't tolerate mergers that entrench monopolies. Separately, the eu cleared Microsoft's takeover of Activision, a contrast to America and Britain, where antitrust regulators want to block the deal.
Saudi Aramco is planning another public offering of its shares, according to reports. The IPO of just 1.5% of its stock in 2019 raised $25.6bn, the most ever in a market debut. A second offering would be of a similar size.
China's recovery from covid lockdowns may be weaker than had been thought. Fresh economic data fell far short of forecasts. Industrial production rose by 5.6% in April, year on year, and retail spending by 18.4%. Although those figures are strong on the surface, they are measured against a low point last year when Shanghai went into lockdown.
Japan's economy grew by 0.4% in the first quarter over the previous three months. On an annualised basis it expanded by 1.6%, outpacing America's gdp growth by that measure. Domestic demand has picked up, but the country is also benefiting from a recovery in tourism. The bullish mood has pushed the benchmark Topix index to a 33-year high.
A boom in construction helped Britain eke out a 0.1% rise in gdp in the first quarter over the final three months of 2022. The insipid performance is in line with updated forecasts from the Bank of England, which thinks the economy will now stagnate in the first half of this year, rather than fall into a recession.
Russia's oil exports hit 8.3m barrels a day in April, according to the International Energy Agency, the most since the invasion of Ukraine in February last year. This also far exceeds Russia's average for 2022 and 2021. Russia has found willing buyers for its oil, notably India and China. The iea reckons that China will account for 60% of the growth in oil demand this year.
Final approval was given in the eu to the world's first comprehensive framework for regulating crypto assets. The new rules come into force next year and will require firms that issue, trade and oversee cryptocurrencies, tokens and stablecoins to obtain a licence. Crypto transfers will be easier to trace and firms will be liable if they lose customers' assets.
It has emerged that the French government is seeking €2.5bn ($2.7bn) in penalties from banks for illicitly trying to avoid tax on dividend payments. The headquarters of several banks in France were raided by prosecutors in March as part of the investigation.
Argentina's central bank raised its main interest rate by six percentage points, to 97%, as it tries to battle inflation topping 100%, the highest level since the early 1990s.
Vice Media filed for bankruptcy protection. Lauded for being an upstart that disrupted the traditional media industry with its digital-focused content, its tv news investigations also scooped up Emmy nominations. In the end the company failed to turn its web traffic into profit. It was valued at $5.7bn in 2017.
Following a lengthy legal battle, Mike Lynch was extradited from Britain to America, where he faces charges of fraud related to the acquisition of Autonomy, a software firm he founded, by Hewlett-Packard in 2011. Mr Lynch denies any wrongdoing.
The dire straits of Taiwan
Berkshire Hathaway disclosed that it has sold its remaining stake in tsmc, Taiwan's biggest producer of semiconductors. Warren Buffett has been offloading the holding in recent months, warning of the threat to Taiwan from China. "I don't like its location," he told analysts recently.
---
скачать журнал: The Economist - 20 мая 2023
---