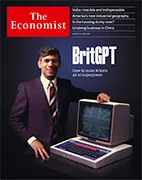 Год выпуска: июнь 2023
Автор: The Economist Newspaper and The Economist Group
Жанр: Экономика/Политика
Издательство: «The Economist Newspaper Ltd»
Формат: PDF (журнал на английском языке)
Качество: OCR
Количество страниц: 84
BrltGPT: How to make Britain an AI superpower
Rishi Sunak's enthusiasm is welcome. But the prime minister's plans to make Britain into an AI superpower fall short: leader, page 9.
Without more domestic compute power, cleaner datasets and smarter regulation the country risks squandering a rare opportunity, page 17.
India: irascible and indispensable
India does not love the West. Even so, America needs it: leader, page 10.
In a special section on India and the world, we look at the country's growing economic clout, page 45.
An interview with Subrahmanyam Jaishankar, its foreign minister, page 47.
The power and influence of India's diaspora, page 55.
America's new industrial geography
Joe Biden has sparked a manufacturing boom nationally, but nowhere more than in the South, page 31.
Is the housing slump over?
Why rising interest rates have not triggered property pandemonium, page 65.
Undoing business in China
The country is becoming an impossible place for foreigners to do business: leader, page 11, and analysis, page 58.
---
The world this week Politics
Donald Trump appeared in a court in Miami to plead not guilty to 37 criminal charges related to his mishandling of classified documents. It is the first time an American president, former or sitting, has been charged in a federal court. The indictment claims Mr Trump stored secret papers haphazardly throughout his home in Florida, such as in a shower stall. Some of the material related to the defence and weapons capabilities of America and foreign countries, including America's nuclear programmes. Before his court appearance Mr Trump vowed to remain in the presidential race, even if he is convicted. "I'll never leave," he said.
Italy held a state funeral for Silvio Berlusconi, who died aged 86. Italy's longest-serving prime minister was a media tycoon and unapologetic populist. He was known for a string of corruption and sex scandals, the most infamous being the "Bunga Bunga" parties at his villa, where he cavorted with (very) young scantily clad women. He was still a force in politics. His Forza Italia party forms part of Italy's coalition government.
Ukraine's counter-offensive trundled on. It claims to have retaken several villages from Russia. Russia said that one of its senior generals had been killed in the fighting. Russian missile attacks killed 12 people in Kryvyi Rih, a town in central Ukraine known for being the birthplace of Volodymyr Zelensky. Russia also attacked the Black Sea port town of Odessa. Meanwhile the governor of Russia's Kursk region accused Ukraine of firing missiles over the border.
Alexander Lukashenko, the dictator of Belarus, said his country had started to take delivery of some Russian nuclear weapons, the first time they have been deployed outside Russia since the fall of the Soviet Union in 1991.
Germany published its first-ever national security strategy. It said that Russia poses the "most significant threat to peace" and pointed to China as a menace for using its dominance in supply chains to wield its political clout. The document reiterated Germany's commitment to increase defence spending.
Bye-bye Boris
Boris Johnson resigned as an MP ahead of a damning report from the parliamentary Privileges Committee that found he had deliberately misled Parliament about lockdown parties held in Downing Street when he was prime minister. Mr Johnson accused the committee of being a "kangaroo court". He also took umbrage with another committee that rejected eight people from his honours list, which former prime ministers are allowed to recommend. Just two of Mr Johnson's allies said they would also quit Parliament in solidarity with him.
Scotland's former first minister, Nicola Sturgeon, was for once glad that Mr Johnson hogged the headlines to divert attention from her troubles. Ms Sturgeon was arrested in connection with a police investigation into the Scottish National Party's finances while she was its leader. She was later released without charge.
A 44-year-old mother of three was imprisoned in Britain for having an abortion after the legal limit of 24 weeks postconception. The woman took abortion pills, which are allowed for home use up to ten weeks after conceiving (she was over 30 weeks pregnant). Calls were made to release the woman from prison in the highly unusual case.
At least 78 migrants died and hundreds were missing, after their boat sank off the coast of Greece. The vessel was en route to Italy from Libya. Many of those on board were from north African countries.
The UN's refugee agency said that there were 19m more refugees at the end of last year than at the same point in 2021, an increase of 21%. The total number of refugees was around 108m. That number is the highest ever and includes people displaced within their own country as well as refugees. Before the civil war began in Syria in 2011, the figure in the agency's annual report had been steady at around 40m. At the end of 2022, 11.6m Ukrainians remained displaced.
Nigeria's new president, Bola Tinubu, suspended the governor of the central bank, leading to hopes among investors that the country will abolish its cumbersome system of multiple fixed exchange rates. The naira, which was kept artificially inflated by the central bank, plunged against the dollar.
White rhinos have been reintroduced to the Garamba national park in Congo 17 years after the last one was killed by poachers. The park is one of Africa's oldest, but conflict and poaching have denuded it of many of its animals.
America warned that North Korea may be preparing to send weapons to Russia, after Kim Jong Un, the North Korean dictator, called for closer strategic ties with Russia, which he summed up as "holding hands firmly" with Vladimir Putin. America believes that North Korea sent rockets and missiles to the Wagner Group, Russia's mercenary force, last November. Meanwhile, the un said Russia had restarted oil exports to North Korea.
The government of Australia introduced a bill to criminalise the public display of Nazi and Islamic State symbols, and ban trading in items bearing the designs. Laws on accessing and sharing violent extremist material online will also be toughened.
At least nine people were killed in the latest clashes between rival ethnic groups in the Indian state of Manipur, which borders Myanmar. The groups are fighting over government quotas for jobs, among other things. At least 80 people have died since the violence erupted in May and 40,000 have been displaced.
Trying to block Twitter
Jack Dorsey, one of the founders of Twitter, accused India of threatening to shut down the social-media platform across the country during the farmers' protests of 2020-21. The deputy minister for it described Mr Dorsey's accusation as an "outright lie".
Reports that China planned to establish a spy station in Cuba provoked outrage from some politicians in Washington, who drew comparisons to the Cuban missile crisis of 1962. But the White House said China had been gathering signals intelligence from Cuba for years. The furore did not stop America's secretary of state, Antony Blinken, from moving ahead with a long-delayed visit to Beijing.
Four children, including a baby, were found after spending 40 days in the Colombian jungle. Their plane had crashed, killing their mother and two other adults. All four children were from the Huitoto indigenous group, and were fleeing their homes after a threat of being forcibly recruited by armed groups.
The world this week Business
The Federal Reserve decided to leave its key interest rate unchanged at a range of 5% to 5.25%. It was the first time that America's central bank left the rate on hold following ten consecutive increases, which started in March 2022. However, it indicated that it would probably lift the rate twice again this year.
The easing of inflationary pressures was a big factor behind the Fed's decision. America's overall annual inflation rate fell to 4% in May, the lowest it's been since March 2021. Core inflation, which strips out energy and food prices, was 5.3%: it has hardly budged since the start of the year, in part because housing-related costs are rising. Despite higher mortgage rates, house prices are steadily increasing again.
The French finance minister, Bruno Le Maire, secured a promise from 75 food producers to cut their prices. Food prices in France rose by 14.1% in the 12 months to May.
China's central bank took a big shift towards easing monetary policy by trimming interest rates. The economy has been losing steam since a strong rebound immediately after the lifting of covid restrictions. Retail sales and industrial production grew more slowly than economists had expected in the year to May. Unlike the rest of the world, inflation is negligible and the property market is in the doldrums.
New figures showing that wages are soaring in Britain probably mean that more interest-rate rises from the Bank of England are on the cards. The data caused the yields on short-term government bonds to jump to their highest levels since August 2008, higher even than the spike after the ill-fated minibudget of Liz Truss's government last September.
A new beginning
UBS completed its takeover of Credit Suisse, bringing an end to the latter's 167 years of independence; for now it will operate as a subsidiary. The emergency takeover was proposed by the Swiss government in March following the collapse of market confidence in Credit Suisse after years of scandals and losses. The combined company will oversee $5trn in assets.
America's Nasdaq stock exchange agreed to buy Adenza, a provider of risk-management and regulatory software, for $10.5bn. Nasdaq is best known for the tech firms that list their shares on the exchange. It reckons the deal will boost its financial-compliance services.
In Japan the Nikkei stockmarket index closed above the 33,000 mark for the first time since 1990. It was boosted this week in part by a surge in the share price of SoftBank, amid rumours that it might team up with the firm behind ChatGPT. The Nikkei has gained 30% this year and the Topix 20%, helped by a weaker yen that has attracted foreign investors.
Toyota faced down two proxy votes at its annual general meeting. In an unusual challenge to the management of a Japanese company, activist investors in America and Europe recommended voting against Toyoda Akio, the grandson of the carmaker's founder, as chairman. They say he has been slow in rolling out electric vehicles. Another proposal urged full disclosure on Toyota's climate policy. Both proposals were defeated.
The Federal Trade Commission asked a court to stop Microsoft completing its $69bn takeover of Activision Blizzard, a video-gaming company, amid reports that the closure of the deal is imminent. The ftc has sued to stop the acquisition and legal proceedings begin in August. In April Britain's competition regulator said it would also try to block the takeover.
A jury in New Jersey awarded $25.6m to a regional manager at Starbucks, finding that she was sacked for being white. Shannon Phillips was fired after an incident in 2018 at a Starbucks outlet in Philadelphia in which two black men were asked to leave, causing a media furore at the time. Ms Phillips said she was sacked after questioning the firing of another white supervisor, who did not oversee the store in question. The black manager of the store kept his job.
Pride comes before a fall
Bud Light is no longer America's bestselling beer, following a months-long boycott by conservatives angered by the brand's association with a transgender activist. Modelo Especial, a lager brewed near Mexico City for Constellation Brands, took the top spot in May. Bud Light's share of the beer market is now 7.3%, down from 10.3% in January.
New York introduced a minimum wage for food-delivery workers of $17.96 an hour, plus tips, which rises to $19.96 in 2025. The minimum wage for other workers in the city is $15. Labour activists complained that the new rate was still too low and would not cover workers' costs. Food-delivery companies such as Uber and Grub said New York had bitten off more than it could chew and that litigation is on the table.
---
скачать журнал: The Economist - 17 июня 2023
---