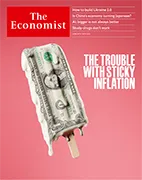 Год выпуска: июнь 2023
Автор: The Economist Newspaper and The Economist Group
Жанр: Экономика/Политика
Издательство: «The Economist Newspaper Ltd»
Формат: PDF (журнал на английском языке)
Качество: OCR
Количество страниц: 72
The trouble with sticky inflation
Investors must prepare for sustained price pressure: leader, page 7.
Inflation in Britain is increasingly the result of poor judgments. Tackling it will hurt,page 42.
Persistent inflation is as corrosive to investing as it is to the real economy: briefing, page 55.
How to build Ukraine 2.0
For Russia's war to fail, Ukraine must emerge prosperous, democratic and secure: leader, page 8.
The war is reshaping the Ukrainian state—for the better: briefing, page 14.
America is not keen for the country to enter NATO—yet, page 46.
Ben Wallace, Britain's defence secretary says he is out of the race for running NATO, page 44. Ukraine's spymaster Kyrylo Budanov has got under the Kremlin's skin, page 37.
Is China's economy turning Japanese?
The recovery from zero-covid is already spluttering. The prognosis is not good: leader, page 9, and analysis, page 58.
AI: bigger is not always better
It will have to do more with less, page 64.
Study-drugs don't work
They can make people worse at problem-solving, not better, page 65.
---
The world this week Politics
Antony Blinken visited China, the first American secretary of state to do so in five years. He met several senior officials, as well as China's president, Xi Jinping, who said they had made "progress" towards stabilising relations. Both sides appeared open to further talks, but no agreements were reached. Mr Blinken said there are "many issues on which we profoundly, even vehemently, disagree". Later, at an event in California, Joe Biden called Mr Xi a dictator and said the Chinese leader had been embarrassed when America shot down an alleged Chinese spy balloon in February. China said the comments were absurd.
Mr Biden described Russia's deployment of tactical nuclear weapons to Belarus as "absolutely irresponsible". Vladimir Putin confirmed that the first batch of weapons, which carry small warheads for battlefield use, had been sent to its ally as a warning to countries that are "thinking of inflicting a strategic defeat on us".
A voice in the wilderness
The Russian authorities began a new trial of Alexei Navalny, this time accusing Russia's most prominent opposition politician of rehabilitating Nazism while in prison. The closed-door trial is being held in the penal colony where Mr Navalny is serving over 11 years on other trumped-up charges. The preordained guilty verdict in this sham case could add another 30 years to his term.
Russian officials threatened to end the deal that ensures the safe passage of Ukrainian grain through Black Sea ports. The agreement has been extended until July 17th, but Russia claims its own grain exports are being impeded.
In Moldova the Constitutional Court placed a ban on Sor, a pro-Russian political party that has led protests against the Moldovan government. The party's leader was Ilan Shor, a businessman who fled to Israel after being found guilty of money-laundering.
Petteri Orpo became prime minister of Finland. The country's parliament formally backed his new centre-right coalition following an election in April, in which the ruling Social Democrats were defeated. The new finance minister is Riikka Purra, who leads the Eurosceptic Finns Party.
Estonia's parliament legalised same-sex marriage, making the Baltic nation the first country in eastern Europe to do so. The prime minister, Kaja Kallas, has formed a liberal coalition following her party's election win in March.
Four Israelis were killed by two Palestinian gunmen in an attack near a settlement in the occupied West Bank. Palestinian officials said hundreds of Israeli settlers assaulted a village in revenge; a Palestinian man died in the ensuing melee. Hamas, the Islamist group that runs Gaza, said the gunmen were its members and that the attack was retaliation for an Israeli raid on Jenin, where Israel fired from helicopters in the West Bank for the first time in 20 years, killing seven Palestinians.
Zied el Heni, a journalist, was arrested on charges of insulting Kais Saied, Tunisia's president. Tunisian judges have detained or opened investigations into more than 20 prominent figures opposed to Mr Saied in recent months.
Mali ordered a peacekeeping mission with 15,000 personnel to leave "without delay" and said it would bring espionage charges against un officials involved in a report accusing the government of atrocities. Since the army seized power in 2020, Mali has constrained the operations of the blue helmets and has turned instead to Wagner Group, a Russian mercenary firm, in its fight against jihadists.
Jihadists from the Allied Democratic Forces, a Congolese group backed by Islamic State, killed 41 people, most of them children, in a cross-border raid on a school in Uganda. It was the country's worst terrorist attack since 2010.
At least 46 women were killed in a prison in Honduras in a battle between rival gangs. Most of the women had been set on fire. President Xiomara Castro, who has been trying, without much success, to crack down on gang activity, including within prisons, said the violence had happened with the acquiescence of security officials. She sacked the country's security minister.
Narendra Modi travelled to America for his first full state visit (it was his sixth trip as prime minister of India). Mr Modi is being feted by America, which wants to deepen ties with India on defence and technology, in large part to counteract the rise of China. India is not an American ally, however, and still depends on Russia for oil and weapons. Mr Modi also met Elon Musk to discuss tech investments.
Thailand's election commission confirmed the results of a ballot in May that was won by the opposition. The commission's confirmation of the result paves the way for parliament to choose a government.
It is unclear if the progressive Move Forward party, which scored a stunning upset by coming first in the election, has enough support to form a coalition under its leader, Pita Limjaroenrat.
The age of sexual consent in Japan is to rise from 13 to 16 following landmark reforms passed by the country's legislature. The definition of rape is to be broadened from "forced" to "non-consensual" sexual intercourse.
Police in the South Korean city of Daegu stepped in to allow a gay pride festival to proceed after local officials tried to stop the event. The conservative local mayor said the organisers had not sought permission and the festival would impinge on businesses. But a court refused to impose an injunction, finding that freedom of expression was paramount.
Hunter on the defence
In a deal with the Justice Department, Hunter Biden pleaded guilty to failing to pay income tax. He also reached an agreement on his illegal possession of a gun that will see him avoid prosecution. Republicans accused the department of political bias in what they claim is its lenient handling of Joe Biden's son.
A submersible vessel carrying five passengers on a trip to the wreck of the Titanic lost contact with its support ship. An extensive search was launched for the Titan, which had limited oxygen on board.
In Britain MPS voted on a committee report that censured Boris Johnson for deliberately misleading Parliament. Rishi Sunak was criticised by the opposition for a lack of leadership when he declined to turn up for the vote. Most other Conservative MPS also failed to appear. But in the end only seven Tories voted against the report, a crushingly low level of support for Mr Johnson.
The world this week Business
Britain's headline annual rate of inflation remained elevated at 8.7% in May, defying expectations that it would fall again. Core inflation, which strips out food and energy prices, rose to 7.1%, the highest it has been since March 1992. The government has promised to cut inflation by half this year from the 10.1% registered in January, but higher prices persist in food, clothing, recreation, health, communications and travel.
Brick By brick
The price of housing in Britain is also soaring. The cost of a two-year fixed-rate mortgage has shot above 6% in recent days, as lenders re-evaluate their mortgage products and remove cheaper deals from the market. Banks link their fixed-rate mortgages to market expectations for interest rates, which are rising as the outlook sours on inflation. Official statistics showed rents also surging, by 5% in the year to May, the fastest pace since the data series began in 2016.
China's central bank trimmed its benchmark lending rates for the first time in ten months, in an effort to rejuvenate growth. With Li Qiang, the prime minister, warning that "the external environment is becoming more complex and severe", the government is considering other measures to get the economy moving. The finance ministry unveiled a 52obn yuan ($72bn) extension to tax breaks for electric vehicles to boost car sales.
Carlos Ghosn filed a lawsuit seeking $1bn in damages from Nissan related to his arrest and defenestration as the carmak er's boss in 2018 over allegations of financial misconduct. Mr Ghosn, one of the most powerful executives in the car industry at the time, filed his claim in Lebanon, where he fled in 2019 to avoid a trial. Nissan declined to comment.
The International Energy Agency published a report on clean energy in developing and emerging-market economies. It said that investments in those countries would have to rise from $770bn a year to between $2.2trn and $2.8trn by the early 2030s if the Paris agreement's goals on carbon emissions are to be met. China accounts for two-thirds of the current spending on clean energy, with Brazil and India taking a large bite of the rest.
Denmark retained top spot in the annual World Competitiveness ranking from the International Institute for Management Development (imd). The criteria behind the ranking include international trade, government and business efficiency and technological infrastructure. Ireland leapt from 11th place to 2nd while Britain tumbled from 23rd to 29th, dragged down by worsening productivity and rising bureaucracy. America was 9th; China 21st.
The Italian government took measures to block a Chinese state-owned company from appointing a ceo at Pirelli, a global maker of tyres best known for its association with Formula One racing. Sinochem holds a 37% stake in Pirelli.
IndiGo, a low-cost Indian airline, placed an order for 500 Airbus A320 passenger jets, the biggest ever deal in commercial aviation. India has become the fastest-growing aviation market and IndiGo is the biggest domestic player. The deal was announced at the first Paris air show since 2019. At the event Air India firmed up its order for 470 planes from Airbus and Boeing.
America's Federal Trade Commission sued Amazon for allegedly enrolling customers into its Prime service without their consent and for making it hard for them to cancel.
Intel doubled the amount it is investing in two new chipmaking factories in Germany to $33bn, after the German government agreed to increase subsidies for the project to €10bn ($11bn). It is the largest-ever foreign investment in Germany and the biggest bid by a European country to enter the chip war, following America's enticement of chipmakers. The Israeli government said that Intel would up its investment in a factory in the country to $25bn.
Alibaba announced that Eddie Yongming Wu would replace Daniel Zhang as chief executive in September. Mr Zhang will retain control of the cloud division. Mr Wu is one of the founders of the Chinese internet giant and is a close friend of Jack Ma, another founder, as is Joe Tsai, who takes over Mr Zhang's other role as chairman. In March the company announced plans to turn itself into a holding company overseeing six divisions.
A ray of Son shine
Son Masayoshi used his first public appearance in seven months to talk up SoftBank's investments in artificial intelligence. Displaying his typical exuberance, the boss of the Japanese tech conglomerate told shareholders that "a huge revolution is coming" in Ai and that SoftBank would "rule the world" in its development. After a period of reflection following heavy losses at its flagship Vision Funds, Mr Son said he now wants to become "an architect for the future of humanity".
---
скачать журнал: The Economist - 24 июня 2023
---