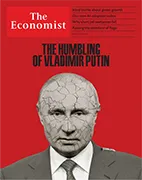 Год выпуска: июль 2023
Автор: The Economist Newspaper and The Economist Group
Жанр: Экономика/Политика
Издательство: «The Economist Newspaper Ltd»
Формат: PDF (журнал на английском языке)
Качество: OCR
Количество страниц: 76
The humbling of Viadimir Putin
The Wagner mutiny exposes Vladimir Putin's growing weakness. But don't count him out yet: leader, page 9, and analysis,page 23.
Can Ukraine's army capitalise on the chaos in Russia? Page 25.
How China sees it: Chaguan, page 50.
"War and Peace" in a time of conflict, page 70.
Hard truths about green growth
When environmentalism risks harming the world's poor: leader, page 10.
To adapt to climate change, people will migrate. The results will not be all bad: briefing, page 14.
Which is worse, a poorer today or a hotter tomorrow? Page 57.
Our new Ai-adoption index
We track how corporate America is investing in AI, page 51, and leader, page 11.
So far, lawmakers are taking cautious, bipartisan steps toward regulating it: Lexington, page 34.
Why short jail sentences fail
They put probation under strain and expose flaws in the criminal justice system, page 17.
Raising the standard of flags
How to avoid having an embarrassing emblem: leader, page 12.
In America cities and states have been trying to replace them, page 33.
---
The world this week Politics
Vladimir Putin resurfaced to address Russians in a televised speech, after a mutiny by troops from the mercenary Wagner Group. Trying to reassert his authority following perhaps the most serious challenge to his two decades in power, the president said the organisers of the revolt had "betrayed their country" but repeated a promise that those who took part could either join the Russian army or move to Belarus. Yevgeny Prigozhin, Wagner's leader, claimed that his rebellion, which had started to march on Moscow, was a protest at the military's mishandling of the Ukraine war. The speed at which Wagner's troops advanced in Russia has led to speculation about collusion with Russian generals and the potential for civil war.
Mr Prigozhin went into exile in Belarus under a deal brokered by the Belarusian dictator, Alexander Lukashenko. Latvia, Lithuania and Poland, which all border Belarus, warned that the regrouping of Wagner forces in that country posed a threat to their security.
The failed rebellion by Wagner Group raised questions about the future of its operations in Africa, where it is thought to have some 5,000 mercenaries and extensive business interests. Press reports suggested that Russia's government is trying to take direct control of Wagner's foreign operations, including those in Syria.
Volodymyr Zelensky, the president of Ukraine, said that Ukraine's counter-offensive was making gains. In its regular assessment, Britain's Ministry of Defence reported that Ukraine may have retaken some land in the Donbas region that Russia has occupied since 2014, but described this as a small advance.
The presidents of Lithuania and Poland met Mr Zelensky to talk about Ukraine's application to join nato. Lithuania is hosting a summit of the military alliance on July 11th and 12th that will discuss Ukraine's bid for membership.
Right turn
The second election in Greece in a month was won by the conservative New Democracy party, which now holds a rare majority in parliament. After winning the previous election in May the party called for a new ballot to give it a bigger mandate; it trounced the leftwing Syriza party by 23 percentage points. With the far right also making gains, the new parliament is the most right wing since democracy was restored in 1974.
Rioting broke out in Paris and other cities in France after police shot dead a teenager of north African descent who drove away from a traffic stop. Police unions criticised Emmanuel Macron, the president, after he described the shooting as "inexcusable".
Britain's Court of Appeals ruled that the government's controversial policy of sending some asylum-seekers to Rwanda was unlawful, finding that Rwanda was not a safe third country. The issue may now go to the Supreme Court.
America's Office of the Director of National Intelligence published a declassified report on the origins of covid-19 in China. The long-awaited study offered no evidence that the virus escaped from a laboratory, but did conclude that both a laboratory-associated leak and a transfer from animals to humans at a live market remain plausible explanations. It also stated that no American intelligence agency thinks that covid was developed as a biological weapon.
The UN's first independent investigator to visit America's prison at Guantanamo Bay said that the remaining 30 men held there faced continuing cruel and degrading treatment. Some of the inmates have been detained without trial for more than 21 years.
Meanwhile, the un reported that 1,095 civilians have been killed in Afghanistan since the withdrawal of America's remaining troops in August 2021. Most of the deaths were caused by explosive devices.
Australia's defence minister visited the Solomon Islands to discuss security and other regional matters. Australia and the Pacific island country have a long relationship. The visit came shortly before the Solomons' prime minister was due to visit China, which has increased its investment in and co-operation with the islands.
Sowing the seeds
In a surprise result, Bernardo Arevalo, the candidate of the anti-corruption Semilla (Seed) party, came second in the first round of Guatemala's presidential election. He will face Sandra Torres, a conservative former first lady, in a run-off in August. Mr Arevalo's showing has stirred hopes that Guatemala may reverse its recent drift towards authoritarianism. But 17% of voters spoiled their ballots to voice their discontent, more than voted for any single candidate.
Brazil's top electoral court began a trial of the former president, Jair Bolsonaro, on charges of spreading false information about the voting system. Mr Bolsonaro, who lost an election to Luis Inacio Lula da Silva last year, had claimed that Brazil's electronic voting machines were vulnerable to fraud. If the court finds against Mr Bolsonaro it could bar him from holding political office.
Olivia Chow defeated more than 100 rivals to be elected mayor of Toronto. A former member of Parliament from the left-leaning New Democratic Party, she succeeds John Tory, a Conservative who resigned after admitting to an affair with a staffer. Ms Chow, an immigrant from Hong Kong, is the Canadian city's first non-white mayor.
Electoral officials in Sierra Leone said that Julius Maada Bio, the incumbent, had won 56% of the vote in the presidential election. Observers questioned the result.
The un was expected to vote to end a 13,000-strong peacekeeping mission in Mali after the Malian government ordered it to leave as soon as possible. The blue helmets have been helping to secure a country overrun by jihadists.
At least 11 people were killed in Russian strikes on the rebel-held province of Idlib in Syria. According to the Syrian Observatory for Human Rights it was the deadliest Russian attack this year.
In Israel Ehud Barak, a former prime minister, and Yair Golan, a former left-wing member of the Knesset, are to be investigated by an official task force established by Itamar Ben-Gvir, Israel's far-right national-security minister. Both men have been critical of the government's plans to reform the judiciary.
The hajj, the annual pilgrimage that every able Muslim must complete at least once during a lifetime, began in Saudi Arabia. This is the first time since the pandemic that it has operated at full capacity. More than 2.5m pilgrims are expected.
The world this week Business
Under its new governor, Hafize Gaye Erkan, Turkey's central bank took steps to loosen its support for the lira and to encourage savings and lending in the currency. This came soon after the bank made a break with its easy policy of the past few years by raising its benchmark interest rate from 8.5% to 15% (markets were expecting a bigger increase). It said it was beginning a "monetary tightening process in order to establish the disinflation course as soon as possible". Official annual inflation stood at 39.6% in May, though unofficial measures are much higher. Ms Erkan was appointed governor by Recep Tayyip Erdogan after he was re-elected president in May.
Britain signed a memorandum of understanding with the European Union on financial services. The agreement establishes twice-yearly meetings through which the two sides will discuss co-operation on issues such as regulation, digital finance and financial crime. Jeremy Hunt, Britain's chancellor of the exchequer, said he was "absolutely delighted" with the deal. An eu spokesman pointed out that the agreement does not restore Britain's access to the eu.
The British government held emergency discussions on taking Thames Water into public ownership. The company, which provides water and sewage services to London and the surrounding region, has fallen heavily into debt.
hsbc is to leave its global headquarters at London's Canary Wharf and move to a more central location in the City, according to reports. The decision is a big blow to the Canary Wharf business district, which competes with the City as a base for financial companies. hsbc is searching for smaller premises because of the shift to remote working.
A car crash of a deal
Once hailed as a pioneer in electric pick-up trucks, Lordstown Motors filed for bankruptcy protection. The startup, based in a former General Motors factory in Ohio, blamed Foxconn for its woes. Best known as the company that assembles the iPhone, Foxconn had a deal with Lordstown to help produce vehicles. Lordstown claims Foxconn reneged on the deal. Foxconn says it tried to resolve the dispute with Lordstown and accuses the company of making "malicious attacks".
Eni, a global energy company based in Italy, agreed to buy Neptune Energy, which has its headquarters in London, for $4.9bn. Eni's acquisition hugely expands its business in producing natural gas.
Official statistics showed that house prices in Germany were 6.8% lower in the first quarter than a year earlier, the biggest drop since the series began in 2000. Higher house-financing costs may be to blame.
Siemens Energy lost a third of its stockmarket value after warning that quality problems with rotor blades and bearings on the wind turbines it supplies across the world were worse than it had thought and may cost €1bn ($1.1bn) to fix. The German company's problems reflect wider difficulties for the wind-power industry, which is struggling with rising costs for materials and a shortage of components.
Rupert Stadler, the former boss of Audi, was given a suspended prison sentence in Germany for his role in the Volkswagen emissions-cheating scandal, which came to light in 2015. Mr Stadler is the first former board member at vw to receive such a sentence. He has also been fined €1.1m ($1.2m).
With demand for covid-related products on the wane, Walgreens Boots Alliance reported a lower quarterly profit and reduced its forecast for the year. The pharmacy company is closing a further 150 Walgreens stores in America and 300 Boots locations in Britain. The Boots that are shutting are within 5km (three miles) of another Boots shop; there will still be 1,900 branches left across Britain.
Riding a wave
Amid a boom in travel and tourism, Carnival reported that its bookings and customer deposits were hitting all-time highs. The cruise line increased its operating-profit forecast for the year.
Larry Fink, the chief executive of BlackRock, who was in the vanguard of pushing esg (environmental, social and corporate governance) investing, said he no longer uses the term because it has become politically "weaponised". BlackRock has been lambasted from the left for still investing in fossil fuels and from the right for not investing enough in them. Mr Fink said his company's commitment to invest in green and ethical products was unchanged.
It was a busy week for Mr Hunt, who persuaded British banks to give mortgage-holders who fall behind on their payments at least 12 months before repossessing their homes. Mortgage rates have surged in line with interest rates. Mr Hunt also told the banks to pass on higher interest to their customers by increasing savings rates. Enticing people to save could help lower inflation.
---
скачать журнал: The Economist - 1 июля 2023
---