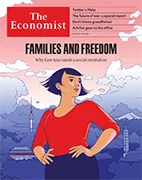 Год выпуска: июль 2023
Автор: The Economist Newspaper and The Economist Group
Жанр: Экономика/Политика
Издательство: «The Economist Newspaper Ltd»
Формат: PDF (журнал на английском языке)
Качество: OCR
Количество страниц: 84
Families and freedom
Why East Asia needs a social revolution
Chinese, Japanese, South Koreans and Taiwanese increasingly reject the Confucian family. Their leaders are being left behind: leader, page 9.
The traditional family is fading, page 19.
Chinese influencers challenge the stigma of being a single mother, page 25.
Twitter v Meta
As Elon Musk stumbles, Mark Zuckerberg prepares to pounce, page 51.
The future of war: a special report
A new era of high-tech war has begun. Democracies must prepare: leader, page 10.
Technology has changed the battlefield in Ukraine, but mass still counts, argues Shashank Joshi, after page 38.
NATO's new defence plans, page48. Ukraine calls for cluster bombs, page 44.
Don't blame greedf

lation
Corporate avarice is not the cause of the world's inflation problems: leader, page 11, and analysis, page 58.
Achilles goes to the office
How white-collar warriors prepare for battle: Bartleby, page 55.
---
The world this week Politics
Emmanuel Macron held a meeting with mayors from municipalities in France that were hit by a week of rioting. The violence started after police shot dead a teenager of Algerian descent for driving away from a traffic stop. The ensuing riots spread from Paris to most cities across France, even spilling over to Belgium and Switzerland. More than 4,000 rioters were arrested; their average age was just 17. The government promised to help rebuild the more than 2,000 businesses that were attacked by looters. The French president told the mayors that "We all want a lasting, republican order."
The Wagner Group is still actively recruiting mercenary troops to fight in Ukraine, according to press reports. That would contradict the agreement that Wagner reached with the Kremlin following a recent aborted mutiny. Yevgeny Prigozhin, Wagner's leader, who supposedly went to Belarus as part of the agreement, is now in St Petersburg, according to the Belarusian dictator, Alexander Lukashenko.
Russia said it shot down five drones over the suburbs of Moscow, the third drone attack on Russia in two months. No one was injured. Vnukovo International Airport was closed as a precaution for a short time.
NATO extended Jens Stoltenberg's term as secretary-general by a year. He was supposed to step down on October 1st, but the military alliance can't settle on an alternative for the job and have decided to stick with the continuity that Mr Stoltenberg brings to the position. He has won widespread praise for his leadership during the war in Ukraine.
Casualty
Britain's National Health Service celebrated its 75th anniversary. The nhs is beset with problems: staff shortages, strikes and long waiting times, a bad prognosis for the septuagenarian service. Rishi Sunak, the prime minister, has set out a long-term workforce plan which aims to cure its ills. The nhs is the biggest employer in Europe, with 1.4m staff, but it is short of 112,000 workers.
Israel launched its biggest raid on a Palestinian city in the West Bank since 2002. During the 48-hour incursion into Jenin, 12 Palestinians (Israel says they were all militants) and one Israeli soldier were killed and dozens of Palestinians injured. The Israelis said they destroyed 30 workshops and weapons caches. Hamas, the Islamist group that runs Gaza, claimed that a car-ramming and stabbing attack in Tel Aviv in which seven Israelis were injured was in response to the raid on Jenin.
Senegal's president, Macky Sall, said he would not run for re-election next year, ending speculation that he would flout a constitutional requirement that he should serve no more than two terms. However, he repeated his argument that a tweak to the constitution allowed him a third term. Democrats in the region hope his decision will help persuade other leaders to follow suit.
Salva Kiir, who has presided over South Sudan amid much turmoil since its independence in 2011, said that delayed elections set for next year would go ahead and that he would run for re-election. His rival and current vice-president, Riek Machar, is expected to stand against him.
The civil war in Sudan showed no sign of ending, despite a string of short-lived ceasefires.
Violence persisted across the country, especially in the capital, Khartoum, and in Darfur, the long-troubled western region.
Joe Biden said he would use "every tool at our disposal" to push through a scheme for student-debt relief, after the Supreme Court struck down his original plan. The court made several radical decisions at the end of its term, notably scrapping the affirmativeaction policies that have steered college admissions for decades. The court found that the policies "require stereotyping" and discriminated against Asian-Americans. It also bolstered the rights of businesses to withhold services to gay weddings on free-speech grounds.
Guatemala's constitutional court suspended the declaration of the results from an election held on June 25th. Bernardo Arevalo, the candidate of the anti-corruption Semilla party, had unexpectedly won a place in the run-off election for the presidency by coming second to Sandra Torres, a former first lady. Observers think that the country's elite is threatened by the candidacy of Mr Arevalo and is trying to nobble his chances.
Brazil's top electoral court prohibited Jair Bolsonaro, who was the country's president until last year, from running for office for eight years. The court said that before last year's election Mr Bolsonaro had undermined trust in Brazil's voting system.
Venezuela's government banned Maria Corina Machado, a leading challenger to the country's authoritarian president, Nicolas Maduro, from holding public office for 15 years. Ms Machado was among the favourites to be the opposition's candidate in a presidential election next year.
Wan Muhamad Noor Matha was appointed speaker of Thailand's parliament following May's election. Mr Wan Noor served in a former government led by Thaksin Shinawatra, who was deposed by a military coup in 2006. It is still unclear whether Pita Limjaroenrat, from the prodemocracy Move Forward party, has enough support to become prime minister.
The International Atomic Energy Agency, a UN watchdog, approved plans to discharge contaminated water from Japan's Fukushima nuclear plant into the sea over the next 30-40 years. The iaea says the plan is safe, but plenty disagree.
In Afghanistan the Taliban ordered beauty salons to close within a month, their latest restriction on women's rights. Most salons already operate with their windows covered to keep the morality police away.
Hong Kong offered rewards of HK$1m ($128,000) for information leading to the arrest of eight pro-democracy activists who had fled overseas. The dissidents are accused of various offences under a draconian nationalsecurity law that criminalises activities endangering China, regardless of where they occur. America, Australia and Britain, where the activists are thought to live, condemned the bounty scheme.
Living in a doll's house
Vietnam banned the release of "Barbie" because a scene from the film includes a map showing the infamous "nine-dash line". The line marks territory in the South China Sea that China claims. Other countries, such as Vietnam, think it is make-believe.
The world this week Business
Meta unveiled Threads, a text-based conversation app that it is promoting as a more "friendly" social-media rival to Twitter. Threads is linked to Instagram, one of Meta's existing social-networking sites, allowing its young base of users to switch easily between the two. With Twitter becoming ever more erratic under Elon Musk's stewardship, Threads could be an existential threat to the platform. Some 10m people signed up to Threads in the first seven hours, according to Meta.
Apple's stockmarket valuation closed above $3trn for the first time. The company's share price has risen by nearly 50% this year, as investors bet on dizzy growth in iPhone revenues. Tech stocks in general have rallied after last year's rout. The nasdaq composite has gained 32% since the start of 2023, its best first-half of a year since 1983. A handful of companies are driving the rally, notably Nvidia, which makes chips for use in artificial intelligence. Its stock is up by almost 200% this year.
Tesla's share price is also soaring. The maker of electric cars delivered 466,000 vehicles between April and June, up by 83% from the same three months last year and a company record, and produced 480,000. Underlining the phenomenal demand for electric vehicles byd, a Chinese rival to Tesla, sold 700,000 electric and plug-in hybrids in its most recent quarter, its best ever for sales.
Alef Aeronautics, a startup backed by a vc investor in Tesla and Space X, received an airworthiness certificate from the Federal Aviation Administration for its Model a flying car, the first time such a vehicle has obtained us government approval to fly. Alef aims to start selling its fully electric car, which can take off and land vertically as well as drive on roads, by the end of 2025.
Political bias
A federal judge in America imposed a temporary injunction on government officials talking to social-media companies about removing content that comes under the purview of free speech (not including criminal or terrorist themes). The case, which has not been finally resolved, was brought by the states of Louisiana and Missouri. The judge, who was appointed by Donald Trump, said it was "telling" that it was mostly conservative views that the government sought to scrub from social platforms.
Pakistan's kse 100 stockmarket registered its biggest gain in 15 years, after the government secured a $3bn short-term bail-out from the imf. The deal gives Pakistan breathing room as it tries to avoid defaulting on debt repayments. Its foreign reserves have dwindled, leaving some businesses unable to pay for imports.
China slapped export curbs on gallium and germanium, materials that are used to manufacture semiconductors. The decision was taken on grounds of national security but is seen as retaliation for Western sanctions on Chinese technology. The restrictions were announced shortly before Janet Yellen, America's treasury secretary, was due to visit China for talks.
Pan Gongsheng was named the new political chief of China's central bank, and is expected to soon take over the job of governor. Mr Pan, a former senior fellow at Harvard, has been a deputy governor since 2012 and was in charge of managing the country's vast foreign-currency reserves. Observers think it unlikely that he will change the bank's cautious approach to economic stimulus, at least for now.
Australia's central bank left its benchmark interest rate on hold at 4.1%, which surprised some economists. The bank raised the cash rate in June and sent out hawkish signals about further increases. At this week's meeting the rate-setters suggested that they wanted to evaluate the effect of previous increases, but didn't rule out more tightening in the future.
Saudi Arabia and Russia took additional steps to lower oil supplies in the hope of boosting prices. The Saudis are extending a cut of 1m barrels a day until the end of August and the Russians are making an additional "voluntary" reduction of 500,000 b/d. Prices didn't rise much in response. Brent crude has been trading around $72 to $76 a barrel since early May.
In India Reliance Jio, part of the Reliance conglomerate run by Mukesh Ambani, the richest man in Asia, launched a basic internet-connected phone for 999 rupees ($12). The cheap "feature" device will lower the cost of a 4G phone for the 250m Indians who still use 2G, enabling them to tap mobile-payment services.
The fashion for travel
Travellers to Japan may never again have to worry about packing a business suit or cocktail dress. Japan Airlines has rolled out a new service whereby passengers can rent clothes from the airline before they board via an app. The sets of clothing will cost up to ¥7,000 ($49). Unfortunately for bigger customers, the clothes come mostly in only small, medium and large.
---
Скачать журнал: The Economist - 8 июля 2023
---