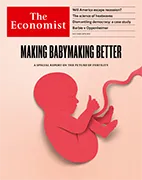 Год выпуска: июль 2023
Автор: The Economist Newspaper and The Economist Group
Жанр: Экономика/Политика
Издательство: «The Economist Newspaper Ltd»
Формат: PDF (журнал на английском языке)
Качество: OCR
Количество страниц: 84
MAKING BABYMAKING BETTER
A special report on the future of fertility
IVF is failing most women today. New research holds out hope for the future: leader, page 7, and Technology Quarterly, after page 38.
"The Retrievals", a tale of agony and addiction, makes listeners squirm, page 68.
Will America escape recession?
Falling inflation is good news. But it is too early to hail a "soft landing": leader, page 8.
Can America escape the long-predicted recession? Briefing, page 14.
The science of heatwaves
As the northern hemisphere swelters, is climate change speeding up? Page 61.
Cities need to respond rapidly and plan carefully to minimise the damage done by heatwaves: leader, page 8.
The sizzling Sunbelt, page 17.
Extreme temperatures separate "the cool and the damned", page 66.
Dismantling democracy: a case study
The "world's coolest dictator", Nayib Bukele, shows how to gut democracy and be applauded for it: leader, page 10, and analysis, page 23.
Barbie v Oppenheimer
What two Hollywood blockbusters reveal about our times, page 65.
---
The world this week Politics
Thailand's parliament again voted to prevent Pita Limjaroenrat from becoming prime minister. Coupled with a court ruling that suspended the opposition leader from the legislature, Mr Pita now has no chance of getting the job. Although his pro-democracy Move Forward party claimed the most seats in a general election in May, Mr Pita has been blocked by the upper house, which is stacked with parties aligned with Thailand's conservative military elite. The Constitutional Court is even considering a complaint against Move Forward over its aim of reforming the country's draconian lese-majeste laws.
A senior leader in Malaysia's opposition alliance of parties, Perikatan Nasional, was charged with sedition. Muhammad Sanusi Md Nor is the chief co-ordinator of pn's campaign ahead of forthcoming state elections. He was indicted under colonial-era laws for questioning decisions made by the king.
In India 26 opposition parties formed an alliance to co-ordinate their political strategy when they compete against the ruling Bharatiya Janata Party at next year's general election. The Indian National Developmental Inclusive Alliance (India) includes the Congress party, whose leader, Rahul Gandhi, has been convicted of defamation and barred from Parliament.
India launched its Chandrayaan-3 spacecraft on a mission to explore the Moon's South Pole. If all goes well Chandrayaan-3 is expected to reach its destination on August 23rd or 24th.
An American soldier was detained in North Korea after he crossed the border from South Korea. Travis King had been in jail for two months on assault charges and was due to be flown back to America when he absconded.
Rumours swirled around China's foreign minister, Qin Gang, who has not been seen in public since June 25th. "Health reasons" were cited when the diplomat did not attend a summit earlier this month. Now, though, the foreign ministry says it has "no information" on his status.
The Kerch bridge that connects Russia with occupied Crimea was attacked again, this time by water drones. The bridge carries Russian supplies into contested areas of Ukraine. It will not be fully operational again until midSeptember. Last October a fuel bomb on the bridge caused extensive damage. Ukrainian officials say the latest attack will disrupt Russian logistics.
Russia carried out missile strikes on Odessa and other Ukrainian ports. Russia earlier pulled out of a deal that had permitted the safe passage of grain exports from those ports across the Black Sea. As wheat prices rose, the un, which helped broker the agreement a year ago, warned that it would be people in poor countries who pay the price.
Afraid of a little competition
An American who had been selected to be the European Commission's senior economist on competition issues declined the job following a political storm. Opposition to the appointment of Fiona Scott Morton was led by Emmanuel Macron. The French president said he wanted a "great European" in the position, though he didn't name one.
Vladimir Putin pulled out of an economic summit in South Africa in August, avoiding the possibility of being arrested by his host on a warrant issued by the International Criminal Court, which South Africa is obliged to enforce. President Cyril Ramaphosa said in a court filing that Russia had made clear the arrest "would be a declaration of war".
Emmerson Mnangagwa, Zimbabwe's president, signed legislation into law that could impose the death penalty for the vague offence of "injuring the sovereignty and national interest of Zimbabwe".
Isaac Herzog, the Israeli president, visited Joe Biden at the White House. He also gave a speech to Congress, where he said that criticising Israeli policy should not cross a line into concluding that Israel does not have the right to exist. Mr Biden also issued an invitation to Binyamin Netanyahu, Israel's prime minister, to visit, and urged caution on the legal reforms that have provoked huge protests in Israel.
Iran's morality police will resume patrols to enforce a dress code which says women must cover their hair. The decision comes ten months after large demonstrations were held following the death in custody of Mahsa Amini, who was arrested for not wearing a "proper" headscarf.
Tunisia signed a deal with the European Union to manage "irregular" migration. Tunisia has become the main point of departure for migrants crossing the Mediterranean to reach Europe. Under the agreement the eu will give Tunisia €i05m ($ii8m) for equipment and training to prevent migrants from embarking. Another €i5om was also pledged for a variety of other things.
A controversial Illegal Migration Bill was approved by the British Parliament. The government says the bill is essential to stop small boats carrying migrants across the English Channel. Opponents had hoped that a series of amendments would ditch bits of the legislation that they claimed would contravene human rights, but these were all eventually defeated.
England's court of appeal reduced the sentence of a woman who was found guilty of taking abortion pills outside legal limits to a 14-month suspended sentence. The original prison conviction had been widely condemned when it was imposed in June.
A flair for troublemaking
At a summit of Latin American and European leaders, Luiz Inacio Lula da Silva, Brazil's president, said that the world was "tired" of the war in Ukraine. Lula, who has refused to admonish Vladimir Putin, also criticised Gabriel Boric, Chile's president, for condemning Russia.
Tens of thousands of people took to the streets of Peru to protest against the president, Dina Boluarte, who came to power only in December. She denounced the demonstrators as a threat to democracy.
A former president of Panama, Ricardo Martinelli, was sentenced to ten years in prison for money-laundering, which he denies. He had been considered the front-runner in a presidential election.
Scores of people were killed during severe flooding in South Korea. Many had become trapped in their cars in a tunnel in the city of Cheongju. It was one of many extreme weather events. Heat records were broken across Asia, North America and southern Europe. The temperature in California's Death Valley hit 53.3°C (128°F), though that was still short of the 56.67°C registered in 1913.
The world this week Business
Britain's annual rate of inflation stood at 7.9% in June, down from 8.7% in May, a bigger drop than had been expected. Transport costs fell in the consumer-price index, mostly because of cheaper fuel. Food inflation eased to 17.3%. Core inflation, which strips out energy and food prices, was 6.9%, down slightly from the previous month's rate. The news was welcomed by the government. The Bank of England is still expected to raise interest rates when it next meets, but markets are now expecting a smaller rise of a quarter of a percentage point.
A tale of two banks
Goldman Sachs reported net income of $1.1bn for the April to June period, its lowest quarterly profit in three years. The bank booked charges related to its property investments and retreat from retail banking. Like some other big banks it also saw a slowdown in revenues from trading. Higher interest rates are helping to make up for that shortfall in revenue and boosting profit at other banks. At JPMorgan Chase profit surged by 67%, year on year, to $14.5bn.
Tesla reported a strong net profit of $2.7bn for the second quarter, driven by a big increase in car sales during its price-slashing campaign. Tesla said that it was still on track to deliver 1.8m vehicles this year, though production would dip a bit this quarter.
America's Federal Trade Commission has reportedly opened an investigation into OpenAi, the artificialintelligence startup behind ChatGPT, for potentially violating consumer-protection laws. The regulator wants OpenAi to explain its policy on data privacy and how it trains the large language models behind its generative AI.
Sony signed a deal with Microsoft that will continue to make "Call of Duty" available on Sony's PlayStation once Microsoft takes over Activision Blizzard, which owns the video-game series. Sony had been the most vocal opponent of Microsoft's acquisition, which a court in America recently gave the green light to.
China's gdp grew by just 0.8% in the second quarter compared with the previous three months. It expanded by 6.3% over the same quarter last year, when lockdowns were in force, falling short of economists' estimates for a stronger rebound. China's property sector is proving to be one drag on the economy; investment has plunged and house prices have flatlined. This week Evergrande, a property developer which sparked a crisis in the market when it defaulted on its debt, said it lost $81bn in 2021 and 2022.
As much of Europe sweltered under heat domes, the International Energy Agency warned that "a cold winter, together with a full halt of Russian piped gas supplies to the European Union" could cause natural-gas prices to rise again. Prices have fallen sharply this year because a mild winter left gas stocks in good shape. The iea thinks that "fierce competition for gas supplies could also emerge if north-east Asia experiences colder-than-usual weather."
Eli Lilly presented the full findings of the phase-three clinical study of its new drug to treat Alzheimer's, which showed a significant slowdown in the progression of the disease in its early stages. Some patients did suffer sideeffects, however, such as swelling and bleeding of the brain. Eli Lilly hopes that its drug, called donanemab, will be approved by America's Food and Drug Administration by the end of the year.
A crackdown on users sharing passwords paid off at Netflix, which saw its subscriber base increase by 8% in the second quarter, year on year, a faster rate of growth than in recent quarters. A year earlier it had lost 1m customers. Netflix now has 238m paid members, far more than the around 160m at Disney+, its closest direct rival.
Quiet on the set
Hollywood stars (well, Susan Sarandon) joined the picket lines, after the union that represents film and television actors called a strike, joining screen writers who downed their pens in May. The actors and writers want the studios to limit the use of artificial intelligence in moviemaking, such as when it replicates an actor's image or generates a story, and a bigger cut of the proceeds from streaming. The studios say the unions are being unrealistic. Film and tv production has now virtually ground to a halt.
Pret a Manger turned an annual profit last year for the first time since 2018, according to newly released figures from its owner, jab Holding. The purveyor of sandwiches, salads and coffee is on track to operate 700 shops worldwide by the end of the year, most of them in Britain, and most of those in London. Pret has become so synonymous with office workers that Britain's national statistics agency keeps a data set of transactions in its stores, indexed to January 2020, the start of covid-19, to track footfall. The index has risen faster in the suburbs than it has in the city.
---
скачать журнал: The Economist - 22 июля 2023
---