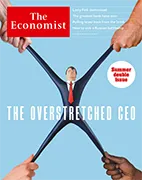 Год выпуска: июль 2023
Автор: The Economist Newspaper and The Economist Group
Жанр: Экономика/Политика
Издательство: «The Economist Newspaper Ltd»
Формат: PDF (журнал на английском языке)
Качество: OCR
Количество страниц: 68
Summer double issue
The overstretched CEO
Our summer double issue leads with the challenges faced by overstretched ceos in a world of geopolitical pitfalls: leader, page 11.
We profile Larry Fink, the boss of BlackRock, who faced blowback for trying to get the companies his firm invests in to focus on climate change. Other treats in our 48 pages of summer features include the wild story of the biggest bank heist ever, after page 36.
The world this week
A summary of political and business news
Leaders
1Global business The overstretched ceo
Food
Israel's crisis
Meteorology
Britain's aid policy Keir Starmer's test
Letters
On manufacturing, Donald Trump, London's Elizabeth line, the Palestinian Lions' Den, Greek gods, superforecasts
Britain
Foreign office blues
Nigel Farage and NatWest
London and ulez
Rising interest rates
Bagehot Right-wing Rishi
Europe
What France gets right
Greek wildfires
Missiles in Ukraine
Germany's pool brawls
Charlemagne Spain's populist fizzle
United States
College bargains
Creating an elite
Oppenheimer tourism
Child influencers
Left-behind places
Fentanyl overdoses
The Americas
A NATO laggard
From k-pop to q-pop
---
The world this week Politics
The Israeli Knesset passed the first in a series of laws aimed at drastically limiting the powers of Israel's Supreme Court. Members of the opposition walked out in protest at the final reading of the bill, which passed 64-0 in the 120-strong chamber. The legislation significantly curtails the court's ability to review government decisions on the ground of "reasonableness". The White House criticised the law, saying it was "unfortunate". Israel's credit rating was downgraded. The Supreme Court has said it will hear petitions against the bill after the summer recess.
Soldiers staged a coup in Niger, the Sahelian country most closely aligned to the West, and said that Mohamed Bazoum had been removed as president. Two of Niger's neighbouring countries, Burkina Faso and Mali, have each had two coups since 2020.
Russia complained that Western pressure had dissuaded most African leaders from attending a Russia-Africa summit this week in St Petersburg, to the chagrin of President Vladimir Putin. Only 17 African heads of state and government (out of 54) were reported to have made the trip.
Guillermo Lasso, the president of Ecuador, declared a state of emergency in the country's prisons amid rising violence. A nightly curfew was also imposed on three coastal provinces. The measures came into force after eight people were killed over one weekend, including a mayor. Battles between rival gangs in prisons have also caused over 30 deaths in recent days.
An independent panel investigating the disappearance of 43 college students in Mexico nearly a decade ago issued its final report. The panel, appointed by the Inter-Amer-ican Commission on Human Rights, said that members of the armed forces, navy, police and intelligence services knew of the location of the students, but had been unco-operative.
Justin Trudeau, the prime minister of Canada, announced a cabinet reshuffle. The ministerial changes come amid a rise in the cost of living, which has heaped pressure on the minority government led by Mr Trudeau. An election is not expected until 2025.
On the campaign trial
A judge in Florida set the date of May 20th 2024 to begin the criminal trial of Donald Trump over his alleged concealment of classified material at his home. The date falls after the bulk of primary contests, so the Republican candidate for president should be known by then. Mr Trump holds a strong polling lead in that race.
Hunter Biden, Joe Biden's son, pleaded not guilty to federal tax charges, after a deal with prosecutors in which he would have pleaded guilty and avoided prosecution on a gun charge started to unravel. The judge in the case told both sides to come back with a new deal.
China's foreign minister, Qin Gang, was removed from his post. Mr Qin had not been seen in public for weeks, fuelling rumours that he was being purged for personal indiscretions. Wang Yi, the previous foreign minister, has been returned to the job.
Hun Sen, Cambodia's autocratic leader, said he would step down as prime minister on August 10th and hand the job to his son, Hun Manet. Mr Hun Sen has ruled Cambodia for 40 years, recently winning an election in which there was no opposition. He will remain head of the governing party.
Chinese and Russian delegations attended military parades in Pyongyang, North Korea's capital, to mark the 70th anniversary of the end of the Korean war. It was the first public visit by officials from North Korea's allies since the start of the covid-19 pandemic. Russia's delegation included the defence minister, Sergei Shoigu.
Spain's general election resulted in deadlock. The opposition conservative People's Party took the most seats, but not enough to form a majority. It would still fall short even if it joined forces with the hard-right Vox party. The governing Socialists did better than expected, but to govern they would need the support of left-wing parties and Basque and Catalan nationalists. The pp's leader, Alberto Nunez Feijoo, is trying to form a minority government.
Ukrainian ports on the Danube, which lie just across the river from Romania, were attacked by Russia in a series of drone strikes. Ukraine has been trying to establish an alternative route for its grain exports following Russia's bombardment of Odessa and other Black Sea ports.
The IMF warned that India's ban on exports of non-bas-mati white rice could push up global food prices. India accounts for 40% of the world's total rice exports. The ban comes amid a surge in wheat futures caused by uncertainties about Ukrainian supplies.
Vladimir Putin signed a law that bans transgender surgery in Russia and outlaws any attempt by a person to change their sex legally. It also annuls marriages in which one spouse is transgender.
Moldova ordered Russia to reduce the number of diplomats at its embassy in the capital, Chisinau, from 80 to 25, claiming the mission's staff were trying to undermine the government.
A group of far-right protesters set fire to copies of the Koran outside the Egyptian and Turkish embassies in Copenhagen. It was the latest incidence of Koran-burning in Denmark and Sweden. In Iraq outraged Muslims have set the Swedish embassy alight.
Six men were found guilty of murder in Brussels over a terrorist attack on the city's airport and metro system in 2016, which killed 32 people.
Cruel summer
Wildfires swept through many Mediterranean and south European countries. Dozens of people were killed in Algeria, ten of them soldiers who were trapped by fire during an evacuation.
Jim Skea was elected as the new chairman of the Intergovernmental Panel on Climate Change. Mr Skea is a professor at Imperial College London and co-led the IPCC's landmark reports on global warming in 2018 and climate change and land in 2019.
Three parliamentary by-elections in Tory-held seats in Britain provided mixed results for the Conservative government. Two of the by-elections went as scripted, with Labour taking a seat in the north and the Liberal Democrats winning one in the south-west, both with swings from the Tories of well over 20 percentage points. But the Conservatives held on, just, to Boris Johnson's former seat in west London. That emboldened Rishi Sunak, the prime minister, to claim that a Tory defeat at next year's election is "not a done deal".
The world this week Business
The Federal Reserve resumed its policy of monetary tightening fol lowing a pause at its last meeting in lune, raising its key interest rate by a quarter of a percentage point to a range of between 5.25% a nd 5.5%. Inflation has slowed in America. However, other indicators point to a labour market and overall economy that, while no longer "hot", have not cooled sufficient ly for t he ratesetters. The Fed offered few cl ties about its next move.
Turkey's central bank took more measures to try to control inflation, increasing the maximum interest rates charged on overdrafts and credit-card cash advances. On July 20th the bank lifted its main interest rate from 15% to 17.5%. Although that extended the bank's 1 eveisal cf its pi evi-ous low-rate policy, the rise was smaller than markets had expected.
The Chinese government appointed Pan Gongshengas goveinoi of the People's Bank of China. Mi Pan was confirmed as the central bank's Communist Party secretary eailiei this month. It is the first time the two jobs have been combined since 2018, which may reflect the party's giowing coniiol ovei the financial sectoi. Meanwhile, the government promised to do more to aid China's "tortuous" recovery from the pandemic, but provided scant derails on how it would do so.
The world economy is now' expected to grow by 3% t his year, according to the t мF, a slightly faster pace than its previous estimate in April. Britain is no longer expected to fall into recession, in part because of strong consumption and less post-Brexit un-ceitainty. However, Germany's economy is forecast to shrink by 0.3% because of weak manufacturing output.
The Federal Reserve and the Bank of England fined ubs a total of $з8?т for misconduct al Credit Suisse, which ubs recently acquired. The fines relate to Credit Suisse's "unsafe and unsound" practices in managing the 1 isk from its dealings with Archegos Capital Management. Archegos collapsed in 2021, saddling Cred it Suisse with a $5»5bn loss.
A crushed Rose
Dame Alison Rose resigned as chief executive of NatWest, a British bank, after admitting that s he was the source of an incorrect BBC story about the closure of a bank account held by Nigel Farage. Mr Farage helped to lead the campaign in 2016 to pull Britain out of the EU. Dame Alison told the BBC that his account had been shut at Coutts, a subsidiary of NatWest, solely for commercial reasons. But Mr Farage obtained a dossier that showed the account was closed in pail because his political views on a range of issues were "at odds" with the bank's "position as an inclusive organisation". The affair has raised concerns about how fai banks can go to withhold theii services from someone with whose views they disagree.
Two of America's lech giants, Alphabet and Microsoft, reported solid increases in revenue and piofit as their core businesses outperformed expectations: digital-ad sales for Alphabet and cloud-computing foi Microsoft. Both companies said theirspending on Ai would increase over the coming quarters, which could hit profit margins.
Meta's quarterly revenue and profit also rose at a fast clip, but the loss at its Reality' l abs division, which is developing the metaverse, stood at $3jbn. That pushes the division's cumulative losses since the beginn ing of last year to $2ibn.
Despite surging revenues on the back of big orders for its planes, Boeing reported another quarterly loss. The aerospace company was dragged down this time in part by charges related to delays in some defence projects. Still, Boeing is ramping up production of commercial aircraft, and expects to deliver up to 450 73/jets this year.
Rio Tinto, a big mining company, said it would not reach its target of reducing emissions by 15% by 2025 because of engineer ing constraints, and the needs of integrating its ambitions with the "needs of our local communities.'' "Barbie" won the battle of the box office against "Oppenheimer", taking more money in ticket receipts after both films were released on the same day. Barbenheirner made for the best opening weekend in America this year, renewing hopes fora revival in cinema attendance. Other recent blockbusters, such as "Indiana Jones and the Dial of Destiny", have not attracted the audiences that had been hoped for.
Er, Elon, what areyou doing?
Twitter killed off its bluebird logo. The platform has been rebranded, now displaying a white "X" on a black background. The bi rd is not entirely dead, however, and still floats around on many mobile apps. Twitter is now officially called X, though everyone still calls it Twitter. Workmen trying to remove the old name from its headquaileis in San Francisco were stop ped midway by police, leaving "er" as the company's fioul signage.
---
скачать журнал: The Economist - 29 июля 2023
---