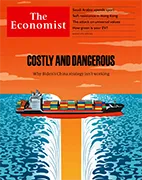 Год выпуска: август 2023
Автор: The Economist Newspaper and The Economist Group
Жанр: Экономика/Политика
Издательство: «The Economist Newspaper Ltd»
Формат: PDF (журнал на английском языке)
Качество: OCR
Количество страниц: 72
COSTLY AND DANGEROUS
Why Biden's China strategy isn't working
Biden's China strategy isn't working. "De-risking" is both costly and dangerous: leader, page 9.
America and China are slashing trade links with one another. Aren't they? Page 57.
Saudi Arabia upends sport
It is a dynamic, capital-intensive business, not a museum exhibit: leader, page 10.
Saudi Arabia is spending a fortune. Critics call it "sportswashing": briefing, page 15.
Soft resistance in Hong Kong
Officials warn of hidden threats to stability. Many residents wonder whether this heralds an even wider clampdown on dissent, page 23.
The attack on universal values
Autocrats call them the new imperialism. Here is why they are wrong: leader, page 12.
People's principles were expected to align as countries got richer. What happened? Page 48.
How green is your EV?
The supersizing trend is unsustainable and unsafe. Eventually it will become unprofitable, too: Schumpeter, page 56.
---
The world this week Politics
Imran Khan, Pakistan's former prime minister and main opposition leader, was sent to prison for three years after being found guilty of "corrupt practices" in relation to gifts he received in office. He has also been barred from politics for five years. Mr Khan says the charges have been trumped up by his enemies. Owing to an army-led crackdown on his supporters over the past three months, protests against his arrests were subdued.
Rahul Gandhi, the leader of India's opposition Congress party, returned to parliament after the country's Supreme Court suspended his conviction for defamation. Mr Gandhi was found guilty in March in what he claims is a politically motivated case. The Supreme Court said that the convicting court had failed to explain why it had given Mr Gandhi the maximum sentence of two years in prison, which had triggered his disqualification from parliament.
A report by un investigators found that Myanmar's armed forces had stepped up their "widespread and systematic attacks against civilians", carried out through indiscriminate bombing campaigns and the torching of villages. The investigators are building a case to hold "individual perpetrators" accountable for war crimes.
Ukraine attacked Russian vessels in the Black Sea. It launched sea drones at both naval ships and tankers near the port of Novorossiysk, a major export hub and naval base for Russia. The strikes, which have sent oil and wheat prices up, are retaliation for Russia withdrawing from the UN-brokered grain deal in July. Shipping-insurance costs soared.
Russia tried to break the main opposition leader, Alexei Navalny, by extending his prison term to 19 years. The vocal blogger, who survived a poisoning attempt in 2020 and is serving time in a high-security prison, will be moved into greater isolation at a penal colony reserved for the worst of criminals. "You, not me, are being frightened and deprived of the will to resist," he told supporters in a message posted online.
Meloni's credit-rating sinks
Italy's conservative government, led by Giorgia Meloni, imposed a one-off 40% windfall tax on banks for not passing on interest-rate increases to savers. The tax will fall on the income that banks reap from the gap between lending and deposit rates (as bank stocks plunged in reaction the tax was capped at 0.1% of total assets). Other European countries, such as Spain, have introduced similar levies.
At least 41 migrants died when their boat sank off the Italian island of Lampedusa. The vessel had sailed from Tunisia, the latest hot-spot used by traffickers to send migrants on the perilous journey across the Mediterranean to Europe.
Spain's coalition squabbles continued, after a close result in July's election. The far-right Vox party said it would support a minority government of the centre-right People's Party (pp) to keep a left-wing coalition out of power. But that did not help the pp make new friends—hours after the announcement, its most likely ally, the moderate Basque Nationalist Party, ruled out its backing of the pp.
Poland's president set October 15th as the date for the country's parliamentary elections. The Law and Justice (pis) party is leading the polls, but it is unlikely to clinch the majority it needs to govern alone. Since coming to power in 2015, Poland's conservative government has clashed with the eu over the rule of law, but proved to be a stalwart nato ally in Ukraine. A referendum on the eu's migration policy could also be held on election day.
One of the candidates in Ecuador's forthcoming presidential election was shot dead at a rally. Fernando Villavicencio had made corruption and crime the focus of his campaign, issues he had investigated as a journalist. He said he had received threats from a gang leader recently.
The eight South American countries that are home to the Amazon basin created an alliance to work together to crack down on deforestation and other illegal activities at a summit in Brazil. The agreement could amplify the region's voice on environmental problems. But it lacks firm commitments. The other countries failed to sign up to Brazil's goal of zero deforestation by 2030.
Diplomatic efforts to reinstate the elected government in Niger appear to have made no progress. Victoria Nuland, a senior American diplomat, was not given an audience with General Abdourahamane Tchiani, the leader of the coup, or with Mohamed Bazoum, the ousted president. Mediators from the un and African Union could not enter the country.
The civil war in Sudan that broke out in April has forced more than 4m people from their homes, including almost 900,000 who have fled to neighbouring countries, according to the un. The ongoing fighting has destroyed large parts of the capital, Khartoum.
Voters in the Central African Republic lifted a two-term constitutional limit on the president and extended each term from five to seven years. Opposition members questioned the result, which will allow Faustin-Archange Touadera to seek a third term as president.
Data breaches in Britain prompted calls for more vigilance. The Electoral Commission said that hackers had accessed internal emails and voter data. Separately, Northern Ireland's police force accidentally disclosed the names and locations of its staff. The sensitive information could imperil officers. Northern Ireland's terrorismthreat level was raised to the highest category this year.
Dozens of people were killed as wildfires swept across the Hawaiian island of Maui, destroying much of Lahaina, a historic tourist town. The flames were fanned by strong winds and drier-than-usual local conditions.
Voters in Ohio roundly rejected a ballot measure supported by the Republican legislature that would have made it harder to modify the state constitution. The real issue at stake was abortion. Another measure is being put forward for November that would insert a right to abortion in Ohio's constitution.
Stating the obvious
Ron DeSantis at last acknowledged that Donald Trump was defeated in the presidential election of 2020. "Of course he lost," exclaimed Mr Trump's main challenger for the Republican nomination in the next election. Mr DeSantis senses a new line of attack given Mr Trump's mounting legal woes. Many other Republicans still refuse to admit that Mr Trump lost.
The world this week Business
America escalated its tech wars with China when Joe Biden issued an executive order banning future privateequity and venture-capital investments in certain advanced technologies in China, namely artificial intelligence, quantum computing and semiconductors. All companies investing in those industries in China will also have to inform the government of their activities. The administration said the decision was taken on grounds of national security, but it risks undermining an effort to ease diplomatic tensions with Beijing.
China's consumer-price index fell by 0.3% in July, year on year. The index of factory-gate prices slumped by 4.4%. China had been teetering on the brink of deflation for months, as the rebound from lockdowns fizzled out. The value of Chinese exports declined by 14.5% in July at an annual rate, the biggest drop since the start of the pandemic.
The competition between America and Europe to attract investment in chipmaking heated up when tsmc, a big Taiwanese semiconductor company, said it would build a factory in Germany, tsmc is spending€3.sbn ($3.8bn) on the project; the German government is stumping up another €5bn. The eu recently approved the Chips Act, a package of subsidies that aims to double the eu's global share in chipmaking from 10% to "at least" 20% by 2030.
SoftBank's Vision Fund made its first investment gain in over a year during the latest quarter, though the Japanese tech conglomerate racked up another heavy net loss. SoftBank said it would begin to invest again, especially in ai, but would do so "timidly, with fear in our hearts". Meanwhile a slew of tech giants, including Amazon, Apple, Nvidia and Samsung, were reported to be lining up to take stakes in Arm, a chip designer, when SoftBank floats the firm on the stockmarket in September.
WeWork, one of SoftBank's worst bets in recent years, warned of a "substantial doubt" about its "ability to continue as a going concern". The provider of shared working spaces said that a surplus of commercial property and economic uncertainty had contributed to its problems. Its stock slumped. WeWork was once valued at $47bn. It is now worth around $275111.
Blown off course
Siemens Energy, a big provider of wind power, warned that its losses this year are expected to reach €4.5bn ($5bn) because of ongoing problems with rotor blades and bearings in certain onshore turbines. It also said that offshore projects "already committed to contractually cannot be completed profitably if implemented by the customer". Vestas, the world's biggest provider of wind turbines, reported a quarterly loss (though it hopes to turn an annual profit). As demand for wind power has soared, the industry is beset by rising costs, supply-chain problems and backlogs.
Novo Nordisk released the results from the latest trial of its obesity drug, Wegovy, which found that patients who took the treatment had a 20% lower chance of suffering a heart attack or stroke. Meanwhile Eli Lilly upped its revenue and profit forecasts amid surging sales of its diabetes and weight-loss medicine. The share prices of both companies hit record highs.
After a turbulent few years, during which it got caught up in Hong Kong's political upheavals and was hit hard by the pandemic, Cathay Pacific reported a six-month net profit of HK$4.3bn ($55om), its best first-half performance since 2010. The airline expects to reach 70% of its pre-pandemic capacity by the end of the year, compared with 3% a year ago.
Disney reported another drop in subscribers for its streaming services, but the business's loss in the latest quarter narrowed to $512m from over $1bn a year ago. The company announced more big price rises, lifting the cost of subscribing to the ad-free version of Disney+ by 27%.
Simon & Schuster, one of the big publishing houses in America, was sold to kkr, a private-equity firm, for $i.6bn. The deal comes less than a year after an attempt by Penguin Random House to take over its smaller rival was blocked on antitrust grounds.
Get back to your desk
Zoom has told employees to return to the office at least two days a week. In May the company's boss, Eric Yuan, said it was hard to force workers back and that letting "employees work anywhere has sort of become a fashion". Zoom's technology enabled the shift to remote working during the pandemic more than anything else. Lauded as a permanent change to working patterns, there is now a move by corporations to curtail the practice. Even America's federal government is clamping down on working from home.
Saudi Aramco's profit dived by 38% in the second quarter, year on year. The Saudi state oil company made a mere $зоbn.
---
скачать журнал: The Economist - 12 августа 2023
---