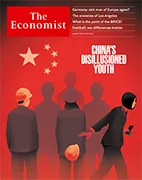 Год выпуска: август 2023
Автор: The Economist Newspaper and The Economist Group
Жанр: Экономика/Политика
Издательство: «The Economist Newspaper Ltd»
Формат: PDF (журнал на английском языке)
Качество: OCR
Количество страниц: 76
CHINA'S DISILLUSIONED YOUTH
China's young people are disenchanted and full of angst. That is bad for their country — and perhaps the world: leader, page 10.
Xi Jinping wants them to toughen up: briefing, page 16.
Germany: sick man of Europe again?
This is not 1999. But Germany's economic ailments are more serious than its politicians admit: leader, page 11.
The German economy used to inspire envy. Soon it will inspire concern, page 60.
The anxieties of Los Angeles
Hollywood's strikes point to the city's deep insecurity, page 27.
What is the point of the BRICS?
China's plan to expand the bloc is revealing the contradictions at its core, page 50.
Football: sex differences matter
Women are not simply men with long hair, even on the football pitch: leader, page 13.
Should women's football have different rules from the men's game? Page 70.
---
The world this week Politics
Donald Trump was hit with a fourth indictment. The front-runner in the Republican primary faces a total of 91 criminal charges. The latest blow comes from Georgia, where the former president and 18 others are accused of trying to overturn the swing state's election result in 2020. Fani Willis, Fulton County's district attorney, accuses Mr Trump of violating a racketeering act, more often used to ensnare mob bosses. He calls the indictment a "witch hunt".
The death toll from Hawaii's wildfires passed 100, making them America's deadliest in more than a century, and over 1,000 people remain missing. Thousands are homeless. The blaze was probably sparked by a knocked-down power line which remained live; residents sued Hawaiian Electric, the island's main utility.
A federal appeals court in New Orleans upheld restrictions on access to mifepristone, an abortion pill. It stopped short of banning the drug, as a lower court in Texas did in April. Before the order goes into effect it will probably return to the Supreme Court.
In one of the strongest legal decisions on climate change yet, a court in Montana ruled in favour of activists accusing the state of violating their constitutional right to a healthy environment. The plaintiffs, aged five to 22, blamed the state for favouring fossil fuels over renewables.
Javier Milei, a libertarian, took the most votes in a primary in Argentina, in which voters chose candidates to compete in presidential and legislative elections scheduled for October 22nd. Mr Milei, an economist who was only elected to Congress in 2021, presents himself as an anti-establishment choice. He wants to dollarise the economy and "blow up" the country's central bank. Its response to the poll result was to devalue the peso by 18%, and raise its policy interest rate by 21 percentage points, to 118%.
Italy announced plans to cap high-season air fares from the mainland to the islands of Sicily and Sardinia at 200% of their average prices. Europe's largest low-cost carrier, Ryanair, called the measure illegal. Airlines demanded that the European Commission step in. Markets were already jittery after Italy's hard-right government unveiled a surprise windfall tax on banks last week. Georgia Meloni, the prime minister, later took "full responsibility" for that decision, which shaved a tenth off the value of Italian bank stocks and was rolled back a day later.
Ukraine's president, Volodymyr Zelensky, fired all heads of regional recruitment centres in a crackdown on corruption. More than 30 officials face criminal charges for accepting bribes and smuggling people out of the country to avoid conscription.
Taking a grain check
The first loaded cargo ship passed through Ukraine's new humanitarian corridor in the Black Sea from the besieged port of Odessa. Russia has threatened to treat merchant ships as military targets. Earlier in the week a Russian warship entered Bulgarian waters to harass a Turkish freighter heading to Ukraine. Russia is also targeting Ukrainian ports on the Danube, which now handle a third of Ukraine's agricultural exports.
Germany's cabinet approved a plan to legalise the personal use and growing of cannabis. If the bill passes parliament, it will be one of the most liberal regimes in Europe. Adults would be allowed to possess 25 grams. The original plan was to let stores sell the drug, but distribution was scaled back to non-profit social clubs.
Iran released five Iranian-American citizens into house arrest in Tehran, the capital. They are expected to be freed when America unfreezes $6bn of Iranian assets and lets go several jailed Iranians. Iran said the prisoner swap could pave the way for an opening in other areas. The deal comes as the two countries remain unable to reach an agreement on Iran's nuclear programme.
A tanker adrift in the Red Sea since 2015 was drained of one million barrels of oil, averting the threat of a disastrous spill. The vessel was dumped off the coast of Yemen when war broke out in the country.
In Mali violent clashes were reported between Tuareg separatists and the army, backed by the Wagner Group of mercenaries. A peace agreement signed in 2015 is at severe risk as the un peacekeepers supporting the deal are withdrawing—at the Malian junta's request.
Army chiefs of countries in the Economic Community of West African States (ecowas) were due to meet on August 17th to consider using force to reverse a military coup in Niger. The junta said it is charging Mohamed Bazoum, the deposed president, with treason.
Police in Zimbabwe have arrested 40 members of the opposition Citizens Coalition for Change ahead of a general election scheduled for August
23rd. Opposition meetings have also been banned.
North Korea acknowledged its custody of Travis King, an American soldier and criminal who dashed across the border from South Korea in July. The regime said he was escaping "inhuman maltreatment and racial discrimination" in America's army.
Thailand's Move Forward party, which won the country's parliamentary elections in May, had its hopes of leading the next government dashed. The constitutional court rejected its appeal of a decision by the military-controlled senate to block the progressive party's leader, Pita Limjaroenrat, from becoming prime minister. Move Forward refuses to back its former coalition partner and runner-up, Pheu Thai. The verdict clears the way for parliament to pick a new leader next week.
Typhoon Lan wreaked havoc in Japan. Nearly 900 flights were cancelled as it made landfall on Tuesday and 240,000 people were evacuated; power was cut off from 90,000 homes in central and western Japan.
A drop in the ocean
Britain removed 39 migrants from the Bibby Stockholm, a barge intended for 500 occupants that is moored off Dorset, after a lung-infecting bacteria was found in its water system. The debacle with the barge is mostly of symbolic importance. A backlog of 172,000 applications from asylum-seekers, 50,000 of whom are being housed in hotels, needs clearing. More than 100 migrants cross the Channel on a typical day.
Average water temperatures in the Gulf of Mexico reached 31.1°C (88°F), the hottest on record. Coastal cities are suffocating. Warmer waters could produce a busier hurricane season, now approaching its peak weeks.
The world this week Business
China's central bank unexpectedly cut interest rates as new data shed light on the country's flagging economy. Industrial production and retail sales during July both fell short of predictions. Nationwide unemployment increased to 5.3% and authorities suspended reporting of figures on youth unemployment, which stood at 21.3% in June.
In a sign of further distress in China's property sector, Country Garden, one of the country's largest developers, sank into crisis. The firm expects to post a loss of up to 55bn yuan ($7.5bn) for the first half of 2023 and suspended trading in some of its bonds, having missed coupon payments earlier this month.
Britain's annual rate of inflation stood at 6.8% in July, down from 7.9% in June. Lower household energy bills contributed to the sharp drop. Core inflation, which strips out energy and food prices, was unchanged at 6.9%. Annual wage growth was 7.8% during the three months to June, the highest since comparable records began in 2001.
A big scrap
Bidders are circling United States Steel. The 122-year-old American industrial firm rejected an approach from Cleveland-Cliffs, another big steelmaker. Esmark, a privately held conglomerate, also announced an offer to buy the firm for $7.8bn.
In the latest example of dealmakers falling foul of geopolitical tensions between America and China, Intel axed its acquisition of Tower Semicon-
ductor after failing to secure necessary approvals from Chinese regulators. The American chipmaker will pay Tower Semiconductor, an Israeli firm, a $353m fee for terminating the transaction, which was announced in February 2022.
Russia's central bank raised interest rates by 3.5 percentage points to 12%. The move followed a collapse in the rouble, which fell past the value of 100 to the dollar. Consumer prices rose at an annualised rate of 7.6% during the past three months, above the bank's target of 4%.
Occidental agreed to buy Carbon Engineering, a Canadian startup. The energy firm, which counts Berkshire Hathaway as its largest shareholder, will pay $1.1bn for the carbon-capture concern.
VinFast, a Vietnamese electric-vehicle manufacturer, made its stockmarket debut on the Nasdaq. Shares in the lossmaking firm surged in a debut reminiscent of headier times for American equity markets. VinFast listed by merging with a special-purpose acquisition company and counts Pham Nhat Vuong, Vietnam's richest man, as its controlling shareholder.
The American arm of BDO, an accountancy firm, abandoned its traditional partnership structure. The firm tapped Apollo, a private-markets giant, for funding as part of the reorganisation. In another example of private equity's interest in professional-services firms, EY reportedly rejected a proposal by TPG, a privateequity firm, to invest in its consulting arm after abandoning a plan to spin off the business earlier this year.
UBS terminated an agreement with the Swiss government designed to protect the bank against losses stemming from its acquisition of Credit Suisse. The agreement, which was signed before the deal closed in June, required authorities to shoulder up to SF19bn ($10.2bn) of potential losses. UBS also ended a SFr100bn liquidity agreement with Switzerland's central bank and agreed to pay American authorities $1.4bn to settle a long-running case relating to its legacy mortgage-backed securities business.
Tencent reported a 41% year-on-year increase in profits during the second quarter. Despite a surge in income from online advertising, revenue growth at China's biggest internet firm, of 11%, fell short of expectations.
America's Commerce Department said that its measure of national retail sales increased by 0.7% in July, compared with a month earlier, as consumers continued to hold up better than expected. Investors also pored over minutes from the July meeting of the Federal Reserve's rate-setting committee, during which some participants voiced concerns about risks to economic activity.
Target posted better than expected quarterly results. However, the retailer still reported a 5.4% decline in sales compared with the previous year, driven partly by a customer backlash against the firm's Pride Month products. The firm also lowered its profit guidance for the year.
Aussie rules
Industrial action by workers in Australia threatened to disrupt the global supply of liquefied natural gas. Talks between workers and Woodside Energy Group, an Australian supplier, are ongoing. The threat of disruption was enough to cause a spike in the price of natural-gas futures.
---
скачать журнал: The Economist - 19 августа 2023
---