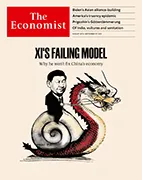 Год выпуска: август 2023
Автор: The Economist Newspaper and The Economist Group
Жанр: Экономика/Политика
Издательство: «The Economist Newspaper Ltd»
Формат: PDF (журнал на английском языке)
Качество: OCR
Количество страниц: 76
XI'S FAILING MODEL
Why he won't fix China's economy
China's economy is suffering because an increasingly autocratic government is making bad decisions: leader, page 9.
Why economic remedies are politically unpalatable, page 58.
What China's troubles mean for the rest of the world, page 61.
Biden's Asian alliance-building
America's president is transforming his country's relationships in Asia: leader, page 11.
Australia is America's new launch-pad. Some Australians are worried, page 27.
America's truancy epidemic
Covid-19 has faded, but American children are still missing far too much school, page 19.
Prigozhin's Gotterdammerung
A healthy country uses justice to restore order. Mr Putin uses violence instead, page 10.
The Wagner boss's death shows today's Russia for what it is: a mafia state, page 39.
Of India, vultures and sanitation
The sudden demise of Indian vultures killed thousands of people: Graphic detail, page 77.
Bindeshwar Pathak, social reformer and champion of proper toilets in India: obituary, page 78.
---
The world this week Politics
Yevgeny Prigozhin, the leader of the Wagner Group of Russian-backed mercenaries, was presumed to have been killed when a private plane he was travelling in crashed north of Moscow. Two months ago Mr Prigozhin led a rebellion of his men, resulting in a short "march on Moscow" and skirmishes with Russian troops, because he was unhappy with the direction of the war in Ukraine. Vladimir Putin called him a traitor; it was said to be only a matter of time before the Russian president would exact his revenge.
The Biden administration gave approval for Denmark and the Netherlands to send F-16s to Ukraine, the first time America has allowed the transfer of the American-made fighter aircraft after months of entreaties from Kyiv. The jets will not be deployed for some time, as Ukrainian pilots need training to fly them.
President Volodymyr Zelensky said his country will use the jets "to keep Russian terrorists away from Ukrainian cities and villages". His comments came after a Russian missile attack on a theatre in Chernihiv, a city in northern Ukraine, killed seven people and injured 144 others. Meanwhile Ukraine carried out more drone attacks on Russia.
Around half a million Russian and Ukrainian troops are now thought to have been killed or injured since the war in Ukraine began in February last year, according to American officials cited in the American press. The numbers have soared since last November, when America estimated that each side had suffered 100,000 dead or wounded. Now 120,000 Russian soldiers are believed to have died as well as 70,000 Ukrainian ones.
America, Britain and France condemned an assault on UN peacekeepers in the buffer zone that divides the Turkish-occupied north of Cyprus from the Greek-Cypriot south. Turk-ish-Cypriots injured three peacekeepers who had been trying to stop the unauthorised construction of a road and used bulldozers to smash UN vehicles.
The bodies of 18 suspected illegal migrants were found in a building scorched by wildfires in northern Greece, close to the Turkish border.
Thaksin times
Srettha Thavisin became Thailand's new prime minister. Mr Srettha comes from the populist Pheu Thai party, which came second in May's election. The candidate of the winning party, Move Forward, was prevented from getting the job by the conservative establishment. Mr Srettha's elevation was made possible by a deal with the army that allowed Thaksin Shinawatra, who was ousted as prime minister in a coup in 2006 and is connected with Pheu Thai, to return from exile. Mr Thaksin was promptly jailed for corruption, but is expected to be released soon. The day after being imprisoned he was sent to a hospital.
The prime minister of Japan, Kishida Fumio, and the president of South Korea, Yoon Suk-yeol, joined Joe Biden for a summit at Camp David. The three allies agreed to strengthen their security ties, such as by holding military exercises once a year. In a statement they condemned China's "dangerous and aggressive behaviour" in the South China Sea.
The new rapprochement between Japan and South Korea is being tested by Japan's decision to release treated radioactive water from the damaged
Fukushima nuclear plant into the sea. Japan's closest neighbours think it will harm fish, though the UN nuclear watchdog says it is safe. China has banned all Japanese seafood.
The UN mission in Afghanistan said that 218 officials from the armed forces, police and former government had been killed since the Taliban regained power in 2021.
The Republican presidential candidates held their first primary debate. Eight candidates took part, but not Donald Trump, who says he won't attend any of the party's debates because the "public knows who I am". Mr Trump may also have been too busy preparing to surrender to the authorities in Atlanta on charges that he tried to overturn the presidential-election result in Georgia in 2020.
Bernardo Arevalo, a reformer who ran on an anti-corruption platform, won Guatemala's presidential election with a landslide, taking 61% of the vote. Mr Arevalo, the son of the country's first democratically elected president, presented himself as an outsider to the political elite.
In Ecuador the presidential election will now head to a run-off in October. The two candidates who will compete are Luisa Gonzalez, a protegee of Rafael Correa, a former left-wing populist president, and Daniel Noboa, a 35-year-old who was polling in single digits shortly before the vote.
Unholy orders
Nicaragua's dictator, Daniel Ortega, intensified his crackdown on the Catholic church by seizing Central American University (UCA), a Jesuit-run college, and, a few days later, evicting six Jesuits from their residence in Managua, the capital. The church has drawn the regime's ire for criticising Mr Ortega's increasing political repression. Last year he imprisoned a prominent bishop on charges of treason.
The BRICS group of countries (Brazil, Russia, India, China and South Africa) invited six new nations to join them, including Iran and Saudi Arabia. Vladimir Putin did not attend the group's meeting in Johannesburg, South Africa's commercial capital, as he risked being arrested there under a warrant of the International Criminal Court. But he sent a message saying Russia was ready to pick up the slack from Ukraine as a global supplier of grain.
The African Union called on its members to refrain from any action that could legitimise the military junta which took power in Niger last month. The Economic Community of West African States rejected a proposal by the coup leaders to relinquish power in three years.
Zimbabwe held presidential and parliamentary elections amid fears that the result would once again be rigged in favour of President Emmerson Mnangagwa and the ruling Zanu-PF that has run the country since independence in 1980. The main challenger is Nelson Chamisa and his Citizens Coalition for Change.
India became the fourth country to carry out a landing on the Moon, and the first to land near its south pole. The Chandrayaan-3 mission landed a rover which will gather data from the lunar surface and try to establish whether craters in the area hold frozen water. India's success came a few days after a Russian spacecraft, Russia's first Moon mission in 47 years, crashed as it prepared to land.
The world this week Business
Arm published a prospectus for its blockbuster IPO on the Nasdaq exchange next month. SoftBank, a Japanese tech conglomerate, bought the British chip designer in 2016 for $31bn. It is expected to be worth between $60bn and $70bn when it makes its Nasdaq debut. Arm's chip architecture is used in 99% of the world's smartphones. Although that market has slowed, tech titans such as Amazon, Apple and Nvidia are reportedly interested in taking big stakes in the company.
Chips with everything
The superlatives came thick and fast when Nvidia released quarterly earnings. Revenue more than doubled at the maker of chips for AI, year on year, to $13.5bn. Perhaps that is no surprise, given that just one of Nvidia's H100 chips can cost upwards of $40,000. It is delighting investors by buying back $25bn-worth of stock.
Britain's Competition and Markets Authority cleared Broadcom's proposed $69bn takeover of VMware, a month after regulators in the EU gave their approval. America's Federal Trade Commission is still scrutinising the deal, which was announced 15 months ago. Separately, Microsoft submitted a restructured proposal for its takeover of Activision Blizzard to the CMA in the hope of getting the regulator's blessing, after it said it would block the deal.
Meta rolled out a web version of its Threads social-media platform. Threads was launched as an alternative to Twitter (now X) last month. Over 100m people signed up to the app in the first few days, but since that initial hullabaloo the number of active daily users has reportedly plummeted, to below 10m. It is still not available in the EU, probably because of the region's tough regulations on data privacy.
Markets reacted positively to Zoom's latest quarterly earnings, as it raised its forecast for the full year. The video-conferencing company has been struggling to adapt to the end of the pandemic, when remote working caused its business to soar, though it is expanding its range of services through the use of artificial intelligence and has invested in Anthropic, an AI startup founded by former employees of OpenAI.
Investors eagerly awaited a speech by Jerome Powell, the chairman of the Federal Reserve, at the Jackson Hole symposium for clues about the future direction of interest rates. The yield on American ten-year government bonds hit a 16-year high, as markets continued to bet that favourable economic conditions will allow the Fed to keep rates around their current level.
China's central bank disappointed markets when it cut a key interest rate by a smaller amount than had been expected. The People's Bank of China reduced the one-year loan prime rate by just a tenth of one percentage point and left the five-year rate unchanged. That led investors to surmise that the government is more interested in protecting bank profits than in stimulating the economy. A package of reforms from the country's securities regulator, such as extending market-trading hours, also failed to inspire.
Underlying profit at BHP for the 12 months ending June 30th fell to $13.4bn, the lowest in three years. The mining company said that conditions in the iron-ore market for the rest of the year would depend in part on "how effectively China's stimulus policy is implemented".
China's economic woes are in part the result of an increasingly unstable property industry. Now Evergrande, a big developer which rattled markets two years ago when it defaulted on its debt, has filed for bankruptcy protection in New York to protect it from creditors in America. The company has over $300bn in liabilities, a fraction of which is held by foreign investors. The news comes as fears mount that Country Garden, another huge developer, is heading towards a default.
Mukesh Ambani seemed to have made a rare misstep when the IPO of his Jio Financial Services flopped on the Mumbai exchange. JFS was spun out of the Indian tycoon's Reliance Industries, and is the first demerger of a Reliance business in 20 years. But investors are not sure that it can compete against bigger, established non-banking financial companies.
Subway was rumoured to be on the verge of being sold to a private-equity firm for around $10bn. The sandwich chain has been owned by its two founding families since 1965.
Will it work?
WeWork announced a stock swap of 40 of its existing shares for one new one in an attempt to lift its share price above $1, the floor for listing on the New York Stock Exchange. The provider of shared working spaces has warned about its ability to continue as a going concern. Its stock dropped below $1 in March and is now worth around 12 cents. The post-split shares will start trading on September 5th.
---
скачать журнал: The Economist - 26 августа 2023
---