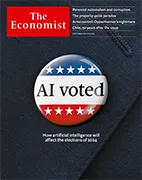 Год выпуска: сентябрь 2023
Автор: The Economist Newspaper and The Economist Group
Жанр: Экономика/Политика
Издательство: «The Economist Newspaper Ltd»
Формат: PDF (журнал на английском языке)
Качество: OCR
Количество страниц: 72
AI voted
How artificial intelligence will affect the elections of 2024
How artificial intelligence will affect political contests in 2024: leader, page 7.
AI will change American elections, but not in the obvious way, page 19.
Paranoid nationalism and corruption
Cynical leaders are scaremongering to win and abuse power: leader, page 8.
Rising paranoia not only makes governments nastier, it also lets them be more crooked: briefing, page 15.
Why Asian democracies decline: Banyan, page 32.
The property-price paradox
Mortgage payments are soaring, but house prices in America remain high. What is going on? Page 58.
High interest rates have broken mortgage markets. Here's how to fix them: leader, page 9.
Arms control: Oppenheimer's nightmare
America, China and Russia must agree on mutual restraints before it's too late: leader, page 9.
The coming nuclear contest will be harder to stop than the one during the cold war, page 49.
Chile, 50 years after the coup
The country is still haunted by what happened in 1973, and is at odds over how to mark it, page 25.
---
The world this week Politics
Soldiers in Gabon seized power days after a presidential election returned the incumbent, Ali Bongo, to office in a ballot that was widely deemed fraudulent as usual. Mr Bongo's father had ruled from 1967 until his death in 2009, when his son inherited the post. It is the eighth coup in west and central Africa since 2020, following one in Niger in July. Others include Burkina Faso, Chad, Guinea and Mali. France is watching nervously, since it has a military base in Libreville, Gabon's capital, and has seen coup-led regimes expel its forces from Burkina Faso and Mali.
Security across much of Mali continued to deteriorate, as 13,000 un peacekeepers and police continued to be drawn down; the ruling junta has ordered them all out by the end of the year. Following the death of Yevgeny Prigozhin, head of the Wagner mercenary group, which has been active in Mali, Russia pledged to keep giving "comprehensive assistance" to the country. The historic Malian city of Timbuktu, facing a blockade by jihadists, was short of food.
Zimbabwe's electoral commission declared the incumbent president, Emmerson Mnangagwa, who overthrew Robert Mugabe in a coup in 2017, to have won re-election. The commission said Mr Mnangagwa defeated Nelson Chamisa, the main challenger, by 53% to 44%. Independent observers, supported by the Southern African Development Community, a regional club which had previously whitewashed elections in Zimbabwe, castigated the conduct of the poll.
Libya's internationally recognised government based in Tripoli sacked its foreign minister, after protests erupted in several cities when it was revealed that she had held clandestine talks in Italy with her Israeli counterpart, presumably to discuss opening diplomatic relations.
At least 73 people died when a fire broke out in a building that was being used by squatters in central Johannesburg, South Africa's commercial capital. It is thought that most of the dead were migrants.
Ukraine stepped up its drone attacks on Russia, hitting six regions in just one night. Russia conducted its most intense bombardment of Kyiv for several months, firing missiles and drones to terrorise the city's residents. Meanwhile the Ukrainian army said it had recaptured the village of Robotyne in the south-east of the country. Russia said it had beaten back the assault.
A private ceremony was held to bury Yevgeny Prigozhin in St Petersburg. The Kremlin continued to deny that it had arranged for the leader of the Wagner Group to be killed in a plane crash. Vladimir Putin did not attend the funeral.
The French education minister, Gabriel Attal, announced that Muslim girls will not be allowed to wear the abaya, a loose-fitting full-length robe, in schools. Headscarves are already banned in French schools. Mr Attal argues that secularism means "freedom to emancipate oneself at school", but the move has been condemned on the left, with one MP saying the government had become the "clothes police".
A display of enmity among the European Union's institutions came to the fore when the European Commission slapped down remarks made by Charles Michel, the president of the European Council, about enlargement. Mr Michel's comment that the eu must be ready to extend its membership by 2030 were swiftly rebuffed by the commission, which said it wasn't focused on a date. A summit in October will discuss the candidate countries, which include Ukraine and Moldova.
An early spring
The start of Donald Trump's federal trial for conspiring to overturn the result of the presidential election three years ago has been set for March 4th. Mr Trump's lawyers had asked that it be pushed back to 2026, but the judge ruled that a speedy trial was in society's interest. March 4th is the day before Super Tuesday, when over a dozen states will hold party primaries.
A 21-year-old white man shot dead three black people at a store in Jacksonville, Florida, before taking his own life. The gunman's motivation for murder was racial hatred. He had been briefly detained in 2017 for a mental-health issue.
Bernardo Arevalo became Guatemala's president-elect after the results from a recent election were officially certified. The reformer is one step closer to taking power in January, but more challenges from a group of corrupt elites trying to block him from office are in the works. Semilla, his party, has been suspended, and Mr Arevalo and his vice-president face credible threats to their lives.
Terry Gou shook up the race to be Taiwan's next president by declaring his candidacy as an independent. The founder of Foxconn, which assembles the iPhone and other devices, failed this year for the second time to secure the candidacy of the Kuomintang (kmt) party, which favours closer relations with China. The front-runner for January's poll remains Lai Ching-te, the vice-president from the ruling Democratic Progressive Party, and the only candidate who takes a tough line on China.
Meanwhile Taiwan warned of the potential for a "sharp increase" in military tensions with China, as 12 Chinese aircraft crossed into its air-defence zone.
A court in Pakistan suspended Imran Khan's conviction on corruption charges pending his appeal in the case. But the former prime minister will remain in jail as he is on remand in another case. Mr Khan says the 100 or so charges brought against him since he was ousted from power last year are politically motivated.
Australia set October 14th as the date for a referendum on whether the constitution should be altered to create an advisory body for Aboriginals and Torres Strait Islanders. Opinion polls point to rising support for a no vote.
Grant Shapps was appointed as Britain's new defence secretary. He replaces the widely respected Ben Wallace, who at one point was considered for the job Of NATO secretary-general.
Green light, red light
London's ultra-low emission zone was expanded to all the city's boroughs. Now all drivers of cars that do not meet certain emissions standards will be charged. The expansion is unpopular in outer London, which is poorer than inner London, and comes amid cost-of-living concerns. Despite calls from his Labour Party to reconsider, the mayor, Sadiq Khan, remained resolute in pressing ahead with the scheme. But the backlash has caused Mr Khan to shelve plans for zero-emission zones in the city.
The world this week Business
UBS reported a whopping second-quarter net profit of $29bn, almost all of it a gain from its takeover of Credit Suisse, which it bought at a knock-down price in an emergency rescue backed by the Swiss government, UBS also laid out plans to fully absorb Credit Suisse's domestic operations, a controversial move that will lead to thousands of job losses.
Sweden's economy was o.8% smaller in the second quarter than in the previous three months, though the contraction was not as bad as had been feared. The country exported fewer goods and household consumption shrank again, as the central bank's sharp rises in interest rates took hold.
Turkey's central bank raised its key interest rate from 17.5% to 25%, a much bigger increase than markets had expected. The bank has shifted towards a more orthodox monetary policy under the new governor, Hafize Gaye Erkan, in order to combat inflation, which is on the rise again (the annual rate soared to 47.8% in July). The bank says it will continue to tighten monetary policy "as much as needed" until the inflation outlook improves. The Turkish lira rose against the dollar but later gave up some of its gains.
The Biden administration unveiled the first prescription medicines for which Medicare officials will, in effect, set the price they pay drug companies. The list includes treatments for diabetes, arthritis and the prevention of strokes. They were chosen because they account for a big share of Medicare spending and do not face competition in the market. Pharmaceutical firms have filed a court case against the scheme, arguing that it is unconstitutional.
Rite Aid's share price plunged amid reports that it is preparing to file for bankruptcy protection to restructure its debts, including any liabilities it incurs over claims it contributed to the opioid epidemic. Rite Aid is one of America's biggest pharmacy chains.
This is not a wind up
The market for Rolex watches looks set for a shake-up. The Swiss manufacturer of luxury timepieces said it was acquiring Bucherer, which operates stores in high-end locations around the world that sell Rolexes as well as its own merchandise, leading to speculation that Rolex is planning to sell more of its watches directly to consumers. The share price of Watches of Switzerland, a rival retailer to Bucherer, slumped.
One of the biggest-ever lawsuits against a company reached a settlement when 3м agreed to pay $6bn to 250,000 former servicemen over faulty earplugs. The earplugs, made by a firm that 3м bought in 2008, were distributed to troops during the conflicts in Afghanistan and Iraq, but the servicemen claim that the noise mufflers failed to prevent a loss of hearing. The agreement is not an admission of liability by 3M. A further 50,000 claims were dismissed by a judge.
Countries in the European Union are buying significantly more Russian liquefied natural gas, according to Global Witness, an international ngo. During the first seven months of this year the eu bought 22m cubic metres of Russian lng, up by 40% compared with the same period in 2021. Spain and Belgium were the world's second- and third-biggest importers, just behind China. Global Witness said that buying Russian gas has "the same impact as buying Russian oil. Both fund the war in Ukraine."
byd's net profit surged by 205% in the first half of the year, compared with the same six months in 2022. The Chinese maker of electric vehicles is making a big push outside its domestic market, where it accounts for 37% of ev sales, into Europe. China is expected to overtake Japan as the world's biggest exporter of cars this year.
Instacart filed for an ipo on the Nasdaq stock exchange. The public listing of the online grocery-delivery firm is being seen as another fillip for the ipo market for tech firms ahead of the flotation of Arm, a chip designer.
To the delight of anyone who has been stuck on a plane, the American government fined American Airlines $4.im for keeping dozens of flights on the ground for lengthy periods and not allowing people to get off. In one case passengers were held for six hours. It is the largest penalty imposed on an airline for violating the "tarmac-delay rule".
A meaty case
A federal judge in Miami allowed a class-action lawsuit to proceed against Burger King from customers who claim that its Whopper is smaller than the one depicted on store menus. The judge ruled that a jury should decide "what reasonable people think" in the matter (if the case is not settled). Lawyers say the misadvertised smaller burgers have left their clients "financially damaged" and are seeking millions in compensation. The fast-food chain says the plaintiffs' claims are "false".
---
скачать журнал: The Economist - 2 сентября 2023
---