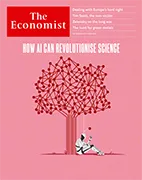 Год выпуска: сентябрь 2023
Автор: The Economist Newspaper and The Economist Group
Жанр: Экономика/Политика
Издательство: «The Economist Newspaper Ltd»
Формат: PDF (журнал на английском языке)
Качество: OCR
Количество страниц: 76
HOW Al CAN REVOLUTIONISE SCIENCE
Artificial intelligence is being applied in many fields—and could lead to a surge in scientific progress: leader. page 11.
How scientists use AI today, page 64.
How AI can change how science is done in future, page 67.
Douglas Lenat, writer of common sense into computers: obituary, page 78.
Dealing with Europe's hard right
Europe is facing a new wave of right-wing populism. Centrists need a new plan: leader, page 12.
The hard right is getting closer to power all over Europe: briefing, page 18.
Grubby politics destroyed moderate Conservatism in Britain. Only grubby politics can save it: Bagehot, page 49.
Tim Scott, the non-victim
A black Republican offers moral uplift, not Trumpian grievance: Lexington, page 26.
Zelensky on the long war
In an interview with The Economist, Ukraine's president says he fears that some of his country's Western backers are losing faith, page 42.
Slow progress on the battlefield prompts quarrels over strategy, page 50.
The hunt for green metals
Will there be shortages of raw materials for the energy transition? page 56.
---
The world this week Politics
More than 5300 people died and many thousands more were missing after floods burst two dams and swept through the Libyan port city of Derna. Entire neighbourhoods were wiped out. Earlier, another disaster struck north Africa when Morocco was hit by its worst earthquake in more than a century near the city of Marrakesh. At least 2.900 have been killed. The government has rejected or ignored some international offers of aid.
For the first time in its history all 15 of Israel's Supreme Court justices convened for a case. They began hearing petitions against a law passed in July that dramatically limits the powers of the judiciary.
America waived sanctions on certain banks to allow the transfer of $6bn in frozen funds to Iran from South Korea as part of a prisoner-exchange deal. Antony Blinken, America's secretary of state, said that five Americans held by Iran would be released. Iran can only use the money for humanitarian purposes.
Armed secessionist groups in northern Mali attacked posts controlled by the army and Wagner, a Russian mercenary group, leaving a peace deal signed in 2015 in tatters. The junta running Mali has ordered UN peacekeepers to leave the country by the end of the year and recently sent troops and mercenaries into the UN's evacuated bases.
Mangosuthu Buthelezi. a powerful and controversial figure in the years leading to the end of apartheid in South Africa, died at the age of 95. Mr Buthelezi. the great-grandson of King Cetshwayo, who inflicted a stinging military defeat on the British in the late 19th century, stoked up Zulu nationalism and ethnic conflict that led to thousands of deaths in the 1980s and 1990s.
Bernardo Arevalo, Guatemala's president-elect, suspended the transition to his inauguration in January, in protest at a raid on the electoral commission by agents of the attorney-general's office, who photographed ballots. Mr Ardvalo, an anti-establishment candidate. was the surprise winner of August's election.
Chile commemorated the 50th anniversary of a coup that overthrew the elected government of Salvador Allende, a socialist, and led to 17 years of rule by Augusto Pinochet, a right-wing dictator. The regime murdered several thousand people and tortured at least 30.000.
The area of Colombia planted with coca bushes rose by 13% in 2022 to reach a record high, according to the UN Office on Drugs and Crime. Colombia's left-wing president. Gustavo Petro, is a critic of the "waron drugs" led by America.
Ukraine attacked a shipyard in the Crimean port of Sevastopol, severely damaging two Russian vessels, one of them a submarine. Russian officials said Russia had destroyed most of the cruise missiles Ukraine fired in the attack.
The final declaration of the G20 summit in Delhi omitted any censu re of Russian aggression in Ukraine, deleting the condemnation that was included in last year's statement. India's external affairs minister said there were "multiple views" on the war. The African Union was admitted as a permanent member of the C20 in response to complaints by African countries that they are underrepresented in multilateral institutions. Joe Biden held talks with Li Qiang, China's prime minister, after Xi Jinping decided not to attend.
After the summit Mr Biden travelled to Vietnam, where the government upgraded its formal relationship with America to the highest level. The two countries signed business deals, focusing on technology and artificial intelligence and involving firms such as Boeing, Microsoft and Nvidia. China is not happy.
Bessie mates
A meeting of very different minds took placeat Russia's Vostochny cosmodrome, where Kim Jong Un, North Korea's dictator, and Vladimir Putin, his Russian counterpart. held talks. It was Mr Kim's first trip abroad in four years. The pair are thought to have discussed sending North Korean arms to Russia for its waron Ukraine. "We will be together in the fight against imperialism." said Mr Kim, without a trace of irony.
Japan's prime minister, Kishida Fumio, reshuffled his cabinet, appointing Kamikawa Yoko as foreign minister, a rare appointment of a woman to a senior government post (a quarter of the jobs in rhe cabinet went to women). Kihara Minoru, who is pro-Taiwan and has visited the island, was made defence minister.
Thailand's new prime minister, Srettha Thavisin, unveiled a raft of populist policies as he laid out his government's agenda. The policies includea moratorium on farm debt and lower fuel prices.
In the Philippines Maria Ressa, an investigative journalist and winner of the Nobel peace prize, was acquitted of tax evasion. Ms Ressa has now been cleared of all tax charges laid against herby the administration of the former president. Rodrigo Duterte, though she is appealing against a cyber-libel conviction.
A presidential election in the Maldives produced a surprise when Mohamed Muizzu, the opposition candidate, took 46% of the vote against 39% for Ibrahim Mohamed Solih, the incumbent. Mr Muizzu is pro-China; Mr Solih is pro-India. A run-off will be held on September 30th.
It emerged that a British parliamentary researcher had been arrested in March on suspicion of spying for the Chinese government. Rishi Sunak, Britain's prime minister. said that attempts to undermine British democracy were "completely unacceptable and will never be tolerated", but stopped short of callingChina a threat.
Norway's governing Labour Party came second in local and regional elections to the centre-right Hoyre party, the first time Labour has failed to lead In nationwide municipal elections since 1924. It even lost in Oslo. The antiimmigration Progress Party came third, increasing its share of the vote.
Sounding all too familiar
Kevin McCarthy, the Republican speaker of America's House of Representatives, announced the start of an impeachment investigation into Joe Biden, claiming that the president Iied about the activities of his son. Hunter Biden. Far-right Republicans wanted the investigation.
Mitt Romney announced his retirement as a senator when his current term expires. The former Republican presidential candidate said that, at 76. he was getting too old. "Frankly, it's time for a new generation of leaders," he mused, a message that seems lost on Joe Biden (80) and Donald Trump (77)
The world this week Business
Google went on trial in Washington. in the biggest antitrust case brought against a tech company since Microsoft's trial in 199#· In its opening statement the Department of Justice said that Google had illegally sought to maintain its monopoly in internet search, giving it a 90% share of the market, and asked whether Google "will ever face meaningful competition". It accused Google of striking deals with internet and phone companies to display its search engine prominently. Google denies wrongdoing, and argues that "forcing people to use inferior products" does not constitute competition. The trial is expected to last ten weeks.
Lightning changes
Apple launched the iPhone 15. The new device replaces Apple's Lightning connector with use-с. a change forced on Appleby the European Union, which has ruled that all phones must use the standard port. People who buy the 15 will have to ditch their Lightning accessories, such as speaker docks, but the new phone will be able to connect to a wider range of devices using usb-c.
Arm priced its 1 po at $51 a share, the top end of its price range, just ahead of its debut on the Nasdaq exchange. The eagerly awaited share offering of the British chip designer was heavily oversubscribed. Meanwhile Instacart said it hoped to price its shares in another hotly anticipated tech IPO at a range of between $26 to $28. The online-groceries firm is aiming for a valuation of S9 3bn. far below the $39bn it was said to be worth in 2021.
The president of the European Commission. Ursula von der Leyen, announced that the commission would investigate subsidies given to Chinese makers of electric vehicles, which have "flooded" global markets. European manufacturers of evs were being undercut by state subsidies in China, she said. Chinese carmakers. such as BYD, have overtaken their American and European rivals in bringing cheaper evs to market, anc are expanding rapidly overseas as a consequence.
Bernard Looney abruptly resigned as chief executive of bp. The energy giant said ii was reviewing fresh claims of Mr Looney's conduct in personal relationships with colleagues, and that he had not been fully transparent in previous disclosures. Mr Looney became CEO in 2020. boosting bp's commitment to renewables with an aim to reach net-zero emissions by 2050. His departure comes amid mounting scepticism among green investors about bp's pledges.
The British government's latest auction of contracts for offshore-wind projects failed to win a single bid. Although the government increased the amount of subsidy available, contractors claimed it was not enough to offset their spiralling costs.
Daniel Zhang unexpectedly quit as the head of Alibaba's cloud-computing division, less than three months after the company said he would step down as chief executive to focus on the role. Eddie Wu. the new CEO, will now also control thecloud business. The news, ahead of the Chinese tech giant's plan to split in six. rattled investors.
America's annual rate of inflation jumped in August, to 3.7%. the second month in a row the rate has risen following a year of consistent declines. Most of August's increase is explained by costlier petrol, the result of the decision by Saudi Arabia and Russia to cut oil output. The Federal Reserve is more interested in the core rate of inflation, which strips out volatile food and energy prices. That dropped in August, to 4.3%.
A judge in New York ordered Argentina to pay Si6bn to two former shareholders in ypf, an oil company that the Argentine government renationalised in 2012. A ruling in March found the renationalisation to be unlawful. Argentina, which had argued that the case was outside the jurisdiction of American courts, is to appeal against the judge's decision.
Norway's sovereign-wealth fund, the world's biggest, has become the largest shareholder in υes, with a 5% stake. The Swiss bank is expected to resume share buybacks next year following its recent takeover of Cred it Suisse.
Wilko is to shut up shop, six weeks after falling into administration. Various offers fell through for the householdgoods chain, probably making 12,500 staff redundant. It is one of the biggest retail collapses in Britain over the past decade. The family firm, founded in 1930. struggled to compete with newer rivals.
On the front foot
Birkenstock took steps to list on the stockmarket. The German maker of hipster sandals filed papers for an iroon the New York Stock Exchange which will probably take place in mid-October, a blow to European bourses that had hoped to attract the ottering. Birkenstock is reportedly aiming for a valuation of $8bn. It will list under the tracker symbol Birk.
---
скачать журнал: The Economist - 16 сентября 2023
---