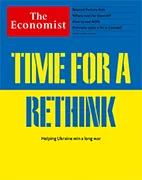 Год выпуска: сентябрь 2023
Автор: The Economist Newspaper and The Economist Group
Жанр: Экономика/Политика
Издательство: «The Economist Newspaper Ltd»
Формат: PDF (журнал на английском языке)
Качество: OCR
Количество страниц: 76
Time for a rethink
Helping Ukraine win a long war
Ukraine and its allies need a new plan: leader, page 9.
To endure a long war, the country is remaking its army, economy and society, page 18.
Aid for the war effort is likely to dip next year, page 20.
Beyond Factory Asia
Economies in Asia are coming closer together, with profound consequences for the world: leader, page 10.
How the continent at the heart of globalisation is reinventing it self, page 60.
Richer countries helping poorer ones will shape geopolitics in the region, page 37.
Where next for Open AI?
ChatGPT mania may be cooling, but a new industry is taking shape: leader, page 72.
What the business of AI's leading startup says about the technology's future, page 53.
Howto end AIDS
High-risk countries will need to start jabbing schoolgirls: leader, page 14.
HIV can decontrolled, with a mix of high and low tech, page 39.
Did India order a hit in Canada?
If it did, there must be consequences: leader, page 12.
A devastating accusation by Canada calls into question India's ties with the West, page 33.
---
The world this week Politics
Canada's prime minister, Justin Trudeau, said that Indian agents were behind the killing of a Sikh leader near Vancouver in June. India denied it. Hardeep Singh Nijjar had pushed for a Sikh homeland in India. India says he was a terrorist, Mr Nijjar's supporters say he was a peaceful activist. Mr Trudeau's allegation of a fellow democracy assassinating a Canadian citizen on Canadian soil has ramifications beyond a souring of relations with India. America's National Security Council has said it is "deeply concerned'', and has urged India to co-operate.
India's MPs held their first session in a new Parliament building, which replaces the old one designed by the British in the 1920s. In May opposition parties protested against its inauguration, accusing Narendra Modi, the prime minister, of turning what was supposed to be a show of national unity into a party rally.
Speculation swirled around China's defence minister, General Li Shangfu, who has not been seen in public for weeks. Some reports suggested that he was under investigation for corruption and would be removed. The episode comes just months after purges of China's foreign minister, Qin Gang, and the leadership of China's Rocket Force, which controls the country's conventional and nuclear missiles.
Azerbaijan sent its army into Nagorno-Karabakh, a disputed enclave with a majority Armenian population, in what it described as an "anti-terrorism" operation against "illegal Armenian military formations". Ethnic Armenians agreed to a ceasefire. Tensions have been running high because of Azerbaijan's blockade of Karabakh, which has led to medicine and fuel shortages.
Volodymyr Zelensky gave a speech in person to the un General Assembly in New York, in which he warned that Russia is trying to smash the established international order and push the world to a "final war". The Ukrainian president also compared Russia's abduction of Ukrainian children to "genocide". Mr Zelensky then went to Washington to discuss further help for Ukraine's war effort.
Hungary, Poland and Slovakia imposed their own curbs on imports of Ukrainian grain, after the European Union lifted a partial ban. As a row over the curbs escalated, Poland said it would no longer supply weapons to Ukraine.
Evika Silina became Latvia's new prime minister, after forming another coalition headed by the centre-right New Unity party. One of the first tasks of the new government was to close one of Latvia's border points with Belarus following an increase in illegal crossings by migrants.
Greens turn red
Rishi Sunak, Britain's prime minister, announced some changes to the government's plan to reach net-zero emissions by 2050, such as delaying a ban on new petrol cars by five years to 2035. He said this was being done so that the 2050 target could be met in a "better, more proportionate" way. In Sweden the government's budget contained tax-cutting measures, including on fuel duties. Sweden was the first country to lay out an aim of net-zero, but some think the budget means it now won't be able to hit that goal in 2045.
Protests broke out against the authorities in Derna, a city in eastern Libya recently devastated by floods. Calls are growing for an international investigation into why the dams in the city burst.
Israeli forces killed six Palestinians in the occupied West Bank and Gaza Strip. Four were killed in a raid on Jenin refugee camp, the scene two months ago of Israel's biggest raid in 20 years. In New York Israel's prime minister, Binyamin Netanyahu, held a long-awaited meeting with Joe Biden. Mr Biden said the pair had discussed "hard issues".
Iran and America each swapped five prisoners in a deal in which $6bn-worth of frozen Iranian assets, mostly oil revenues, were also released . Shortly after the deal was announced Ebrahim Raisi, Iran's president, addressed the UN assembly, accusing America of inflaming violence in Ukraine. Meanwhile Iranian MPs passed a draft law imposing sentences of up to ten years on women who flout the country's dress code, a year after widespread protests against the killing of Mahsa Amini, a woman who was detained for showing her hair.
The Dominican Republic sealed its border with Haiti after a breakdown in negotiations over using water from the Massacre River. A farmers' group in Haiti is building a canal to irrigate land dried out by drought, but this will divert water from the Dominican Republic, says the country's president, Luis Abinader.
Thousands of Guatemalans demonstrated to demand an end to efforts by officials to hinder the transfer of power to Bernardo Arevalo, who was elected as the country's president in August. Mr Arevalo, a reformist who is due to take office in January, presented a petition asking the Supreme Court to block attempts to overturn his victory.
America's merry-go-round
Kevin McCarthy, the speaker of America's House of Representatives, had another battle on his hands with rebels in his Republican Party, who are once again threatening to shut down the government by refusing to back stopgap funding legislation. Meanwhile, America's gross national debt exceeded $33trn for the first time.
The Texas Senate acquitted Ken Paxton, the state's attorney-general, at his impeachment trial. In May Mr Paxton, a hardline conservative, was impeached by the Texas House of Representatives, which is Republican controlled, for alleged bribery and abuse of public trust.
Paul Kagame, who has been president of Rwanda since 2000 and its de facto leader since toppling a genocidal government in 1994, said he plans to run for a fourth presidential term next year. Mr Kagame pushed through a constitutional change in 2015 that could allow him to stay in power until 2034.
The eu has stopped funding Zimbabwe's electoral commission, citing concerns about its independence during elections in August. Although the electoral funding is worth just $5m, cutting it may signal a deeper breach with the eu, which had been hoping to mend relations and unlock financial support for Zimbabwe from the World Bank and imf.
Burkina Faso, Mali and Niger have signed a mutual-defence pact known as the Alliance of Sahel States (ass). All three members of the ass are run by military juntas following a series of coups over the past two years.
The world this week Business
The Federal Reserve left its benchmark interest rate on hold ata range of between 5.25% and 5.5%, but said it remained "highly attentive to inflation risks". New forecasts from the central bank suggest that the American economy is proving to be more robust than expected, pointing to another rate rise before the end of the year. Markets don't expect the Fed to start cutting rates until towards the end of next year at the earliest.
In its latest projections, the OECD said that the impact of higher interest rates is "becoming increasingly visible". The organisation upgraded its estimate of world gdp growth this year to 3%, but pared back its forecast for next year to 2.7%. The OECD said that monetary policy needed "to remain restrictive" until inflation is firmly under control, but it warned that the effects of rate rises "will continue to work their way through economies for some time".
Instacart's share price rose by 12% on its first day of trading on the Nasdaq exchange. The online-groceries company raised the offer price of its shares to $30, after Arm's successful IPO on September 14th whetted investors' appetite for more tech offerings. The British chip designer's stock soared by 25% in its debut on the Nasdaq, raising $5bn to make it the biggest ipo in America in two years. But the share prices of both Arm and Instacart fell back in subsequent trading.
Bob van Dijk abruptly resigned as chief executive of Naspers, an internet company based in South Africa, and as the head of Prosus, which is controlled by Naspers and is one of the world's biggest technology-investment firms. Mr Van Dijk had led Naspers for nine years, trying to handle the problematic mismatch between the value of its assets and its share price.
Toshiba's shareholders approved an offer for the Japanese conglomerate that will take it private. Its management hopes the fresh start will draw a line under years of upheaval. The consortium taking over Toshiba is led by a Japanese private-equity firm, Japan Industrial Partners.
Elemental
Disney announced that it is doubling its investment in its theme parks, cruise line and resorts to $6obn. The company's parks-and-experiences division generates more operating income ($7.6bn for the nine months ending July ist) than its media and entertainment business ($2.2bn).
California's governor, Gavin Newsom, said he would sign a state bill requiring companies to disclose how much greenhouse gas they directly emit, as well as indirect emissions. They are the toughest measures on climate disclosure in America and will affect around 5,000 companies that do business in the state. Meanwhile California's attorney-general lodged a lawsuit against big oil companies such as bp and ExxonMobil, seeking damages for what it claims is an industry cover-up about the harm that fossil fuels can do.
Oil prices climbed to their highest levels in ten months, as markets fretted that cuts to output by Saudi Arabia and Russia could cause a supply shortfall. Brent crude rose to $95 a barrel for the first time since November. Saudi Arabia's energy minister defended the decision to lower production. It's not about "jacking up prices", he said, and more to do with economic uncertainties, such as demand in China.
The United Auto Workers union said it would expand its strike to other factories unless there was "serious progress" in talks with Ford, General Motors and Stellantis. The uaw has coordinated its action against all three of Detroit's carmakers for the first time, but limited the strike to one plant for each company. Meanwhile Ford reached a tentative deal with its union in Canada to avert a strike there.
China's imports of Japanese seafood fell by 68% in August from the same month last year. China, the world's biggest market for Japanese fish and shellfish, banned the products when Japan released wastewater from the damaged Fukushima nuclear plant into the sea.
It's a family affair
FTX, a bankrupt cryptocurrency exchange, sued the parents of its founder, Sam Bankman-Fried, to recover "fraudulently transferred and misappropriated funds" that it claims were paid out to the couple before the company collapsed last November. Mr Bankman-Fried goes on trial on October 3rd charged with fraud related to FTX's implosion. A judge sent him to jail in August, accusing him of tampering with witnesses.
Elon Musk described reports that Tesla is in talks to build a factory in Saudi Arabia as "utterly false". Mr Musk has a complex relationship with the Saudis, caused in large part by what he perceives to be a Saudi failure to back a plan to take Tesla private. "You are throwing me under the bus," Mr Musk tweeted to the head of the country's sovereign-wealth fund in 2018.
---
скачать журнал: The Economist - 23 сентября 2023
---