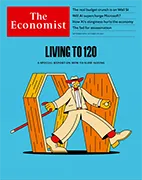 Год выпуска: сентябрь 2023
Автор: The Economist Newspaper and The Economist Group
Жанр: Экономика/Политика
Издательство: «The Economist Newspaper Ltd»
Формат: PDF (журнал на английском языке)
Качество: OCR
Количество страниц: 88
LIVING TO 120
A SPECIAL REPORT ON HOW TO SLOW AGEING
Efforts to slow human ageing are taking wing: leader, page 9.
What was once fantasy is now a subject of serious research, Technology Quarterly, after page 40.
Places where people seem to live longest tend to keep the worst birth-records: Graphic detail, page 77.
The real budget crunch is on Wall St
Rising bond yields, not the shutdown, imperil America's budget; leader, page 12.
A deadline looms on October 1st, page 21.
The Fed may end up flying blind, page 64.
Will Ai supercharge Microsoft?
It wants to use artificial intelligence to become the world's most valuable firm again: briefing, page 16.
The lessons from its startling comeback: leader, page 13.
How Xi's stinginess hurts the economy
Political constraints are hampering China's efforts to grow, page 34.
The fad for assassination
States are killing foes abroad brazenly, page 57.
The murder of a Canadian Sikh leader suggests the limits to America's relationship with India: Banyan, page 33.
---
The world this week Politics
Tens of thousands of ethnic Armenians fled Nagorno-Karabakh, a disputed Arme-nian-majority enclave in Azerbaijan that the Azeri army has taken control of. Azerbaijan's president, Ilham Aliyev, promised to protect ethnic Armenians, but said that Karabakh's decades-long status as an independent entity was over. At least 68 people were killed by an explosion at a fuel depot. The episode underlines the waning of Russian influence in the Caucasus. Armenia, long an ally of Russia, is pivoting towards the West. America said the Azeri show of force was unacceptable and told Azerbaijan to observe a ceasefire and allow aid into the area.
Balkan bust-up
Tensions remained high in Kosovo, after 30 gunmen barricaded themselves in a monastery during a shoot-out with police. Three of the gunmen and a policeman were killed. Ethnic-Serb politicians said the militants were rebelling against the Kosovan government's refusal to create Serb municipalities in northern Kosovo, where ethnic Serbs dominate. Kosovo said the men were "Serbian state-supported troops" and that some had fled to Serbia.
Ukraine's special forces claimed to have killed dozens of Russian naval officers in a missile attack on Russian headquarters in Sevastopol, Crimea's biggest port. It seems that Admiral Viktor Sokolov, the commander of Russia's Black Sea Fleet, was not one of them. He popped up on videos released by Russia's defence ministry apparently to show he is still alive. Meanwhile the first American-made mi Abrams tanks arrived in Ukraine to help with its counter-offensive against the Russians.
A UN commission of inquiry on Ukraine said that Russia had tortured people to death in areas it had occupied, and that Russian soldiers had raped or committed sexual violence against women ranging in age from 19 to 83. Russia denies targeting civilians.
Spain's conservative leader, Alberto Ndnez Feijoo, narrowly failed to get enough votes in the lower house of parliament to become prime minister. His People's Party won the most seats in an election in July, but he could not persuade smaller parties to give him an absolute majority. Spanish law allows him a second attempt on September 29th.
The British government upset greens again, when a regulator gave approval for a Norwegian company to develop the Rosebank oil-and-gas field in the North Sea. The energy security minister said that Britain would still need fossil fuels as part of a mix on the path to net zero over the coming decades.
France is to withdraw its ambassador and troops from Niger, ending a months-long stand-off since a coup in July. France, which had 1,500 soldiers fighting jihadists in Niger, has refused to recognise the legitimacy of the junta that overthrew Mohamed Bazoum, the elected president.
Elsewhere in the coup-belt across the Sahel, Mali's military government indefinitely postponed elections scheduled for February, breaching a promise to return to civilian rule for the first time since 2020.
Haim Katz, Israel's tourism minister, became the country's first cabinet minister to publicly visit Saudi Arabia. Meanwhile a high-level Saudi delegation travelled to the occupied West Bank for the first time since Israel captured the territory in 1967. Saudi Arabia's inaugural official envoy to the Palestinians also visited the area. The meetings come after recent comments from the leaders of both Israel and Saudi Arabia on the likelihood of normalising relations between the two countries.
The chairman of Egypt's National Election Authority announced that the country would hold a presidential election from the 10th to the 12th of December, earlier than had been expected. Abdel-Fattah al-Sisi, the incumbent, has not yet formally announced he will stand but he is expected to do so. So far few opponents have said they will challenge him.
At least 100 people were killed in a fire at a wedding in Iraq. Some reports suggest the inferno in Qaraqosh, Iraq's biggest Christian town, was started by fireworks.
Joe Biden hosted a summit of Pacific island countries at the White House, and announced that America would establish diplomatic relations with Niue and the Cook Islands. America is showering South Pacific states with promises of aid and support to counter the rise of Chinese influence.
A long-running dispute over the Scarborough Shoal in the South China Sea flared up again when the Philippines removed a 300-metre floating barrier that China had only recently installed. The Philippines claimed that the barrier was impinging on Filipino fishing rights. China, which captured the atoll from the Philippines in 2012, warned the country "not to provoke and cause trouble".
A prominent human-rights lawyer and activist was imprisoned for four years in Thailand for calling for a national debate about the monarchy. Arnon Nampa, who made the comments at a protest in 2020, fell foul of the country's draconian lese-majeste laws, which ban any criticism of the royal family.
North Korea expelled Travis King, an American soldier who crossed over from South Korea on a guided tour of the demilitarised zone between the two countries in July. He was handed over to American custody in China.
Bob Menendez, a Democratic senator from New Jersey, pleaded not guilty in a court appearance to charges of accepting bribes, some of it in bars of gold, from businessmen acting as go-betweens with officials in Egypt. It is the second time Mr Menendez has been indicted for bribery. A separate case ended with a hung jury in 2017.
The flying pickets
Joe Biden visited a picket line of striking car workers in Michigan, the first time an American president has joined a union picket. The United Auto Workers are demanding a 36% pay increase over four years, which Mr Biden endorsed. Donald Trump, fresh from being found liable for fraud by a judge in New York, also took a trip to Michigan to court the state's blue-collar voters, though he went to a nonunion factory near Detroit.
The speaker of Canada's Parliament, Anthony Rota, resigned, after he introduced a 98-year-old Ukrainian-Canadian to a parliamentary session as a war "hero" for fighting for Ukrainian independence. After the session, which was attended by Volodymyr Zelensky, Ukraine's president, it emerged that the man had fought in a unit under ss Nazi command against the Russians.
The world this week Business
Hollywood's striking film and television screenwriters returned to work after their union, the Writers Guild of America, reached a tentative agreement with entertainment companies. They had been on strike since May 2nd. The deal with the studios includes bonuses for writers based on viewing figures on streaming services, and guarantees that artificial intelligence can't write or rewrite literary material or be used as a source. It is hoped that the pact will entice actors to end their strike. The industrial action has already delayed the release of many movies next year, including a Lord of the Rings prequel.
A legal-package delivery
America's Federal Trade Commission lodged a lawsuit against Amazon, accusing the online retailer of using "unfair strategies to illegally maintain its monopoly power". The ftc claims Amazon does this by burying sellers on its site that offer cheaper goods elsewhere and by replacing relevant search results with paid ads, among other things. Amazon said the lawsuit was "misguided" and a "fundamental misunderstanding of retail".
Meanwhile, Amazon boosted the other, more profitable, side of its business, when it struck a deal to invest up to $4bn in Anthropic, an ai startup. Amazon also announced that it will start introducing ads to its Prime Video content from next year. As with other streaming services, users will be able to sign up for a costlier ad-free subscription.
Alibaba said it would list its logistics arm, Cainiao, in an IPO in Hong Kong, the first spin-off in a restructuring plan that will split the Chinese tech giant into six entities. Alibaba will still own more than 50% of Cainiao after its flotation.
Microsoft's takeover of Activision Blizzard came a step closer, after Britain's competition regulator dropped its opposition to the deal.
Microsoft had submitted a revised offer for the videogame maker that attended to the regulator's concerns.
Evergrande missed another debt payment on a bond, casting more doubt about the future of the embattled Chinese property developer. Hui Ka Yan, Evergrande's chairman, has reportedly been put under surveillance by the police, a move that stops just short of an arrest or detention. Trading in Evergrande's shares was suspended in Hong Kong.
The International Energy Agency said that "bolder action" was required if the world was to reach net-zero emissions by 2050. The agency said that global renewableenergy capacity needed to triple by 2030 and sales of electric cars and heat pumps would have to rise sharply.
Turkey's finance minister, Mehmet Simsek, asked markets to be patient with the government's efforts to rebalance the economy after years of unorthodox economic polices. The central bank recently raised its key interest rate from 25% to 30%, the fourth consecutive increase, as it tries to tackle the resurgence of sky-high inflation.
World trade volumes were 3.2% lower in July than a year earlier, according to a closely watched index from the Netherlands Bureau for Economic Policy Analysis. That is the sharpest decline since August 2020, amid the pandemic, and driven to a large extent by the slowdown in China and the knock-on effects to trade in Asia.
A big act to follow
Lachlan Murdoch started to put his stamp on Fox Corporation, nominating Tony Abbott, a former Australian prime minister and climate-change sceptic, to the board. This came soon after Rupert Murdoch announced that he was stepping down as chairman of both Fox and News Corporation, giving his son complete control over the businesses. Mr Murdoch built his television and newspaper empire over 70 years, and is widely considered to be the last media mogul. However, as "chairman emeritus" of Fox and News Corp he could still wield considerable clout.
Ford said it was suspending construction of a factory in Michigan that would make batteries for electric vehicles, citing concerns about whether it would be competitive. The plant has become politically controversial because it would license technology from a Chinese company, catl, the world's largest battery-maker for evs. Meanwhile, the United Auto Workers said Ford had improved its pay offer in their dispute, and did not include any of the carmaker's other factories when it extended its strike, hitting General Motors and Stellantis instead.
Target is to close nine stores in Portland, New York, San Francisco and Seattle because of criminal theft and threats to its staff. In an annual study the National Retail Foundation said that crime, violence and theft were at "unprecedented levels" in the industry. American retailers lost $ii2bn from theft last year. More than 78% said that organised retail crime was more of a priority this year than in 2022.
---
скачать журнал: The Economist - 30 сентября 2023
---