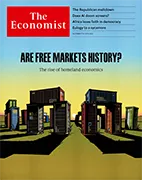 Год выпуска: октябрь 2023
Автор: The Economist Newspaper and The Economist Group
Жанр: Экономика/Политика
Издательство: «The Economist Newspaper Ltd»
Формат: PDF (журнал на английском языке)
Качество: OCR
Количество страниц: 92
ARE FREE MARKETS HISTORY?
The rise of homeland economics
Governments are jettisoning the principles that made the world rich: leader, page 9.
They are making a big mistake, argues Callum Williams, see our Special report, after page 42.
The Republican meltdown
Kevin McCarthy's defenestration will be bad for America and worse for Ukraine: leader, page 77, and analysis, page 19.
In swing states Republican parties are falling behind, page 20.
Does AI doom screens?
Bye-bye, iPhone. Generative Ai needs a new device: Schumpeter, page 61.
Africa loses faith in democracy
Unfortunately, the alternative will almost certainly be worse: leader, page 10.
Graft, insecurity and stagnation stir discontent. More radical change may follow, page 57.
Survivors from Sudan tell of mass slaughter, murdered babies and kill lists, page 39.
Eulogy to a sycamore
Britain's best-loved tree was felled maliciously on September 28th, aged around 300: obituary, page 82.
---
The world this week Politics
America's House of Representatives ejected Kevin McCarthy as speaker, the first time in history someone has been ousted from the job. His downfall was initiated by Matt Gaetz, a far-right congressman, after Mr McCarthy secured the passage of a last-minute bill to avoid a government shutdown with Democratic support (the bill keeps the government functioning only until November 17th). Mr Gaetz said it was a sell-out. In the ballot that decided Mr McCarthy's fate a handful of rebellious Republicans joined the Democrats to fire him.
California's governor, Gavin Newsom, appointed Laphonza Butler to the Senate seat left vacant by the death of Dianne Feinstein. Ms Feinstein was elected to the seat in 1992 and, aged 90, was the oldest member of the chamber. Ms Butler is a lesbian and only the third black female senator ever. She is a close ally of Kamala Harris, America's vice-president, who was the second black woman to be elected to the Senate.
Donald Trump's trial for business fraud began in New York. The civil charges against him are in addition to the accusation that Mr Trump and his business inflated the value of his assets in order to secure loans. The judge (there is no jury) has already ruled that Mr Trump committed "repeated and persistent fraud" in that matter.
Robert Fico was hoping to become Slovakia's prime minister again, after his party came first in a general election and sought to form a governing coalition. Mr Fico, a proRussian populist nationalist, has been prime minister twice before, resigning in 2018 amid mass protests during a political crisis over the murder of a journalist. He has pledged to stop sending arms to Ukraine.
The European Union's foreign ministers held a meeting in Kyiv, Ukraine's capital, the first time they have gathered in a поп-eu country. They pledged more help for Ukraine, but the once-steadfast support for defending it has wobbled lately. As well as the election of Mr Fico, Poland has got into a row with Ukraine over grain exports, and is not sending it more weapons. And America's Republicans have blocked extra funding for Ukraine in Congress's emergency-spending package.
Cancelled departure
Rishi Sunak, Britain's prime minister, announced that the leg of a high-speed rail project connecting Birmingham to Manchester will be scrapped. The cost of HS2 soared from an initial £37.5bn in 2009 (then $62bn) to an estimated Eioobn. Mr Sunak thinks the money could be better spent on transport links between northern cities.
Serbia said it had pulled back some of the troops it had sent to the border with Kosovo after tensions rose between the two countries following a shootout at a monastery involving ethnic Serbs and Kosovan police. America had described Serbia's military build-up as "very destabilising".
In Spain Pedro Sanchez's Socialist party was tasked by the king with trying to form a new government, following the failure of Alberto Ndnez Feijoo, leader of the conservative People's Party, to cobble a coalition together. Mr Sanchez, the prime minister, staged an inconclusive election in July, in which the pp got the most seats but fell far short of a majority. He will need the support of the far left and Basque and Catalan nationalist parties if he is to govern again.
Turkey carried out air strikes on Kurdish rebels in northern Iraq and arrested dozens of suspected Kurdistan Workers' Party activists, after a suicidebomber attacked the interior ministry in Ankara. Police shot dead a second attacker, but the incident caused no other fatalities.
Protesters blocked roads in Guatemala over the attorney-general's seizure of voting tallies from the electoral authorities, the latest move against president-elect, Bernardo Arevalo. Since the victory in August's election of Mr Arevalo, an anti-corruption crusader, a group of elites have tried to dissolve his party to prevent him taking power in January.
After a year of wrangling, the UN Security Council voted to back sending a Kenyan-led multinational armed force to Haiti for a year. Kenya will send 1,000 troops and other countries have pledged people and funds. Russia and China abstained from the vote. Past deployments to the Caribbean island have not always been welcomed by locals, but gang violence in the country has reached a desperate state.
Two suicide-bomb attacks on mosques in Pakistan killed 59 people. No group claimed responsibility, but the Pakistani government ordered all illegal migrants, namely 1.7m Afghans, to leave the country by November ist. (Some 4.4m Afghan refugees also live there.) The government said Afghans had carried out 14 of the 24 suicide-bombings in Pakistan this year and accuses Afghanistan of harbouring the groups responsible.
India reportedly ordered Canada to remove 41 of its 62 diplomats from the country, in a continuing row over Canada's claim that India killed a Sikh separatist in Vancouver. Justin Trudeau, Canada's prime minister, said "We're going through an extremely challenging time with India right now."
China's gain, India's loss
Mohamed Muizzu won a presidential run-off election in the Maldives, defeating Ibrahim Mohamed Solih, the incumbent. Mr Muizzu is pro-China. After his victory he declared that "foreign troops", meaning a small contingent of Indian soldiers, must leave the archipelago nation.
Tuareg rebels captured a town in northern Mali and killed over 80 soldiers in an attack in the central Mopti region. It was their most southerly raid since fighting broke out in August after the collapse of a peace deal signed in 2015. The renewed conflict was in part precipitated by the withdrawal of UN peacekeepers, who were ordered to leave the country by the ruling junta.
The European Union agreed to give Ethiopia €65001 ($68зт) in aid, three years after it had cut off assistance because of atrocities committed during the civil war in Tigray. un experts say that war crimes are still being committed.
Abdel-Fattah al-Sisi, Egypt's president, announced that he would stand for a third term in elections in December. Winning will be easy but his popularity has waned and his next term will face myriad problems, not least Egypt's floundering economy.
Human-rights campaigners in Iran accused the morality policy of beating a girl who was riding the metro in Tehran for not wearing a hijab. They released a photo which they said showed her in a coma. The Iranian authorities said she had fainted.
The world this week Business
The rout in government-bond markets deepened, as investors bet that interest rates would stay higher for longer. The yield on America's ten-year Treasury bond neared 4.9%, the highest since 2007. In Europe the yield on Germany's benchmark ten-year debt rose above 3% for the first time since 2011. With markets speculating that the Bank of Japan will soon raise rates, Japanese bond yields were at their highest point in a decade, pushing the central bank to make unscheduled purchases of government debt in order to maintain its policy of controlling yields. The finance ministry refused to say whether it had intervened in currency markets, after the yen reached 150 to the dollar.
The sell-off spread to stock-markets, causing the Dow Jones Industrial Average to turn negative for the year. The s&p 500 fell by 5% in September and the nasdaq Composite by 6%, the worst month for both indices so far in 2023.
Losing faith in the homeland
The Russian rouble slid below the symbolic mark of 100 to the dollar. A Kremlin spokesman said there was "no cause for concern". Officials have been putting pressure on the central bank to lift interest rates to halt the decline. The bank made an emergency increase in August and raised its main rate again last month, to 13%. One reason for the rouble's depreciation is businesspeople pulling their money from Russia, which has sparked a debate about reintroducing the type of currency controls that were brought in at the start of Russia's war on Ukraine.
The euro zone's annual inflation rate fell sharply in September, to 4.3%, the lowest level in almost two years. The core rate, which excludes food and energy, dropped to 4.5%. The mood music from the European Central Bank is that it will keep its interest rates at the current high levels so that inflation drops to 2% by 2025.
A rise in the cost of oil pushed Turkey's inflation rate to 61.5% in September. The central bank has raised interest rates to 30% to try to tame prices.
Sam Bankman-Fried went on trial in a court in Manhattan over the collapse of ftx, the world's third-biggest cryptocurrency exchange before its bankruptcy. Mr Bankman-Fried is accused of defrauding investors and customers in the company he founded and of money-laundering. He has pleaded not guilty. The trial of the former high-roller, who was once courted by politicians because of his generous funding for projects related to "effective altruism", is expected to last six weeks.
Birkenstock priced its forthcoming IPO on the New York Stock Exchange at a range of between $44 and $49 a share. The German sandal-maker is seeking a top valuation of $iobn, which would make it one of the biggest stockmarket flotations this year.
Air France-KLM will take a stake of 19.9% in sas, as the bankrupt Scandinavian airline restructures its business. An American private-equity firm, Castlelake, will become the biggest shareholder with a 32% holding. The Danish government will hold roughly 26%. The reorganisation means sas will no longer list on the stock-market, wiping out existing shareholders.
Tesla delivered just over 435,000 cars in the third quarter. That was below market expectations, even accounting for the effects of upgrades to the carmaker's factories. With Tesla's production down by 10% over the previous quarter, byd is nipping at its heels as the world's biggest seller of electric vehicles. The Chinese company, which is making a big drive into foreign markets, sold 431,600 fully electric cars in the quarter.
Riding the wave of a boom in tourism, Carnival Cruises reported a record $6.gbn in quarterly revenues and a solid profit. The company's booking volumes are nearly 20% above their levels in 2019. Carnival and Royal Caribbean Cruises have been among the best-performing stocks on the s&p 500 this year, exceeded only by the likes of Meta, Nvidia and Tesla.
A shoplifters' paradise
British retailers demanded that the government take urgent action to stop the rise of retail crime. British shops recorded 867 incidents a day in the 12 months ending March 2022, double the pre-pandemic rate. Retail theft cost £953111 ($i.ibn) in the most recent survey, despite retailers spending £700111 on crime prevention. Retailers want the police to do more; 44% think the police response has been poor.
Florence became the latest tourist destination to curtail Airbnb and similar platforms when it banned new shortterm rentals in the city centre. The number of local properties listed on Airbnb has mushroomed from 6,000 in 2016 to almost 14,400 today, even as average ordinary monthly residential rents have jumped by 42%. Florentines are complaining that their apartment blocks are turning into hotels, says the mayor.
---
скачать журнал: The Economist - 7 октября 2023
---