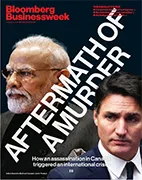 Год выпуска: October 9, 2023
Автор: Bloomberg Businessweek
Жанр: Бизнес
Издательство: «Bloomberg Businessweek»
Формат: PDF (журнал на английском языке)
Качество: OCR
Количество страниц: 68
Global Fallout From a Murder in Canada
Hardeep Singh Nijjar's assassination echoes through India, Europe and the US
SLOUCHING TOWARDS FAIRNESS
Tyler Perry, already a cultural phenomenon, now aims to be a critics' darling
Yes, Black Lives Matter helped diversify the workforce — a lot
The trouble with US child care: There's not enough of it, and it costs too much
Indigenous art draws collectors — and plenty of conflict — to New Mexico
A community fights to return to the islands the UK forced them off decades ago
IN BRIEF
Kevin McCarthy
Job growth slows
Jamie Dimon
OPINION
Get those absent school kids to stop playing hooky
AGENDA
Argentina votes
US inflation
Scorsese's latest
REMARKS
The 5th Circuit may out-conservative the Supreme Court
BUSINESS
EV mania, sure, but car buyers aren't forgetting hybrids
The FDA may take drugs that sped to market off the shelf
Ten companies to keep an eye on in the fourth quarter
TECHNOLOGY
Ill-timed IPO investments are coming back to bite
Is Scattered Spider hacking your help desk?
ChatGPT has techies ready to leave their phones behind
FINANCE
Investors pile into Al, and don't find a pot of gold
Financial advisers struggle with a cruel new world
ECONOMICS
Factories are sprouting up all over the US, bringing jobs, income—and a good deal of apprehension
LAST THING
Fighting the assault on LGBTO rights pays off
---
Aftermath of amurder
How an assassination in Canada triggered an international crisis
Charanjit Singh Sujjon was playing soccer when he heard the gunshots. At first Sujjon, 50, thought someone was setting off firecrackers next to Kabaddi Park, a green space in Surrey, British Columbia, just outside Vancouver. It was June 18-Father's Day-and the park was busy into the evening, mostly with members of Surrey's huge South Asian community. Then Sujjon saw two men running away from the Guru Nanak Sikh Gurdwara, a nearby Sikh temple. Sujjon saw they wore black hooded sweaters despite the late-spring heat and had their hands in their front pockets, as though they were concealing something. Both had covered their faces with masks or bandannas and kept looking back as they ran.
Sujjon, who works as a caretaker for the gurdwara, started running toward the back of its parking lot with another man, Bhupinderjit Sidhu. They saw a dark gray Dodge pickup truck stopped near the exit. The driver's side window had been blown out, and shell casings littered the pavement. Inside was the temple's president, a prominent Sikh political activist named Hardeep Singh Nijjar. Slumped toward the passenger seat, Nijjar, 45, had visible wounds on his face, neck, arm and chest. His flowing black hair-observant Sikhs don't cut it-had unwound from under his turban. Sidhu opened the door and began shaking Nijjar by the shoulders. 'Are you OK, brother?" Sujjon cried. But by then, it was clear that Nijjar was dead.
Officers from the Royal Canadian Mounted Police (RCMP) arrived along with an ambulance shortly afterward. They cleared away the crowd that had gathered outside the gurdwara, cordoning off the area with yellow tape. And they began an investigation that would, by late September, explode into global headlines. Prime Minister Justin Trudeau has accused Indian agents of involvement in killing Nijjar-a Canadian citizen who advocated for the creation of "Khalistan," an independent Sikh homeland in the northern state of Punjab. The government of Prime Minister Narendra Modi calls the allegation "absurd" and says Canada is harboring Sikh figures whom it considers terrorists. Modi's government also blames these figures for instigating violence within India.
This account of Nijjar's murder and its aftermath is based on discussions with government officials in Canada, the US, India and Europe-all of whom asked not to be identified describing internal deliberations-as well as members of Sikh communities in Surrey and elsewhere. Those sources shed light on how a killing in a Vancouver suburb escalated into an international crisis, one that raises broader questions about efforts by Western governments to turn India from a friend into something more like an unofficial ally.
While stopping short of publicly verifying Trudeau's claims, US officials have expressed deep concern about them and urged India to cooperate with police investigations. "We have been consulting throughout very closely with our Canadian colleagues-and not just consulting, coordinating with them," US Secretary of State Antony Blinken told reporters in September. "We are extremely vigilant about any instances of alleged transnational repression, something we take very, very seriously." India's Ministry of External Affairs did not respond to a request for comment for this story.
Nijjar's death has also highlighted the Modi government's uncompromising attitude toward its critics, whether at home or overseas. Under the rule of his Hindu-nationalist Bharatiya Janata Party, activists, academics and journalists-especially those belonging to other religions-complain of an atmosphere where contradicting official narratives can lead to harassment or legal sanction. Abroad, groups that disagree with Modi's policies fear they're increasingly being targeted for disruption or worse by the Research and Analysis Wing (RAW), India's main spy agency.
Nowhere is that more true right now than in the Sikh diaspora, an archipelago of immigrant communities across the English-speaking world. In recent years, activists have organized unofficial overseas referendums to demonstrate support for a Khalistani state, something the Indian government views as an unacceptable provocation. Regardless of whether a role by India is ever substantiated in Nijjar's murder, those communities have now received a chilling message.
Parts of Surrey resemble a sort of Punjab on the Pacific. More than 150,000 of its roughly 600,000 residents are Sikh, one of the largest such communities in Canada. A sprawling expanse of single-family homes, wide roads and strip malls, Surrey is an easy place to find businesses with names such as 88 Jalebi Junction (a jalebi is a sugary snack beloved in India) and Sabzi Mandi Supermarket, named for the Hindi word for vegetables.
Sikhs, who follow the monotheistic teachings of Guru Nanak, a spiritual leader who lived in the 15th and 16th centuries, are India's third-largest religious minority after Muslims and Christians. While small Sikh communities have existed in Canada for more than a century, large-scale immigration began much more recently, intensifying amid political turmoil over the community's status in India. In 1984 the Indian army carried out a bloody assault on Sikh militants who'd taken shelter in the Golden Temple, the religion's holiest site. Months later, Indira Gandhi, the prime minister who'd ordered the operation, was assassinated by her Sikh bodyguards. Thousands were killed in the anti-Sikh riots that ensued in multiple Indian cities.
As activists left India, Vancouver and its suburbs became a center for Sikh nationalism, and sometimes militancy. The bomb that brought down Air India Flight 182, a Boeing 747 that exploded over the North Atlantic in 1985, killing all 329 people aboard, was checked into luggage at Vancouver International Airport, and the suspects in the case had extensive ties to the area. But local residents are quick to characterize that event-before Sept. 11, the deadliest aviation-related terror attack in history-as an aberration. There have been no significant incidents of violent Sikh extremism in Canada for decades.
Instead, the community's focus has shifted to peaceful mass organizing, including the Khalistan referendums. They have no legal force and are effectively symbolic. But India sees the votes as a vector for radicalization and has repeatedly complained about them to Canada as well as other countries where they've been held, such as Australia. No one has intervened to stop them. So long as it remains nonviolent, Sikh organizing is covered by the free-speech protections that prevail in Western societies, and politicians have no legal basis to stand in its way, even if they wanted to.
It would also be unwise for any Canadian leader to antagonize Sikh communities. Politically engaged and geographically concentrated, they represent a powerful source of votes. When former Prime Minister Stephen Harper took a majority of seats in Parliament in 2011, it was thanks in large part to victories in Toronto and Vancouver suburbs with significant populations of Indian and Chinese immigrants. Trudeau currently lacks such a majority and governs with the support of the left-wing New Democratic Party. Its leader, Jagmeet Singh, is a Sikh and the son of Punjabi immigrants. According to a person with knowledge of Indian foreign policy, officials in New Delhi view Canada as far less responsive to intelligence about what they consider Sikh extremism than the US and UK. "Most of us have drawn our own conclusion," the person says.
Nijjar came to Canada in 1997, working initially for a plumbing company. After learning the trade, he started his own business. In his early years in the country, he had little time for politics, preferring to focus on establishing his business, says Bhupinder Singh Hothi, general secretary of the Guru Nanak Singh Gurdwara. But he gradually became more vocal and carved time away from his family and work to advocate for Sikh independence. He ran unopposed for the gurdwara's presidency in 2019, and after taking over he turned the temple into a hub for Khalistan activism. He was known for Sunday sermons in which he decried the rapes of minority women in India as well as alleged extrajudicial killings by the country's government. He also led protests outside the Indian consulate in Vancouver, condemning what he said were atrocities against Indian Sikhs, Muslims and Christians...
---
скачать журнал: Bloomberg Businessweek (October 9, 2023)
---