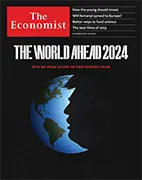 Год выпуска: ноябрь 2023
Автор: The Economist Newspaper and The Economist Group
Жанр: Экономика/Политика
Издательство: «The Economist Newspaper Ltd»
Формат: PDF (журнал на английском языке)
Качество: OCR
Количество страниц: 188
The World Ahead 2024: our 90-Page Guide to the coming year
What a Trump victory in 2024 would mean for the rest of the world: leader, page 11.
How the young should invest
Markets have dealt them a bad hand. But they could be playing it better, page 63.
Will fentanyl spread to Europe?
It kills tens of thousands every year in America. Will Europe be next? Charlemagne, page 46.
Better ways to fund science
Too much of researchers' time is spent filling in forms: leader, page 15.
If scientific progress is slowing, perhaps new ways of paying for it could speed things up again, page 71.
The best films of 2023
The year's stand-out movies featured cattle barons, chefs, composers, physicists and whistleblowers, page 79.
---
The world this week Politics
Israeli troops entered Gaza's biggest hospital. Israel and America say that Hamas militants operate from tunnels underneath the buildings. So far small caches of arms have been found. Israel now has effective control in northern Gaza. In the south a humanitarian crisis is escalating. Meanwhile Israel lowered the death toll of the number of people murdered by Hamas on October 7th from 1,400 to 1,200. The authorities are still identifying the remains of the deceased.
America carried out fresh air strikes on facilities in eastern Syria that it says are being used by militias aligned with Iran to carry out drone attacks on American forces. American and coalition troops have been attacked at least 40 times in Syria and Iraq since early October, though there have been no casualties.
Josep Borrell, the European Union's chief diplomat, warned of "another genocide" in Sudan's Darfur region after the paramilitary Rapid Support Forces and Arab militias murdered between 800 and 1,300 black Africans there.
A former doctor from Rwanda went on trial for his role in the genocide against Tutsis in 1994, 28 years after complaints were first laid against him in France in 1995. Sosthene Mu-nyemana denies wrongdoing.
More than 100,000 people marched in Paris against antisemitism. The demonstration brought together leaders from across the political spectrum, except the hard left, which boycotted the event. Similar marches took place in other French cities. In Washington 290,000 people took part in a March for Israel, according to the organisers, the largest pro-Israeli demonstration ever in America.
He's baaaack
Rishi Sunak, Britain's prime minister, shocked pundits by bringing David Cameron back into government, appointing him foreign secretary and giving him a peerage. Lord Cameron led the country from 2010 to 2016, resigning after losing the fateful Brexit referendum. Because he sits in the House of Lords he cannot answer questions from mps in the House of Commons. Some of those mps have raised concerns about Lord Cameron's past cosiness with China.
As Lord Cameron was appointed foreign secretary, his predecessor, James Cleverly, was moved to the home office to replace Suella Braverman, who was sacked. Ms Braverman had become a thorn in Mr Sunak's side, most recently for her outspoken opposition to what she describes as "hate marches" in London in support of Palestine.
MPS in Parliament easily defeated a motion calling for a ceasefire in Gaza. However, 56 opposition Labour mps defied the instructions of their leader, Sir Keir Starmer, and voted for the amendment. Eight shadow ministers in the party quit their positions rather than be sacked by Sir Keir for rebelling.
Britain's Supreme Court ruled against the government's policy of sending asylumseekers to Rwanda to be processed and settled there. The court decided there was a significant risk that they might be returned to unsafe countries. Mr Sunak said he would forge a treaty with Rwanda and introduce emergency legislation to bring the plan to fruition.
The German government's plan for spending on climatechange policy was in disarray, after the Constitutional Court ruled that shifting €6obn ($65bn) into an off-budget fund earmarked for the policies was unlawful.
Huge protests, sometimes violent, took place across Spain against a plan by Pedro Sanchez, the prime minister, to offer an amnesty to separatists in Catalonia who organised an illegal referendum on independence in 2017. Mr Sanchez has forged a left-wing coalition to stay in power after an inconclusive election in July in which his Socialist party came second to the conservative People's Party. The pp failed to form its own coalition, but wanted a new election, rather than "a dictatorship through the back door".
Iceland declared a state of emergency in anticipation of a volcanic eruption, which has been preceded by a series of earthquakes. The town of Grindavik, which lies 53km (33 miles) from Reykjavik, the capital, has been evacuated.
Joe Biden and Xi Jinping spoke for four hours at a retreat near San Francisco, only their second face-to-face meeting as leaders of America and China. They agreed to restore direct contacts between their armed forces. China also promised to help curb the flow of precursor chemicals to make fentanyl, a synthetic opioid that has killed tens of thousands of Americans.
Taiwan's two main opposition parties, the Nationalist Party (kmt) and Taiwan People's Party, agreed to field a single candidate in January's presidential election. Both parties favour closer relations with China than the ruling Democratic Progressive Party. The dpp's candidate, William Lai, the current vice-president, is leading the polls.
Pakistan opened three new border crossings with Afghanistan to expedite the expulsion of Afghans living in the country illegally. Pakistan blames Afghan migrants for a spate of terrorist attacks.
More than 280,000 have left Pakistan since the order was announced in early October.
The buck stops here
Sri Lanka's Supreme Court ruled that the country's recent economic collapse was the fault of Gotabaya Rajapaksa, who was president from 2019 to 2022, his brother Mahinda, who was prime minister, and several former senior officials. The court held that they had violated the constitution with their "complete undermining of the rule of law", a decision that could leave them open to lawsuits.
America's House of Representatives passed a bill that again postpones a government shutdown, but only until early next year. The bill was supported by 209 Democrats and 127 Republicans; 93 Republicans opposed it. It was the first big test for the new speaker, Mike Johnson.
Joe Manchin announced that he won't seek another term in the Senate, putting the slim Democratic majority at risk in next year's election. Mr Manchin has represented West Virginia, an increasingly Republican state, for the Democrats since 2010, though he often scuttled Democratic bills by withholding his vote.
Responding to allegations that two of its justices had not declared gifts they received, America's Supreme Court issued its first-ever official code of ethics, sort of, to clear up any "misunderstanding" about the rules. The document said nothing about how the rules would be enforced.
The world this week Business
Japan's economy shrank by 2.1% on an annualised basis in the third quarter, or by 0.5% on the previous quarter, amid weak household consumption and business spending. The contraction suggests that inflation, running at an annual rate of 3%, which is high by Japanese standards, is starting to cut into domestic demand. That complicates the central bank's path to ending its massive monetary stimulus programme and policy of negative interest rates, which markets expect it to start undoing in the coming months.
Markets were cheered by news that America's annual inflation rate dipped to 3.2% in October, the first decline in four months. Core inflation, which excludes energy and food prices, also slowed, to 4%. In Britain annual inflation plunged from 6.7% in September to 4.6% in October, the lowest rate in two years. After a dismal few months, America's main stockmarkets have roared back in November, as investors bet that lower inflation makes it more likely that central banks have finished raising interest rates.
Nvidia unveiled its latest superchip for generative artificial intelligence, the H200. Delivering 141 gigabytes of memory at 4.8 terabytes per second, it has nearly double the capacity of its predecessor chip. The company expects revenue this quarter to increase by 170%, year on year. Its share price is up by 240% since the start of January.
Novo Nordisk's stock surged after the company released the full results from a study showing that its weight-loss drug, Wegovy, reduces the risk of having a heart attack, stroke or dying by 20% in patients at risk of cardiovascular disease.
The mining industry saw its biggest deal in years, when a consortium led by Glencore agreed to pay $gbn for the steelmaking coal business of Teck Resources. The Swiss commodities company is taking a 77% stake, with Nippon Steel of Japan and posco of South Korea owning the rest. Glencore will eventually merge its existing coal business with its new assets and spin off the new entity on the stockmarket. Prices for the coking coal used in steelmaking have risen sharply this year.
Salad days
A private-equity group took a controlling stake in Joe & the Juice, a fast-growing purveyor of sandwiches, organic juices and health shakes to the hipster crowd. The firm started in Denmark in 2002 and now has 360 stores around the world in the usual hipster hotspots, such as London, New York, San Francisco and Stockholm.
Foxconn warned that its revenues will fall slightly in 2023, even though it managed to post a surprise 11% rise in net profit in the latest quarter, year on year. The electronics contract manufacturer gets a big chunk of its income from Apple and sales of the new iPhone 15 have been lower than expected, especially in China.
The ratification of a pay deal between the United Auto Workers and Detroit's carmakers hit a small bump in the road when workers at several General Motors' factories rejected the new contract, though a majority at its biggest plant accepted it. Meanwhile Stellantis, Chrysler's parent company, offered voluntary redundancies to half its non-unionised employees in America, because of "challenging market conditions".
Continental said it would cut jobs as part of its cost-cutting drive. The German car-parts supplier, one of the world's biggest, expects the number of job losses "to be in the mid-four-digit range". Four years ago the company warned that tens of thousands of positions would be affected by the transition to electric vehicles.
Renault gave more details about the future of Ampere, its electric-vehicle division. The French carmaker is aiming to float Ampere on the stock-market in the first half of 2024, and hopes green investors will back the 1 po. It laid out ambitious targets for the business, targeting 30% average annual growth in revenues from this year to 2031.
The Jetsons age has arrived
The first-ever flight of an electric air taxi in New York took off from downtown Manhattan's heliport. Joby Aviation, which is developing electric vertical take-off and landing aircraft for commercial passenger service, performed an exhibition flight. Its air taxis are designed to be much quieter than regular helicopters so as not to add to urban noise. Joby aims to have its service up and flying in 2025, when passengers will be able to book their trips by app.
In another novelty, Netflix live-streamed its first sporting event. The Netflix Cup paired Formula One racing drivers with PGA Tour professionals in a golf tournament. Carlos Sainz, a driver for Ferrari, and Justin Thomas, a two-time winner of the pga championship, won the cup, which Mr Sainz dropped, breaking it into pieces. Netflix will pray that is not an omen for its foray into live broadcasts.
---
скачать журнал: The Economist - 18 ноября 2023
---