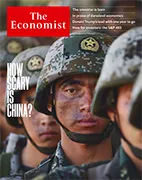 Год выпуска: ноябрь 2023
Автор: The Economist Newspaper and The Economist Group
Жанр: Экономика/Политика
Издательство: «The Economist Newspaper Ltd»
Формат: PDF (журнал на английском языке)
Качество: OCR
Количество страниц: 88
How scary is China?
Why America must understand China's weaknesses as well as its strengths: leader, page 11.
The People's Liberation Army is not yet as formidable as the West fears, argues Jeremy Page. See our special report after page 40.
China's dispute with the Philippines is a test of America as an ally: Chaguan, page 37.
Anthony Albanese, Australia's prime minister, takes a trip to Beijing: Banyan, page 33.
The omnistar is born
How artificial intelligence will transform fame: leader, page 72, and briefing,page 18.
Disney's problems are as much about leadership as strategy: Schumpeter, page 60.
In praise of daredevil economics
Politicians can make their countries richer—if they are willing to take risks, page 67.
Donald Trump's lead with one year to go
If America's presidential election were held tomorrow, he would probably win, page 27.
However, Democrats are giddy from this week's electoral sweep, page 22.
New for investors: the s&p 493
If you wish to know America's stockmarket, forget the s&p 500: Button wood, page 64.
---
The world this week Politics
Israel said that its soldiers were operating in the "heart" of Gaza city, where it believes Hamas's underground headquarters are located. Yoav Gallant, Israel's defence minister, said that Yahya Sinwar, the head of Hamas in Gaza, had been isolated in his bunker (though he did not say where). Binyamin Netanyahu, the Israeli prime minister, said that Israel would be responsible for Gaza's security for an indefinite period after the war.
The next day Antony Blinken, America's secretary of state, said that after the war Gaza and the West Bank should be unified under the control of the Palestinian Authority (pa). Mr Blinken sought to persuade Mr Netanyahu to agree to a humanitarian pause. The American diplomat met Mahmoud Abbas, the president of the pa, who demanded an immediate ceasefire. American warplanes struck a weapons depot in Syria used by Iran.
More than 10,500 Palestinians, including 4,300 children, have been killed in the month-long war, according to Gaza's Hamas-run health ministry. Civilians continued to flee from the north of the enclave where the fighting is fiercest.
A year out from America's presidential election, Democrats triumphed in several state races. They took full control of the General Assembly in Virginia, and in Kentucky Andy Beshear was re-elected as governor. Voters in Ohio passed a constitutional amendment to guarantee abortion access.
Donald Trump lashed out at his accusers in a civil fraud trial in New York. In a four-hour testimony the former president disputed claims that he had deceived banks in his real-estate dealings. In September he was found liable for fraud; the trial will determine his punishment. Separately, Mr Trump skipped the third debate of Republican presidential hopefuls.
Russia launched its biggest drone attack on Ukraine in weeks, targeting infrastructure in the country's west and south. It also struck homes in Kharkiv, the second-largest city, and a civilian ship in Odessa, on the Black Sea. Volodymyr Zelensky, Ukraine's president, warned that Russia was ramping up its attacks ahead of the winter.
The more the merrier
The European Union's executive recommended opening accession talks with Ukraine and Moldova when the bloc's leaders next meet in midDecember. Ukraine, which was granted candidate status after it was invaded by Russia last year, was lauded for its reforms. The eu's annual enlargement report also flagged some remaining problems with corruption and the mistreatment of minorities.
Antonio Costa, Portugal's prime minister since 2015, resigned after police searched his residence and detained his chief of staff, as part of a corruption probe. The investigation is looking into lithium mines and a greenhydrogen plant, which Mr Costa's Socialist government has enthusiastically endorsed.
Poland's president, Andrzej Duda, gave the right-wing prime minister, Mateusz Morawiecki, the first shot at forming a government after his party, Law and Justice, came first in a general election in October. Mr Morawiecki is unlikely to succeed. The liberal opposition has the numbers in parliament to rule in coalition, so Mr Duda's move will merely delay the handover of power.
Turkey's opposition replaced its long-time leader, Kemal Kilicdaroglu, half a year after he lost that country's presidential and parliamentary elections. The chp's new head, Ozgur Ozel, promised to shake up its "passive politics" before local elections early next year.
In a sign of warming relations, Anthony Albanese visited China. He was the first Australian prime minister to do so in seven years. Tensions had mounted over Chinese tariffs on Australian goods. Mr Albanese, who took office last year, has slightly softened his country's hawkish stance towards its biggest trade partner. He said talks with Xi Jinping, the Chinese president, yielded "significant progress".
A month of elections in which nearly one-sixth of India's voters will pick representatives in five states kicked off with voting in Chhattisgarh and Mizoram. The polls are an early test for Narendra Modi, India's popular prime minister, who wants to win a third term in next year's election.
Nepal's worst earthquake since 2015 killed at least 157 people. The 6.4-magnitude quake struck shortly before midnight on Friday. Around 4,000 homes were damaged or destroyed in the districts of Rukum and Jajarkot.
The UN said that the cultivation of opium poppies in Afghanistan, until recently the world's biggest producer, had dropped by 95% since the Taliban government banned the crop in April 2022.
Paper refuses ink
Chile's president, Gabriel Boric, has called a referendum on another new constitution to replace the country's charter. In September Chileans rejected a radical left-wing proposal; next month they will consider a conservative constitution that includes a total ban on abortion. Polls suggest voters will sink the second attempt, too.
Mediators failed to get the two sides in Sudan's civil war to agree to a ceasefire. The fighting has forced millions from their homes and sparked extreme violence.
Dozens of UN peacekeepers have been injured in attacks on their convoys as they were withdrawing from northern Mali. The un mission also destroyed equipment that could not safely be withdrawn after Mali ordered it to leave by the end of the year while also denying its requests to provide air support for the withdrawal.
Charles III delivered his first King's Speech at the official state opening of Britain's Parliament. The address laid out the Conservative government's agenda for the last full parliamentary year before the general election. The proposed bills include a phased ban on cigarettes, tougher sentences for serious criminals and expanded drilling for oil and gas in the North Sea.
Britain criminalised the possession of laughing gas—the third-most popular drug among young people in the country. Users could face two years in jail. Prolonged use of nitrous oxide can cause nerve damage. The gas's medical and culinary uses, to dull pain and whip cream respectively, will remain legal.
Rain and drought dragged down this year's global wine production to a six-decade low, and 7% below last year's harvest, the International Organisation of Vine and Wine estimated. France overtook Italy as the world's largest winemaker.
The world this week Business
WeWork filed a long-awaited bankruptcy petition, completing its dramatic fall from grace. In January 2019 the officesharing company was valued at $47bn; it is now worth roughly 0.1% of that. The petition is limited to the firm's locations in America and Canada, and its franchisees will continue to operate.
American employers created 150,000 jobs in October, fewer than the market had expected and barely half the number for the previous month. Despite hawkish talk from officials at the Federal Reserve and other central banks, investors took that as a signal that interest rates may fall sooner than they had previously thought.
Lower interest-rate expectations led bond yields to fall. That was true not just in America, where the ten-year Treasury yield recently touched 5% and is now 4.5%, but also in Britain, Japan and much of Europe. After a miserable few months, American shares ended their losing streak and surged, with the benchmark s&p 500 index posting its best week since November 2022.
The IMF raised its forecasts for China's GDP growth to 5.4% in 2023 and 4.6% in 2024, up from 5% and 4.2% respectively. The fund cited unexpectedly good third-quarter growth and government stimulus.
Nevertheless, China's economy faces a multitude of threats. Falling pork prices, which weigh heavily on its consumer-price index, have pushed the economy back into deflation. And not all the government's actions are supportive. Reports suggest it has detained two more businessmen: Zhao Bingxian, a prominent investor, and Chen Shaojie, a tech founder.
Back on the market
Turkey borrowed $2.5bn on the dollar bond market, in its first such deal since April. Investors are more inclined to lend to a government that has shaken up its economic team and begun to ditch unorthodox policies, such as keeping interest rates low despite extreme inflation. The five-year "sukuk" bond was sold with a yield of 8.5%.
Carlyle, a private-equity giant, reported a disappointing set of results for the third quarter. Investors have committed less capital than it had hoped to its new buy-out funds. In the three months to September they attracted $6.3bn of new assets, an 11% decline from the previous quarter. The firm is shedding jobs and has warned staff that "every single expense is on the table."
KKR, a competitor of Carlyle, was much more upbeat. It reported an improvement in fundraising during the third quarter, to more than $14bn, and announced the launch of new buy-out funds in America and Asia, kkr's share price finished results day 5% higher than it started.
Going by its share price, UBS also recorded good results, despite reporting its first quarterly loss since 2017. Investors were in a forgiving mood because the loss derived from the costs of integrating Credit Suisse, another Swiss bank that UBS bought earlier this year. (Without these, the bank would have made a pretax profit of $84401.) The deal is nonetheless likely to provide a big fillip to UBS'S wealthmanagement business in the long run. Its investmentbanking division, meanwhile, joined many of its European peers in reporting a disappointing quarter. It lost $230m.
Saudi Aramco followed several other big oil companies by reporting bumper earnings. It made $32.6bn in net profit in the three months to September, exceeding analysts' forecasts. That was more than it made in the previous quarter, but 23% less than in the third quarter of 2022, after energy prices rocketed in response to Russia's invasion of Ukraine. Saudi Arabia, like other OPEC countries, is currently cutting crude-oil production in an attempt to boost its price.
Disney announced that it will cut a further $2bn from its annual expenses, having already committed to $5.5bn of cuts and 8,000 job losses earlier this year. Under pressure from Nelson Peltz, an activist investor, it expects to start paying a dividend by the end of 2023 for the first time in years, and for its streaming business to become profitable in the second half of 2024.
Give me warp speed, Mr Sulu
For only the second time since it was founded in 2009, Uber made an operating profit, of $394m. In the same quarter last year, the ride-hailing company made a loss of $495m. Since then, the average number of trips customers have booked per day has risen by 25%, to 27m, and the firm's revenue has grown by 11%, to $9-3bn. Uber's share price has doubled since the start of 2023.
SAG-AFTRA, the Hollywood actors' union, voted to end its 118-day strike after agreeing on a tentative deal with producers. Together with another strike, by screenwriters, the shutdown has delayed the release of major films such as "Avengers: The Kang Dynasty", "Dune: Part Two" and "Paddington in Peru".
---
скачать журнал: The Economist - 11 ноября 2023
---