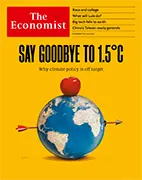 Год выпуска: ноябрь 2022
Автор: The Economist Newspaper and The Economist Group
Жанр: Экономика/Политика
Издательство: «The Economist Newspaper Ltd»
Формат: PDF (журнал на английском языке)
Качество: OCR
Количество страниц: 92
The world is missing its lofty climate targets. Time for some realism: leader, page 13.
Why global warming will not be limited to 1.5°C: briefing, page 19.
Adapting to climate change is urgent, feasible and woefully underfunded. See our special report, after page 42.
Rogue projects to engineer the climate, page 71. Africa's pitifully low energy use, page 43.
Race and college
The end of racial preferences would be a chance to build a better system: leader, page 15, and analysis, page 26.
The pampered children of alumni and athletes, page 28.
What will Lula do?
Brazil's new president will oversee a bitterly divided, cash-strapped country: leader, page 14, and analysis, page 31.
Lula's foreign policy: Bello, page 34.
Big tech falls to earth
Slowing growth is exposing the governance flaws of big tech firms: leader, page 14.
A once-revered form of industrial organisation has fallen out of favour. Or has it? Page 58.
China's Taiwan-ready generals
Xi Jinping's top brass is loyal and primed for action, page 39.
---
The world this week Politics
Luiz Inacio Lula da Silva, a leftist former president, won Brazil's election, beating Jair Bolsonaro, the populist rightwing incumbent. Lula, as he is known, won 50.9% of the votes to Mr Bolsonaro's 49.1%, the narrowest winning margin since Brazil's return to democracy in the 1980s. After the result was declared, Mr Bolsonaro refused to speak publicly for 45 hours. He eventually gave a two-minute speech and said he would comply with the constitution. He also asked supporters who had taken to the streets to stop blocking roads with lorries. Although Mr Bolsonaro did not explicitly concede, his chief of staff said that the transition of power would proceed smoothly.
Binyamin Netanyahu, Israel's longest-serving prime minister, seemed to be on track to return to office after a parliamentary election. His bloc of religious and right-wing parties was set to take 62 to 65 of the 120 seats in the Knesset, Israel's parliament.
An end to war
Ethiopia and the leaders of the rebel region of Tigray agreed to stop fighting, offering hope of an end to a two-year civil war that has taken thousands of lives and starved millions of people under blockade in Tigray. In talks mediated by the African Union the two sides also agreed to a disarmament plan and to allow the flow of humanitarian aid.
Twin bombings in Somalia's capital, Mogadishu, killed at least 100 people in an attack claimed by al-Shabab, a jihadist group affiliated to al-Qaeda. In recent weeks govern ment forces have captured ten major towns from al-Shabab in an offensive supported by clan militias.
Ghana's government slashed public spending, as it tries to contain a debt crisis that has caused interest rates to soar and its currency to sink. It is in talks with the imf over a rescue package.
Egypt arrested dozens of people accused of preparing antigovernment protests coinciding with the COP27 environmental summit, which starts on November 6th.
Rishi Sunak, Britain's new prime minister, said he would attend the COP27 climatechange summit, reversing an earlier decision not to go because he was too busy. In his appointments to government jobs, Mr Sunak demoted the status of the minister for climate policies. Tackling concerns that he is less committed to reducing emissions than Boris Johnson was, Mr Sunak said: "There is no longterm prosperity without action on climate change."
Britain's home secretary, Suella Braverman, faced more controversy over immigration. Ms Braverman referred to migrants who cross the English Channel illegally as an "invasion", as figures revealed that 40,000 have made the dangerous trip so far this year. That is already 40% more than in all of 2021, and up from 300 in 2018. Without directly criticising Ms Braverman, the immigration minister said words surrounding the issue should be chosen "very carefully". A processing centre for migrants was petrol-bombed; the facility is meant to detain 1,000 people but was holding four times that many.
Russia again pounded Ukraine's cities with missiles and kamikaze drones, apparently aiming for power stations and communityheating plants. Ukraine said it had managed to shoot down most of the incoming bombs, and had quickly repaired much of the damage from those that had landed.
Russia rejoined a deal backed by the un that allows for the safe transport of grains and fertiliser from ports on the Black Sea, having briefly suspended its participation when some of its navy ships were damaged by explosions in Sevastopol. Russia blamed Ukraine for the attack, but says it has received guarantees that the grain-transport safe-zone will not be used for military gain. Turkey brokered talks between both sides.
Denmark's general election returned the centre-left to power, a relief for Mette Frederiksen, the prime minister. Ms Frederiksen called the election amid growing criticism of an illegal cull of mink in 2020 that was intended to stop covid-19 transmissions but which also devastated the country's important mink industry. Her Social Democrats got the most support in 20 years at the polls. Ms Frederiksen has said she wants to cobble together a broad governing coalition, possibly bringing in the Moderate party.
An evening out to celebrate Halloween ended in tragedy in Seoul, the capital of South Korea. More than 150 people were killed in a crush in a small alleyway, caused by overcrowding and a lack of planning and police control. Yoon Suk-yeol, the president, has promised a full inquiry.
Tragedy also struck in India's western state of Gujarat, when a newly refurbished footbridge collapsed, plunging over 130 people to their deaths in the river below. The state government pointed the finger at local officials and private contractors responsible for renovating the structure.
Mutual hostilities between the Koreas continued, with North Korea launching at least 23 missiles, including one that crossed the maritime border between the countries for the first time since the Korean war of 1950-53. South Korea retaliated by firing three missiles north over the line. The North says it was provoked into action by joint American-South Korean military drills.
A man was charged with trying to kidnap Nancy Pelosi, the speaker of America's House of Representatives, from her home in San Francisco shortly ahead of the midterm elections. Mrs Pelosi was in Washington at the time, but the intruder attacked her husband with a hammer, fracturing his skull. The suspect is a far-right conspiracy theorist.
America's Supreme Court heard challenges to racebased admissions policies at Harvard and the University of North Carolina. The tough questioning from the conservative majority on the court suggests that it will overturn 44 years of precedent in one of the big planks of affirmative action when it rules on the case next year.
Taxing times
The chief justice of the Supreme Court, John Roberts, issued an order that temporarily stops the House Ways and Means Committee from obtaining Donald Trump's tax returns until the matter is taken up by the court, which will be after the midterms. Mr Trump had asked the court to intervene ahead of a deadline by which the Treasury Department would have been compelled to provide the committee with his tax records, which he stubbornly refuses to make public.
The world this week Business
After months of prevarication and legal limbo, Elon Musk completed his takeover of Twitter and promptly ousted the chief executive, the chief financial officer, the head of policy and the entire board of directors. Mr Musk had taken issue with senior management, blaming them for misleading him over the number of fake accounts on the platform. As interim ceo he plans big changes, such as to the "current lords and peasants system" for verifying blue-tick marks. Marking a sharp deviation from the company's platitude of enabling "healthy conversation", Mr Musk tweeted: "Twitter speaks to the inner masochist in all of us."
Get real
Meta's share price was battered for several days after the company revealed another big loss at the division developing the "metaverse" and warned of further losses to come. With its share price now down by 75% since the start of the year, some big investors are reportedly furious at Meta's emphasis on building worlds of virtual reality, but, as Mark Zuckerberg has majority control, there is little they can do.
Another casualty of the rout in tech stocks, Amazon, saw its market capitalisation fall below $itrn for the first time since 2020 after it issued a disappointing sales forecast. The company's share price is back to where it was around the start of the pandemic.
The Federal Reserve raised its benchmark interest rate by three-quarters of a percentage point for the fourth consecutive time, taking it to a range of between 3.75% and 4%. Markets looked for signals from the central bank about when it might ease the pace of increases. Jerome Powell, the Fed's chairman, hinted that the next rate rise may not be so large, but warned that the "ultimate level of interest rates will be higher than expected". Stockmarkets swooned.
Annual inflation in the euro zone hit another record in October, of 10.7%. In Germany consumer prices were up by 11.6%, year on year. Although the country unexpectedly avoided an economic contraction in the second quarter (gdp rose by 0.3% on the previous quarter) its economy is expected to shrink in the final three months of 2022. The European Central Bank recently raised its key interest rate by another three-quarters of a percentage point, to 1.5%, but it softened its guidance on further increases, a nod to concerns over the economic impact of the fast pace of tightening.
The world's biggest oil companies reported eye-watering profits for the third quarter. ExxonMobil's $19.7bn net income was its best ever. bp's underlying profit more than doubled, year on year, to $8.2bn. Chevron's profit of $11.2bn and Shell's of $9.5bn were the second-highest ever at both companies. Saudi Aramco dwarfed them all with a net profit of $42.4bn. The companies' riches have prompted more calls in the West to impose windfall taxes. Joe Biden accused America's oil giants of "profiteering" from the war in Ukraine, and warned of a potential tax on "excess" profits.
CVS, America's biggest chain of pharmacies, and Walgreens, a rival, each agreed to pay $5bn to settle claims from states and local municipalities related to the sale of opioids. Walmart was reported to have agreed to a $3bn settlement. Around 700,000 people have died in America over 20 years from overdosing on the painkillers.
There was more evidence of the rebound in the airline industry since the pandemic. Despite flying with lower capacity, International Airline Group, which owns British Airways, reported that revenue in the third quarter had exceeded that for the same three months in 2019, before covid-19 struck. That is despite continuing restrictions at Heathrow and Asian airports. It also upgraded its forecast of annual profit.
Foxconn was reportedly shifting production away from its main hub in China to other parts of the country because of a covid-19 outbreak. Workers at the Zhengzhou factory, which assembles the iPhone, were seen fleeing the site. They had been quarantined for several weeks. It is not clear how production of the iPhone and other devices will be affected ahead of the Christmas season.
A judge in Washington blocked Penguin Random House's takeover of Simon & Schuster. The Justice Department, which brought the case, argued that a merger of the two publishing houses would reduce competition in the rights for bestselling books. It's not the final chapter. Penguin is to appeal against the ruling.
The watcher
Netflix launched a cheaper subscription plan that includes advertisements for the first time in the films and programmes it streams. It hopes this will entice more subscribers as well as provide it with a new source of lucrative revenue. Some content will not be available, as studios are still negotiating rights, and waiting to see if Netflix's cheaper plan proves to be a hit.
---
скачать журнал: The Economist - 5 ноября 2022
---