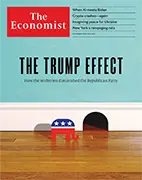 Год выпуска: ноябрь 2022
Автор: The Economist Newspaper and The Economist Group
Жанр: Экономика/Политика
Издательство: «The Economist Newspaper Ltd»
Формат: PDF (журнал на английском языке)
Качество: OCR
Количество страниц: 80
Despite Donald Trump's efforts, America and its democracy look stronger after the midterms: leader, page 13.
Republican victory will be more marginal than Democrats had feared, page 23.
Why Joe Biden should not run in 2024: Lexington, page 29.
American business still has much to fear from a bossy state: Schumpeter, page 63.
When Xi meets Biden
Refusing to speak is what children do when they are angry: leader, page 15.
Joe Biden and Xi Jinping look set to meet in person. Can they halt a downward spiral in relations? Page 37.
Crypto crashes-again
The spectacular fall of FTX and Sam Bankman-Fried, page 64.
Imagining peace for Ukraine
How a stable and successful country could emerge from the trauma of Russia's invasion: leader, page 14.
On what terms could the fighting stop? Briefing, page 20.
Russia says it is abandoning Kherson. Is that a trap? Page 45.
The problems of waging war in autumn, page 46.
New York's rampaging rats
Mayor Eric Adams becomes the city's Pied Piper, page 28.
---
The world this week Politics
The Democrats fared better than expected in America's midterm elections. The Republicans were on course to capture the House of Representatives, but with just a small majority. It was not clear which party will control the Senate, and may not become so until December, when Georgia holds a run-off. Republicans lost several winnable races after nominating extreme and eccentric candidates favoured by Donald Trump. Joe Biden said it was "a good day...for democracy".
In the governors' elections, Brian Kemp, a Republican, beat Stacey Abrams, a Democrat, in Georgia. Ms Abrams had lost in 2018, too. Then, she denied that she had done so; this time, she admitted defeat. In New York Kathy Hochul, a Democrat, held off a late surge by a Republican candidate who accused her of being soft on crime. Democrats also beat back strong challenges in Michigan and Wisconsin. They gained Maryland and Massachusetts, but Arizona and Nevada were too close to call.
Ron DeSantis, a Republican, won re-election as governor of Florida by a whopping margin. He is now well placed to run for the presidency in 2024. Donald Trump warned "Mr DeSanctimonious" to stay out of that race, hinting that he might dish up dirt on him if he challenges Mr Trump for the Republican nomination.
Voters in California, Michigan and Vermont supported changes to their state constitutions to keep abortion legal. A ballot initiative in Kentucky to specify that the state constitution does not include a right to abortion was defeated. However, abortion remains illegal in Kentucky. Voters in Maryland and Missouri voted to legalise marijuana. Similar measures failed in Arkansas and the Dakotas.
A humiliating retreat
Russia ordered its troops to withdraw from Kherson, the only Ukrainian provincial capital it controls, and pull back to the far side of the Dnieper river. Russian supply chains were failing as Ukrainians blew up their trucks. Ukraine said it would wait for evidence that Russia really is pulling out. If it recaptures Kherson, a city Vladimir Putin vowed six weeks ago would be part of Russia for ever, its forces will find it easier to attack Russian positions in occupied Crimea.
Ukraine is deploying its first nasams and Aspide air-defence systems. These will be used to shoot down Russian missiles and drones, which have been targeting Ukraine's civilian power infrastructure.
Rishi Sunak, Britain's prime minister, faces a winter of discontent. Tax rises and spending cuts are expected. Adding to the gloom, nurses voted to strike. The walkout will affect around half of the country's hospitals, though emergency care will continue.
Sir Gavin Williamson resigned as a minister in the British government, after being accused of bullying. Sir Gavin had previously been forced out as defence secretary, in 2019, after leaking information. As education secretary, he introduced a policy to estimate the results of exams pupils did not sit because of covid-19. It was hugely unpopular and swiftly reversed. He was later sacked from that job, too.
Daniel Ortega cemented de facto one-party rule in Nicaragua. His ruling Sandinista National Liberation Front won 153 out of 153 municipalities in a sham election, after serious opposition parties were banned and hundreds of dissidents were locked up. Over 2,000 ngos and 50 independent media outlets have also been shut down.
Supporters of Jair Bolsonaro, Brazil's right-wing populist president, urged the army to intervene after he lost his re-election bid to Luiz Inacio Lula da Silva, a leftist. They claim the poll was rigged, which it wasn't. Police cleared hundreds of pro-Bolsonaro roadblocks, but new ones sprang up. In one state, bolsonaristas attacked police who tried to dismantle their barriers. Mr Bolsonaro has not conceded defeat, but does not appear to be blocking the handover of power.
India's Supreme Court overturned the death-penalty convictions of three men for the rape and murder of a 19-year-old woman in 2012, citing sloppiness in the way prosecutors had marshalled evidence. The case had caused national outrage after the victim's body was found burned and mutilated. Women's groups complain that the legal system is inept at investigating such horrors.
In Pakistan supporters of Imran Khan, who was ousted as prime minister in April, tried to block the main roads around Islamabad after he claimed without evidence that the current prime minister, Shehbaz Sharif, and other officials were conspiring to assassinate him. Mr Khan was shot in the leg on November 3rd while leading an antigovernment march.
Protesters against military rule in Sudan clashed with security forces. The un estimates that 117 protesters have been killed and some 7,700 injured since a coup last year.
Uganda will shut schools before the end of term in an effort to contain an outbreak of Ebola, a virus that is often lethal if not treated quickly. Authorities have confirmed 136 cases and 53 deaths.
The UN's annual summit on climate change got under way in Sharm el-Sheikh, a resort town in Egypt. Delegates flew in to COP27 to discuss what have been termed as reparations to poor countries for the damage caused by greenhouse-gas emissions from rich ones.
While hosting COP27 the Egyptian authorities kept independent environmentalists well away from the proceedings. Human-rights campaigners put the spotlight on Alaa Abd el-Fattah, an activist who has been refusing water in prison.
As protests continued in Iran, the commander of the country's ground forces said that "rioters" would be dealt with if Ayatollah Ali Khamenei, the Islamic Republic's supreme leader, ordered the army to crack down.
Binyamin Netanyahu, whose Likud party won the most seats in the Knesset, Israel's parliament, in a recent election set about forming a coalition government. A bloc of extreme right-wingers is intent on joining it. Liberal voices urged centrist parties to keep out the far right by holding their noses and joining Mr Netanyahu in a more moderate coalition.
Welcome...but not you
An ambassador for Qatar's football World Cup, which kicks off on November 20th, said homosexuality was "damage in the mind". Visiting fans were reminded that gay sex is illegal in the tiny Gulf state.
The world this week Business
Meta laid off 11,000 employees, or 13% of its workforce, amid falling revenues from advertising and e-commerce. The parent company of Facebook, Instagram and Whats-App is also considering other cost-cutting measures, and suggested it would close offices. In a separate filing it said it expects losses to grow significantly next year at its Reality Labs division, at a time when investors are already frustrated with Meta's focus on creating a metaverse at the expense of the rest of the business. Mark Zuckerberg said he took full responsibility. The company's market value is now around $270bn, down from $itrn in September 2021.
The great tech shake-out
Meta was not the only big tech company to announce job cuts. Stripe, an online payments firm, is letting go of 14% of its workforce, and Lyft, a ride-hailing company, of 13%. Amazon has introduced a freeze on hiring for its corporate jobs. Twitter laid off half its staff following Elon Musk's takeover, though it has reportedly asked some of them to come back.
Apple issued a rare warning about delays to supplies of the iPhone. It now expects fewer shipments of iPhone 14 models, and longer waiting times for customers, because of covid-19 restrictions at the factory that assembles the device in Zhengzhou, China. The plant is operated by Foxconn, which has shifted some of the iPhone's production to India, and may transfer more if China becomes an unreliable centre for production.
Advancing its ambitions in the electric-car market, Foxconn said it would invest $170m in Lordstown Motors, a startup that is developing an electric-powered pick-up truck at a factory in Ohio.
Renault is rearranging its business around five divisions, including one based on "new mobility, energy and data-based services". The overhaul accelerates the flotation of its electric-vehicle unit, Ampere, next year. Renault also launched a joint venture with Geely, a Chinese carmaker, to make internalcombustion, hybrid and plugin hybrid engines. The arrival of electric cars has meant that the industry must shift gears "from soccer to pentathlon", said Renault's boss.
In Britain speculation mounted that the government will impose a road tax on electric vehicles for the first time when it unveils a budget on November 17th. evs are currently exempt from the tax, but the government is looking at ways to offset a fall in revenues from fuel duties because of the switch away from petrol to electric.
The global cryptocurrency market was shaken by the looming collapse of ftx, one of the biggest exchanges, after a run of customer withdrawals left it facing a liquidity crunch. ftx turned to Binance, an arch-rival, for help. Binance at first said it would take over ftx, but then pulled out of the deal, citing reports that ftx had "mishandled customer funds" and was being investigated by the authorities. Cryptocurrency prices plunged. Bitcoin fell to around $16,000, its lowest level in two years.
Nvidia has developed a new chip that can be exported to China without violating the American government's ban on selling technology in semiconductors to the Chinese. The ban has hit sales of Nvidia's high-end microchips for use in artificial intelligence, data centres and supercomputers.
Covid lockdowns affecting manufacturers and their suppliers lay behind a surprise fall in China's exports, which dropped by 0.3% in October, year on year. Imports also declined, marking the first simultaneous contraction in both categories of trade since May 2020, in the heat of the pandemic. China, meanwhile, has become Russia's top trading partner, according to the Kiel Institute for the World Economy, after eu sanctions targeted the Russian economy.
Flights of fancy
Ryanair raised its forecast of passenger numbers and said it expected to make an annual profit for the first time since the outbreak of covid. The low-cost airline was in the news recently when its boss, Michael O'Leary, threatened to leave its base in Ireland if the Irish government raises corporate taxes, proclaiming, "We're proud of being Irish, but I wouldn't die in a ditch over it." Ryanair has threatened to quit Ireland in the past. And to pull its business from Britain. And France. And Belgium. In 2018 Mr O'Leary said he would ground flights from Britain to make Britons rethink their decision to leave the eu (he never did).
More than 12m people signed up to Disney+ in the three months to October 1st, taking the total number of subscribers to 164m. That is a faster rate of growth in users than at Netflix, though Netflix has 223m subscribers. Operating losses at Disney+ have soared, however, causing Disney's share price to drop by 13%. Following Netflix, it is introducing an ad-supported subscription plan next month to entice consumers and generate new revenue streams.
---
скачать журнал: The Economist - 12 ноября 2022
---