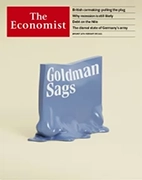 Год выпуска: январь 2023
Автор: The Economist Newspaper and The Economist Group
Жанр: Экономика/Политика
Издательство: «The Economist Newspaper Ltd»
Формат: PDF (журнал на английском языке)
Качество: OCR
Количество страниц: 80
Goldman Sags
Being good in a bad industry is not enough: leader, page 11.
How Goldman Sachs went from apex predator to mediocrity: briefing, page 18.
British carmaking: pulling the plug
Industrial policy should focus on getting the basics right: leader, page 13.
The age of electrification threatens British carmaking, page 28.
Why recession is still likely
Despite glimmers of good news, expect a downturn: leader, page 12.
Why markets are giddy, page 65.
Debt on the Nile
To save Egypt's economy, get the army out of it: leader, page 14.
A decade of deficits has caught up with the country's unproductive economy, page 31.
The dismal state of Germany's army
The Bundeswehr is in poor shape, page 23.
Western tanks should greatly help Ukraine, but the stakes are rising, page 22.
---
The world this week Politics
After months of debate, Ukraine is to be sent tanks by its Western supporters. Olaf Scholz, the German chancellor, bowed to mounting pressure and said he would send German-made Leopards. He also agreed to drop a long-standing German ban on the re-export of Leopards by other European countries that have them. As part of an international agreement that involved a fair degree of ill-will, America said it would send its main tank, the mi Abrams. But the tanks will take time to arrive, and Ukrainian soldiers will need weeks of training on them.
There is a war on you know
Volodymyr Zelensky cracked down on government corruption and the privileges of some Ukrainian officials. The deputy defence minister resigned after food was procured for the army at inflated prices. Several other officials and regional governors also stepped down. Mr Zelensky banned officials from taking foreign holidays; men of fighting age are not allowed to leave Ukraine.
Turkey's president, Recep Tayyip Erdogan, said he would not support Sweden's application to join nato, after a far-right activist burned a copy of the Koran near the Turkish embassy in Stockholm. The foreign minister of Finland, which also wants to join nato, said that maybe now was a good time for a brief pause in talks with Turkey.
Rishi Sunak, Britain's prime minister, came under pressure over a senior Tory's tax affairs. Nadhim Zahawi, the chairman of the Conservative Party and a former chancellor, said that he had reached a settlement with the authorities over previously unpaid tax relating to shares in YouGov, a polling company he helped to establish. Mr Zahawi said that he had been found to be "careless and not deliberate". Mr Sunak has referred the matter to his independent ethics adviser.
Burkina Faso's military government has given France a month to withdraw its troops, who have been fighting jihadists there for almost a decade. It is the second country in the Sahel region, after Mali, to expel Western forces and to have reportedly asked Russian mercenaries from Wagner Group for assistance.
Rwandan troops fired on a Congolese fighter jet, claiming it had violated Rwandan air space. Congo denied the jet had crossed the border. The incident comes after months of strain over claims that Rwanda is backing rebels who have taken control of several towns in Congo.
Tundu Lissu, an opposition leader in Tanzania, returned home after a ban on opposition rallies was lifted. He fled six years ago after being shot in an assassination attempt.
In Eswatini a respected lawyer was murdered outside his home in what many believe to be a political killing. Thulani Maseko was a strident critic of King Mswati, Africa's last absolute monarch.
Binyamin Netanyahu, Israel's prime minister, reluctantly fired Aryeh Deri from his cabinet following a Supreme Court ruling that he cannot serve as a minister because of a conviction for tax fraud and a suspended sentence. More than 100,000 people took to the streets of Tel Aviv in further protests against the government's proposed reforms of the Supreme Court.
The judge leading the investigation into the devastating explosion at Beirut's port in 2020 resumed his inquiry after a 13-month hiatus because of political opposition. In response, Lebanon's top prosecutor filed charges against the judge and ordered the release of all suspects detained in connection with the case.
Peru's government closed Machu Picchu, a 15th-century Incan citadel that is the country's most famous site, amid continuing protests against Dina Boluarte, the president, which have killed dozens of people. A group of left-wing legislators submitted a motion to impeach Ms Boluarte, who was sworn in only last month.
Visiting Brazil's largest reserve for indigenous people, President Luiz Inacio Lula da Silva accused the administration of his predecessor, Jair Bolso-naro, of genocide against the Yanomami tribal people. He described the deaths of hundreds of children in the area from preventable diseases over the last four years as a "premeditated" crime.
The trial opened in New York of Genaro Garda Luna, Mexico's security minister between 2006 and 2012. He is accused of having abetted the Sinaloa drug cartel. Arrested in Texas in 2019, Mr Garda Luna has pled not guilty to five charges, including conspiracy to distribute cocaine.
Democrats in California called for stricter gun-control laws following two mass shootings. The first attacker murdered 11 people at a dance studio in Monterey Park, a suburb of Los Angeles. In a separate incident a gunman shot dead seven people in Half Moon Bay, a coastal town south of San Francisco. The state already has some of the toughest regulations on the use of firearms in America, and the country's seventh-lowest death rate from gun violence.
Donald Trump is to be allowed back on Facebook and Instagram, two years after he was banned because of the risk that he could incite violence. Meta, Facebook's parent company, says it has put "new guardrails in place to deter repeat offences".
Running out of credit
America's treasury secretary, Janet Yellen, outlined the "extraordinary measures" her department is taking to keep paying the bills, after it hit a limit on national borrowing imposed by Congress. The debt ceiling is $31.4trn, but in a regular partisan showdown Republicans are refusing to lift the cap. The impasse could turn into a crisis by June.
Chris Hipkins was sworn in as New Zealand's prime minister following the resignation of Jacinda Ardern. Mr Hipkins was in charge of the response to the covid-19 pandemic. He says his priority as prime minister is to tackle the cost-of-living crisis, which is dragging his Labour Party down in the polls.
India used emergency powers to block a bbc documentary investigating Narendra Modi's role in the religious riots that swept Gujarat in 2002, when he was the state's chief minister. The programme was to be aired on social media. The prime minister has long rejected accusations that he could have stopped the violence, which killed at least 1,000 people, most of them Muslims. The government said the programme propagated a "discredited narrative".
The Committee to Protect Journalists, which is based in New York, reported that 67 members of the media were killed last year, the highest number since 2018.
The world this week Business
Investors who hoped that 2023 would bring a change in fortunes to America's tech companies following their walloping in the markets in 2022 were left disappointed by Microsoft's earnings. The company reported solid revenue and profits for the final quarter of last year, but said the growth in demand for its cloud services, the main driver of its business, had softened as clients curtailed spending. It was the first of America's tech giants to publish results for the fourth quarter. Markets are nervously awaiting earnings reports from the others.
The word is out
Meanwhile Microsoft confirmed that it had increased its investment in OpenAi, the startup behind the ChatGPT artificial-intelligence bot. ChatGPT has become an ai sensation since its release on the market last November. Taking direction from just a few commands, it has passed exams in law and medical licensing, and completed the final exam in the Wharton mba programme (which may not surprise anyone who has attended business school).
America's Justice Department sued Google for anticompetitive behaviour in online advertising. The suit alleges that Google tried to limit its rivals' access to digital-ad technology by acquiring firms that develop it and wielded its dominance in the market to force advertisers and publishers to use its products. The news comes after Alphabet, Google's parent company, announced 12,000 job cuts, another instance of the tech industry's great retrenchment.
In an indication of shareholder frustration at the strategic direction of some tech firms, Elliott Management, a prolific Wall Street activist hedge fund, has reportedly taken a stake in Salesforce, one of the world's biggest software companies. Salesforce has also shed jobs to cut costs, but investors' exasperation goes beyond its hiring spree to its $28bn acquisition of Slack, which critics think was overvalued.
Reed Hastings stepped down as chief executive of Netflix, which he helped found in 1997 as a dvd rental firm. He'll remain at the company as executive chairman. The streaming company, meanwhile, said it was pleased with the progress of its new ad-supported subscription option, and that it would ban the sharing of passwords to its service by the end of March.
Rupert Murdoch ditched a plan to remerge News Corporation, the newspaper side of his empire, with Fox, his television assets. The publishing and entertainment businesses were split in 2013 (21st Century Fox, the film studio, was subsequently sold to Disney). Mr Murdoch's proposal faced resistance from some News Corp investors unhappy at the prospect of being lumped together with Fox News, which they consider a toxic brand.
A German union said that Ford is planning to cut 3,200 jobs and move some activities to America. The carmaker has not confirmed the cuts, saying only that it needs to make structural changes amid the shift to electric vehicles. Press reports suggested that Ford was considering selling one of its German factories to byd, a Chinese maker of evs.
Qatar's investment agency has doubled its stake in Credit Suisse and now owns 6.8% of the Swiss bank, according to a regulatory filing. It is now the second-largest shareholder in Credit Suisse, after Saudi National Bank, which holds a stake of 9.9%.
A uniform policy
In Boston a federal judge dismissed a lawsuit from three former workers at Whole Foods who claimed they had been sacked illegally for wearing Black Lives Matter masks. The judge found that the company had a legitimate business interest in upholding its dress code, which applies to all slogans and logos, and found no evidence that the three employees had been targeted.
Amazon warehouse workers in Britain held their first strike. The staff at a facility in Coventry walked out in a dispute over pay. Some claim they are monitored for their "idle time", such as going to the toilet. Many Amazon employees in Europe are unionised.
The company has resisted efforts to unionise in America. The first union, at a warehouse in New York, was formed only last April.
Tesla reported record quarterly revenue and net profit, which came in respectively at $24.3bn and $3.7bn. It was good news for the carmaker after it missed its annual target for delivering vehicles.
Elon Musk took the stand at his trial for securities fraud in relation to a spurious tweet in 2018 about taking Tesla private. Mr Musk insisted he had never intended to mislead investors and "would be sad" if some had lost money as a result of the market reaction to the tweet. Asked whether the tweet's offer of $420 a share was a joke (420 is slang for cannabis) Mr Musk said it was just a coincidence, but there is some "karma around 420".
---
скачать журнал: The Economist - 28 января 2023
---