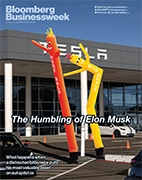 Год выпуска: January 30, 2023
Автор: Bloomberg Businessweek Europe
Жанр: Бизнес
Издательство: «Bloomberg Businessweek Europe»
Формат: PDF (журнал на английском языке)
Качество: OCR
Количество страниц: 64
The Humbling of Elon Musk
What happens when a distracted billionaire puts his most valuable asset on autopilot
If Elon Musk has a tragic flaw, it isn't his temper, or his treatment of underlings, or his refusal to follow securities laws. Musk's tragic flaw is his inability to accept that he's extremely, painfully unfunny. At best, his brand of humor resembles dad jokes from the dad who thinks he can hang, as when he hosted Saturday Night Live, tried to start an Onion competitor, or sold novelty blowtorches for no good reason. At other times, the gags aren't just whiffs; they're also stunningly self-destructive.
These face-plants are becoming a serious problem for Tesla Inc., one of the world's most important and innovative companies. For years now, but especially over the past few months, Musk's automaker has had to reckon with the consequences of his excruciating attempts to tell a multibillion-dollar weed joke. His failed 2018 effort to take Tesla private at $420 a share led to a Securities and Exchange Commission settlement and a shareholder lawsuit that brought Musk to the witness stand in federal court starting on Jan. 20. The second, more successful buyout attempt has led to far more strained bids for lulz. "Comedy is now legal," Musk tweeted in October, shortly after closing the $44 billion deal that gave him control of Twitter Inc. for $54.20 a share. Since then he's run all of Twitter with the same kind of needy trolling that animates his personal account.
The joke is on Musk. This became all too clear last month in San Francisco, when comedian Dave Chappelle called him onstage during a sold-out stand-up show at the Chase Center. "Ladies and gentlemen, make some noise for the richest man in the world," Chappelle said, ft should've been a sympathetic crowd: The average Chappelle fan in 2023 isn't the sort to be offended by Musk's comments about the "woke mind virus" or his mocking of trans people's pronoun use. Instead, his appearance was a mic drop, and not in a good way. Musk was booed so relentlessly that, rather than trying to press on and do some patter with him, Chappelle simply ended the show.
"Do you hear that sound, Elon?" the comedian asked during the boos. "That is the sound of pending civil unrest." Musk, who typically appears before throngs of adoring fans at his own corporate events, looked as if he'd taken a sucker punch. "Dave," he asked limply, "what should 1 say?"
For almost the entirety of his tenure at Tesla, where he's been the chief executive officer since 2008, Musk's image has helped the company seem to defy the laws of business. Tesla has overcome debilitating supply chain and manufacturing challenges and now dominates the market for electric vehicles, accounting for 65% of all EVs registered in the US for the first nine months of 2022, according to Experian, a credit reporting company. ft's the ninth-largest car company in North America by volume and by far the most valuable one in the world. During most of this hot streak, demand for Tesla sedans and SUVs wildly outstripped Musk's ability to make them, with customers putting down deposits on cars that some wouldn't receive for three years. Musk spun this into the greatest growth story of all time.
But his turn as "Chief Twit" has wounded his reputation across industries. His childish provocations and disastrous business moves, both frequently delivered via tweets, are making him toxic to many customers at a time when Tesla badly needs new business.
A year ago, this would've been difficult to imagine. Musk had quieted many of his longtime doubters and attracted a broad swath of Wall Street evangelists. Cathie Wood, the CEO of ARK Investment Management LLC, argued that Tesla was destined to displace all other cars with cheap batteries and with self-driving robotaxis, a fantasy Musk has been hawking since 2016. As more people bought in and Tesla's share price rose, this magical thinking drifted into the mainstream. In March, as Musk began his bid to buy Twitter, Tesla's market value stood at about $1.1 trillion, making it worth more than the next 15 automakers combined. Wood predicted it would be worth almost $5 trillion by 2026.
The following month, Musk disclosed in an April 4 securities filing that he'd acquired 9-2% of Twitter, and chaos followed. He agreed to join the Twitter board, then bailed out and attacked it, then signed a deal to buy the company, then went to court in a failed effort to get out of it. All the while, he sold huge quantities of Tesla stock, which lost about 40% of its value in the meantime.
Musk tried to stay upbeat. "It looks like we'll have an epic end of year," he said on Tesla's last earnings call, in October. He stressed that he wasn't worried about leaving any cars unsold and said he sees "a potential path" for Tesla to be "worth more than Apple and Saudi Aramco combined." The price cuts started days later, first in China and, by December, in the US, where customers who took delivery before the end of the year were offered a $7,500 discount plus a $500 credit for use of its superchargers.
By early this month, it was undeniable that Tesla was struggling with demand for the first time. The company said it had ended the fourth quarter having made 34,000 more cars than it sold, and deeper price cuts followed. In the US, it lowered the cost of the cheapest Model Y by 20%, to $53,000, and knocked $21,000 off its priciest vehicles. The idea is to sacrifice profit margins for volume. On Jan. 25 the company reported quarterly earnings and disclosed that gross automotive profits fell below analyst expectations. Its stock had fallen 62% since Musk's April 4 Twitter disclosure.
Musk has responded to his humiliation by tweeting through it. He blamed the boos at the Chappelle show on "SF's unhinged leftists" and has suggested that Tesla's plunge is the fault of the US Federal Reserve, which he's said is "massively amplifying the probability of a severe recession" by failing to cut interest rates. He's mostly ignored his part in the problem, even as it grows clearer that what was once Tesla's greatest strength is becoming a serious liability.
---
Trolling While on Autopilot
Elon Musk's shtick wears thin for investors as Tesla's competition gets tougher
Big Brother at a Bargain
Autocrats use affordable military-grade spyware to track opponents' every move
Forever Young — for $2 Million a Year
A 45-year-old entrepreneur is a walking experiment in extending longevity
IN BRIEF
California shootings
US and German tanks for Ukraine
OPINION
Turkey's dangerous stand against NATO expansion
AGENDA
Smaller rate hikes?
Big Tech earnings
US trade figures
REMARKS
With all eyes on Ukraine, tensions rise in the Balkans
BUSINESS
China races toward the front of the global car market
Families of 737 Max crash victims take Boeing to court
Sure, you can quit your job today — for a hefty fee
TECHNOLOGY
ChatGPT's future rides on its need for computing power
The government's case against Google's ad-tech business
FINANCE
Startups find creative workarounds to the down round
A long-held bet on bad debt may earn a huge payoff
ECONOMICS
Forecasting a recession is a wildly tricky art
Tech investors decry a plan to weaken Israel's judiciary
The US solar industry waits for some pesky clouds to clear
SOLUTIONS / INNOVATION
The ship finally comes in for a green methanol pioneer
As wind turbines get larger, the number of failures rises
A machine that helps stem the tide of textile waste
PURSUITS
For smaller watchmakers, the best of times is now
MB&F doesn't care if you don't like its watches
Jeweler Emmanuel Tarpin makes one-of-a-kind wonders
The next-gen G-Wagen is unapologetically big and bossy
Gloves that beat the most abominable winter weather
LAST THING
The economic threat no one's talking about: Stagflation
---
скачать журнал: Bloomberg Businessweek (January 30, 2023)
---