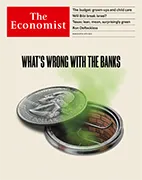 Год выпуска: март 2023
Автор: The Economist Newspaper and The Economist Group
Жанр: Экономика/Политика
Издательство: «The Economist Newspaper Ltd»
Формат: PDF (журнал на английском языке)
Качество: OCR
Количество страниц: 80
WHAT'S WRONG WITH THE BANKS
Rising interest rates have left banks exposed. Time to fix the system—again: leader, page 11.
How deep is the rot? Page 63.
Venture capitalists mourn their banker, page 66. A painful new phase in financial markets: Buttonwood, page 65.
The Federal Reserve smothers capitalism in an attempt to save it: Free exchange, page 70.
The budget: grown-ups and child care
Jeremy Hunt is better at diagnosis than treatment: leader, page 15.
Going for growth, page 23.
Will Bibi break Israel?
Binyamin Netanyahu is exposing—and exploiting—Israel's longstanding divisions, page 41.
When the best and brightest are up in arms it is time to worry: leader, page 12.
Texas: lean, mean, surprisingly green
America's second-most-populous state matters more than ever: leader, page 14.
It is sucking in people, companies and federal spending: briefing, page 19.
Ron DeReckless
By saying Ukraine is not a vital American interest, Florida's governor blundered: leader, page 13.
---
The world this week Politics
Anthony Albanese, the prime minister of Australia, and Rishi Sunak, the prime minister of Britain, met Joe Biden, the American president, in San Diego to announce the next stage of the three countries' aukus defence pact. In a landmark agreement, Britain is to help design and build a new type of submarine for Australia, and America will sell nuclear-powered submarines to Australia in the 2030s. The deal expands the involvement of Britain and Australia in policing the Indo-Pacific. China said the aukus countries were travelling down "a dangerous road".
Mr Albanese then went to Fiji to assure it and other South Pacific countries that the aukus deal does not mean Australia is abandoning its commitment to nuclear nonproliferation. His visit comes as China renews its push for a security pact with nations in the region.
Very cordial
It was also a busy week for Mr Sunak, who met Emmanuel Macron, the French president, in Paris. One purpose of their summit was to discuss the surge of illegal migrants crossing to Britain in small boats— Britain pledged money to help build a new detention centre in France. Both said their meeting was a success; Mr Macron described it as "entente renewed". Mr Macron has bristled at the aukus pact, though if France ever joins it could become fraukus.
Yoon Suk-yeol visited Japan, the first trip to the country by a South Korean president for 12 years. His visit follows a recent agreement to compensate victims of Japanese forced labour during the second world war, which had been a sticking point in the two countries' relations. Mr Yoon and Kishida Fumio, the Japanese prime minister, discussed the threat from North Korea, which fired a ballistic missile shortly before the talks.
Police in Pakistan tried unsuccessfully to arrest Imran Khan, the country's popular former prime minister, on corruption charges. Mr Khan, a former cricket star who is campaigning for an election due in October, is holed up at his house in Lahore, surrounded by a phalanx of supporters, who forcefully resisted the police's efforts. As Pakistan's economic crisis deepens, many fear a rise in political violence.
China's parliament confirmed Li Qiang as the country's new prime minister. The former Communist Party chief in Shanghai is a protege of Xi Jinping. He may be more in tune with business than his boss is, but he is expected to be unflinchingly loyal.
An American Reaper drone was struck by a Russian fighter jet over international waters in the Black Sea, causing the Americans to down their unmanned aerial vehicle. It was the first military tussle between America and Russia since the start of the Ukraine war. America said the Russians' conduct had been "unsafe and unprofessional".
Hungary's ruling party, the right-wing populist Fidesz, is to delay a session of parliament that will vote on Finland and Sweden joining nato, even though a Hungarian parliamentary delegation to Sweden said it would back that country's application.
South Africa's president, Cyril Ramaphosa, was cleared by the Public Protector, an anticorruption watchdog, of attempting to cover up the theft of $580,000 in cash hidden in his sofa. The report will bolster Mr Ramaphosa's political position.
More than 200 people have been killed by flooding and landslides after Cyclone Freddy struck Malawi and Mozambique. The damage appears to be worse than that caused early last year when another tropical storm destroyed crops and damaged hydroelectric power stations.
Frenemies, again
Iran and Saudi Arabia restored diplomatic relations after a seven-year break. The two countries agreed, in a deal brokered by China, to reopen their respective embassies and re-establish formal relations within the next two months. That is unlikely to transform the relationship between the Saudis and the Iranians but it does mark a more public role for Chinese diplomacy in the Middle East.
Hundreds of thousands of people took to the streets of Israel to demonstrate against legal reforms put forward by Binyamin Netanyahu, the prime minister. Critics say the reforms would undermine the independence of the judiciary and weaken Israeli democracy. The protests may have been the biggest in Israel's history. Isaac Herzog, the president, tried to reach a compromise by suggesting alternative reforms, but Mr Netanyahu rejected them. Mr Herzog warned of the risk of civil war.
The Lebanese lira plunged to 100,000 against the dollar. The currency is officially pegged at 15,000 to the dollar but it hit a new low on the black market. It has now lost 99% of its value since the country's economic crisis began in 2019.
The lower house of Chile's Congress rejected a tax reform proposed by Gabriel Boric, the country's left-leaning president. He had hoped that it would raise revenues to help pay for improvements to health care and pensions.
A former cabinet minister in Ecuador who had been convicted of corruption escaped from Argentina's embassy in Quito (where she had taken refuge since 2020), causing an almighty row between the two countries. She later turned up at Argentina's embassy in Venezuela.
The president of Honduras, Xiomara Castro, said her country would establish diplomatic relations with China, which means it will no longer recognise Taiwan. That reduces to 13 the number of countries that recognise Taiwan, a self-governing democracy that China claims as its territory. Seven are in the Americas.
Reported hate-crime incidents in America rose by 12% in 2021. Almost 65% of such crimes were related to the race or ethnicity of the victims, 16% to sexual orientation and 14% to religion.
Ron DeSantis, a putative Republican presidential contender, said that supporting Ukraine was not in America's vital interests. He had previously favoured arming Ukraine, but has now moved closer to the foreign-policy stance of Donald Trump. His comments were condemned by the Republican establishment, which will do him no harm among Republican primary voters.
"Everything Everywhere All at Once" dominated the Oscars, winning best picture. Its star, Michelle Yeoh, won best actress, the first woman from Asia to capture the award (Ms Yeoh was born in Malaysia).
The world this week Business
The failure of Silicon Valley Bank, a mid-sized American lender, sent shock waves through the financial system. svb specialised in offering banking services to tech startups. It got into trouble as interest rates rose, the value of its bond-holdings plunged and nervy depositors took out their money. An attempt to raise capital to plug a shortfall in its finances failed, leading to a run on its deposits and the collapse of its share price. On March 13th hsbc purchased svb's British assets for £1, but America's regulators have struggled to find a buyer for the rest of the bank.
Two days after svb imploded regulators took control of Signature Bank, which is based in New York. The speed and the size of the failures rattled markets, wiping billions off banking stocks. In a coordinated action, the Treasury, the Federal Reserve and the Federal Deposit Insurance Corporation stepped in to protect depositors at both banks and set up a facility that allows banks to tap emergency funds.
The failure of svb complicates the Fed's path for further monetary tightening. It will now have to weigh up stability in the banking system as well as inflationary pressures. The data for February showed annual inflation dropping to 6%, but the core annual rate, which strips out energy and food prices and which economists fret about now, was almost unchanged at 5.5%, and actually rose over January's figure. The labour market is also running hot. Employers created 311,000 jobs in February, well above expectations.
In the febrile atmosphere, Credit Suisse saw its share price plunge by a quarter when its largest investor, Saudi National Bank, said it would not increase its stake in the business. The troubled Swiss bank had to turn to Switzerland's central bank for support in the market meltdown, and will borrow up to SFr5obn ($54bn) to bolster its liquidity and buy back some of its debt.
Not many countries face inflationary pressures quite like Argentina. The official annual inflation rate soared to 102.5% in February, the highest it has been since 1991 and despite price controls on more than 1,700 goods.
Saudi Aramco reported an annual net profit of $161bn. Like others in the oil industry, the company benefited from a buoyant market as demand recovered after the pandemic and prices spiked after Russia invaded Ukraine. It thinks that oil demand will grow again this year, as China reopens and the airline industry recovers.
Underlining China's rebound, retail sales grew by 3.5% in the first two months of 2023, year on year, reversing a series of declines towards the end of last year. The statistics bureau warned, however, that the country's economic recovery is "not yet solid".
No jobs in the metaverse
Meta is shedding another 10,000 jobs, which come on top of the 11,000 lay-offs it announced last year. The parent company of Facebook, Instagram and WhatsApp hired too many people during the pandemic and its boss, Mark Zuckerberg, has called 2023 a "year of efficiency". Markets approve. Meta's share price has rebounded from its nadir in November.
OpenAi, the firm behind ChatGPT, released gpt-4, the latest upgrade to the artificial intelligence that underlies the chatbot. gpt-4 can accept images as well as text as inputs to generate descriptions and answers.
Volkswagen increased the amount of money it is investing in building electric vehicles and batteries over the next five years, to €180bn ($190bn). The investment will also go towards developing software that links smartphones to the cars' functions. The German carmaker has chosen Canada as the home for a new plant that will supply batteries to another new factory, in South Carolina.
Pfizer announced its acquisition of Seagen, a biotech company that specialises in cancer medicines. At $43bn, it is the biggest takeover in the drugs industry since 2020.
The global battle for dominance in chipmaking intensified, with the news that Samsung Electronics is to spend 300trn won ($230bn) on building five factories near Seoul for advanced semiconductors. The investment forms part of the South Korean government's plan to support 550trn won of private investment in high-tech sectors.
By contrast to South Korea
Britain's economy is doing better than expected and will shrink by just 0.2% this year, according to the government's budget; that is an improvement on the contraction of 1.4% previously forecast. Among a series of measures, the budget unveiled a new but temporary regime for capital allowances and more generous child-care support. It also reduced alcohol taxes for pubs. "British ale is warm but the duty on the pint is frozen," said Jeremy Hunt, the chancellor.
---
скачать журнал: The Economist - 18 марта 2023
---