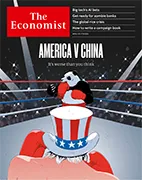 Год выпуска: апрель 2023
Автор: The Economist Newspaper and The Economist Group
Жанр: Экономика/Политика
Издательство: «The Economist Newspaper Ltd»
Формат: PDF (журнал на английском языке)
Качество: OCR
Количество страниц: 72
America v China: It's worse than you think
A new and dangerous phase of the Sino-American contest is under way. Don't underestimate the fallout: leader, page 7.
America has lots of ways to hobble Chinese industries and China to retaliate: briefing, page 14.
Defanging the Chinese tiger: Chaguan, page 34.
Both political camps in America agree that TikTok is troubling. That does not mean it will be banned, page 17.
Big tech's ai bets
The tech giants are going all in on artificial intelligence. Each is doing it its own way, page 49.
Get ready for zombie banks
Propping up banks without fixing their balance-sheets risks damaging the economy: leader, page 8.
Will the recent banking chaos lead to an economic crash? Page 55.
The global rice crisis
The world's most important crop is fuelling diabetes and climate change: leader, page 10, and analysis, page 27.
How to write a campaign book
A guide for candidates of both parties: Lexington, page 22.
---
The world this week Politics
Binyamin Netanyahu, Israel's prime minister, agreed to pause legislation intended to weaken the Supreme Court and politicise judicial appointments, after mass protests brought the country to a halt. Organisers of the demonstrations claim that almost 7% of the population marched against the new laws. Thousands of soldiers and pilots in elite reserve units said they would not report for duty if the law passed. The calm may last until April 30th, when the Knesset sits again.
UN investigators have found evidence that Libya's security forces and militias committed war crimes and crimes against humanity, including the systematic torture of migrants.
Al-Shabab, a jihadist group in Somalia that is affiliated to al-Qaeda, has lost almost a third of its territory to government offensives, according to the American ambassador.
America is to provide $ioom in security assistance to help west African countries battle jihadists. Most of the money will be provided over the next three years to Benin, Ghana, Guinea, Ivory Coast and Togo. This is in addition to direct assistance to Ghana that was announced by Kamala Harris, America's vice-president, on a trip to the region.
The political opposition to the Hindu nationalist government in India demanded that Rahul Gandhi be reinstated to Parliament. Mr Gandhi, the leader of the Congress party, says that his recent conviction for defaming Narendra Modi, the prime minister, was politically motivated. He was sentenced to two years in prison for comments he made in a speech in 2019 but is out on bail pending an appeal.
The prime minister of Pakistan, Shehbaz Sharif, asked Parliament to take action against Imran Khan, his predecessor, whose supporters clashed with police when they tried to arrest him on graft charges in mid-March. Mr Sharif did not specify what he wanted Parliament to do, though some members of the government have called for Mr Khan's party to be banned.
In Myanmar the ruling junta dissolved the National League for Democracy, Aung San Suu Kyi's party, and dozens of other political parties, because they had missed a deadline to register for unspecified elections, which will anyway be a sham.
Own goal
FIFA, football's global governing body, said that Indonesia would not now host the under-2os football World Cup, which begins in May. The governor of Bali, where some of the matches were due to be held, had refused to allow the Israeli team to play.
Energy ministers in the European Union gave final approval to an agreement that will require all new cars to have zero carbon-dioxide emissions by 2035. The deal had been held up by Germany, which secured an opt-out for vehicles that run on e-fuels that are made from carbon and hydrogen and cleaner than petrol, but still carbon-emitting.
Police again fired tear-gas at demonstrators in France, amid fresh protests against a bill that raises the state retirement age from 62 to 64. A huge demonstration in Paris on March 23rd ended with the worst violence seen on the city's streets in years, which was blamed on anarchists. The trouble forced President Emmanuel Macron to postpone a visit by Britain's King Charles, which would have been his first official trip overseas as monarch. The king went to Germany instead.
The Hungarian parliament approved Finland's application to join NATO. Turkey has also said it will support the application, all but securing Finland's membership of the military alliance. Hungary and Turkey have yet to ratify Sweden's bid to join.
The Greek prime minister called parliamentary elections for May 21st. The governing New Democratic Party has seen its lead in the polls over the leftist Syriza melt away over the cost-of-living crisis and a deadly train crash.
Humza Yousaf was elected leader of the Scottish National Party and became Scotland's first minister, succeeding Nicola Sturgeon, who resigned suddenly in February. The election campaign highlighted the disquiet within the party on a number of issues. Kate Forbes, who was Scottish finance secretary, finished a close second and quit the cabinet after she was offered a role in rural affairs.
At least 40 people died in a fire at a migrant detention centre in Ciudad Juarez, a Mexican city near the border with America. The blaze was thought to have been started by migrants after hearing that they would be deported.
Dina Boluarte, the president of Peru, was named in an investigation by the attorneygeneral. Ms Boluarte and Pedro Castillo, her predecessor, who was ousted after he attempted a coup in December, are accused of laundering money during the presidential campaign of 2021. Both deny any wrongdoing.
Taiwan's president, Tsai Ing-wen, embarked on a trip to Central America that is bookended by stops in New York and Los Angeles. China warned Ms Tsai not to meet the speaker of America's House of Representatives, Kevin McCarthy, in California. Meanwhile Ma Ying-jeou became the first sitting or former Taiwanese president to visit China. Mr Ma was in office from 2008 to 2016. His trip was criticised by Ms Tsai's party.
A shooter murdered six people at a Christian school in Nashville, including three nine-year-olds. Police shot dead the suspect, a former pupil who was described as a biological female who used male pronouns.
At least 25 people were killed in Mississippi by a giant tornado that smashed through the town of Rolling Fork. The tornado lasted for 70 minutes, reaching wind speeds of between 166 and 200 miles per hour (267 to 321kph).
The White House said that Joe Biden would veto an energy bill crafted by Republicans if it passes Congress, because it would make energy-efficiency measures more costly. This came after Republicans failed to override Mr Biden's first veto in office. The president scrapped a measure that would have made it harder for pension funds to consider environmental, social and corporate-governance (esg) factors in their investments.
A greener and pleasant land
America generated more electricity from renewable energy than coal for the first time last year, according to the Energy Information Administration. Renewables accounted for 21% of electricity generation. Natural gas remained the largest source, at 39%.
The world this week Business
Alibaba announced plans to turn itself into a holding company overseeing six divisions, which could potentially pursue their own stockmarket listing. The six units will include the Chinese tech company's struggling cloudcomputing business, media and e-commerce. Alibaba was not forced by regulators to split, but its radical overhaul comes nearly three years after the start of the Chinese government's crackdown on tech giants for becoming too powerful. Meanwhile, Jack Ma, Alibaba's founder, returned to China for the first time in more than a year, which was taken as another sign that regulators are easing their campaign.
Sergio Ermotti is returning to UBS as chief executive to guide the Swiss bank's emergency takeover of Credit Suisse. Mr Ermotti ran ubs from 2011 to 2020. He is replacing Ralph Hamers, "who has agreed to step down to serve the interests of the new combination", according to ubs. Merging the two banks is immensely complicated, it said, which calls for Mr Ermotti's "unique experience".
There was another casualty from the fallout surrounding the collapse of Credit Suisse. Ammar al-Khudairy resigned as chairman of Saudi National Bank, a big investor in the Swiss bank. His comments in March about not investing more in Credit Suisse were followed by a market rout.
Deutsche Bank clawed back most of the losses from a selloff caused by the soaring price of its credit-default swaps, which act as an insurance against a default on its debts.
In a jittery market the sell-off spread to other banking stocks, but they, too, recovered.
A costly bankruptcy
America's Federal Deposit Insurance Corporation engineered the sale of Silicon Valley Bank's deposits and loans to First Citizens, a bank based in North Carolina. The fdic estimates that the failure of svb will cost its depositinsurance fund $2obn.
Binance, the world's biggest crypto exchange, faced its most serious legal challenge yet when a regulator in America accused it of operating illegally. In a civil lawsuit the Commodity Futures Trading Commission alleged that much of Binance's trade and profit comes from America, but it had never registered with the cftc and "disregarded" financial laws. Changpeng Zhao, Binance's boss, said the complaint was "unexpected and disappointing".
American prosecutors added another charge against Sam Bankman-Fried, who ran ftx until the crypto exchange's spectacular collapse last November. Prosecutors now contend that Mr Bankman-Fried paid $4om in bribes to Chinese officials in 2021 to allow him access to accounts linked to a sister company.
Bob Iger continued his shakeup of Disney. Isaac Perlmutter was removed as chairman of Marvel Entertainment (which is separate from Marvel Studios); his relationship with Mr Iger has been described as rocky. Disney is also scrapping its nascent attempt to expand into the metaverse, a strategy that envisioned immersing audiences in a digital "experience". Mr Iger is focused on trying to turn a profit from Disney's streaming platforms.
Elliott Management, an activist hedge fund, withdrew plans to nominate directors to the board of Salesforce, after the business-software company produced a solid set of earnings and a new strategy for growth. Elliott and other shareholders had criticised Salesforce for splashing out on costly acquisitions, such as Slack and Tableau.
Bits of the source code that underlies Twitter were published on GitHub, a repository for open-source software. Hackers could use the code to attack the platform. GitHub removed it after Twitter threatened legal action. Elon Musk, meanwhile, appeared to backtrack on a plan to promote tweets only from verified users. He also reportedly thinks Twitter is worth $20bn; he paid $44bn for it in October.
The share price of Block, a retail-payments system marketed as Square, struggled to recover from a sharp fall sparked by a report from Hindenburg Research, which specialises in short-selling stock, claiming it had "wildly overstated" its number of users and "misled investors". A report by Hindenburg into the Adani Group in India triggered a sell-off in its shares in January. Block said Hindenburg's claims were "misleading" and it was considering legal action.
Do you read me, hal?
A study by Goldman Sachs estimated that two-thirds of jobs in America and Europe could be affected by generative artificial-intelligence, and 7% of workers could lose their jobs. This week more than 1,100 people associated with the ai industry, including Elon Musk and Steve Wozniak, signed a petition calling for a six-month pause in developing systems such as ChatGPT so that discussions can take place on better oversight.
---
скачать журнал: The Economist - 1 апреля 2023
---