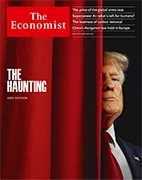 Год выпуска: май 2023
Автор: The Economist Newspaper and The Economist Group
Жанр: Экономика/Политика
Издательство: «The Economist Newspaper Ltd»
Формат: PDF (журнал на английском языке)
Качество: OCR
Количество страниц: 80
The Haunting: non-fiction
Donald Trump's chances of being America's next president are uncomfortably high: leader, page 11.
Ron DeSantis has little chance of winning the Republican nomination: briefing, page 18, and
Lexington, page 38.
Mr Trump's trials, page 33.
The price of the global arms race
How to get a better bang for every billion bucks: leader, page 14.
What a "war tax" means for the global economy, page 51.
Superpower AI
What would humans do in a world of ultra-powerful artificial intelligence? Page 67.
Man-made brains are helping scientists study the real thing, page 70.
AI models are developing their own artistic style, page 74.
Why the tech giants have an interest in regulating generative AI: Schumpeter, page 61.
Carbon removal
Can it become a trillion-dollar business? Page 55.
China's Hungarian toe-hold
European views of China have hardened in recent years. That makes Hungary all the more special, page 47.
---
The world this week Politics
Ron DeSantis launched his campaign for the Republican presidential nomination. The governor of Florida made his announcement in an audio conversation with Elon Musk on Twitter, though the event was marred by technical glitches for the first 20 minutes. Mr DeSantis said he would revitalise America and criticised Joe Biden for being woke; as governor Mr DeSantis has made a point of clashing with the left on gay issues and identity politics. He didn't mention Donald Trump, who holds a big lead in the Republican race at this early stage.
Swimming with the current
Seven states in the American west reached an agreement to protect the sustainability of the Colorado river, which provides water and electricity to 40m people. Described as "historic" by the White House, the deal will see Arizona, California and Nevada reduce their intake of water from the Colorado river system.
America signed a security pact with Papua New Guinea, a deal that seeks to counter the rise of Chinese influence in the Pacific. The prime minister of png, James Marape, tried to reassure domestic critics that America would not be allowed to launch "offensive military operations" from his country. The pact was signed at the us Pacific Islands Forum. Joe Biden had to miss the event, as he continued haggling with Republicans in Washington over the federal-debt ceiling.
In separate negotiations America signed agreements with Micronesia to expand economic assistance to the Pacific island nation. The State Department said the deal would "support freedom, security, and prosperity in the Indo-Pacific".
The opposition won a general election in East Timor. According to preliminary results the National Congress for Timorese Reconstruction took 42% of the vote, increasing the chances that Xanana Gusmao, its leader and a war hero during the country's resistance to Indonesian rule, will return as prime minister. The legislature makes that appointment.
It emerged that Alejandro Encinas, a Mexican official close to President Andres Manuel Lopez Obrador, had his phone hacked by Pegasus, a type of spyware. Pegasus has been deployed in Mexico before, but Mr Lopez Obrador had said he would stop its use. Yet the armed forces continue to spy on human-rights campaigners. Mr Encinas was hacked last year while investigating the armed forces' role in the disappearance of 43 students in 2014.
An internationally monitored ceasefire in Sudan, due to last a week, lessened the intensity of the civil war, though violence persisted here and there. The un said that 60,00090,000 people had fled into Chad from Sudan's western region of Darfur, where fighting has been especially fierce.
The secretary-general of the ruling African National Congress said that South Africa risks becoming a "failed state", causing business leaders to lament the state of the economy more forcefully than ever.
The trial of Ousmane Sonko, a Senegalese opposition leader accused of rape, resumed. He was absent, denouncing the trial as politically motivated. If found guilty, he would almost certainly be ruled out of running in the presidential election due next February.
Over a hundred green-minded members of the European Parliament and the American Congress called for the designation of Sultan al-Jaberas as head of the coming COP28 climate conference in the United Arab Emirates to be rejected. He is ceo of the Abu Dhabi National Oil Company.
Net migration exceeded 600,000 in Britain last year, a record figure. The number was boosted in part by arrivals from Ukraine and Hong Kong. The news is a big embarrassment for the Conservative government, which for years has been promising to reduce migration.
Sinn Fein, the main republican party in Northern Ireland, claimed victory in local elections, and now has the most council seats. Michelle O'Neill, Sinn Fein's provincial leader, called on the Democratic Unionists to return to the Stormont Assembly, so that the power-sharing executive can start again. Stormont has been suspended for over a year.
The G7 held a summit in Hiroshima, which was dominated by a collective effort on how to tackle China and Russia. The forum criticised China over Taiwan, nuclear arms, human-rights violations and economic coercion. It adopted a strategy of "de-risking" the West's trade and financial links with China. Chinese media denounced the meeting as an "anti-China workshop".
Volodymyr Zelensky attended the G7 summit to discuss his plan to end the war in Ukraine, which includes a demand that Russia restore Ukraine's territorial integrity. The G7 announced new sanctions on Russia, notably on its diamond business, and said it would support Ukraine for "as long as it takes". America reversed its position, and will now support a plan to train Ukrainian pilots to fly F-16 fighter jets, but it has not yet decided whether to send F-i6s directly to Ukraine.
Russia claimed to have repelled an attack on its Belgorod region that came from across the Ukrainian border. It was the biggest incursion into Russian territory since the start of the war. Russia blamed Ukrainian "militants". Ukraine said the fighters belonged to proUkrainian Russian groups that want to topple Vladimir Putin as president. Responding to Russia's assertion that it destroyed American-made weapons in the skirmish, the State Department said "it is up to Ukraine to decide how to conduct this war."
Greek revival period
The centre-right governing New Democracy party was the biggest winner in the Greek general election. It took 41% of the vote, double that of its closest rival, the left-wing Syriza party. But New Democracy fell just short of gaining an outright majority of seats. Rather than form a coalition, Kyriakos Mitsotakis, the prime minister, wants to hold another round of voting, probably on June 25th.
At least 75,000 people attended a rally in Moldova calling for the country to join the European Union. It was organised by the government, which again accused Russia of meddling in its affairs.
Belarus's dictator, Alexander Lukashenko, popped up on state tv to scotch rumours that he is dying. Speculation mounted that he is seriously ill after he appeared in poor health at Russia's Victory Day parade. Unfortunately for the people of Belarus, Mr Lukashenko is seen telling officials, "You'll have to struggle with me for a very long time."
The world this week Business
Britain's headline rate of annual inflation fell sharply in April, to 8.7%. But the fall was less than expected, given that last April's rise in energy prices dropped out of the annual comparison. The core rate of inflation, stripping out energy and food, rose again to 6.8%; food prices were up by 19.1%. The yield on British government bonds jumped as markets bet that interest rates would increase further. Earlier, Andrew Bailey, the governor of the Bank of England, admitted that there are "big lessons to learn" from the failure of the bank's economic models to predict the persistence of high inflation.
An updated estimate of Germany's gdp in the first quarter showed the economy shrinking by 0.3% over the previous three months. That means that Germany is technically in a recession, as the economy contracted by 0.5% in the fourth quarter of 2022.
The European Union slapped a €1.2bn ($1.3bn) fine on Meta, the owner of Facebook, for breaching rules on the transfer of personal data from the eu to America. It is the biggest penalty imposed by the eu on a company for privacy violations. The decision gives Meta six months to stop processing data in America that it holds on eu citizens. Meta described the actions as "unjustified" and said it would appeal against the fine.
China banned memory chips made by Micron, an American company, from being used in the country's infrastructure development, a tit-for-tat move in response to America's prohibition on Chinese technology. China claimed Micron's chips "posed significant security risks". America has reportedly asked South Korea to dissuade Samsung and sk Hynix, which make similar chips to Micron, from filling the gap in the Chinese market that will be left by Micron's absence.
TikTok filed a lawsuit against Montana for its decision to ban the social-media app, the first statewide prohibition of TikTok in America. The Chinese firm argues that the ban is unconstitutional, and that Montana's claim that TikTok shares data with the Chinese government is based on "unfounded speculation".
Apple announced an agreement in which Broadcom, a big American maker of semiconductors, will supply 5G components for the iPhone. Sensitive to claims that it relies on China for the assembly of its devices, Tim Cook, Apple's chief executive, said that all "of Apple's products depend on technology engineered and built here" in the United States.
China overtook Japan as the world's biggest exporter of cars in the first quarter, mostly because of its expanding production of electric vehicles. China exported more than 1m vehicles in total during the three months, compared with Japan's 950,000.
Lady Luck smiles again
There was more evidence that Macau's gambling industry is on the rebound from covid and a crackdown on betting by the authorities. Galaxy Entertainment, which owns hotels and casinos in the Chinese territory, said its net revenues were 72% higher in the first quarter than a year earlier. Other resort operators have reported similar results. Macau's casinos are now focused on catering to ordinary punters, rather than the high rollers who attracted the ire of officials.
Citigroup abandoned plans to find a buyer for Banamex, a bank chain in Mexico that it bought in 2001, and will instead spin off the business in an IPO, probably in 2025.
Shell's annual general meeting was seriously disrupted by climate-change protesters. Led by green investors, 20% of the shareholders present rejected the company's energy-transition plan, claiming its timetable for reducing fossil-fuel production is too slow.
Facing what it described as "volatile circumstances", Target removed some products related to lgbt pride from its stores. The retailer said that in some cases customers have confronted staff over the merchandise. The pride range includes books aimed at young children with titles such as "I'm Not a Girl" and "The Pronoun Book".
Virgin Orbit was wound down, less than two months after filing for bankruptcy protection. A sale of the rocket-launch company's assets fetched just $36m, around 1% of the $3.7bn it was valued at when it floated on the Nasdaq stock exchange in 2021.
The terminator
Netflix began its long-trailed crackdown on sharing passwords. The streaming giant sent emails to subscribers in 100 countries reminding them that only one household can watch Netflix on a single account. Viewers will get prompts when they tune in; those who share passwords outside the household will be booted off. The decision to get tough now has nothing to do with the company's PR naming Arnold Schwarzenegger as a new "chief action officer".
---
скачать журнал: The Economist - 27 мая 2023
---