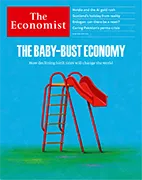 Год выпуска: июнь 2023
Автор: The Economist Newspaper and The Economist Group
Жанр: Экономика/Политика
Издательство: «The Economist Newspaper Ltd»
Формат: PDF (журнал на английском языке)
Качество: OCR
Количество страниц: 76
THE BABY-BUST ECONOMY
How declining birth rates will change the world
Global fertility has collapsed, with profound economic consequences: leader, page 11, and briefing, page 16.
An unprecedently large wave of mass migration is under way, page 59.
China's birth rates remain stubbornly low. New research helps explain why, page 48.
Nvidia and the ai gold rush
The ai boom has turbocharged Nvidia's fortunes. Can it hold its position? Leader, page 14.
Selling picks and shovels for ai is becoming a trillion-dollar industry, page 53.
Scotland's holiday from reality
The collapse of the Scottish National Party holds lessons for populists everywhere: leader, page 12.
After a decade of snp dominance, Scottish politics is suddenly in flux, page 25.
Erdogan: can there be a reset?
Recep Tayyip Erdogan has been re-elected as Turkey's president. Time to make the best of a bad lot: leader, page 13, and analysis, page 19.
Curing Pakistan's perma-crisis
Imran Kahn, Pakistan's most popular politician, must be free to contest timely elections: leader, page 13, and analysis, page 44.
---
The world this week Politics
Recep Tayyip Erdogan won another term as Turkey's president, taking 52% of the vote in a run-off election against the opposition candidate, Kemal Kilicdaroglu. Observers from the Organisation for Security and Co-operation in Europe reported that the election was well run, but that media bias and restrictions on freedom of expression "created an unlevel playing field" in favour of Mr Erdogan. The Turkish lira hit a new low against the dollar.
Soft and hard power
Turkey warned Sweden to rein in domestic Kurdish activists, after a pro-Kurdish group projected a flag onto the parliament building in Stockholm. Turkey is the last hold-out in nato against Sweden's membership of the alliance. Joe Biden said he had called Mr Erdogan after his victory and asked him to drop his opposition to Sweden's bid. The pair also discussed the possibility of sending f-i6s to Turkey.
The Ukrainian capital, Kyiv, was attacked again by waves of Russian drones. Officials said most were shot down. Following one assault Moscow was also hit by several drones, causing minor damage. It was the most significant strike on the Russian capital since the start of the war. Ukraine denied that it was behind that attack. Russia blamed the West for encouraging Ukraine.
Mikhail Mishustin, Russia's prime minister, said that 1.5m Russian passports had been issued to people in the parts of Ukraine it claimed to annex last year (Russia does not fully control the regions). Under a decree signed by Vladimir Putin those who do not accept Russian citizenship face possible deportation.
In Poland the president, Andrzej Duda, signed a bill to investigate Russian influence in the country's politics. The ruling Law and Justice party says this is necessary to weed out Russian agents. But its opponents say the intention is to scrutinise previous governments headed by Donald Tusk, who now leads the opposition, and to harass him ahead of an election later this year.
nato is sending another 700 peacekeeping troops to Kosovo amid a surge in violence in the country. Clashes between nato peacekeepers and ethnic Serbs protesting against the installation of ethnic Albanian mayors in northern Kosovo, where Serbs form the majority of the population, has led to dozens of injuries on both sides. America and the eu have blamed Kosovar authorities for the trouble.
Spain's Socialist prime minister, Pedro Sanchez, called a snap general election, after his party was trounced in regional and local elections. The Socialists lost control of Aragon, Extremadura and Valencia to the conservative People's Party, and also the city of Seville in Andalucia. The pp will probably rely on the support of the right-wing Vox party to govern. Mr Sanchez is calling a national vote "to define the country's political direction".
Police in the Netherlands arrested 1,500 climate-change protesters and deployed water cannon when they refused to leave a motorway they had blocked in The Hague. Forty are to be prosecuted.
At least 153 people have died in custody in the year since President Nayib Bukele started a crackdown on gangs in El Salvador, according to a local human-rights group. Cristosal said that 75 of the dead showed signs of torture. Gang activity and murders have fallen, but at a huge cost to human rights: almost 2% of the adult population is behind bars.
Nicolas Maduro, Venezuela's autocratic president, made his first trip to Brazil since 2015. He was warmly welcomed by Luiz Inacio Lula da Silva, the new left-wing president, who said that the Venezuelan dictator was the victim of "a constructed narrative of authoritarianism".
The White House and Republicans in Congress released the details of their agreement on increasing the limit on federal debt. The deal suspends the debt ceiling for two years, past the elections in 2024, and cuts some government spending, but nowhere near as much as the Republicans had wanted. The deal passed the House of Representatives, although some Democrats and Republicans voted against it.
Bola Tinubu was sworn in as president of Nigeria amid worries about the economy and insecurity across the country, especially in the north. Some projections suggest that Nigeria's population could draw level with America's at more than 400m by around 2050, thus becoming the world's third-most-populous country after India and China.
Niger said it had killed 55 jihadists in a three-week joint operation with Nigeria along their border. Meanwhile, violence perpetrated by jihadists reportedly led to at least 40 deaths in Burkina Faso.
Jihadists from al-Shabab, an al-Qaeda-linked group that has been fighting to take over Somalia since 2006, attacked a Ugandan army unit that is part of an African Union peacekeeping mission, reportedly killing scores of soldiers at a base south-west of Mogadishu, the capital. The exact tally was unclear.
Sudan's civil war persisted, with fierce fighting in at least three districts of Khartoum, the capital. The army, which is battling against a paramilitary rebel force, said it had suspended a truce, which has been extended several times under the aegis of Saudi Arabia and America.
A court in Libya sentenced to death 23 Islamists attached to the jihadist group Islamic State and imposed life imprisonment on another 14. They had all taken part in killing, and in some cases beheading, dozens of Egyptian Christians who had been visiting the country in 2015.
Partisan advantage
Opposition parties boycotted the opening of a new parliament building in India. They had wanted the country's president, Droupadi Murmu, to lead the ceremony rather than the prime minister, Narendra Modi. Mr Modi is accused of turning what should have been a nonpartisan occasion into a political advertisement for his brand of Hindu nationalism.
North Korea said that its first attempt to launch a spy satellite failed and it had crashed into the sea. It will try to send up another satellite soon. Emergency-evacuation texts were transmitted in error in Seoul, South Korea's capital.
The first summit between South Korea and Pacific Island states was held in Seoul. South Korea pledged to double its development aid to the Pacific region and collaborate on security. It is the latest in a series of international meetings aimed at countering China's growing influence in the Pacific.
The world this week Business
A surge in Nvidia's share price pushed it briefly past $itrn in stockmarket value. The American company makes high-performance chips that are used in artificial intelligence and has seen its stock double in value since the release of ChatGPT, a chatbot, last November. This week's jump in the share price was triggered by Nvidia forecasting a huge increase in quarterly sales and assuring markets that it could increase supplies of its H100 chips, used in large-language Ai models. Nvidia is getting orders from a wide range of companies, from cloud-computing providers to onlineshopping websites, in their rush to adopt generative AI.
Profits from doom
A group of heavyweights who work in ai, including the bosses of Google's DeepMind and OpenAi, signed a statement warning that "mitigating the risk of extinction from ai should be a global priority", on the same scale as pandemics and nuclear war. Many scientists think that fears of ai wiping out humanity are overblown, and point to less apocalyptic problems with the technology, such as its generation of fake imagery.
Salesforce reported a solid set of quarterly earnings and higher net profit proving that its turnaround, after a run-in with activist investors over spiralling costs, is working. The share price of the business-software company is up by 68% this year.
America's Supreme Court declined to hear a case claiming that Reddit, an online platform, is responsible for child-pornography images hosted on the site. The court's denial of the case is another indication that the justices are unwilling to tackle liability issues under the Communications Decency Act, leaving the matter to Congress. In Twitter v Taamneh, the court recently ruled that charges against Twitter for hosting tweets from Islamic State were not permissible. And it dismissed Gonzalez v Google, another case centred on moderating terrorist content.
Hong Kong's exports slumped again in April, decreasing by 13%, year on year. In March outward-bound goods had dipped by 1.5%, an improvement on the 9% drop in February and 37% fall in January. Exports to mainland China were down by 13% in April, to America by 20% and Germany by 16%. South Korea's exports also fell sharply again, by 15% in May.
Chinese media heralded the inaugural commercial flight of the C919, a passenger jet built by Comac, a state-owned planemaker. The C919 is touted by the Chinese government as a potential rival to Airbus and Boeing in China's aviation market, stressing the country's technological independence in the face of some American sanctions. The first flight was operated by China Eastern from Shanghai to Beijing. Comac already has 1,000 orders for the plane, according to state media.
House prices in America increased again in March, as measured by the s&p CoreLogic Case-Shiller index, rising by 0.4% over February. s&p said that the decline in house prices that started last June may now be over, but that high interest and mortgage rates still posed "challenges".
Elizabeth Holmes began her 11-year prison sentence, 18 months after she was convicted of defrauding investors in Theranos, a blood-testing Silicon Valley startup that she ran. Ms Holmes's request to be granted bail while she appeals against the verdict was denied recently. She is serving her sentence at a women's minimum-security prison in Texas.
Proposals by climate-change activist investors at the annual shareholders' meetings at Chevron and ExxonMobil received less support than in previous years. The proposals want the energy giants to set higher emissions targets and were supported by around 10% of stockholders. By contrast, a similar proposal at the agm of TotalEnergies was backed by 30% of investors. Police fired pepper spray and tear-gas at protesters as they tried to block entry to the meeting in Paris. Total's chief executive, Patrick Pouyanne, defended the climate-transition plan of the French company, describing the naysayers as "grumps".
Hundreds of employees are leaving Credit Suisse each week ahead of its impending takeover by ubs, according to reports. In a final humiliation for the Swiss bank a court has ordered it to pay $926m to Bidzina Ivanishvili, a former prime minister of Georgia, in a fraud case. The firm is appealing against the judgment.
ChatGPT in the dock
Amid all the hoopla about generative ai it emerged that ChatGPT had invented more than half a dozen legal precedents when a lawyer used it for research in a lawsuit against an airline. The lawyer presented the brief to the court when arguing the case. When the judge found out he had used ChatGPT, the lawyer pleaded for mercy: his source "has revealed itself to be unreliable", he said.
---
скачать журнал: The Economist - 3 июня 2023
---